Safety on Victoria's Roads—Regional Road Barriers
3 Implementing and managing the Top 20 Program
Between 1993 and 2016, VicRoads installed approximately 1 600 kilometres of flexible barriers. Under the Top 20 Program, VicRoads planned to install 2 400 kilometres of flexible barriers within five years.
We assessed if VicRoads has delivered the 27 projects in the Top 20 Program within their expected scopes, time frames and costs. We also assessed if VicRoads has checked that the new flexible barriers have been installed to the required quality specifications and has been effectively managing maintenance and repairs.
3.1 Conclusion
VicRoads has delivered 12 of the completed Top 20 Program projects over budget and nine late. While it did deliver some projects under budget, this was not enough to offset the increases. Collectively, the Top 20 Program's budget has increased by $99.9 million, or 22 per cent. 
While VicRoads' processes to assess the quality of newly installed flexible barriers are sound, it is not adequately managing their maintenance and repairs.
VicRoads does have standards for how often its regions should inspect flexible barriers. However, its regions perform maintenance inconsistently and have no timeliness standards for repairs. 
If flexible barriers are not properly maintained, then their effectiveness is likely to reduce.
3.2 Installation
As at April 2020, VicRoads has delivered 21 of 27 projects for the Top 20 Program. Some of these projects have taken longer than originally planned and cost TAC more than it initially budgeted.
Scope
As of August 2018, VicRoads had planned to install 3 432.5 kilometres of road safety infrastructure under the Top 20 Program, including barriers, wide centrelines and rumble strips. 
After setting the program's baseline, VicRoads planned to deliver the lengths of road safety infrastructure outlined in Figure 3A by April 2020.
Figure 3A
Lengths of road safety infrastructure planned and delivered by April 2020
| Infrastructure | Planned kilometres | Delivered kilometres | Percentage completed |
| --- | --- | --- | --- |
| Flexible barriers | 2 405.6 | 2 333.6 | 97 per cent |
| Semi-rigid barriers | 32.3 | 32.3 | 100 per cent |
| Wide centrelines | 177.9 | 160.2 | 90 per cent |
| Rumble strips | 842.2 | 662.2  | 79 per cent |
| Total | 3 458 | 3 188.3 | 92 per cent |
Source: VAGO.
In April 2020, VicRoads internally reported that it has completed 3 188.3 kilometres, or 92 per cent, of the planned infrastructure installations. 
Time
When the government announced the Towards Zero Strategy in May 2016, it did not set a time frame for the Top 20 Program's delivery. More than two years later, VicRoads established completion time frames for its Top 20 Program projects in August 2018.
| | |
| --- | --- |
| May 2016 | The government announces the Towards Zero Strategy. |
| February 2017 | VicRoads internally commits to start constructing all of the Top 20 Program projects by September 2017. |
| February 2020 | VicRoads' commences the final projects. |
VicRoads' data shows that it met its completion time frames for eight of 18 completed projects. Ten of the other projects were late, with one project experiencing a delay of 25 months. 
As shown in Figure 3B, two projects on the Geelong to Bacchus Marsh Road have experienced the longest delays. These two projects were originally planned to start in 2017 but did not start until January 2020.
Figure 3B
Geelong to Bacchus Marsh Road case study
The Geelong to Bacchus Marsh road project is made up of three individual projects that VicRoads did not initially set end dates for. Two of these projects had their start dates delayed by 27 and 28 months.
In August 2018, VicRoads set June 2019 as the projects' expected completion date. However, it now expects to complete them by December 2020 and February 2021, which is 17 and 20 months later respectively. 
VicRoads advised that this delay is due to environmental approvals taking longer to obtain than it expected. Specifically, VicRoads needed to obtain an approval under the federal Environmental Protection and Biodiversity Conservation Act 1999 (EPBC Act) because installing barriers on sections of this road would have a significant impact on the environment. 
In July 2016, VicRoads identified that it would likely require an EPBC Act referral for one section of the road. It advised that it did not expect this to take two years to obtain. 
The third section of the road is not affected by the EPBC Act and has experienced less delays. However, VicRoads started works five months later than planned and expects to finish this section just under six months later than planned. 
Source: VAGO, based on information from VicRoads.
Cost 
TAC initially approved $457 million of funding for five of VicRoads' investment plans. In November and December 2018, TAC approved three funding variations that added $100 million to the Top 20 Program's cost. This brought the program's total amount of approved funding to $557 million. 
VicRoads initially estimated that the 27 projects under the Top 20 Program would cost a total of $450.3 million. As at the end of April 2020, this has risen to $550.2 million, which is an increase of $99.9 million, or 22 per cent. This is the result of cost overruns of between $1.1 million to $19.1 million for 12 of the 27 projects. Some projects had significant budget increases, including a 190 per cent increase for one project.
Figure 3C shows how the budget for the 27 projects has changed.
Figure 3C
Total estimated cost (TEC) of project changes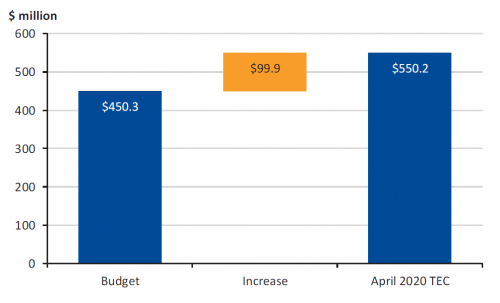 Source: VAGO, based on VicRoads' data. 
VicRoads gave us the following reasons for this cost increase: 
Site investigations and reporting, cultural heritage and federal environmental approval requirements were larger than it expected.
The costs of labour and materials increased due to Victoria's infrastructure boom.
It needed to conduct additional consultations with local fauna groups and change its vegetation removal methods.
It had to install a different type of barrier than initially planned on some sections to suit road conditions and minimise vegetation removal.
Under DTF's better practice guidelines, agencies must include contingency amounts in a project's approved budget. However, VicRoads did not specify these in its Top 20 Program investment plans or project proposals.
If VicRoads had set contingency amounts in its original project budget, then it might not have needed to request additional funding. For the next 16 roads, VicRoads' project approval template now clearly includes contingency amounts. 
Quality
Due to different road conditions, such as varying road widths, topography and roadside infrastructure and vegetation, not all Top 20 Program infrastructure installations are the same.
Safety standards
Design standards are important to ensure that roads are consistent and safe. While there are three planning documents that outline Victoria's road design standards, VicRoads' RDNs are the most detailed. The two other standards (VicRoads Supplement to the Austroads Guide to Road Design and Austroads Guide to Road Design) are less specific. VicRoads develops and enforces compliance with the RDNs.
Offsets
An offset is the distance between the edge of a road and the flexible barrier.
VicRoads sought and approved two exemptions to offset standards for top 20 roads. Figure 3D shows VicRoads' offset standards for flexible barriers. Wide offsets give vehicles room to safely pull over when they need to. If an offset is too narrow, then vehicles will intrude on the road lane when they pull over, which creates a traffic hazard. This is especially dangerous on single-lane roads that have both a median and left-hand side barrier.
Figure 3D
VicRoads offset standards for median and outer left-hand side flexible barriers
| Offset | Description | Width |
| --- | --- | --- |
| Desirable minimum offset | Gives drivers a comfortable width to stop clear of the traffic lane and barrier. This offset also gives errant vehicles a recovery area between the traffic lane and barrier. | 4 metres |
| Minimum offset | Gives drivers an adequate width to stop clear of the traffic lane and barrier. | 3 metres |
| Absolute minimum offset | Absolute minimum offsets are only adopted when VicRoads' approvals for them have been obtained. | Less than 3 metres (any offset between 1 and 3 metres) |
Source: VAGO, based on VicRoads' RDN 06-02 The Use of Wire Rope Safety Barrier. 
There are two top 20 roads where the left-hand side offset is less than four metres—the Midland Highway and the Princes Highway East. In both locations, VicRoads approved offsets between one and three metres wide. 
Figure 3E outlines the options that VicRoads considered before approving the offset for the Midland Highway.
Figure 3E 
Midland Highway (between Ballarat and Creswick) offset case study
VicRoads determined that installing an offset between three and four metres wide would require significant earthwork. It stated that this could not be done within the project proposal's funding limit. VicRoads considered three options:
reduce the offset to between 2 and 2.5 metres wide, which it considered too risky because it could give drivers the false impression that there is room to pull over
reduce the offset to 1.8 metres
reduce the offset to between 1 and 1.5 metres wide, which it considered too risky because it would not leave enough room for cyclists
do not install the barriers.
VicRoads chose to reduce the offset to 1.8 metres wide because the narrow offset would only apply to two short sections of road (75 metres in length) and there was room for vehicles to safely pull off the road within 50 metres of it ending. VicRoads' regional director approved the narrower offset in May 2018. 
Source: VAGO, based on information from VicRoads.
Road widening to accommodate barriers
A road shoulder is the section of road that is immediately adjacent to the traffic lane.
VicRoads advised that there is no standard for upgrading road shoulders when an old shoulder becomes part of a new road lane. 
VicRoads investigated two instances on the Princes Highway East where the road shoulder may not have been constructed or reinforced correctly when the road was widened. 
One of these investigations is the subject of an ongoing commercial dispute between VicRoads and the construction contractor. 
In the other investigation, VicRoads found that the composition of the old shoulder was not significantly different to the lane pavement and would perform in a similar manner. VicRoads concluded that if it applied a reseal, then it should perform satisfactorily without any major distress for approximately 10 years with the anticipated traffic loading.
Quality of installations
VicRoads has a comprehensive suite of quality assurance mechanisms and sign offs to ensure that the new road safety infrastructure is installed to the right standards. We found evidence of VicRoads' quality assurance processes in its documentation and in documents that independent consultants and the contractor responsible for installing the infrastructure completed.  
Entity

Quality assurance documents

Contractor

inspection and test plans
quality management plans.

VicRoads

commencement of works letters
certificates of practical completion. 

Independent consultants

certificates of compliance with proprietary product requirements
road safety audits. 
We analysed a sample of VicRoads' quality assurance documents for its Top 20 Program projects. We found that all of the necessary documents existed and contained the required information. As a result, we are satisfied with VicRoads' quality assurance controls for this program.
By engaging independent consultants, VicRoads has introduced further assurance that the barriers have been installed in line with quality and safety standards. 
Additionally, TAC can also conduct audits under the SSRIP Funding Deed. As of January 2020, it has commenced an audit of one Top 20 Program project. It is planning to undertake a second audit of three other projects later in 2020. While these audits focus on the projects' scopes, they can also independently assess if VicRoads is delivering them as planned.
3.3 Inspections, repairs and maintenance
Flexible barriers require routine maintenance and need to be repaired when damage is identified. In June 2015, VicRoads estimated that unrepaired safety barriers are up to 34 per cent less effective at reducing deaths and serious injuries. 
Inspections
VicRoads conducts inspections to identify road hazards, such as damaged barriers. VicRoads engages contractors to conduct these inspections, who do this by driving along the roads that VicRoads controls. 
VicRoads has standards on how often its regions should complete inspections. This frequency ranges from daily to fortnightly depending on the assigned road maintenance category. 
Some regions conduct inspection drives at 40 kilometres per hour or less. Others conduct them at a high speed. High-speed inspections are less accurate because contractors may only be able to identify where wire rope barriers are visibly sagging. 
In April 2019, VicRoads advised TAC that '… regular inspection (periodic inspection) of barriers, beyond a cursory visual inspection during road inspections, is not currently performed.' This indicates that both VicRoads and TAC have been aware of the lack of comprehensive inspections on the treated top 20 roads for nearly 12 months.
Repairs and maintenance 
Repairs
When a hazard is identified, contractors initially respond before repairing the hazard at a later date. Placing a warning sign to alert drivers about the hazard is an example of an initial response. 
While VicRoads has timeliness standards for responding to hazards, it does not have timeliness standards for repairing them.
VicRoads' barrier remediation investment plan, which was approved to commence in October 2018, proposes targets for flexible barrier repairs depending on the severity of the damage. This plan states that an unfit barrier may not save lives or prevent serious injuries as intended. However, VicRoads is yet to set the repair targets. This means that flexible barriers could remain damaged for long periods of time.
Maintenance
VicRoads requires its maintenance contractors to prepare a 12-month maintenance program and update it quarterly. It also requires contractors to develop three month programs that outline scheduled maintenance. However, VicRoads does not specify the types of routine maintenance that should occur within these programs. 
VicRoads advised that the maintenance programs for the top 20 roads are based on hazards and defects that are identified during routine inspections. Responding to identified issues is logical. However, it does not ensure that contractors are conducting periodic maintenance. 
For example, suppliers specify the tension that wire rope barriers should be set at for different temperatures. The tension needs to be periodically checked to make sure it is within the correct range. Neither VicRoads nor the suppliers specify the frequency that the tension should be checked. VicRoads advised that these checks occur on an ad hoc basis. It could not tell us when each section of wire rope barrier was last checked.
Number of repair and maintenance items
VicRoads and TAC do not have a good understanding of how often flexible barriers are maintained and repaired. This is because VicRoads and its regions use different asset maintenance databases to record maintenance and repair items. To accommodate for this, VicRoads has developed a portal to collate information from its regions that allows it to perform statewide analyses of road barrier conditions.
Between 1 January 2015 and 31 December 2019, VicRoads' regions listed 16 133 maintenance and repair items related to flexible barriers in their databases. Figure 3F shows the number of these items by year. While this data outlines the total number of maintenance and repairs performed, it is not possible for VicRoads to quickly determine which items were repairs and which were general maintenance.
Figure 3F 
Repairs and maintenance items by year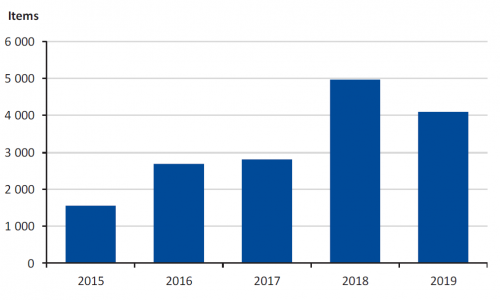 Source: VAGO, based on VicRoads' data.
Timeliness of maintenance and repairs 
Between 2015 and 2019, the number of annual maintenance and repair items increased by 163 per cent. Figure 3G shows that during this period, VicRoads reduced the average response time from 127 days in 2016 to 30 days in 2019. 
Figure 3G
Maintenance item numbers and repair times
| Year | Items(a) | Average repair time (days) | Longest repair time (days) |
| --- | --- | --- | --- |
| 2015 | 1 469 | 94 | 1 785 |
| 2016 | 2 518 | 127 | 1 356 |
| 2017 | 2 576 | 85 | 946 |
| 2018 | 4 162 | 47  | 648 |
| 2019 | 3 439 | 30 | 339 |
Note: (a)This table only includes items that had both a date of notification and date of rectification. 
Source: VAGO, based on VicRoads' data. 
VicRoads advised that the long time frames reported for some items may be inaccurate due to regions or contractors forgetting to immediately close off a job after completing it.
Funding for maintenance and repairs 
In addition to the funding TAC provides to VicRoads to install flexible barriers, it also provides funding to repair and maintain them. 
VicRoads also has funding to maintain barriers that were not funded by TAC and undertake other road maintenance activities, such as restoring potholes, sealing shoulders and roadside grass mowing. VicRoads could not tell us how much of its general maintenance funds are spent on barriers.
Between August 2015 and June 2019, the joint committee endorsed $53.4 million in funding for flexible barrier repairs. VicRoads advised that when this funding is exhausted, it will submit a new investment plan proposal to TAC for more funding. Increased funding will help VicRoads maintain and repair the large amounts of flexible barriers that it has installed under the Top 20 Program. 
Asset management system
We expected VicRoads to have an asset management system that records the location, type, condition and installation date of flexible barriers on its roads. However, it could not provide us with this information for all flexible barriers.
By not recording this information in an asset management system, VicRoads cannot:
adequately plan future flexible barrier installations
accurately evaluate the effectiveness of flexible barriers
provide emergency services with the exact locations of gaps between sections of barrier for emergency vehicle access
know which barriers are likely to be damaged or deteriorated at a point in time 
schedule strategic maintenance and repairs.
In June 2019, TAC gave VicRoads funding to improve the quality of its barrier location data. VicRoads advised that it completed the first round of data collection in August 2019 and will map the remaining barriers when it has finished the final Top 20 Program projects. The existing data is publicly available on the VicRoads website.