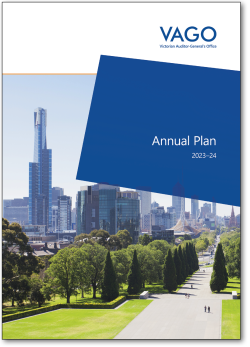 We prepare and table an annual plan before 30 June each year that sets out our work program and the resources we need to deliver the program.
The annual plan is a key accountability mechanism that gives Parliament, the public sector and the Victorian community the opportunity to assess our goals and understand our audit priorities.
From 2017–18 onwards, we are using a three-year planning cycle for performance audits. This allows us to engage with our stakeholders well before our audits, and gives them plenty of time to prepare.
We design our work program to be flexible and responsive, so we can direct our efforts to doing the right audits at the right time, and use our resources to make a difference in the community.
Annual plan archive