Katrina Rogers
Job title: Senior Manager, Performance Audit
What I do
I review the performance of a range of public sector functions, from prisons to public transport. I look at things like cost-effectiveness, the quality of services, governance and accountability, and a range of other important factors.
About me
I joined VAGO because I believed that the government should be accountable for providing the best possible services to the community. I was keen to broaden my experience and knowledge of different public sector agencies, and I wanted to learn more about how government functions. After reading some of the VAGO performance audit reports, I thought it would be a great way to add some value to the public service.
Prior to VAGO, I worked on a program in the disability sector which focused on increasing the safety of clients in residential care. Before that, I worked in various health, safety and wellbeing roles and human resources more broadly, in both the public and private sector.
What Katrina's colleagues say about her
She's interesting and engaged, always up for a lively debate, and willing to challenge conventional wisdom—and we are better for it. She has been a great addition to the office! She's not only great to work with in a team, but she has enthusiastically taken up projects outside of audit work—in particular contributions to our Business Improvement Projects and efforts in coordinating VAGOs Social Club events.
Georgia Clark
Job Title: Analyst, Information Systems Audit 
What I do
At VAGO I perform ITGC's (Information Technology General Controls), which is essentially analysing various agencies Financial Systems and
applications and providing assurance to the financial audit whether their systems are secure, compliant and running effectively or not. VAGO has a
big repertoire of clients and each client's system is completely different so it's always interesting.
My favourite part is being onsite with the client, getting to know them and building relationships with them. When you get that re-assurance from the
client that you're doing a good job and they take your feedback on-board it feels really good.
About me
I grew up in England, Essex, and moved to Melbourne when I was 12. I miss it sometimes, it's hard when extended family are so far away, but I wouldn't move back.
I studied Information Technology at RMIT. I started a gaming design degree and thought that I would really enjoy the design side and not the technical side, but I discovered that it was the opposite, so I switched degrees. While studying I worked for Apple as a "Genius" (their words), basically a technician.
I'm a bit of a geek, I play video games, like to read, and I play the piano and the banjo. I also like sewing, cross-stitch and embroidery. I think that when you work in technology you need something creative to switch your mind to.
What Georgia's colleagues say about her
She is a superstar, very positive. She is very friendly, helpful, committed, passionate and always willing to give her best towards the quality of her work. She is always there when we need her, especially for her team-building inspiration!
Zoe Parer-Cook
Job title: Analyst, Performance Audit
What I do
I work in performance audit, looking at how well government agencies are implementing particular policies or programs and providing advice on how
they can improve this. I have been lucky enough to work on some really interesting audits in the justice and environment sectors—I love the variety of subject areas you get to work in as an auditor.
About me
I did an internship at VAGO as part of my Masters. I really enjoyed the performance audit I was placed on, which looked at the regulation of the
gambling and liquor industry. The team was really fun and supportive, so I decided to apply for a position at VAGO. This is my first professional job
after university. Before auditing I worked in a cafe and bar, and as a swimming instructor. I am obsessed with podcasts including Freakanomics
and Planet Money. I have a border collie called Storm who I love more than anything. In my spare time I enjoy hiking and baking.
What Zoe's colleagues say about her
Zoe is smart, motivated and willing to be challenged, which makes coming to work and working together easy and fun. We can sum up our time working with Zoe in one word: fun. Zoe is a supportive team member who you can share a joke with and also talk through audit findings.
Christopher Wong
Job title: Senior Manager, Financial Audit
What I do
As part of financial audit, I manage teams that conduct the audits of financial statements of public sector entities, as required by the Audit Act 1994.
My main responsibilities are to ensure that the quality of the audit work meets the requirements of the Australian Auditing Standards, ensure that the
audit is done within the budgeted costs, and keep my team motivated and the client happy.
About me
I originally hail from Singapore and came to Melbourne for my tertiary education. My family liked it here a bit too much and we stuck around. I am a
fourth-generation accountant. Prior to VAGO I was at EY for six years where I was involved in audits of banks, insurers and superannuation funds.
I joined VAGO in search of a better work–life balance and a sense of purpose, and I have found both. This may sound crazy, but I enjoy what I do—financial audit is one of the rare accounting-related career options that doesn't tie you down to a fixed location and exposes you to a wide variety of industries and clients. Every day has something different to offer. I also get much satisfaction knowing I play a part in keeping the public sector accountable.
Outside of work, I enjoy spending time with my wife and kids. I am also an avid recreational ultra-distance trail runner, and on most weekends I can be found in the outdoors, far away from the hustle and bustle of the city and suburbs.
What Christopher's colleagues say about him
Chris is calm, respectful, a leader, smart, meticulous, knowledgeable, patient and approachable.
Sally Baskoro
Job title: Auditor, Financial Audit
What I do
I am a financial auditor within the education sector. As financial auditors, we work in a team and our main goal is to provide assurance that public sector agencies' financial statements are not materially misstated (or, in other words, that the public can trust what the financial statements say).
About me
Auditing wasn't the first thing that came to my mind when I finished high school. I always wanted to be an architect so I could design and build my own dream house. However, given my poor drawing skills, I ended up studying commerce. Accounting quickly became my favourite subject since it was the most 'black and white' (yes, I am risk averse!). I had never heard of VAGO before I saw a graduate position in March 2015, but once I researched more about VAGO, I knew I wanted to work here. VAGO has a very unique client base­­, some of which we encounter in our day-to-day life, and no private firms could match these unique experiences. VAGO also offers various study support options, which is essential for graduates.
I was born and raised in Indonesia. My choice to study accounting led me to Melbourne in 2013. I love cooking and baking, but I don't like doing the dishes, especially after work. So my hobby lately has turned into visiting cafes to try out pretty dishes and desserts.
What Sally's colleagues say about her
She's an amazing person as a workmate as well as a team mate. She is friendly and helpful to everyone. She possesses great knowledge of her work. Quiet, friendly, resourceful, intelligent and helpful. She is punctual and pays great respect to time, which is great attribute in both work and personal life. In two words—'Super girl'.
Shantelle Dawe
Job title: Senior Auditor, Financial Audit
What I do
I am involved in financial audits in the whole-of-government portfolio. In this portfolio, I have been exposed to some interesting engagements, including
the audit of the state financial report and the review of the state annual budget. Before moving into this team, I was in the local government portfolio.
This meant that I got to travel across Victoria and visit many council offices.
About me
I grew up in Nagambie, in regional Victoria, before moving to Melbourne to study a Bachelor of Accounting and a Bachelor or Economics at university. VAGO is my first corporate job, and I started here straight after university. Before VAGO, I worked as a swim instructor, a cashier and also as a chef. I actually completed my chef's apprenticeship, so I am a fully qualified! I joined VAGO because I wanted to work somewhere that had a positive impact
on the community. VAGO provides the community with assurance over financial statements of the state government and its entities.
I love to sew. I find making clothes really rewarding. I love to take already-made clothes and alter them, meaning there is no additional environmental impact! Most nights of the week I go to dance classes. I love dancing for fitness—it is so beneficial for my mental health and physical fitness.
What Shantelle's colleagues say about her
She's a vibrant young lady bursting with personality. She has an eye for detail and a commitment and passion for the public sector which can be seen in the quality of her work.
Laura Robinson

Job Title: Senior Adviser, Human Resources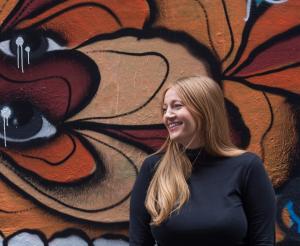 What I do

My position is a generalist role, but I specialise in three different areas of HR: employee relations, Workplace Health and Safety and HR policy. I really enjoy working in employee relations. It's not every HR practitioner's favourite area of work because it can be tricky and sensitive, but I find it rewarding and very satisfying being able to support people through challenging times at work to help them and the workplace both achieve better outcomes.
About me

I grew up on a 2,000-acre farm near Colac but moved to Geelong in my teens. After high school I worked in the Whitsundays in Queensland for a year, then moved back to Victoria. At the time my plan was to move to Melbourne, but I've stayed in Geelong ever since. I love the small town feel of Geelong and I really don't mind the commute. 
I started my HR career at the Department of Treasury and Finance and was there for eight years before moving across to VAGO in 2016. I love the diversity of our role in HR. Every day offers new challenges. We get to work with all levels, and across all areas of the organisation on a wide range of topics – which means we're always learning too!  
Whenever we get a break from work my partner and I head overseas. We love hiking and camping so generally our trips centre around a multi-day hike or climb. We've completed four high-altitude summits together so far. When we're at home, I am obsessed with my two Chihuahua's, Pepper and Leni. My team loves seeing photos of them (just kidding, they're totally sick of it).   
What Laura's colleagues say about her

Laura knows her field inside out. She's passionate about the work she does, and her highly compassionate nature and sensitivity to how others feel make her an exceptional person to work with. Laura is also great fun be around – while she rightly takes her work seriously, she's always up for a joke or a funny anecdote and will show photos of her dogs to anything that moves!