Auditor-General's Report on the Annual Financial Report of the State of Victoria: 2017–18
3 Better practice financial reporting
3.1 Financial reporting processes
Good financial reporting preparation processes reduce the risk of untimely, inefficient, inaccurate or unreliable reporting.
Financial reporting processes relate to more than just the work required to create the financial statements. They cover the people, processes, policies, data and systems involved in every financial aspect of the entity. The better an entity understands and manages these elements, the easier its financial reporting process at year end becomes. This, in turn, improves the quality and timeliness of financial reports.
Framework for financial reporting process
Figure 3A shows the four key components of the financial reporting process.
Figure 3A
Key components of the financial reporting process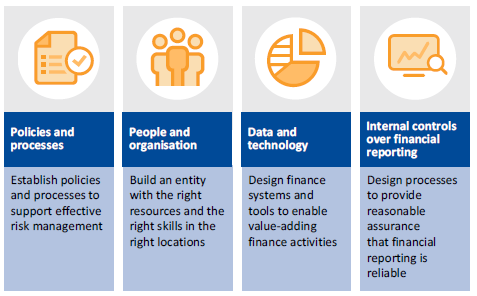 Source: VAGO.
Financial reporting processes across state-controlled entities
We asked a selection of the 265 state-controlled entities to complete a comprehensive self-assessment questionnaire on their current processes and systems. The entities were the:
33 significant state-controlled entities
19 water sector entities
86 public hospitals.
We also created a maturity framework for the four key components in Figure 3A. This framework, shown in Appendix D, summarises the characteristics of each component across different levels of maturity.
We encourage all entities to undertake a similar self-assessment against the criteria in Appendix D to identify areas for improvement.
What is the current situation?
We collated the results of the questionnaires to provide a high-level overview of each sector. The average result of each component for each sector is shown in Figure 3B.
We provided a chart conveying the results of the questionnaire to each entity's management team and audit committee. Entities should compare their individual results with the average for their sector.
Figure 3B
Results of the financial reporting maturity survey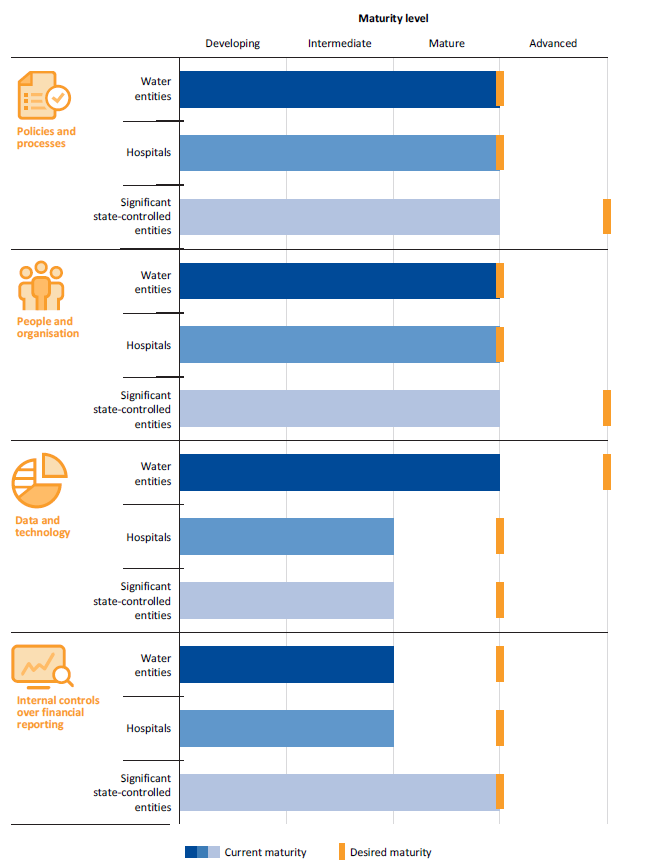 Source: VAGO.
Financial statements close process is the process of finalising the financial balances for the month, and generating the internal reports for use by management.
A key finding from our survey is that many entities are spending a high proportion of their time each month completing their financial statements close process (FSCP). Entities reported that they take an average of 12 business days to complete the monthly FSCP. This means that for over half of each month, the finance team is occupied by close processes. The size and complexity of an entity did not impact this outcome.
For the annual financial statements, over half the entities surveyed take more than four weeks to prepare their draft statements for audit. We found that this measure was impacted by the type of systems used by the entity, with those that prepared their financial statements almost entirely via spreadsheet taking an average of 26 days to complete their reporting, while those using an automated system taking 16 days.
Entities could improve their controls for assembling data into a set of financial statements. While having controls for the data entry process is important, lack of controls for the preparation of financial statements causes entities to lose time amending multiple drafts.
If finance staff were able to reduce the time they spend undertaking these close processes and preparing their statements, they would have opportunities to undertake other important activities. This includes tasks that proactively address data quality, which presently is only undertaken on a reactive basis by most entities, as well as analysis and commentary that is also crucial to monthly and annual financial reporting.
We identified some common weaknesses within the surveyed entities' responses—these are detailed in Figure 3C, along with some potential initiatives that entities could implement to improve their processes and reduce the time spent on the FSCP and annual financial statements.
Figure 3C
Common themes in the results of our survey of entities' financial reporting processes
Key observation

Why it matters

Potential ways to improve

Policies and processes

Entities are putting significant effort into their policies and procedures, ensuring they have mature processes in place for capturing data. However, the amount of time spent on the monthly close process is significant, with entities spending on average over half a month (12 business days) to complete their month-end close process and prepare monthly management reports.

Despite entities spending significant effort on ensuring appropriate policies and procedures are in place for capturing data, this is not translating into an efficient monthly reporting process.

Reducing the time spent on the monthly close process will allow entities to focus on other preventive measures, such as proactively managing data quality.

Undertake a review of the financial statement close processes to identify opportunities to reduce the preparation time—for example, reviewing what activities are done at what point, by whom, how and for what purpose. Entities should consider this after undertaking a risk assessment of the financial statements, to ensure the effort is focused on the right areas.

People and organisation

Entities are not implementing ongoing training for their finance staff to ensure they maintain their skills—only 16 per cent of entities reported providing ongoing training for their finance employees.

A skilled team should lead to an efficient and more accurate financial reporting process. With the ever-changing landscape of accounting standards and financial reporting requirements, ongoing training is crucial.

Assess how the strategic objectives for the upcoming year align with the current capabilities of finance staff and consider what the required training needs are to align with these objectives. Entities should consider both technical accounting knowledge (for example, accounting standards) and other fundamental and emerging focus areas (for example, use of data analytics).

Data and technology

At present, just over half of the entities we surveyed (54 per cent) reported that they prepare financial statements almost entirely by spreadsheet.

Entities reported that they are hoping to improve this situation by investing in new information technology (IT) projects.

Using a manual spreadsheet may increase the risk of error in the financial statements through transposition or related faults. It also impacts the timeliness of financial statement preparation.

Entities are already spending considerable funds on IT projects, including general ledger and financial statements programs. However, these are yet to translate into the efficient preparation of financial statements.

Seek to automate processes where possible and to integrate the generation of financial statements with general ledger software and other key data sources (for example, contract data for financial commitments disclosures).

Additionally, review whether the IT projects currently underway are sufficient to improve the maturity level for this component.

Internal controls over financial reporting

Almost two-thirds of the entities we surveyed have either not assessed the risk of material misstatement within their annual financial statements, or have only done so informally.

Undertaking a financial statement risk assessment is an important tool to help entities identify the areas where they face the greatest risk of error, in turn enabling the most effective allocation of resources.

This is also a useful step in the preparation of streamlined financial statements, assisting finance teams to tailor their financial statements.

Perform a financial statement risk assessment to identify the major financial statement accounts and disclosures, and then align resources and effort to mitigate key risks while reducing work on lower-risk areas.

This should also be aligned with the monthly close process—reducing time spent on low-risk areas in exchange for additional and more frequent review of the higher-risk areas.
Source: VAGO.