Assessing Benefits from the Regional Rail Link Project
3 Outcomes and benefits of the RRL project
The RRL project was expected to provide a number of transport, economic, community, and environmental benefits including:
improving reliability and carrying capacity for regional and metropolitan train services
reducing road congestion by providing extra train services so fewer people choose to drive, and by removing more level crossings
providing new train services for Melbourne's western growth areas
boosting investment in Melbourne's western suburbs by improving links with the central business district.
In this part of the report, we examine the intended benefits that the RRL project achieved as well as some other benefits that we observed during the audit.
3.1 Conclusion
The RRL project has delivered a range of benefits for the rail network, commuters and the wider community by providing new train services for Melbourne's western growth areas. The RRL has also improved carrying capacity for regional and metropolitan train services which use, or connect with, the RRL.
Due to poor benefit management practices by DOT for the RRL project, it is very challenging, and perhaps impossible, to measure the expected benefits of the project. It is therefore unclear what level of value for money has been achieved.
In particular, DOT did not establish responsibility for monitoring or evaluating the expected benefits at the start of the RRL project. Since the opening of the RRL, DEDJTR and DTF have not attempted to assess the value or achievement of any realised or potential benefits delivered by the RRL.
Some expected benefits have not yet been fully realised—particularly the government's 2013 commitment to introduce capacity for an additional 10 metropolitan services in the two-hour morning peak period, with only five new services operating so far.
3.2 Measurement challenges
Key issues in measuring actual benefits
Although the IA submission identified some high-level benefits that the RRL was expected to deliver, it is not possible to form a definitive view of the extent to which the project has achieved these benefits, for several reasons:
There were no key indicators or targets set for the expected benefits.
The baselines for time frames, locations and geographic boundaries were not clear. This means that even if actual benefits could be reasonably estimated, it is very difficult to compare them to what existed before the RRL.
Agencies have not directly linked or attributed specific project outcomes to a publicly stated project benefit.
It is difficult to attribute wider economic benefits directly to the RRL. Other economic activity in the area serviced by the RRL, including natural population growth, might have occurred even if the RRL did not proceed.
Public communication about the benefits of the RRL
In 2013, the Victorian Government published a booklet titled Regional Rail Link Benefits for Victorians, in hard copy and electronic formats. The booklet provided a high-level overview of the project, the problems it was trying to address, and how the project would solve them.
Advice from the Chief Executive Officer of the RRLA to the Minister for Public Transport in August 2012 stated that the booklet would highlight a range of benefits, and was supported by commissioned research by two economic consultancy firms.
The booklet divided the benefits into four key categories:
transport benefits
economic benefits
community benefits
environmental benefits.
The benefits outlined in the booklet largely reflect the high-level benefits outlined in the IA submission, and, like the submission, the booklet did not set clear measures to assess the achievement of benefits.
Figure 3A summarises the key items contained in the booklet along with our analysis of their achievement and commentary on how they were presented in the booklet.
Figure 3A
Analysis of expected benefits stated in Regional Rail Link Benefits for Victorians
Expected benefit

Measure

Achieved

VAGO commentary

Transport

Expanding the rail network

90 km of new track

Yes

This is an output, not a benefit.

Removing major bottlenecks

Untangling regional and metropolitan trains

Yes

This is an output, not a benefit.

To be a benefit, it would need to describe the consequence of the untangling—for example, time savings, greater train throughput.

Improving reliability

No measure provided

Unable to assess

 

Increasing number of peak trains

23 extra metro trains
10 extra regional trains

Yes—in terms of theoretical capacity

This is an output, not a benefit.

To be a benefit, it would need to quantify the extra passengers carried or time savings.

Economic

Growing the economy

During construction, add $1 billion annually

Yes—based on direct project expenditure

Mainly an activity measure.

To be a benefit, the expenditure would need to be new money that otherwise would not have been spent in Victoria and that can be solely attributed to the RRL project.

Providing a major jobs boost

Employment for approximately
5 600 people

Partly—based on a commissioned economic advisory report

Only a benefit if the jobs would otherwise not have been created in Victoria and can be solely attributed to the RRL project.

Can only be a benefit for the period that the new job exists.

Reducing road congestion

45 000 cars off the road during peak periods, resulting in $300 million savings

No measurement has been conducted to quantify the number of motorists who switched to the RRL

Congestion reduction is a benefit.

However, in this case, it can only be a benefit if it avoids causing greater congestion than already existed due to the absence of a rail option before the RRL was built.

To validate this figure, agencies would need to identify current RRL patrons who were previously living in the catchment area and have stopped driving.

Community

Boosting investment in the west

Labour productivity will grow and boost gross state product by $1.6 billion

Impossible to measure as there is no geographic attribution that links to gross state product

This estimate was derived from a commissioned economic advisory report into wider economic benefits. The research was not scoped to identify a direct benefit.

Improving regional connections

More reliable and more frequent connections between Melbourne and regional centres

No measures of achievement specified—unable to assess

 

Creating modern transport hubs

Two new stations
One rebuilt station
One upgraded station

Yes
Yes
Yes

This is an output, not a benefit.
This is an output, not a benefit.
This is an output, not a benefit.

Removing level crossings

Two level crossings at Anderson Road

Yes

This is an output, not a benefit.

Ensuring no new level crossings

13 rail-road grade separations

Yes

This is an output, not a benefit.

Introducing new services

Connecting Wyndham Vale and Tarneit to services for the first time

Yes

This is an output, not a benefit.

 

Support sustainable growth in Melbourne's west and easier access to jobs, education, recreation and services

No measures of achievement specified—unable to assess

 

Environmental

Reducing greenhouse gas emissions

Extra passenger capacity will save 14 000 tonnes of greenhouse gases

No measurement has been conducted to quantify number of motorists who switched to the RRL

Greenhouse gas reduction is a benefit only if it is linked to the current RRL patrons who were previously driving and have now stopped using their vehicles.

Improving cycling connections

Will improve cycling connections

Allow for further cycling upgrades

Yes—bicycle paths and other infrastructure were considered in the design of the RRL and delivered along some parts of the corridor and at stations

This is an output, not a benefit.
Source: VAGO based on Regional Rail Link Benefits for Victorians.
Our analysis in Figure 3A shows that the majority of the 'benefits' presented in Regional Rail Link Benefits for Victorians were actually project outputs or activity measures.
Though these output and activity measures are worthwhile individually, they miss the next step which would link them to a benefit. A benefit measure should set a pre-project baseline and then specify a measurable, beneficial outcome for users of the RRL or the wider community that the project will deliver.
More focus on comprehensively describing expected benefits, in line with available guidance, would likely have resolved this measurement problem.
Self-evident outcomes and benefits from the RRL
Regardless of the measurement and attribution issues we have identified, there are some benefits from the RRL that are self-evident.
These include:
access to reliable public transport for people on Melbourne's western fringe
service improvements for regional and metropolitan passengers
better access to the public transport system for mobility-challenged people, enabled by facilities that meet the Disability Standards for Accessible Public Transport at the two new stations and three rebuilt stations
improved safety and amenity for the wider community as a result of new and revitalised railway stations
reduced impact of rail noise along the corridor through the development of noise-reduction standards and the installation of noise mitigation infrastructure, such as noise walls and double glazing.
New stations on the western fringe of Melbourne
The construction of new stations at Wyndham Vale and Tarneit provides access to rail services for residents in Melbourne's western growth corridor who previously only had limited bus services or no public transport options at all.
IA considers access to transport to be a critical social equity issue, particularly in outer suburbs.
These new stations facilitate quicker access to central Melbourne, reducing travel time to the city and enabling easier access to employment and education.
In April 2016—almost one year after the new stations opened—Wyndham City Council surveyed residents using the Tarneit and Wyndham Vale stations to understand their travel methods and preferences before and after the introduction of the RRL. The survey findings reported a positive attitude to the RRL, with 30 per cent of respondents saying they had increased their train travel but still felt that services could be improved.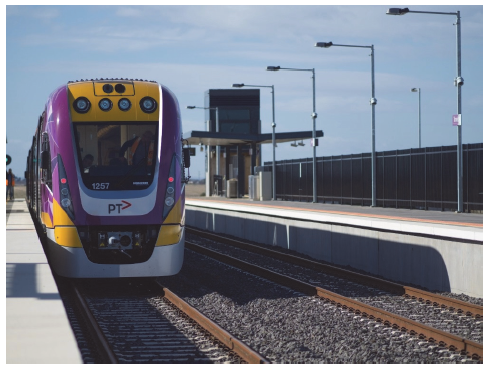 The new Tarneit station features lifts to comply with the Disability Standards for Accessible Public Transport. Photograph courtesy of DEDJTR.
Service improvements
The RRL project has improved train services in Melbourne's west in several ways:
It has freed up train paths—the capacity to run a service between two points on the network over a given time period—on metropolitan tracks on the Werribee rail corridor, as well as on tracks from Sunshine to Southern Cross that were previously used by V/Line trains. This allows for future frequency increases.
It has built in capacity for future track expansion from West Werribee to DeerPark by providing adequate rail corridor reservations, station platform expansion areas, and wide bridge abutments to accommodate future additional track configurations.
The potential electrification along the whole route has been allowed for, if demand continues to increase, enabling larger trains and more frequent services.
V/Line now operates 41 per cent of its services through the shared network and 59 per cent of its services on non‑metropolitan track. Before the RRL, all V/Line's broad-gauge services into metropolitan Melbourne shared track with suburban electric services.
Disability compliance and enhanced access
The RRL project delivered a range of benefits for passengers with mobility impairments by providing facilities that are compliant with the Disability Standards for Accessible Public Transport at the two new stations—Wyndham Vale and Tarneit—and the three rebuilt stations—Sunshine, West Footscray and Footscray.
These facilities include easy-incline ramps, lifts to platforms, level-access bus stops, tactile platform markings and signs that include braille.
These features allow passengers with mobility impairments to access public transport on an equal basis and to more easily connect with the wider community, workplaces, education opportunities, medical services, and leisure and cultural activities.
As the population ages and average life spans increase, the number of people with mobility impairment will grow.
Further, a mobility challenge is not only an issue for people with permanent disabilities—it may also affect other people on a temporary basis, for example, due to an injury, pregnancy or needing to transport young children.
This further broadens the potential long-term benefit that these facilities can provide for the wider community.
Station safety and amenity
The reconfiguration and refurbishment of Sunshine, West Footscray and Footscray stations has improved their amenity, with better access to facilities, improved connections to other public transport modes, and increased safety through better station access and modern surveillance technology.
The revitalisation of Sunshine Station included a new pedestrian overpass to provide a safe, open and well-lit connection to platforms and across the rail corridor. This was a distinct improvement from the previous subway connection which was poorly maintained, badly lit and known as a crime hotspot.
The upgrade also included reconfiguration of the bus interchange and a link to the retail district.
Noise reductions
The RRL provided intangible social benefits through noise-mitigation works, described in the case study in Figure 3B. An increase in the number of metropolitan and regional rail services using this corridor has increased the value of this benefit.
Figure 3B
Case study: Noise reduction and mitigations along the RRL route
When RRLA was planning the RRL project, there were no policies or guidance about mitigating noise and vibrations caused by passenger trains. Accordingly, RRLA did not cost such provisions during its planning.
Following the release of the government's Passenger Rail Infrastructure Noise Policy in April 2013, RRLA developed a noise management plan for the section of the RRL between Southern Cross Station and Deer Park. The plan identified locations along the corridor where the noise from the RRL would exceed specified thresholds. Most of the affected locations were in inner‑suburban areas between North Melbourne and Footscray, an area with significant existing rail operations.
RRLA engaged with the community through information sessions and the project website to help it select suitable noise-mitigation measures along the route. The preferred option was the installation of noise walls. However, community consultations identified that noise walls did not provide sufficient noise reductions for the upper levels of multistorey buildings.
As a result, RRLA offered to double-glaze windows in multistorey buildings directly exposed to the RRL tracks.
The final noise-mitigation works delivered by the RRL included:
noise walls across both existing and new sections of rail track
double-glazing of windows in inner-suburban areas
lowering Wyndham Vale station nine metres below the surrounding area to decrease noise impacts on the community.
Source: VAGO.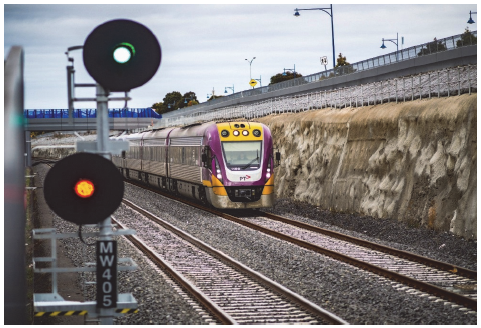 A rail cutting designed to reduce train noise on the approach into Wyndham Vale Station. Photograph courtesy of DEDJTR.
Further unexpected benefits
To capture insights and lessons from the project, RRLA published a 16-volume Insights booklet series for RRLA staff, which provided reflections on RRLA's approach to the development, planning, procurement, delivery and commissioning of the RRL project.
The RRLA found that the project has resulted in some unexpected benefits—most for the Victorian public, but some for the transport industry.
During this audit, several senior public sector executives supported this view, noting that the project:
helped develop the public sector's capability in project delivery by giving staff experience on a large and complex project
built the depth and technical skills of Victoria's rail and signalling industry
resulted in a 'success breeds success' phenomenon which has given decision-makers more confidence to pursue complex and risky rail projects, such as the Level Crossing Removal Program and the Melbourne Metro Tunnel.
In its Insights series RRLA identified numerous benefits of its approach, and lessons for the future across 14 domains, including engineering and design, planning and environment, project development and procurement, communications and stakeholder relations, project controls, contract management and construction.
Ultimately, RRLA concluded that the project made a significant contribution to the body of knowledge for future projects.
The RRL project won an industry award for Infrastructure Project of the Year at the National Infrastructure Awards 2014 and it won the Premier's Sustainability Award in 2014.
3.3 Post-project challenges
Challenges for realising outcomes and benefits
While the project has delivered a range of infrastructure and service outcomes and benefits, there were also some post-implementation issues affecting physical infrastructure and the timetabling of services.
Our 2017 audit report V/Line Passenger Services found that on-time performance for V/Line trains was significantly lower in 2015–16 and from July 2016 to March 2017 than the period before the RRL opened.
This was due to significant and unexpected growth in patronage as well as wheel wear problems on the VLocity trains that emerged soon after the RRL track opened.
Rapid passenger growth has required trains to stay at platforms for longer, to enable all passengers to board, which has affected punctuality. Since the opening of the RRL, patronage on the Geelong line in the south-western corridor—V/Line's busiest line—has increased by 80 per cent.
VLocity train wheel wear and availability of rolling stock
VLocity train wheels experienced more wear than expected in the first few months of services on the RRL, which required V/Line to replace the wheels urgently and more frequently than planned. This meant that more VLocity trains were out of service than expected.
Excessive wheel wear mainly occurred on the Dynon-North Melbourne flyover, where the RRL track crosses over the top of existing metropolitan tracks. An independent report found that the increased wheel wear was due to tight curves on sections of the new RRL track, high friction between wheels and rails due to the absence of lubrication, and poor wear resistance due to the metals used to make the wheels and rails.
This operational issue has since been resolved through careful management of lubrication on tightly curved track as well as regular checking of VLocity wheels using advanced laser gauges. We observed these inspection procedures during a visit to the V/Line maintenance facility in West Melbourne.
Other actions taken to resolve this issue include:
regular replacement of worn rail on high-traffic curves
a permanent speed restriction of 30 kilometres per hour on the Dynon‑North Melbourne flyover
increased maintenance funding for V/Line's rolling stock.
The second issue that impeded timely improvements to capacity was a delay in the delivery of additional rolling stock. While the rail infrastructure was completed in 2014, additional rolling stock was progressively delivered through to 2016, which meant that not all capacity improvements could be immediately realised.
Meeting demand for services
Both the metropolitan and regional rail networks experienced significant growth in patronage over the four-year period prior to the finalisation of the IA submission. Annual growth averaged 10 per cent on the metropolitan network and 11.6 per cent on the regional network between 2004–05 and 2007–08. Both networks were expected to see strong continuing growth until 2021. The IA submission estimated average annual patronage growth of 7.9 per cent on the metropolitan network and 15.4 per cent on the regional network until 2021.
By separating V/Line and metropolitan services, the RRL was meant to provide additional train paths on both networks to enable extra services and accommodate sustained patronage growth.
As DOT had not finalised the route alignment and solution option in the IA submission, it did not include the number of train paths the RRL would provide on completion.
The further development work that RRLA undertook after the RRL had been funded informed the number of additional train paths. The RRL was expected to enable an additional 33 services in the peak two-hour travel period across both networks. This comprised capacity for an additional 10 regional services and 23 metropolitan services. Of these, six regional and 10 metropolitan services were meant to be operational when the RRL opened, with the remainder to be delivered after the purchase of more rolling stock.
Figure 3C shows the number of services run in the peak two-hour morning travel period between 7.00 am and 8.59 am:
at the time of the IA submission in 2009
prior to the opening of the RRL in 2012
after the opening of the RRL in 2015
after the latest timetable changes in late 2017.
Figure 3C
Analysis of two-hour peak services run pre- and post-RRL opening
Line

Pre-RRL 2009

Pre-RRL 2012

RRL opening 2015

RRL mature 2017

Increase since 2012

Increase since 2009

Metropolitan

Craigieburn

15

16

16

17

1

2

Sunbury(a)

15

17

17

18

1

3

Upfield

6

7

7

7

0

1

Werribee

8

12

13

14

2

6

Laverton/Altona

0

5

5

5

0

5

Williamstown

6

5

6

6

1

0

Total

50

62

64

67

5

17

Regional

Ballarat

3

3

4

4

1

1

Bacchus Marsh

4

5

6

6

1

2

Bendigo

5

5

4

5

0

0

Geelong

8

9

10

10

1

2

Wyndham Vale

0

0

3

3

3

3

Total

20

22

27

28

6

8

Combined metropolitan and regional total

70

84

91

95

11

25
(a) Prior to the completion of electrification in 2012, services to Sunbury were operated by V/Line. For the purpose of this analysis, the 2009 services to Sunbury that were operated by V/Line have been included in the metropolitan services.
Source: DEDJTR.
Figure 3C shows that at the opening of the RRL in 2015, there were an additional seven services in the peak two-hour morning travel period, compared to 2012, comprising two metropolitan services and five regional services.
By 2017, the RRL had added 11 services, made up of an additional five metropolitan services and six regional services. This does not match the 2013 commitment to introduce 10 additional metropolitan services in the two-hour morning peak period.
The 2013 commitment also included an option to further increase the number of services that the RRL could deliver, by proposing 'additional long term capacity with the procurement of additional rolling stock'.
This new capacity could increase the potential number of services in the two‑hour morning peak period by four regional trains and 18 metropolitan trains. However, no services making use of this new potential capacity have been run.
The current 11-service increase in the two-hour morning peak since 2012 means that the RRL has not reached its expected capacity.
Future capacity and expansion challenges
As the RRL moves towards its maximum designed capacity of 18 regional trains per hour, it is reasonable to expect that a number of future challenges may require the state to further invest in RRL infrastructure:
Further expansion of urban growth corridors to the north and west of the current RRL tracks could double or triple the potential catchment for the new stations and may place heavy demand on the already-crowded services. This will likely require agencies to:

procure higher capacity rolling stock
improve bus routes and interchanges
increase station waiting areas and other passenger facilities
expand bicycle facilities and car parks.

The proposed addition of more stations along the RRL route to meet future demand would slow down trains on the Geelong corridor.
Growing demand from greater Geelong and Melbourne's urban fringe areas may require infrastructure enhancements to allow longer-distance express trains to bypass stations on the RRL. Express trains consume more rail path capacity than trains stopping all stations and can limit, or even reduce, service capacity unless they are allocated dedicated express tracks or station bypass tracks.
A future electrification of services to Melton would require the RRL track segment between Deer Park West and Sunshine to be amplified to four tracks, to allow for the segregation of existing diesel and new electric services. This would also require the removal of three level crossings on that track section and likely require a complex rail-over-rail flyover to be built at Sunshine to manage the various merging lines.
A potential future train service to Melbourne Airport through the Sunshine corridor may also place pressure on Sunshine Station as a key interchange where regional and airport services meet.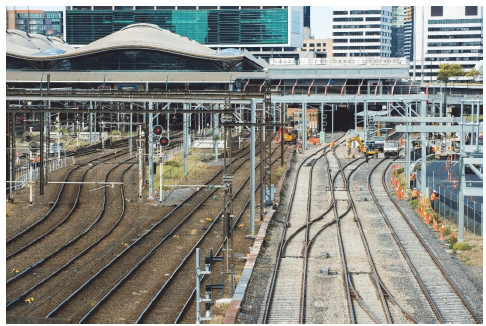 The approach to two new platforms constructed at Southern Cross Station as part of the RRL project. Photograph courtesy of DEDJTR.
Ultimately, any increase in regional services will be limited by platform availability at Southern Cross Station and the designed maximum capacity of the RRL tracks between Sunshine and central Melbourne stations. A future electrification of Melton services would free up paths and platform space for longer-distance services on the Ballarat corridor.