Auditor-General's Report on the Annual Financial Report of the State of Victoria: 2017–18
7 Financial sustainability of public non-financial corporations
7.1 The sector
PNFCs provide goods and/or services to the community on a user-pays basis. These goods and services are non-financial in nature. At 30 June 2018, there were 72 PNFCs in Victoria.
In 2017–18, PNFCs generated $11.27 billion in revenue and incurred $11.32 billion of expenses. At 30 June 2018, PNFCs reported assets valued at $138.5 billion and liabilities of $41.3 billion.
Figure 7A
Financial information about PNFCs
Sale of goods and services
$6.5 billion

Net result from transactions
$46.0 million loss

Net result
$660.0 million

Net assets
$97.2 billion

Non-financial assets
$128.7 billion

Borrowings
$16.4 billion
Source: Note 9, Annual Financial Report of the State of Victoria: 2017–18.
A significant portion of the financial performance and position of the PNFC sector is generated by the 19 entities that make up the water sector. In 2017−18, this sector generated $6.2 billion in revenue and incurred $5.7 billion of expenses. At 30 June 2018, the water entities held assets valued at $47.5 billion and liabilities of $22.0 billion. Figure 7B shows how these figures fit into the wider PNFC sector.
Figure 7B
Summary of financial performance and financial position—the water sector as part of the PNFC sector, 2017−18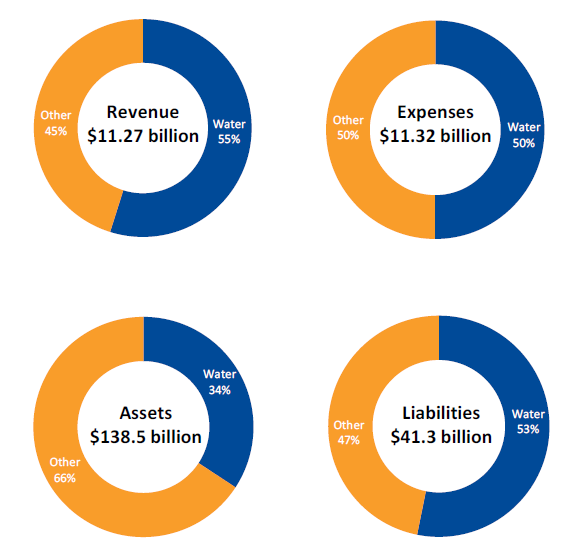 Source: VAGO.
In this Part of the report, we focus our financial sustainability assessment on the water sector.
7.2 Conclusion
We have assessed the water sector as financially sustainable, with no immediate short-term risks identified. In the longer term, some water entities will need to consider the risks associated with their ability to replace or renew assets and repay debt.
7.3 The water sector
How the water entities work
Water entities provide a range of water distribution and sewage disposal services, including supplying water and sewerage services, managing bulk water storage and looking after specific recreational areas, such as caravan parks.
There are 19 water entities in Victoria, each operating as a standalone business with its own board and responsibility for its own management and performance. The board of each water entity reports to the Minister for Water through the Department of Environment, Land, Water and Planning.
As water is considered an essential service, the Essential Services Commission (ESC) is responsible for economic regulation of the sector, including setting the maximum price each water entity can charge its customers for its services.
The 19 water entities are split into three groups, based on their common characteristics. These are detailed in Figure 7C.
Figure 7C
Water entity groups
Group

Description

Metropolitan

This group consists of a wholesaler and three retail water entities:

The wholesaler supplies water to retail water entities, controls water reservoirs, headworks and major sewerage treatment plants, and is responsible for drainage and waterways to the Greater Melbourne area. The wholesaler does not bill individual households or commercial properties, but charges the metropolitan retailers bulk service and usage fees.
The retail water entities operate the water distribution and sewerage systems for the Melbourne metropolitan area, within a specified geographic region, as well as operating a small number of treatment plants. Metropolitan retailers directly charge households and commercial customers for water and sewerage services.

Regional

There are 13 entities that provide water supply and sewerage services to regional urban customers outside Victoria's metropolitan zone. Regional entities directly charge households and commercial customers for water and sewerage services. Two of these water entities also supply rural water services.

Rural

This group includes two entities that provide rural water services for irrigation, domestic and stock purposes. These services include water supply, drainage and salinity mitigation. They also provide bulk water supply services to other water entities in regional Victoria. Rural water entities do not provide potable drinking water or sewerage-related services.
Note: Headworks are engineering structures that divert water flows.
Note: Wholesaler revenue is made up of the bulk service and usage charges that Melbourne Water collects from the metropolitan retailers for treating and transferring water and disposing of sewerage. Wholesaler revenue is eliminated within the state's 2017–18 AFR.
Source: VAGO, based on information provided by the Department of Environment, Land, Water and Planning.
Water entities get most of their revenue from service and usage charges for water, sewerage and other related activities. The Water Act 1989 enables water entities to collect these charges.
7.4 Understanding financial performance
Overview of financial results
Figure 7D provides an overview of the financial results of the Victorian water sector for 2017–18, by group.
Figure 7D
Summary of water entities' financial performance and financial position, 2017–18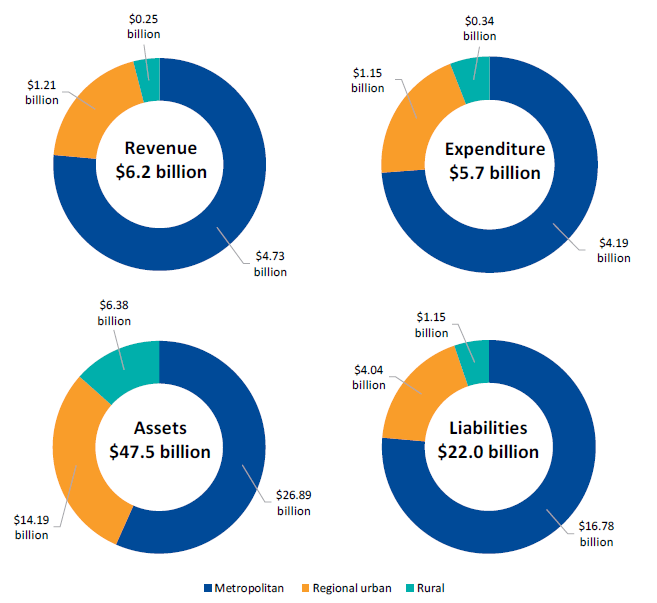 Note: Expenditure includes income tax expenses.
Source: VAGO.
The net result margin shows how much of each revenue dollar recognised by the water entity translates into operating profit. A 5 per cent margin means $0.05 is profit for every $1.00 of revenue.
Net result
The water entities reported a combined net result (profit) after income tax of $515.0 million for 2017–18, an increase of $148.8 million (40.6 per cent) on 2016–17.
Figure 7E shows two measures used to assess the short-term financial sustainability risks of the sector:
net result margin
earnings before interest, tax, depreciation and amortisation (EBITDA) margin.
Earnings before interest, tax, depreciation and amortisation (EBITDA) margin measures an entity's ability to fund financing charges, tax obligations and asset renewal—the higher the EBITDA margin, the greater availability of funds for this purpose.
Figure 7E
Average net result margin and average EBITDA margin by group, 2013–14 to 2017–18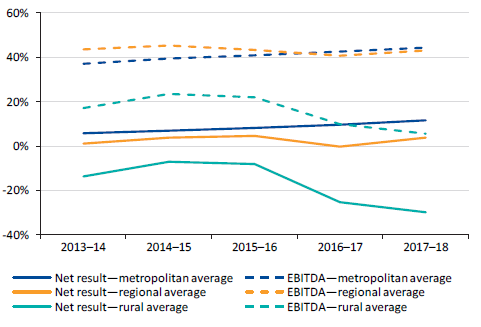 Source: VAGO.
The metropolitan and regional water entities reported a combined net profit after income tax of $605.4 million for 2017–18, an increase of $172.9 million (40.0 per cent) on the prior year. The improved net result is driven by water and sewerage disposal service and usage charges increasing at a faster rate than expenses. This results from:
continued population growth in Melbourne and regional areas
increases in water consumption due to lower rainfalls than last year, especially in the northern areas of Victoria.
Metropolitan and regional water entities' EBITDA margins are approximately 43 per cent, enabling them to fund income tax payments, interest payments and depreciation expenses. However, the regional entities' net result margin is slightly above break even, meaning there are limited profits available to pay down debt, dividends or make investments in infrastructure assets.
The two rural water entities reported a combined net deficit after tax of $90.3 million for 2017–18, a deterioration of $24.1 million (36.3 per cent) on 2016−17. While the rural water entities' EBITDA margin is positive, interest and depreciation expenses drive their net results into a deficit position.
The rural water entities continue to incur significant deficits as their ESC‑regulated customer service and usages charges do not adequately fund their depreciation costs. Over the last two years, the downward trend indicates short-term financial sustainability concerns.
7.5 Understanding the financial position
Assets
At 30 June 2018, the water sector held assets of $47.5 billion, an increase of $1.2 billion (2.6 per cent) compared to the prior year.
Water entities' most significant assets are their property, plant, equipment and infrastructure (PPEI) worth $45.3 billion ($44.2 billion in 2016–17). These assets ensure the availability of quality drinking water and delivery of sewerage disposal services to customers.
The net increase of $1.1 billion in the value of PPEI assets on the prior year was due to:
water entities spending $1.6 billion on replacing and renewing water and sewerage infrastructure
a $0.4 billion increase in land valuations across metropolitan Melbourne.
This was offset by $0.9 billion of other movements, including depreciation, disposals and asset write-offs.
Asset management is a key area that impacts the long-term financial sustainability of a water entity. One of the key financial challenges for water entities is to plan and carry out asset renewal and replacement. To understand this challenge, we analyse a longer-term indicator—capital replacement.
Capital replacement indicator
The capital replacement indicator illustrates whether water entities are spending more on replacing and renewing assets each year compared with their depreciation expense—depreciation is an indicator of asset consumption.
We calculate this indicator based on a five-year rolling average, over a period of 13 years, as can be seen in Figure 7F. The five-year rolling average allows for better phasing of asset spending by the water entities.
Figure 7F
Five-year rolling average of the capital replacement ratio, 2013–14 to 2021–22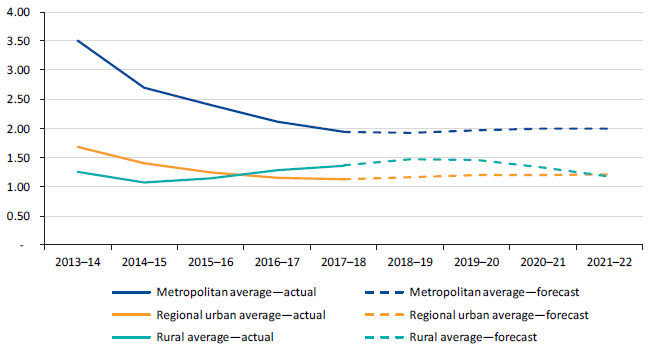 Note: The information from this figure comes from water entities' audited financial statements from 2009–10 to 2017–18 and water entities' 2017–18 corporate plans, which contain forward estimates for the 2018–19 to 2021–22 financial years. Dashed lines represent unaudited data taken from the water entities' corporate plans.
Source: VAGO.
Capital replacement indicator—In 2017–18, for every $1.00 of depreciation expense incurred by the water sector, an average of $1.39 was spent on PPEI.
Figure 7F indicates that the level of capital spending on asset renewal or replacement has kept pace with the consumption of assets, as it has remained above 1.0.
However, over time the trend has declined for metropolitan and regional water entities. In 2009–10, metropolitan water entities revalued their infrastructure assets from cost to fair value for the first time, significantly increasing asset values. The consequence was an increase in annual depreciation expenses, which is driving the decline in the capital replacement indicator. For the metropolitan and regional groups, the forecast to 2021–22 estimates that the ratio will stabilise.
For regional water entities, the declining trend is approaching the benchmark of 1.0. Regional urban water entities need to assess the longer-term risks to their capacity to replace assets at a pace that matches their consumption. Entities with long-lived infrastructure assets require comprehensive asset renewal strategies to support the long-term replacement of core assets.
The improvement in this indicator for the rural group is due to state and Commonwealth funding for new infrastructure assets. Based on corporate plan forecasts, we expect this trend to taper off in 2019–20, as water entities complete current infrastructure projects, causing depreciation to increase and the ratio to decline.
In the longer term, rural entities will face a difficult financial challenge in replacing and renewing their significant infrastructure assets.
Liabilities
At 30 June 2018, the water entities had combined liabilities of $22.0 billion, an increase of $570.1 million (2.7 per cent) on 2016–17.
Gross debt to revenue
At 30 June 2018, the water entities collectively held $15.5 billion of gross debt consisting of borrowings from TCV ($11.3 billion) and finance lease liabilities ($4.2 billion). Borrowings from TCV are secured by guarantees from the Treasurer—meaning that the state holds the risk of water entities not paying the principal and interest on their loans.
Statutory obligations include the payment of income tax and dividends.
The metropolitan group's borrowings from TCV increased by $499.3 million (5.8 per cent) to $9.2 billion at 30 June 2018. The increased borrowings are being used to fund the group's capital expenditure programs and statutory obligations.
The regional group's borrowings from TCV decreased by $18.9 million (1.0 per cent), as most of the regional entities were able to repay their maturing borrowings in 2017–18.
The gross debt to revenue indicator assesses an entity's ability to pay the principal and interest on borrowings from the funds that the entity generates. The lower the ratio, the better the entity's ability to repay its debt from revenue.
Figure 7G shows the indicator for the past five years.
Figure 7G
Gross debt to revenue ratio, 30 June 2014 to 30 June 2018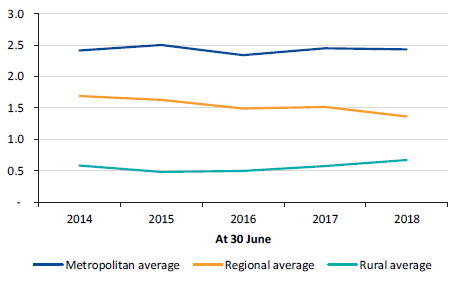 Source: VAGO.
In the metropolitan group, there continues to be significant dependency on debt to fund capital projects, as these entities do not hold sufficient cash reserves or generate sufficient funds from operations. The Borrowing and Investment Powers Act 1987 gives water entities the ability to roll over (refinance) their maturing debt and, in recent years, they have done so.
Our analysis of revenue generated by the metropolitan group shows that, after meeting operational and statutory obligations, only a small surplus remains at the end of each year to pay down debt.
Funding capital projects from debt is appropriate, particularly when the funds are used to construct larger-scale assets with extended useful lives, as costs associated with the assets are spread across future years. However, longer-term financial risks exist for the water entities if maturing debt continues to be rolled over without any plan for repayment.
Equity transactions
Dividends and capital repayments
In 2017–18, the water entities made equity payments of $377.3 million to the state, an increase of $266.2 million on the prior year. The metropolitan water entities paid $288.4 million of dividends to the state, an increase of $177.3 million on the prior year. This payment is made up of the year-end dividend for 2016−17 and an interim dividend for 2017–18.
Under the Water Act 1989, the Treasurer of Victoria determines whether a metropolitan water entity is required to pay a dividend. An obligation to pay a dividend only arises after the Treasurer makes a formal determination after consulting with the entity's board and the Minister for Water.
In addition to dividends, the metropolitan water entities repaid $85.0 million of capital to the state—in other words, these entities paid a further $85.0 million to the state from their cash reserves. This reduces the funds they have available to spend on asset renewal and replacement, and to repay maturing debt.