Managing the Performance of Rail Franchisees
Appendix D. MR4 project governance
Public Transport Victoria (PTV) established a project in 2015 to prepare for the next franchise agreements—known as the MR4 project.
Figure D1
MR4 project governance structure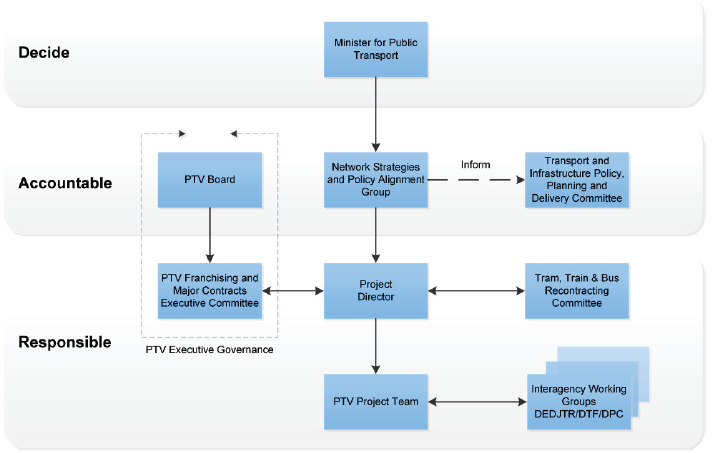 Source: PTV.
Roles and responsibilities
The Network Strategies and Policy Alignment Group is the main inter-departmental governance body and includes representatives from PTV, the Department of Economic Development, Jobs, Transport & Resources, the Department of Treasury & Finance and the Department of Premier & Cabinet. This group has functioned effectively to monitor project progress and risks, and provide support and direction to the MR4 director. This group also endorses positions and makes recommendations to the minister.
The Train, Tram & Bus Recontracting Committee provided an important forum for testing ideas, ensuring alignment with government policy and encouraging collaboration between departments. After initial meetings, the function of the committee was reassessed and it was replaced by other inter-agency working groups, such as the contract design groups.
PTV's internal governance of the MR4 project occurs at the Franchising and Major Projects Executive Committee, which is chaired by the PTV chief executive and comprises senior PTV executives. This group met monthly until February 2016, after which oversight of the project has been provided mainly by the Network Strategies and Policy Alignment Group. Project status reports are provided to the Enterprise Project Management Office at PTV where they are collated. Bi-monthly project updates are provided to the PTV board.