Results of 2017–18 Audits: Local Government
1.1 Overview
The Victorian local government sector consists of 79 councils, 10 regional library corporations and 16 associated entities.
The sector delivers a range of services to local municipalities including operating aquatic facilities, maintaining local roads, waste management, and delivering family services.
We grouped councils into two categories: metropolitan councils, and rural and regional councils. The categories are made up of five cohorts based on size, demographics and funding—see Figure 1A. The cohorts are consistent with Local Government Victoria's (LGV) classification of council types.
Appendix B lists the councils included in each cohort and the results of our audits of each entity.
Figure 1A
Council cohort in the metropolitan, and rural and regional categories
Cohort

Definition

Number of councils

Metropolitan councils

Metropolitan

A metropolitan council is predominately urban in character and located within Melbourne's densely populated urban core.

22

Interface

An interface council is one of the nine municipalities that form a ring around metropolitan Melbourne.

9

 

Total metropolitan councils

31

Rural and regional councils

Regional city

A regional city council is urban and partly rural in character.

10

Large shire

A large shire is a municipality with more than 16 000 inhabitants that is predominantly rural in character.

19

Small shire

A small shire council is a municipality with less than 16 000 inhabitants that is predominantly rural in character.

19

 

Total rural and regional councils

48

 

Total councils

79
Source: VAGO.
The local government sector is primarily funded through rates and charges, and government grants and contributions to deliver various services for the local community. Figure 1B provides an overview of the sector.
Figure 1B
Overview of the local government sector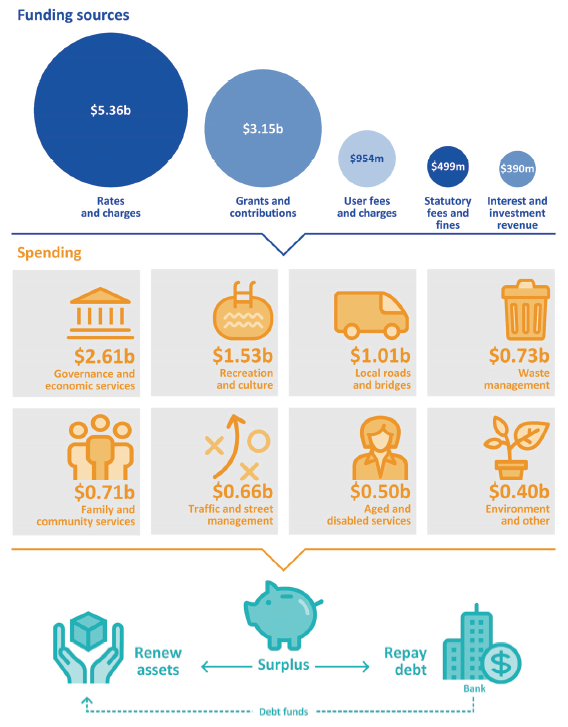 Source: VAGO based on Local Government Victoria, Victoria Grants Commission—Questionnaire 2016–17 responses from councils.
Metropolitan, and rural and regional councils differ in demographics and face separate challenges and opportunities. Figure 1C compares these two categories of councils and provides key sector information.
Figure 1C
Comparison of key elements across the two council categories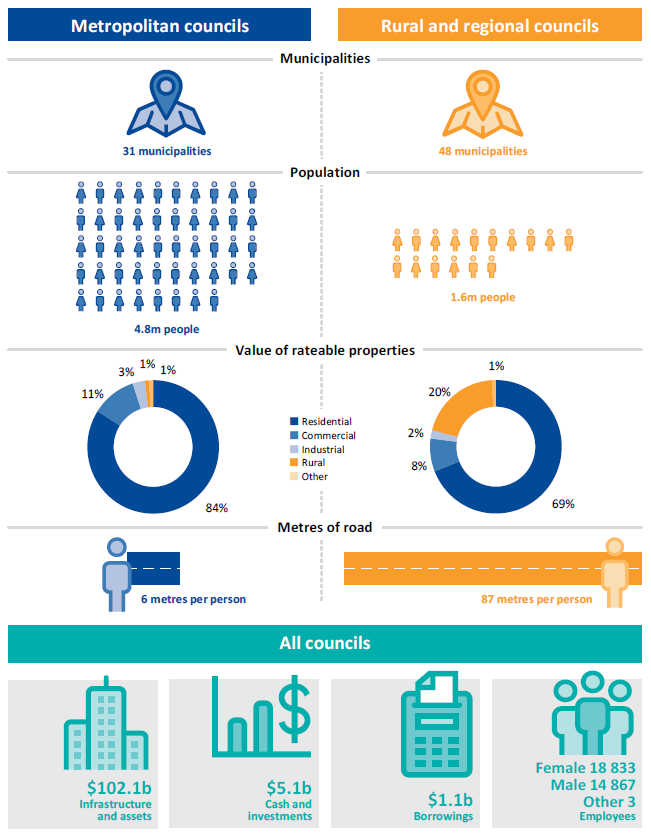 Source: VAGO based on Australian Bureau of Statistics, 3218.0 Regional Population Growth, 2016–17; and Victoria Grants Commission consultation and council data.
1.2 Legislative and reporting framework
Victoria's Constitution recognises local government as one tier of government. Democratically elected councillors govern councils, and a council-appointed chief executive officer manages their operations. While administered under the Local Government Act 1989, each council operates autonomously and is directly accountable to its ratepayers and residents.
The Local Government Bill 2018 was introduced into Parliament in May 2018. This bill was to repeal the Local Government Act 1989 with staged implementation to commence in late 2018.
Key proposed reporting changes included requirements for councils to develop:
four-year rather than one-year budgets
10-year financial plans
10-year asset replacement plans.
As the bill did not pass the upper house before Parliament dissolved, the bill has lapsed.
1.3 Sector developments
Two recent developments—changes in the recycling industry and governance failings and interventions—affected the local government sector.
Recycling industry
In June 2017, China introduced new trade measures to limit its intake of low quality mixed recyclables such as paper and plastic from foreign countries. While China did not completely ban the import of all recycled plastic and paper, they now require a cleaner, more processed version of these materials. As a result, countries including Australia that previously relied on China to process most of their recycling, now must consider how to manage recyclable materials that would otherwise have been exported.
In Victoria, councils are responsible for the kerbside collection of household recyclable waste in conjunction with recyclers—that is, waste management companies. Before China's waste restrictions came into effect, recyclers paid or offered discounts to councils to take recyclable waste. Councils are now charged for the service because recyclers no longer have a market in China.
To help councils meet the charges, the state government provided a $12 million relief package for councils to support ongoing kerbside recyclable waste collection, while longer-term solutions are put in place. Seventy-eight councils took up this funding in 2017–18.
The Fair Go Rates System places a cap on council rates for Victorian ratepayers. For the 2018–19 financial year, council rate rises are capped at 2.25 per cent.
Councils need to meet further increases in recycling costs from 1 July 2018, likely by increasing the waste charges to ratepayers. These charges are not subject to the Fair Go Rates System.
Our review of the 2018–19 council budgets show that there has been an average increase of approximately 14 per cent in the annual waste charge levied on ratepayers in comparison to 2017–18.
Three councils are introducing the levy for the first time in 2018–19. While this revenue measure is a short-term response to cover the increased recycling costs, councils will need to work with the state government to look for longer‑term solutions to allow recycling services to continue if they do not want to impact their residents' cost of living.
Five councils did not disclose a separate waste charge in their 2018–19 budget and have been excluded from this waste charge analysis.
Councils' focus should now shift to:
renegotiating contracts with recyclers
educating households and businesses about how to better manage their recyclable materials for continued export
reducing materials recycled or disposed to landfill overall.
Governance
Internal controls are procedures or policies put in place by management to safeguard assets, promote accountability, increase efficiency, and reduce fraudulent behaviour.
Effective governance is essential for maintaining strong internal controls. While most councils have suitable controls to govern themselves, several recent council governance failures resulted in statutory interventions by the state government.
Municipal Monitors monitor council governance processes and practices, advise councils on governance improvements, and report to the Minister for Local Government on council action to improve their governance. They can also recommend that the Minister undertake further governance measures.
Where there are serious governance failures, administrators are appointed by the Minister for Local Government and undertake the roles and responsibilities of the council. Figure 1D summarises the status at councils with recent governance issues.
Figure 1D
Current status of governance matters
Council

Description

Central Goldfields Shire Council

On 18 August 2017, the Local Government Investigations and Compliance Inspectorate (LGICI) released its report Protecting integrity: Central Goldfields Shire Council investigation. Following the release of the report, the state government dismissed the council on 23 August 2017 and an interim administrator was appointed by the state government.

On 13 December 2017, the state government appointed a panel of administrators over a three-year appointment period to 2020.

Ararat Rural City Council

A Commission of Inquiry was appointed in June 2017.

On 24 August 2017, the Minister for Local Government appointed a municipal monitor to observe the council's operations, until August 2019.

A final report on the recommendations from the Commission of Inquiry will be delivered in the council's 2018–19 annual report.

Greater Geelong City Council

On 7 September 2017, the state government appointed two municipal monitors to assist in implementing the full range of recommendations made by the Commission of Inquiry into Greater Geelong City Council. The monitors will be in place until the council's general election in 2020.

Frankston City Council

On 21 December 2017, the state government appointed a municipal monitor for an 18‑month term to investigate and report on the governance of the council, following a recommendation from LGICI.

South Gippsland Shire Council

On 18 June 2018, the state government appointed a municipal monitor to investigate and report on the governance of the council for a 12-month term.
Source: VAGO.
In August 2017, LGICI released its report which identified council failures in key areas of:
asset management
financial management
human resources management
governance.
That report focused on a lack of transparency in decision making and management practices, and it identified particular issues in relation to the management and sale of public assets, the management and expenditure of public funds, and the lack of compliance with laws and governance requirements at senior staff levels.
1.4 Structure of this report
In this report, we detail the outcomes of the 2017–18 financial audits of Victoria's local government sector. We identify and discuss key matters arising from our audits and analyse the information included in the councils' budget, financial and performance reports. Figure 1E outlines the structure of this report.
Figure 1E
Report structure
Part

Description

2: Results of audits

Evaluates the audit opinion results for the financial and performance report audits.

Assesses the timeliness, accuracy and quality of reporting, including a review of the financial reporting preparation processes in place across the sector.

3: Internal controls

Details the internal control issues identified through our audits, and discusses the resolution of prior period issues by the sector.

4: Financial outcomes and sustainability

Analyses the financial performance, position and sustainability of the sector.
Source: VAGO.
We undertake our financial audits of these entities under section 8 of the Audit Act 1994 and the Australian Auditing Standards. Each entity pays the cost of its audit.
The results of these audits are included in this report. The cost of preparing this report was $215 000, which is funded by Parliament.