Sexual Harassment in the Victorian Public Service
3 Sexual harassment complaints
When staff make a sexual harassment complaint, departments should respond quickly and effectively. To do this, all departments need a response framework that:
has multiple avenues for employees to lodge a complaint
enables them to respond to complaints quickly, sensitively and proportionately
ensures that they take action when they substantiate sexual harassment
supports all employees involved in the process.
If a department can do these things, it increases the faith of their staff in the system. This may lead to greater reporting of sexual harassment by employees.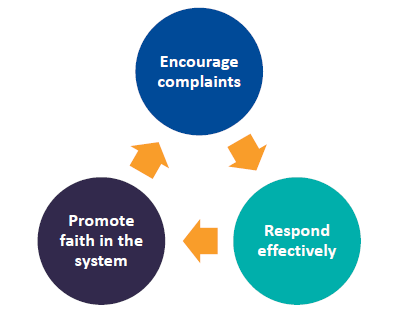 We assessed whether departments have systems that encourage complaints and respond in a fair and effective manner. We also considered whether staff have faith in the complaints process.
3.1 Conclusion
Departments have adequate processes to receive and respond to complaints in a fair and effective manner. This includes different types of complaint channels, however staff often do not use them.
How departments handle complaints is crucial to increasing staff confidence. We found delays, poor investigative practices, a lack of transparency and inaccurate and incomplete records of how departments manage complaints. This puts departments at risk if their decisions are challenged and weakens staff trust in the system.
Our survey found that underreporting is due to many factors, including employee perceptions that their complaint is not serious enough, fear that there will be negative consequences, or lack of faith in the system. To address underreporting of sexual harassment, departments need to do more to increase staff confidence in the complaints system.
3.2 Encouraging complaints
Departments need to encourage employees to make complaints when sexual harassment occurs. We assessed the complaint management frameworks at departments, including:
complaint channels available to employees
how departments record and store complaints
complaint rates
reasons why employees do not complain.
Complaint channels
Complaint channels vary across departments. All department policies outline at least two ways for employees to complain (either to their manager or HR). Some departments provide further channels for employees to seek advice, as outlined below.
| | |
| --- | --- |
| Complaints channel | Availability |
| Formal complaint to HR | All departments |
| Speak with manager | All departments |
| Peer support officers (staff in the department who can give confidential advice on options and supports available. They do not take complaints.) | DET, DELWP, DHHS and DTF |
| Online system for reporting occupational health and safety matters, including sexual harassment | DELWP, DHHS and DJCS |
| Workplace conciliators (provide confidential, impartial and informal support on workplace issues and complaint avenues. They can also facilitate difficult conversations or coach staff.) | DELWP, DHHS, DJPR and DoT |
Complaint channels only work if employees know about them. Our survey found that only 49 per cent of respondents knew how to make a formal complaint about sexual harassment to their department.
Employees can also make a complaint to an agency outside of their department, such as:
VEOHRC and AHRC
WorkSafe Victoria
Victoria Police (if a criminal matter)
Fair Work Commission
Victorian Civil and Administrative Tribunal.
When we commenced this audit all departments (except DTF and DPC) listed AHRC/VEOHRC, WorkSafe Victoria and Victoria Police as external avenues in their policies. DPC has since updated its policy to detail all external avenues for reporting complaints about sexual harassment.
Staff do not have a strong understanding of these reporting avenues. Our survey found that 50 per cent of respondents know how to report their complaint to external bodies.
Anonymous complaint channels
Various Ombudsman complaint handling guides state that it is good practice to accept anonymous complaints. Research into sexual harassment and assault in Australian universities supports this view. The 2017 On Safe Ground report from the University of New South Wales highlights that centralised and anonymous complaint channels enable systematic recording of incidents and can encourage staff to report sexual harassment.
Departmental staff have limited avenues to lodge concerns anonymously or online to their department. No department has a dedicated anonymous hotline or online channel for sexual harassment matters.
Further, the VPSC's model policy and departmental policies do not encourage anonymous complaint channels. Some departments stated that anonymous complaints make it difficult for them to ensure that:
the complainant has access to support services
the alleged harasser receives procedural fairness
they investigate matters, as there may be insufficient information on specific allegations.
However, departments can use anonymous complaints to obtain useful insight into their organisations and address cultural and behavioural issues in the relevant group. This can include:
prompting an appropriate workplace behaviour campaign or targeted training (focusing on the area the complaint is from)
capturing complaints against the same subject, which may lead the department to instigate its own investigation
prompting pulse surveys or staff feedback within the relevant area to test issues raised.
Capturing complaints
All departments record formal complaints about sexual harassment, but the level of information captured varies across departments. Complaint registers range from online case management systems to Excel spreadsheets.
Shortcomings of departmental registers include:
having multiple registers run by different people who capture different levels of information across regions or groups
their inability to run a report on different variables, such as open investigations
incorrectly categorising a sexual harassment complaint as a bullying or discrimination complaint
inability to report on the number of sexual harassment complaints across the department.
How many employees make a complaint?
Significant underreporting of sexual harassment occurs across all departments. While the rate of sexual harassment reported in the PMS has decreased from 11 per cent in 2016 to 7 per cent in 2019, of those that experience sexual harassment, few complain. The 2019 PMS shows that only 3 per cent of those who experienced sexual harassment made a formal complaint, down from 5 per cent in 2018.
Figure 3A
Respondents who experienced sexual harassment and made a complaint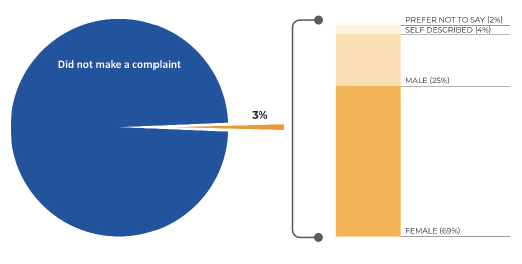 Source: VAGO analysis of PMS data 2019.
Complaint rates across departments vary. Departments want their complaint rates to be high relative to those who experience sexual harassment. Figure 3B shows that DHHS and DJCS have the highest complaint rates from the 2019 PMS. However, the rates across all departments are low.
Figure 3B
Respondents who experienced sexual harassment and made a formal complaint or told a manager
Source: VAGO analysis of PMS 2019 data.
At DTF and DPC, no respondents said that they made a formal complaint about the sexual harassment they experienced. The orange line shows that a higher percentage of respondents chose to tell a manager about the sexual harassment they experienced, although these figures are still low.
Reasons for not making a complaint
There may be many reasons why employees do not speak up about the harassment they experience. Reporting an incident of sexual harassment can be confronting and difficult. We found instances of respondents who feared that it would affect their safety and reputation or would not result in any action.
Our survey asked respondents who experienced sexual harassment why they did not make a complaint. The top five reasons were:
| | | |
| --- | --- | --- |
|   | Reason | Result (%) |
| 1 | I didn't think it was serious enough | 50 |
| 2 | I believed that there would be negative consequences for my reputation and/or career | 35 |
| 3 | I didn't think it would make a difference | 32 |
| 4 | I didn't believe that the complaint would result in any action | 29 |
| 5 | I thought that the complaint process would be embarrassing or difficult | 20 |
Note: n=649. Respondents could select more than one answer. Results shown as a percentage of respondents who experienced sexual harassment and did not make a formal complaint.
Source: VAGO survey 2019.
Only 7 per cent said they did not make a complaint because they did not know how. We explore the top three reasons for why respondents did not make a complaint below.
Perception of seriousness of complaint
Based on our survey, the most common reason for not reporting sexual harassment was the respondent's belief that it was not serious enough. We heard from survey respondents who felt that their department's processes were not well equipped to deal with sexual harassment that was 'low level' or a 'minor' incident.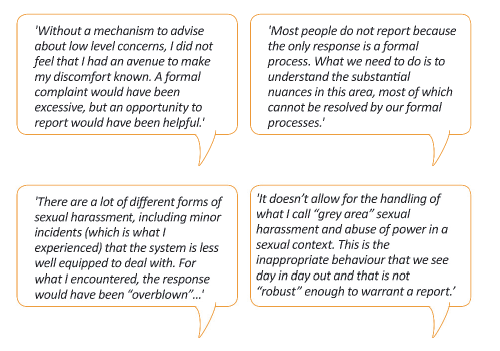 These responses highlight the need for departments to:
have response frameworks that include options for informal responses to sexual harassment (discussed in Section 3.3)
train staff on what sexual harassment is, including that 'grey area' behaviours can still be sexual harassment and are inappropriate (discussed in Section 4.3)
encourage and train bystanders to speak up when they witness sexual harassment, even if they feel it is a 'minor' or 'low level' incident (discussed in Section 4.3).
train managers on their obligation to address sexual harassment and deal with this at a local level (if appropriate) or escalate to a formal process (discussed in Section 4.4).
Fear of negative consequences
In our survey, 35 per cent of those who experienced sexual harassment and did not make a formal complaint said it was because they believed there would be negative consequences if they did.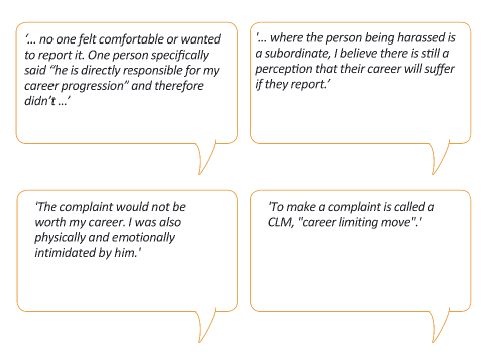 Lack of faith
Perceptions and other people's experiences can affect staff confidence in the complaints process. Of those who said in the 2019 PMS that they had experienced sexual harassment, only 26 per cent agreed with the statement, 'I am confident that if I raised a grievance in my organisation, it would be investigated in a thorough and objective manner'. In our survey, we heard from respondents who did not have faith in the system.

The way that a department responds to all complaints will impact faith in the system. We discuss this further in Section 3.4.
3.3 Responding to complaints
When an employee lodges a sexual harassment complaint, a department should act quickly and effectively. Sexual harassment complaints can be sensitive and complex and can involve significant distress for the parties involved.
Both the VPSC's model policy and the AHRC's Code of Practice encourage employers to have both formal and informal responses to sexual harassment complaints. All departments include both options in their policies.
Informal responses
Department policies encourage an informal response where possible. According to VEOHRC, informal responses are 'forward looking', meaning they focus on resolving the matter and support a working relationship, rather than proving harassment occurred and taking disciplinary action.
Pros

Cons

Generally resolved quickly within the team or workgroup

Less intimidating for all parties, as the process is less rigid

Encourages open communication

The department often holds limited documentation and does not record the matter centrally

Formal disciplinary action is not taken, so repeat offenders may not be tracked or identified
Data from the 2019 PMS shows that many respondents preferred an informal response. This included speaking to their manager or a colleague, rather than speaking to HR and submitting a formal complaint.
Response to harassment

% of those who experienced sexual harassment

Informal

Told a colleague

26

Told a manager

17

Formal

Submitted a formal complaint

3

Told HR

2
Note: n=1 465. Respondents could select more than one answer. Results shown as a percentage of respondents who experienced sexual harassment.
Source: VAGO analysis of PMS data 2019.
VEOHRC warns that informal processes often become 'hidden' in an organisation. The direct line manager usually handles informal complaints, and HR does not know their volume and nature. As a result, we could not determine the number of informal complaints and how departments dealt with them.
Formal responses
An informal response is not always appropriate. Where a sexual harassment complaint may require formal disciplinary action, the department needs to take a formal response. This often involves investigating the allegations.
Pros

Cons

Necessary for where the department decides the actions may contravene its code of conduct or a provision of the Public Administration Act 2004

Has a more robust process involving an assessment of the evidence and, if necessary, investigation of the complaint

Department keeps records that it may refer to in the future

Requires more from the complainant, such as submitting written complaints or attending interviews

Can be lengthy

Can be difficult for all parties
Deciding how to respond
When a department receives a formal complaint of sexual harassment, it needs to decide how to respond. Under the enterprise agreement, when an employee alleges misconduct, a department may:
conduct an initial assessment to determine if an investigation is required
determine that it is appropriate to begin an investigation immediately.
According to VPSC guidance, the initial assessment should be simple and involve basic fact-finding to determine whether a formal investigation is appropriate.
VPSC recommends that the department clearly document the outcome of the initial assessment. This is especially important in cases where the department determines that an investigation is not warranted.
We assessed a selection of 21 formal sexual harassment complaints across the departments and how they responded. As illustrated by Figure 3C, departments can take different approaches to resolving formal complaints. We found two cases where departments had not adequately documented the reasons why a complaint was not investigated.
Figure 3C
Responses to the formal complaints we reviewed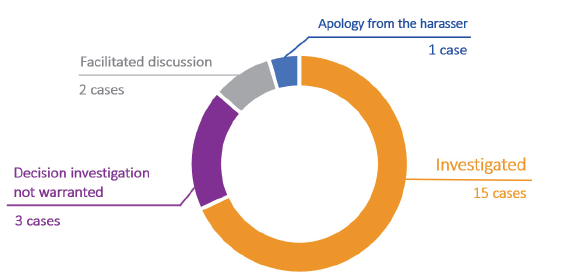 Source: VAGO analysis.
Investigations
Of the 21 complaint files we reviewed, 15 proceeded to an investigation. Of these:
seven cases were substantiated
five cases were not substantiated
three cases were stood down due to the subject resigning.
In examining these cases, we saw instances of poor handling, such as:
Issues

Findings

Procedural fairness

In one file, the department gave the subject two working days to respond to the investigation findings. This was less than the length of time specified in the department's policy.

Timeliness

The 15 investigations took an average length of 4.8 months.
Some investigations were particularly complex, with the longest taking over a year to finalise.
In one case, it took approximately seven weeks to hold a facilitated discussion after a complaint was raised.
In one case, it took four months to initiate a misconduct process after a complaint was raised, and in another case, it took two months.

Inconsistency

One file gave inconsistent information between the investigation report and outcome letter.
One file had inconsistencies between the allegations put to the subject and alleged instances of sexual harassment, with no documented rationale for the difference.
We also found issues with:
incomplete documentation and poor record keeping
poor application of the Briginshaw principle (discussed below)
inconsistent responses to criminal matters
investigations not occurring when there were no independent witnesses
failure to finalise investigations when the subject resigns before the department concludes its investigation.
Incomplete documentation and poor record keeping
To comply with the Public Records Act 1973, departments must keep full and accurate records. These records must allow others to easily understand what decisions the department made and why.
Ten of the 21 complaints we reviewed had missing or incomplete documentation. This ranged from minor instances, such as missing file notes of telephone conversations, to more serious lapses such as:
failure to record the rationale for key decisions
final investigation reports not on file.
These instances may breach the Public Records Act 1973 and expose the department to risk. A department may also not be able to defend its decisions if an outcome is appealed or a complainant initiates legal action.
Poor application of the Briginshaw principle
When investigating sexual harassment in the workplace, the investigator must form a view of the allegations on the balance of probabilities. This means that the investigator, in considering all available evidence, must determine whether it is more probable than not that sexual harassment occurred.
However, the High Court's decision in Briginshaw v Briginshaw (1938) 60 CLR 336, known as the Briginshaw principle, means that while findings are made on the balance of probabilities, more serious allegations must be supported by stronger evidence.
We saw one case where a department misinterpreted the Briginshaw principle when substantiating an allegation. The investigation report weighed up the evidence and determined that the alleged conduct 'likely occurred', which is the required standard of proof. This should have meant that the allegation was substantiated. However, the report went on to say that the allegation could not be substantiated, due to heightened evidentiary standards required for more serious allegations.
The Briginshaw principle does not change the standard of proof based on the seriousness of the allegation.
While it is appropriate for departments to require stronger evidence when considering serious allegations, they must still determine whether it is more likely than not that the alleged conduct occurred. Such misinterpretations may lead to allegations not being substantiated, even though investigators are satisfied that the allegation was more likely than not to have occurred.
Responding to criminal matters
Some forms of sexual harassment are also criminal offences, such as stalking, sexual assault and indecent exposure.
Three of the 21 complaints we reviewed included alleged criminal conduct. All cases were dealt with differently:
One department consulted with Victoria Police before starting the investigation, which we consider to be good practice and consistent with the model policy.
One department did not refer the matter to Victoria Police because they believed that they should only refer substantiated matters.
One department did not refer the matter to Victoria Police as the complainant expressed their wish not to do so on multiple occasions.
This is a difficult decision for departments, as they should balance the wishes of the complainant and the need to respond quickly with a requirement to report to Victoria Police. The following guidance is available for departments:
Source

Guidance

Independent Anti‑corruption Broad‑based Commission guide on conducting internal investigations (2016)

'Never make a finding in a report that a person has committed or is guilty of any criminal offence. It may be appropriate, however, to make a finding that there is sufficient evidence to warrant referring the matter to Victoria Police, IBAC or another appropriate agency.'

VPSC model policy (2018)

'If an allegation appears to be a matter relevant to the police, the [department] is obliged to report this to the police regardless of whether the complainant has made a report to the police or not.'

VPSC Management of Misconduct Policy (2019)

'Matters of potential employee criminal conduct must be promptly reported to appropriate external agencies/authorities.'

This policy only applies to Victorian Public Service employees covered by the enterprise agreement.

AHRC Code of Practice (2008)

'If an employer suspects that a criminal incident has occurred, the individual should be advised to report the matter to the police as soon as possible and be provided with any necessary support and assistance.'
Departments must ensure that their actions will not prejudice any current or future criminal investigations, but also protect staff from further harm.
Departments should also document the rationale for not referring sexual harassment allegations to Victoria Police.
No independent witnesses
We found cases where the department did not investigate allegations or did not substantiate a complaint because there were no independent witnesses.
By its nature, sexual harassment may often occur where there are no independent witnesses. A department's decision to not conduct or substantiate an investigation should not solely be on the basis that there was no independent witness. This wrongly suggests that people should only report sexual harassment if others witnessed it.
The AHRC Effectively preventing and responding to sexual harassment: Code of Practice for Employers (2008) states that when there is no independent witness, departments should consider:
evidence that the complainant discussed their concerns with a third party
supervisors' reports and personnel records (for example, unexplained requests for transfer or shift changes, sudden increase in sick leave)
complaints or information provided by other employees about the behaviour of the alleged harasser
records kept by the complainant
whether the parties presented their evidence in a credible and consistent manner
the absence of evidence where it should logically exist.
We found two cases where the investigator did not consider such evidence or assess the credibility of witnesses.
Subject resigning before the end of an investigation
In some of the cases we reviewed, the alleged harasser resigned before the conclusion of the investigation.
In some cases, the department chose to continue the investigation. In others, the department discontinued the investigation and did not make a finding as to whether the sexual harassment occurred.
Departments have no requirements or guidance on how to make this decision. There may be practical reasons why a department chooses to discontinue an investigation at this stage. This includes resources, evidentiary issues, and their inability to compel a subject to participate in the process after they resign. However, there are also risks, including that:
other employees may feel that the subject was not held accountable for their actions
the subject may find work in another department as the complaint against them was not substantiated, and a disciplinary outcome was not imposed.
Through our survey and submission process, we heard from multiple employees who were concerned about subjects who resigned before their conduct could be investigated, and that alleged offenders have moved on to work at other departments.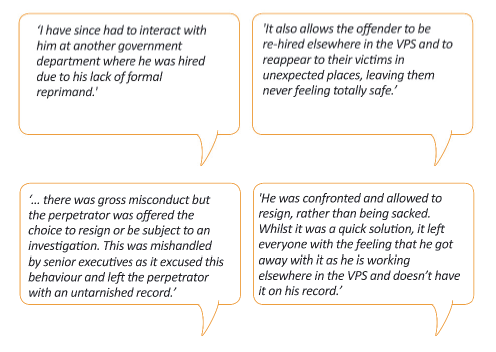 On 1 October 2019, the VPSC extended the Victorian Public Service Pre‑employment Screening Policy, which previously only covered executives, to cover all staff in Victorian public service bodies. The policy requires candidates to self-report any misconduct investigation, even if it was not completed. This aims to screen out candidates with a relevant history of misconduct, which may help address the concerns raised. The associated guide also reinforces the need for departments to keep good records to enable validation of the declaration.
3.4 Complainant satisfaction and faith in the system
Poor handling of complaints can result in staff losing faith in the system, which may result in fewer staff making complaints.
Our survey showed that 32 per cent of respondents who made a complaint were not at all satisfied with how the department handled their complaint, and a further 21 per cent were somewhat unsatisfied. The top four reasons for staff dissatisfaction were:
| | | |
| --- | --- | --- |
|   | Reason | Result (%) |
| 1 | My complaint was not taken seriously | 30 |
| 2 | I was not informed of the outcome | 27 |
| 3 | Communication was poor | 22 |
| 4 | I was victimised as a result of complaining | 22 |
Note: n=63. Respondents could select more than one answer. Results shown as a percentage of respondents who experienced sexual harassment and made a formal complaint.
Source: VAGO survey 2019.
Complaints not taken seriously
The 21 formal complaints that we reviewed were all taken seriously by the relevant department. However, some respondents to our survey felt that that this is not always the case.

To meet their positive duty under the Equal Opportunity Act 2010 to eliminate sexual harassment, departments must ensure that all complaints of sexual harassment are taken seriously and addressed.
Managers play a key role in this. We discuss the importance of training for managers further in Part 4.
Not informing complainants of the outcome
Departments give complainants varying levels of information about the outcome of investigations often due to concerns about privacy. We found some cases where departments did not inform the complainant whether the investigation had substantiated their complaint or not. This can have adverse impacts on the complaint, as outlined in responses to our survey.

In our survey, 27 per cent of respondents who made a formal complaint said they were not satisfied because they were not informed of the outcome.
The guidance for departments on how much information they can provide requires the department to weigh the rights and interests of the complainant against that of the respondent. The Privacy and Data Protection Act 2014 outlines departments' legislative obligations in relation to privacy, and further guidance is available:
Guidance

VPSC Managing Poor Behaviour in the Workplace Guide

'In most cases, the complainant will want to know the outcome at the end of an investigation.

'In such cases, the interests and rights of the complainant to know that their complaint has been dealt with appropriately should be balanced with the interests and rights of the respondent.' This includes to have the outcome of the investigation kept confidential. 'Providing the complainant with details of the exact sanction imposed may be a breach of privacy.'

'To balance these interests, the organisation should inform the complainant that an investigation was conducted and that it resulted in an appropriate outcome (without details of the nature of any sanction).

'Providing some comment about the outcome of an investigation is also important in order to avoid a potential complaint that nothing has been done about an allegation.'

Clause 21(13) of the enterprise agreement

The complainant must be advised that the allegation has been dealt with and may provide the Employee with other information as is reasonably practicable.

Privacy and Data Protection Act 2014

The Privacy and Data Protection Act requires departments to comply with Information Privacy Principles (IPPs) outlined in the Act. These manage how personal information can be managed, used and disclosed. IPP 2 states that an organisation must not use or disclose personal information for a purpose other than which it was collected (the primary purpose) unless an exception applies.
Discussion within cases such as the Federal Circuit Court of Australia case of Banerji v Bowles (2013) highlight that a greater degree of disclosure may be acceptable. In that case, the judge questioned how a complainant might obtain information or raise any questions about a serious misconduct matter if they were only told that 'appropriate action' was taken and that the relevant Privacy Act prevented disclosure of information. The judge noted that 'such an information vacuum might understandably give rise to a certain angst or tension in the workplace, which is not necessarily of the complainant's making'.
Poor communication and support
Making a sexual harassment complaint can be a distressing experience. Departments should provide support to complainants and ensure that they communicate clearly with the complainant throughout the process.
All departmental staff have access to an EAP, a free and confidential counselling service to address issues affecting their working or personal life. Our survey suggests that this information is well known to employees, with 84 per cent of respondents saying they were familiar with the program.
In 10 of the case files, there was no evidence that the department offered the complainant support, such as providing them with the details for the EAP, during the process. However, conversations with complainants before and during the process may take place outside of the investigations team, and it is general practice that departments offer access to an EAP in all instances. We also saw other instances where a senior officer was allocated as a support person to the complainant during the process.
None of the files we reviewed documented that the complainant had been advised of appeal options or external avenues to lodge a complaint. While this information is available in internal policies, departments should include it in key correspondence to the complainant.
We also saw cases where departments did not inform the complainant that an investigation had begun or did not update them through the process.
Victimisation
According to our survey, 22 per cent of respondents who made a complaint said that they were victimised as a result.

Under the Equal Opportunity Act 2010, departments have a duty to eliminate victimisation. These results highlight the importance of strong policies and swift action should reprisals occur. They also highlight the need to train managers on their responsibilities to protect complainants from victimisation.