The role of the Auditor-General is to provide independent assurance to the Parliament of Victoria and the Victorian community on the financial integrity and performance of the state.
Under the Audit Act 1994, we must prepare and table an annual plan before 30 June each year that details our proposed work program for the coming financial year. 
The Victorian Auditor-General's Office (VAGO) conducts performance and financial audits and undertakes assurance reviews of public sector agencies. We report on the results of these audits and reviews to Parliament. Our work program helps Parliament to hold the government accountable and helps the public sector improve its performance.
Our performance audits assess whether government agencies, programs and services are effectively meeting their objectives, using resources economically and efficiently and are complying with legislation. They provide assurance about activities that are performed well or represent better practice and identify opportunities for further improvement.
A financial audit is an audit of an agency's financial report. Our audit opinions provide assurance that financial reports fairly present agencies' financial positions, cashflows and operational results for the year.
Performance audits and financial audits integrate with and support each other. Our financial audits are part of our early warning system. Intelligence obtained from our regular annual contact with agencies feeds into our performance audit program. In turn, our public reporting on the results of financial audits responds to and is shaped by our annual planning for performance audits. 
While our assurance reviews provide less assurance than an audit, they allow us to cost-effectively and more quickly respond to, examine and report on issues where the additional evidence that would be obtained for an audit is not required. Our annual report on how agencies are implementing our past audit recommendations is one example of an assurance review.
Performance audits and reviews
We use a rolling three-year planning cycle to develop our performance audit work program. This forecast horizon informs Parliament, the public sector and the Victorian community about our short to medium-term goals and priorities. It also provides us with opportunities to undertake early engagement with our stakeholders and allows audited agencies to make necessary preparations for scheduled audits well in advance. 
Our annual planning process has three substantive components:
understanding the environmental context
deciding potential areas for audit focus
communicating these plans to relevant stakeholders and incorporating their feedback where appropriate.
Understanding the environmental context
We consult with stakeholders and review publicly available information to inform our understanding of public sector programs and initiatives. Our understanding of the environment helps us generate potential areas of audit interest. 
Our consultations include members of Parliament, citizens and community groups, public sector agencies, and other key stakeholders. Their input helps us to understand the context of information that we have gathered and assists us in generating ideas for audit topics.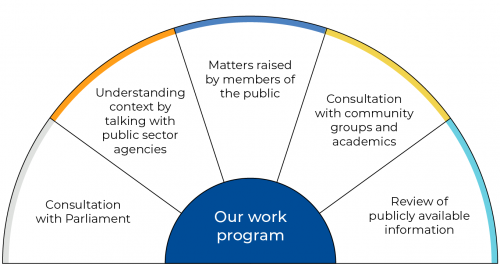 Our review of information can include research, statistical data, reports by other external sources and information that we have previously gathered in the course of conducting our audits. We focus on risks, challenges and emerging issues that may influence the achievement of government objectives. 
Deciding which areas to audit
We decide which areas to audit by anticipating and responding to current and emerging risks and challenges in the Victorian public sector. We use a multifaceted approach to identify, assess and prioritise potential topic areas. Our planning process informs the development of a work program that balances predictability and responsiveness. 
Our forward program also complements our strategic plan and objectives. It is important that we maintain our relevance by delivering credible and authoritative reports and advice about things that matter and will make a difference. 
In 2020–21, we will continue to focus on maintaining a balanced audit program that reflects our mandate—a mix of audits that examine whether public sector objectives are being achieved effectively, economically and efficiently and in compliance with relevant legislation. 
Assessment steps
After we complete our environmental scan, we assess potential audit topics against the criteria below.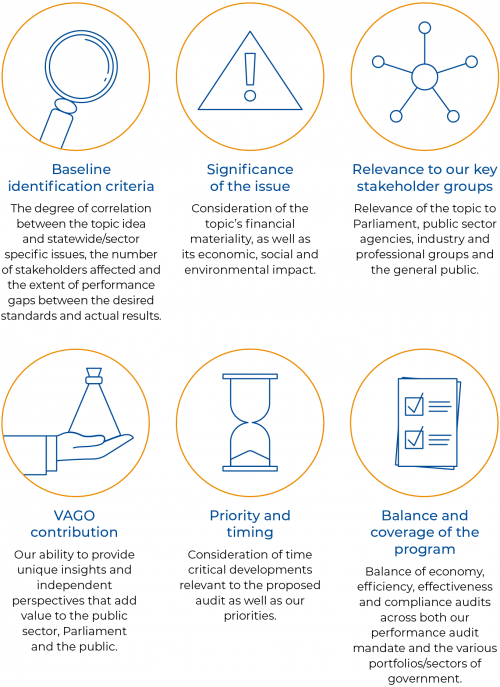 Consulting on our work program
Having considered, assessed and internally moderated each topic based on our view of its merits, we then consult with the Public Accounts and Estimates Committee (PAEC) as well as departments and other agencies proposed for inclusion in audits. Our consultation is thorough and transparent and provides the opportunity for considered feedback throughout the planning process. 
We analyse all feedback we receive to refine the focus of our audits, check factual accuracy, identify issues with proposed audit timing, and to better understand the impact of current or proposed public sector reforms on audit topics. We acquit the written feedback we receive and explain where we have made amendments based on the information provided and why.
Follow-up audits
Our performance audit work program also includes our commitment to undertake follow-up audits. Our follow-up audits monitor agencies' progress in implementing recommendations from previous audits, and also verify that actions taken by agencies have been effective in addressing our recommendations. 
To contribute to our selection of audits to follow-up, we undertake a comprehensive annual follow-up survey. This survey requires agencies to self attest to the actions they have taken on recommendations over a three year period. Our 2019–20 survey included all performance audits tabled in 2017–18 and recommendations yet to be implemented from audits tabled in 2015–16 and 2016–17. Under the assurance review provisions in our updated legislation, we now annually publish these agency responses and our overarching analysis of them in a report to Parliament.
The issues identified in the initial audit, the risk and materiality of the subject matter and feedback received through our ongoing engagement with key stakeholders also inform the follow-up audit topics we select.
Finalising our work program
The table inside the front cover sets out the performance audits that we intend to undertake over the next three years. This forecast provides us with more opportunities for early engagement with our stakeholders and allows audited agencies to prepare for scheduled audits well in advance.
Performance audits and assurance reviews are conducted in accordance with relevant standards issued by the Australian Auditing and Assurance Standards Board. These standards cover planning, conduct, evidence, communication, reporting and other elements of performance audits. Additional information about how we deliver our performance audits can be found in Appendix A.
Financial audits
Our financial audit program delivers a range of assurance services for public sector agencies. This year these include:
audit opinions on financial reports and performance statements of public sector agencies
an opinion on the Annual Financial Report of the State of Victoria
a review report on the Estimated Financial Statements for the General Government Sector (due to the delay in the state budget we expect to review both the 2020–21 and 2021–22 estimated statements during 2020–21)
three reports to Parliament on the results of our financial audits
a report to Parliament on our audit of the Annual Financial Report of the State of Victoria 
a separate omnibus report on the outcomes from our audits of the Victorian public sector (this standalone report is likely to be required this year in the case that financial reporting time lines for agencies are extended because of the coronavirus (COVID-19) pandemic).
Assurance reviews
On 1 July 2019 the amended Audit Act 1994 came into effect.
The amendments were designed to restructure and modernise the Act to make it more accessible, effective and efficient.
The amendments modernise our information-gathering and disclosure powers and clarify our existing reporting obligations and powers. They also give the Auditor-General new powers to conduct assurance reviews and to report to Parliament on these reviews.
Assurance reviews are more targeted, time-sensitive and smaller in scale compared to financial or performance audits. As such, they are a cost-effective mechanism that enable us to respond quickly to discrete and lower-risk issues brought to the Auditor-General's attention by other integrity offices, members of Parliament or the community. They are provided for under the Australian Auditing and Assurance Standards and are available in all Australian jurisdictions, except for Queensland and South Australia.
The Auditor-General has the discretion to determine when an assurance review is appropriate. We now table our report on the status of past audit recommendations as an assurance review annually.
Public Accounts and Estimates Committee
The Audit Act 1994 requires us to seek comments on our draft annual plan from PAEC. We value PAEC's input and seek its suggestions on potential areas of public sector service delivery that may benefit from audit scrutiny. 
In their response to the earlier draft of this plan PAEC suggested topics for performance audits relating to the COVID-19 pandemic and public pathology services. 
We have added two new performance audits to our work program relating to COVID-19 pandemic:
Business continuity during COVID-19
Management of spending measures in response to the COVID-19 emergency.
We have also brought the audit of Public pathology services in Victoria into our work program, which we had previously included on our out-year list.
Our legislation requires that we publish in the annual plan any changes to the draft plan suggested by PAEC that the Auditor-General does not adopt. PAEC had no further suggestions in this planning cycle.
The impact of COVID-19
Performance audits
We recognise the pressures that the COVID-19 pandemic has put on the public sector, particularly the Victorian health system.
In response to these pressures we adjusted both our current performance audit work program and this forward plan. We reconsidered the timing and topics of our performance audits to allow public sector agencies to participate in them at a time when the pressures of the pandemic are expected to have eased. 
Our cross-sector program on the inside cover also includes a performance audit that we originally included in our 2019–20 annual plan but paused due to COVID-19. This audit will now table in 2020–21. In some instances, we have deferred, delayed or cancelled performance audits that we had planned for 2020–21 to 2022–23. Additionally, we have included two performance audits that specifically look at COVID-19-related matters so we can gather and share learnings from this significant event.
See Appendix C for a full list of adjustments to the performance audit work program in response to the impact of COVID-19.
Financial audits
In times of economic uncertainty and heightened government spending, the need for transparency and accountability of financial information remains of paramount importance.
We are equipped to conduct our financial audits remotely. However, the diversion of resources to respond to the crisis, combined with the challenges posed by matters such as restrictions on movement, access to workplaces and home education arrangements, have affected the capacity of many agencies to achieve predetermined financial reporting and audit time lines.
In response, we were part of a working group with representatives from the Department of Treasury and Finance (DTF) and the Department of Premier and Cabinet (DPC) to consider various alternatives to financial reporting and audit time lines, considering the different scenarios that may arise as a result of COVID-19. 
Outcomes of this working group have allowed for a staged approach to financial reporting and audit time lines in the event that our audit or client capacity is challenged. 
The review report on the Estimated Financial Statements for the General Government Sector for the 2020–21 financial year has been delayed until late 2020. 
The preparation and audit of the Annual Financial Report of the State of Victoria for the 2019–20 financial year and material entities will be a primary focus and conducted first.
The preparation and audit conduct of non-material entities may be delayed given the primary focus.
This means that we will likely provide many of our audit opinions later in the year compared to previous years. We may also need to do more work to substantiate agency expenditures, particularly emergency and non-routine expenditures that may have bypassed the usual governance and control arrangements.