1.1 Crime statistics in Victoria
Accurate crime statistics assure the community that police are accountable and acting with integrity. Constables, sergeants and supervising sergeants spend a significant proportion of their time recording information about reported crimes. Police units rely on this data to understand patterns, determine resourcing and focus their efforts to prevent harm to the community.
Between 2012 and 2017, there were 3.5 million records relating to reported crimes created in Victoria Police's LEAP system. Quality control is paramount in providing reliable data, so centrally based operators in RSD check the quality of crime data entered in LEAP from the 54 PSAs. ITGCs can also reduce accidental or deliberate tampering with or release of crime data.
Crime recording standards
National Crime Recording Standard
ABS developed the NCRS to address the inconsistencies in crime reporting across Australia's various jurisdictions and make them more comparable. Victoria Police adopted the NCRS in 2009 and, by 2010, all states agreed to incorporate the NCRS into their internal policies.
Rule 2 of the NCRS requires that members record incidents on a prima facie basis. This means that if 'on the face of it' and on the balance of probabilities it is more probable than not that a crime has occurred and there is no credible evidence to the contrary, a member should record the incident at his or her earliest convenience.
This rule provides a common basis for recording an incident with one or more offences according to the judgment of the member (as distinct from evidentiary or prosecutorial reasons).
Victorian Crime Recording Standards
The Victorian Crime Recording Standards enshrine the NCRS in Victoria Police policy. They promote a consistent approach for recording crime and non-crime incidents. The objective of the standards is to ensure that records are accurate and timely, and to enable their effective use for operational, analytical and statistical purposes.
There are 10 recording rules and five recording requirements. Regarding the timely recording of data, Rule 3 states, 'Each incident and any associated status changes need to be recorded in the crime recording system as soon as they are known'. Regarding the complete recording of data, Rule 8 states, 'All distinct offences must be recorded including the date of occurrence'.
The Victorian Crime Recording Standards also define how Victoria Police should complete prima facie reporting. Prima facie reporting, if completed properly, should provide complete and reliable information about alleged perpetrators and victims. The standards state:
Before a crime is recorded corporately the reporting police member must:
ensure an offence at law is being reported
determine the facts of the crime.
The decision to record a crime is based on the information and evidence available at the time the crime is reported. In the majority of cases, the belief by the victim or reporting person that a crime occurred is sufficient justification to record the crime incident.
Members are required to record crimes and other incidents in LEAP. Crime statistics, which are published on the CSA website, are based on crime data recorded by Victoria Police in LEAP.
Victoria Police's organisational structure
Victoria Police is divided into four regions—Eastern, North West Metro, Southern Metro and Western. Regions are made up of divisions—there are 21 divisions overall, with between four and six per region. The 21 divisions are further divided into PSAs—there are 54 overall, with two to four per division.
Police stations report to a PSA within their division, and the assistant commissioner responsible for the region oversees the results. The assistant commissioners report to three deputy commissioners, who oversee three out of the five areas of Victoria Police executive command.
Relevant legislation and the Victorian Police Manual
Victoria Police operates under the Victoria Police Act 2013 (the Act). Part 13 of the Act deals with the confidentiality of police information, including access to and use and disclosure of information on a computerised database.
The Victoria Police Manual (VPM) guides members on how to conduct their duties. The VPM is updated regularly and includes policies and procedures for reporting and recording crime in LEAP. It explains:
how and when to amend a LEAP record
how to report on motor vehicle thefts
when to seek assistance from RSD.
It does not include a prescriptive guide to completing reports in LEAP.
The introduction of the Family Violence Protection Act 2008 and its amendments in 2017 resulted in changes in the way that Victoria Police reports family violence incidents. The legislative changes have led to members recording more information about incidents that involve family violence and has increased focus on ensuring complete and accurate reporting. Members must capture more details about the parties involved and conduct structured risk assessments to determine the appropriate level of intervention.
The number of family violence incidents reported, including those that involve crimes, has increased as a result, and this is reflected in the CSA's published statistics. Family violence reports now form a distinct part of Victoria Police's reporting against BP3 measures.
1.2 Information management
Capturing crime data
Victoria Police captures crime data in the course of its work. The public may report potential crime in multiple ways, including calls to Triple Zero or attending a police station, or police may detect crime while on patrol. Members are required to report crimes in accordance with the VPM and the Victorian Crime Recording Standards.
Members record details such as offenders, witnesses, victims, locations where crimes occurred, and incident dates and times. RSD is responsible for processing offenders and adding in supplementary reports on thefts of motor vehicles, thefts from motor vehicles (particularly licence plates) and missing persons.
Having a centralised team within RSD to promptly report certain events makes information accessible to members in LEAP in a more timely manner. RSD data operators input the record into LEAP as soon as they receive instruction via telephone from a member to do so. Otherwise, the record would only be entered into LEAP once the reporting member had an opportunity to return to the station and complete the online forms.
Figure 1A outlines the main responsibilities for crime reporting.
Figure 1A
Crime recording and reporting responsibilities
Agency/division

Responsibility

Operational members—ranked mainly constable and senior constable

Gather data and input it into LEAP via LEDR Mk2 or hardcopy forms based on the requirements of the Victorian Crime Recording Standards
Faxes crime reports to RSD

Operational members—ranked sergeant and above

Review LEDR Mk2 for breadth, quality, correctness
Request rework and approve
Review forms for transmission to RSD

RSD

Records some crimes and all offenders in LEAP based on the requirements of the Victorian Crime Recording Standards
Performs quality assurance on recorded crime

Data Quality Unit (DQU), within RSD

Performs data quality and cleansing functions across LEAP based on risks and priorities

Corporate Statistics Unit (CSU)

Collects, collates, analyses and disseminates statistical data collected by Victoria Police

Capability Department—regional audit teams

Ensures LEAP audits are conducted on crime‑recording processes

CSA

Publishes crime statistics on a quarterly and annual basis
Source: VAGO based on Victorian Crime Recording Standards.
Members use a free-text field in LEAP, known as the 'narrative', to record details of incidents, including information about the scene of the crime, the people involved and the events leading up to police involvement. Members transcribe into LEAP information from the notes they take when an incident is reported. As investigations progress, members use the 'narrative' field to record updates as more information becomes known. The crime record also has an assigned status, which is updated as the investigation of the incident progresses.
After the initial recording of a crime or incident in LEAP, most members can only change the 'narrative' field and not fields that capture information such as dates and people involved in the incident. Supervisory sergeants can change the status of incidents in LEAP—from 'active' to 'pending' or 'completed' . Members have to fax requests to RSD to update other information such as adding in bail conditions or new sub-incidents and linking details of offenders to incident reports once they are identified.
Key systems—LEAP and LEDR
Victoria Police started using LEAP to record details of crime and incidents in 1993. Victoria Police first attempted to update the mainframe technology in 2006 when limitations in LEAP's capability became apparent—for example, the inability for members to directly enter data from their own desktop computers. However, the update project was cancelled five years later, costing $45 million, when it was determined it would cost $100 million more than originally expected. Some of the key challenges for upgrading LEAP included its many interfaces and integration with more than 25 existing information technology (IT) applications.
Since 2006, Victoria Police has been gradually introducing direct-entry capabilities for LEAP and upgrading the supporting infrastructure to keep the system operating while it determines its future plans for incident recording. In its 2015–16 annual report, Victoria Police indicated that these updates have given LEAP up to seven years' extra life, extending its use for 12 years, until 2027–28.
LEDR is one of the systems introduced to improve LEAP's capability. Members can use LEDR—a front-end web-based portal that interfaces with LEAP—to enter information and submit certain reports into LEAP. LEDR also introduced additional input controls on some data fields, more than were present in LEAP alone.
LEDR Mk2, the latest version rolled out in 2015, enables members to create initial reports for all incident types. However, some key limitations remain—we discuss these in Part 2.
Figure 1B outlines the current collection processes for crime data.
Figure 1B
Crime data collection processes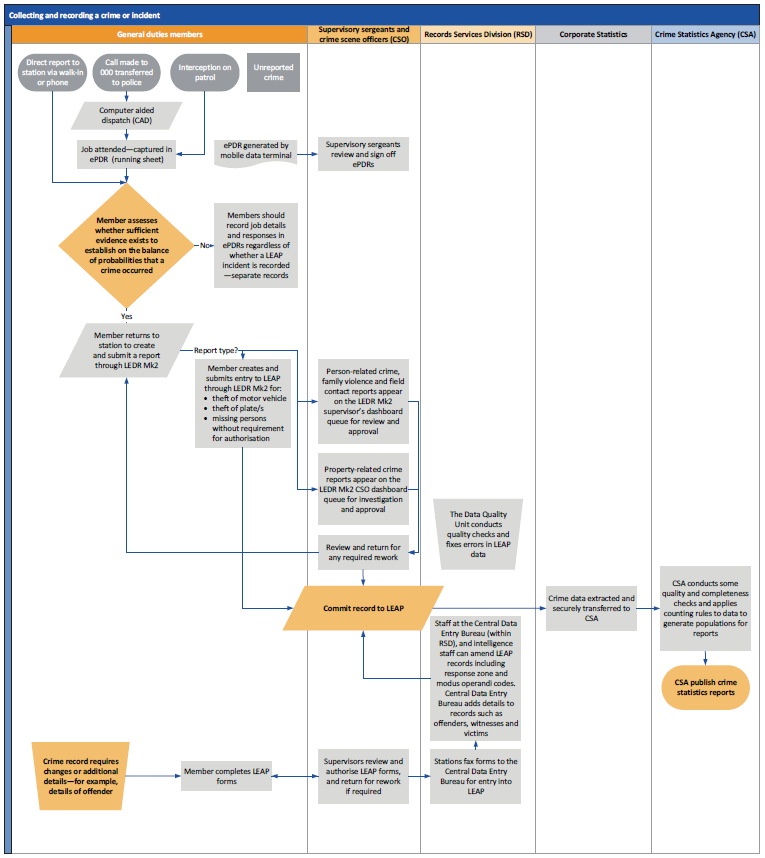 Source: VAGO based on information provided by Victoria Police.
Reporting on performance
BP3 performance measures
Victoria Police has performance measures relating to crime data in BP3. These measure rates of different types of crime, success in prosecution of crimes and the timeliness of crime recording.
The External Reporting team at Victoria Police manages the process for determining BP3 performance outcomes, which are published in Victoria Police annual reports. CSA assists in this process by providing Victoria Police with the counts of crime by category, but it is up to Victoria Police to determine the final performance outcomes for inclusion in BP3 and annual reports. Figure 1C shows Victoria Police performance measures related to crime data for each offence division. Appendix B provides more information on BP3 performance measures.
Figure 1C
BP3 performance measures related to crime data
Performance measure

Unit of measure

2017–18 target

Quantity

Crimes against property—excluding crime related to family violence (rate per 100 000 population)

number

<5 100

Crimes against property—crime related to family violence (rate per 100 000 population)

number

>150

Crimes against the person—excluding crime related to family violence (rate per 100 000 population)

number

<660

Crimes against the person—crime related to family violence (rate per 100 000 population)

number

>590

Timeliness

Proportion of crimes against the person resolved within 30 days

per cent

>42

Proportion of property crime resolved within 30 days

per cent

>22
Source: VAGO based on Victorian Government Budget Papers, 2017–18.
Victoria Police management reporting
CSU analyses large volumes of data, including data relating to crime, for internal management monitoring and reporting. CSU also manages the process for extracting crime data from LEAP to provide to CSA. CSA uses this data for its quarterly analysis and publication of crime statistics to the community.
Quality assurance
The quality assurance framework for crime data includes three levels of review:
Sergeants are responsible for performing quality checks of LEDR Mk2 and LEAP reports to ensure that the stated information is accurate and complete before approving them.
DQU within RSD performs data quality and cleansing work.
RSD's data entry staff also conduct some data quality checks and error fixing, particularly in relation to logic errors and contradictions between selected data fields within the records.
Regional audit teams conduct audits at stations within their regions to ensure they are complying with VPM requirements.
1.3 Agency roles
Department of Justice and Regulation
DJR uses crime statistics to develop advice for government. It also uses them for research and developing strategies and policies for policing and the broader justice sector.
DJR is responsible for submitting Budget bids for funding on behalf of Victoria Police and for monitoring its performance against BP3 output measures.
Crime Statistics Agency
The Victorian Government established CSA under the Crime Statistics Act 2014. CSA sits within DJR and is responsible for processing, analysing and publishing Victorian crime statistics.
CSA's strategic objectives are to:
improve the accessibility of crime statistics for all Victorians
strengthen the integrity and quality of recorded crime data and instil public confidence in crime statistics
build an evidence base to support decision-making and policy development
provide tools that improve the statistical literacy of stakeholders and clients, including data users and commentators.
CSA receives monthly extracts of LEAP data from Victoria Police. At the end of each quarter, CSA performs basic reasonableness tests on the data to identify any obvious logic issues regarding the quantity and quality of the extract. CSA then applies various counting and categorisation rules to generate the different sets of crime statistics that it publishes on its website.
Victoria Police members record each offence that forms part of an incident in LEAP reports with crime codes from relevant legislation. Some offence types are more serious than others and attract harsher penalties.
Using the LEAP data extract, CSA reports on crime statistics in multiple tables, including:
Recorded Offences table—this table captures all offences recorded by Victoria Police within a reporting period. As there can be multiple offences in one incident, the recorded offence population is higher than the incident-based population.
Criminal Incident table—CSA applies classification rules to the recorded offence population to determine the principal offence, discussed further in Part 4. CSA first started reporting incidents in December 2017.
CSA was not granted audit powers in its enabling legislation, so it has limited ability to test the accuracy and reliability of LEAP data provided by Victoria Police.
Emergency Services Telecommunication Authority
ESTA manages all Triple Zero calls for emergency assistance and dispatches emergency services including Victoria Police. Victoria Police calls represent 55 per cent of all calls to Triple Zero.
ESTA uses computer-aided dispatch to transmit callout details to members in police vehicles through MDTs. If the callouts relate to crime or family violence matters, members are required to enter the appropriate reports into LEAP as soon as practicable.
Jobs dispatched from ESTA are captured in ePDR forms, which list details from the caller, including the date, time and address, if available. They can also record LEAP enquiries conducted by the member, such as licence plate checks. MDTs located in police cars allow members to enter notes about how they have responded to jobs.
1.4 Enhancing capability
The BlueConnect program
Victoria Police's $500 million BlueConnect program includes various projects that are intended to improve police IT capabilities across various areas. Figure 1D summarises projects in the BlueConnect program.
Figure 1D
Projects in Victoria Police's BlueConnect program
| Project | Intended delivery and benefits | Time line |
| --- | --- | --- |
| Intelligence management solution | A single-point search tool to allow members to access and analyse key information from multiple sources. This will improve intelligence capabilities and inform decision‑making. | Implementation—gradual rollout from 2017 to 2019 |
| Mobile technology | Equipping members with devices in the field to give them timely access to relevant information. Eventual functionality to generate ePDRs and crime and event reports. | Phased deployment—at least 8 500 devices to be deployed by end of 2019 |
| Police Assistance Line (PAL) and Online Reporting (OLR) | PAL and OLR will divert reporting for non-urgent matters away from frontline members, freeing them up for urgent matters. It will create two more avenues for the public to access police in addition to police stations and Triple Zero. | PAL and OLR channels will be fully operational by 2020 |
| Body-worn cameras | Body-worn cameras will allow members to accurately capture evidence to support prosecution of offenders and assist victims. | Initial trial and rollout commenced in April 2018 and is ongoing |
Source: VAGO based on information provided by Victoria Police.
Many of the projects that make up the BlueConnect program are intended to improve, or have implications for, the quality of LEAP data. Victoria Police is considering case management solutions to replace LEAP and provide a new system to capture crime records and other events.
1.5 Previous reviews on crime reporting
Previous reviews have identified risks in Victoria Police's incident recording practices and crime recording manuals, which have the potential to affect the integrity of crime statistics.
The Victorian Ombudsman has raised concerns about publicly reported crime data on multiple occasions. In 2009, the Victorian Ombudsman referred findings of under-reporting of assaults and lower-level offences to the former Office of Police Integrity (OPI). This under-reporting was based on discrepancies between the crimes reported to police and the crimes recorded in LEAP.
At the time, the Victorian Ombudsman linked these findings to issues with administrative systems and processes rather than deliberate manipulation, but also recommended the establishment of an independent agency with responsibility for publicly reporting crime statistics. The Victorian Ombudsman recommended that this body have the power to audit Victoria Police's collection of crime data and the practices behind it. New South Wales has an independent crime statistics agency with an audit function, and similar bodies exist in South Australia and Western Australia.
In 2011, the Victorian Ombudsman received and acted on a complaint about alleged manipulation of crime data for political gain. The Victorian Ombudsman found that the former police chief commissioner's claim that there was a 27.5 per cent reduction in assaults in Melbourne was 'misleading and inconsistent with other data' and reiterated the need for crime statistics to be managed and published independently from Victoria Police.
In May 2011, OPI found evidence of police clearing cases inappropriately. OPI reported that this resulted from 'system deficiencies, lack of clear policies, instructions and inadequate monitoring—some cases involved tacit approval by middle management'.
1.6 Why this audit is important
Crime statistics are a measure of safety and security that the public and decision-makers use to understand how safe their community is and to hold government to account. For these reasons, it is important that crime statistics accurately reflect criminal incidents and reported criminal activity actually occurring across the state. If crime data is inaccurate, there is a risk that resourcing and policy decisions concerning policing may not be appropriately informed. Crime statistics also need to be transparent and accessible to the community.
Previous reviews identified risks in Victoria Police incident recording practices, which have the potential to affect the integrity of crime statistics. In this audit, we sought to clarify if and how Victoria Police has mitigated these risks.
Victoria Police and DJR use crime data to inform resourcing decisions, research and criminal justice policies. This means that the data should be reliable and robust to ensure evidence-based decision-making.
1.7 What this audit examined and how
Our objective was to determine whether crime data in Victoria is reliable. In light of changes to requirements for reporting on family violence, we considered family violence incidents in our analysis and looked for evidence of how these changes influenced the quality of data collected.
Our approach included:
matching reported crime from police divisional van ePDRs to crimes recorded in LEAP—we tested 380 records from Triple Zero calls sent to vans from 1 July to 30 September 2017 to determine whether they had been recorded in LEAP
examining the ITGC environment that Victoria Police has to ensure the integrity of crime data
assessing processes for the collection of crime data
reviewing the methods used by CSA to generate publicly reported crime statistics and repeating these methods ourselves
reviewing Victoria Police quality control processes to ensure complete and accurate recording of crime data
considering Victoria Police crime reporting manuals and guidelines.
During the audit, we interviewed members of different ranks and operational staff in various roles throughout Victoria Police. We visited five police stations across the four police regions and spoke to approximately 47 operational members. The majority of these members were general duties members, responsible for attending the station and patrolling the division. At some stations, we were able to speak to station commanders and members of specialist units such as Sexual Offences and Child Abuse Investigation Teams (SOCIT), Family Violence Units, Investigation and Response, Tasking and Coordination, Divisional Intelligence Units and Crime Investigation Units. We also spoke to administrative staff within stations. These interviews gave us insight into how Victoria Police policies and procedures are used in practice.
At Victoria Police headquarters, we spoke to staff from CSU, Special Intelligence, RSD, and Tasking and Coordination. Many head office staff members were also sworn members who had diverse experience and expertise. We also spoke to regional audit teams.
We conducted our audit in accordance with section 15 of the Audit Act 1994 and ASAE 3500 Performance Engagements. We complied with the independence and other relevant ethical requirements related to assurance engagements. The cost of this audit was $960 000.
1.8 Report structure
The structure of the remainder of this report is as follows:
Part 2 examines Victoria Police's collection and recording of crime data
Part 3 focuses on data quality and controls
Part 4 examines the process for analysing and releasing crime data.