Follow up of Access to Public Dental Services in Victoria
1.1 Oral health
Good oral health is important in its own right, and because of its close link with general health and wellbeing.
Poor oral health is a significant contributor to the burden of disease in Australia. Oral disease is a key marker of disadvantage, as it is more often experienced by individuals with low socio-economic status.
Although common, most oral disease can be prevented. Notably, a preventive approach to oral health is widely recognised as the most cost-effective approach to improving oral health outcomes.
1.2 Public dental services in Victoria
Who delivers public dental services?
DHHS has overall responsibility for the public dental program and leads negotiation of the National Partnership Agreement on Public Dental Services for Adults with the Australian Government. DHHS funds DHSV, the leading public oral health agency in Victoria, to purchase and deliver public dental services on its behalf. DHSV fulfils this responsibility by providing oral health services through the RDHM and by purchasing dental services for public patients from 52 CDAs across Victoria.
Who is eligible for public dental services?
Access to public dental services is not universal. Eligibility criteria target individuals who are disadvantaged, including children up to the age of 12 and young people and adults with healthcare and pensioner concession cards. Specific population groups recognised as being at higher risk of poor oral health compared with the general population are given priority access, including children and young people, homeless people and Aboriginal and Torres Strait Islander people.
How are public dental services funded and delivered?
Funding model
The amount of funding provided to CDAs for a particular service item is determined using the Dental Weighted Activity Unit. This takes into account the complexity and length of time required to complete the service.
The state government provides the majority of funding for public dental services. The Victorian Dental Health Program has a capped funding model, with current funding levels sufficient to treat only approximately 25 per cent of people eligible for public dental services, based on 2016 data.
The Australian Government has provided additional funding since 2013 through National Partnership Agreements and the Child Dental Benefits Schedule since 2014. However, this funding stream is not certain, as the Australian Government can choose to discontinue them—in the case of the National Partnership Agreement—or legislate to close it—in the case of the Child Dental Benefits Schedule—at any time.
The current 'output-based' funding model, which uses the Dental Weighted Activity Unit (DWAU) to measure activity or output, was in place at the time of our 2016 audit. Limitations of the current funding model include that it does not:
encourage CDAs to provide preventive activities
allocate a consistent rate to CDAs for delivery of state-funded activities
take account of factors that affect CDAs' ability to deliver care, such as their geographical location.
Care model
Currently, eligible individuals can access public dental services through two pathways—routine or general care, and emergency care.
Individuals seeking general care are placed on a waiting list without an assessment of their oral health needs, or their risk of deteriorating oral health while waiting for care. They are advised that if their condition deteriorates, they can seek emergency care. However, around 80 per cent of patients receive care without needing to be placed on a waiting list. Individuals from priority access groups are not placed on a waiting list but are given the next available appointment. Individuals requiring emergency care are assessed and treated in accordance with clinically appropriate time frames.
1.3 Value-based healthcare
Around the time of our 2016 audit, DHSV had begun to explore VBHC as it relates to oral health. VBHC grew out of a body of work on healthcare systems undertaken by the Harvard Business School. Figure 1A represents this approach in terms of a value equation.
Figure 1A
Value equation

Source: DHSV.
VBHC intends to maximise value for patients by focusing on outcomes that matter to them. Patients under a VBHC model will discuss their oral health needs with a clinician and then co-develop a treatment plan.
The principles underpinning VBHC include:
achieving the best outcomes for patients at the lowest cost
patient-centred systems organised around what patients need
the right services provided by the right person, in the right place and at the right time
integrated care across providers and systems
measuring outcomes and costs for every patient
reducing variation in workforce practices and service activity.
DHSV has adapted VBHC principles to oral health, leading to the development of the DHSV VBHC framework as shown in Figure 1B. The framework has nine components, with MoCs comprising two of these. One focuses on individualised interventions and the other on population or setting-based interventions.
Figure 1B
DHSV's VBHC framework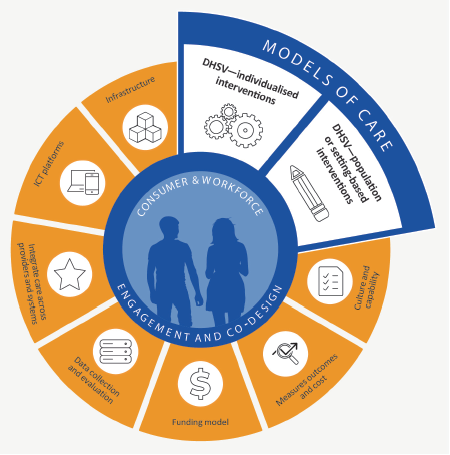 Source: DHSV.
DHSV has embarked on a major reform of public dental service delivery in Victoria through its VBHC framework, with the objective of improving oral health outcomes for eligible patients.
VBHC represents a significant departure from traditional service delivery and is a relatively new approach to healthcare, both in Australia and internationally. Figure 1C compares the key features of traditional public dental service MoCs with the VBHC approach.
Figure 1C
Traditional MoC compared with the VBHC MoC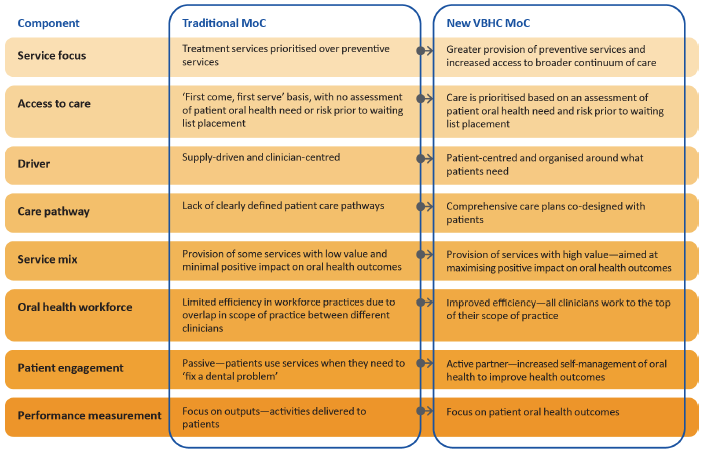 Source: VAGO.
Moving from principles to implementation
The transition to a VBHC approach to public dental services requires changes to the care model's design. It also requires close examination of the costs and benefits of this new approach and the best way to fund its delivery in the long term. DHSV believes that modelled costs for a VBHC approach will be lower over time.
Each of these components play an important role:
A costing model will determine the cost of VBHC relative to current service delivery and establish the efficient cost of services.
A CBA will assess the net benefit of the VBHC reforms. It also helps evaluate the economic merit of alternative options as part of the design process. A CBA uses information on cost of services as a basis for identifying cost savings, or additional resources required to implement VBHC.
A funding model helps service providers to have sufficient revenue to cover their cost of service, while also incentivising prevention—one of the core principles of VBHC.
Figure 1D shows these components, and how they are interrelated.
Figure 1D
Relationship between costing model, CBA and funding model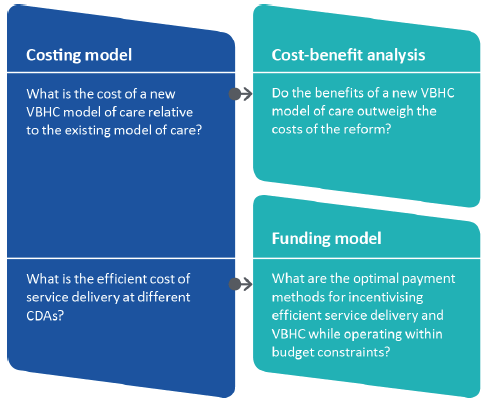 Source: VAGO.
Given the strong interdependence between these components, a better practice approach is to progress work on all three in parallel.
1.4 Why this audit is important
Access to public dental services is not universal. People who are eligible for public dental services include vulnerable and socially and economically disadvantaged individuals. Compared with the general population, these individuals:
have more disease and fewer teeth
wait longer to get routine care
are less likely to access services.
Our 2016 Access to Public Dental Services in Victoria audit made 11 recommendations related to care and funding models, aspects of service delivery, and measurement and reporting on performance of service delivery.
DHHS and DHSV partially accepted recommendation 1 and fully accepted all other recommendations, noting funding certainty and availability may constrain their ability to implement some recommendations. In this follow up audit, we assessed how effectively they have addressed the recommendations.
1.5 What this follow up audit examined and how
To determine how effectively DHHS and DHSV addressed the audit recommendations, we considered whether:
performance issues relating to the recommendations have been addressed
timely action has been taken to address recommendations
plans are in place to address incomplete recommendations
actions are monitored for review and impact.
As part of the audit, we sought to verify the agencies' attestations about their progress in addressing the recommendations, reviewed documents and interviewed staff. We also visited three CDAs.
Unless otherwise indicated, any persons named in this report are not the subject of adverse comment or opinion.
We conducted our audit in accordance with the Audit Act 1994 and ASAE 3500 Performance Engagements. We complied with the independence and other relevant ethical requirements related to assurance engagements. The cost of this audit was $250 000.
1.6 Report structure
The remainder of this report is structured as follows:
Part 2 looks at the care and funding models for public dental services.
Part 3 looks at three aspects of service delivery—waiting list management, regional collaboration to address service access barriers, and provision of oral health promotion activities.
Part 4 looks at measurement and reporting on the performance of public dental services.