Follow up of Access to Public Dental Services in Victoria
2 A new approach to delivering public dental services
Funding models and MoCs are central to how public dental services are delivered. MoCs influence how CDAs deliver services to eligible patients, while funding models and clinical assessment drives the types of services they deliver.
In our 2016 audit, we concluded that the funding model and MoC required fundamental change. We found that CDAs were not able to provide eligible patients with access to a broad range of care services including prevention, promotion, early detection and identification and treatment. This limited their ability to achieve positive oral health outcomes for patients.
While recognising that many public dental patients require both treatment and education, a MoC that focuses predominantly on treatment is demonstrably less cost‑effective than a preventive approach to oral healthcare. We identified the funding model as one of the barriers to DHSV and CDAs adopting a more preventive approach to public dental service delivery. This is because the model rewards outputs, rather than optimal patient outcomes. We found that the funding model did not take into account factors that affect CDAs' cost base to deliver services, such as geographical location and differences in demographics of clients. It also did not fund CDAs at the same rate for the delivery of state‑funded activities.
In this Part, we look at actions taken by DHHS and DHSV to address these issues.
2.1 Conclusion
DHSV responded to recommendation 1 by identifying seven new MoCs based on VBHC principles. Its piloting of the first of these is still in progress. While an evaluation of the initial testing shows positive results, piloting in just a hospital environment rather than at CDAs means there is a risk that implementation in CDAs will be flawed. It is too early to determine the extent to which the new MoC will improve access to care for public dental patients.
DHHS has been slow to start a quantitative analysis of possible systematic differences between CDAs in relation to their cost drivers. It has commissioned work that, if CDAs participate, will provide this data by March 2020. While DHHS has considered mechanisms to address funding inequities between CDAs as part of its review of funding models, it could have begun examining the differences between CDAs independently of that review, speeding up this work.
2.2 Models of care
Our 2016 audit made two recommendations in relation to MoCs. These included developing MoCs that would enable eligible people to access a broader continuum of care, and to determine the costs and benefits of implementing such MoCs.
Identification and piloting of models of care
Recommendation 1
| | |
| --- | --- |
| | That the Department of Health and Human Services and Dental Health Services Victoria work with community dental agencies to identify and pilot models of care that redress the current imbalance between treatment and prevention services for eligible people by increasing access to the broader continuum of care, while maintaining the focus on addressing demand for treatment. |
DHHS and DHSV committed to pilot new MoCs by July 2020. It identified seven models, including a general dental care model, all of which will be underpinned by the principles of VBHC. It took a staged approach to co-designing and piloting the MoC prior to implementation.
A continuum of care refers to a comprehensive approach to healthcare, involving delivery of a range of services including prevention, promotion, early detection and identification, and treatment.
DHSV worked closely with the RDHM to pilot the first of its identified MoCs—general dental care—in four dental chairs in the hospital's primary care clinic. DHSV invested significant effort for around 18 months prior to the commencement of a proof of concept, which involves testing all parts of the MoC in a real environment and in real time, to develop the required supporting protocols, processes and tools. The proof of concept began on 1 October 2018. DHSV advise that it finished this on 31 March 2019 and that further testing is continuing based on the results.
A critical next step will be to test the general dental care MoC in CDAs. DHSV has not yet piloted its general dental care MoC using VBHC principles in any of the 52 CDAs that it also funds to deliver public dental services in Victoria. Piloting the new MoC only in the hospital environment limits the ability to both conduct a full assessment of the model's operation and ensure CDAs are engaged in the testing phase.
In August 2019, DHSV completed an evaluation of the general dental care MoC proof of concept at the RDHM. The evaluation compared the MoC with the traditional model of oral healthcare operating in the primary care clinic where equivalent data was available. Over a six-month period, 221 clients accessed the new MoC, with only 28 of the 170 (16.5 per cent) who received general care completing their planned treatment. The data should be interpreted with caution, since it is based on a short period of time and small numbers. Nevertheless, it reflects an uptake of the principles of VBHC. For example, in the MoC cohort:
A lower percentage of patients (5.9 percent) did not turn up for their treatment appointment compared with patients in the primary care clinic (19.4 per cent).
Patients received preventive services more often (32.5 per cent) compared with patients in the primary care clinic (21.8 per cent).
Dentists performed work that could be done by oral health therapists or dental assistants working to the full scope of their practice less often (10per cent) compared with the primary care clinic (47 per cent).
The response by patients to an introductory session (described in Figure 3A) reflected a commitment to engage with the service. Of the 208 patients with a scheduled introductory session appointment, 168 (80.7 per cent) attended. Just over 95 per cent of these patients started general care or organised a future appointment.
CDAs
Although the general dental care MoC is still being piloted, DHSV advised that a number of CDAs have taken up some of its principles or components within their existing services. This was also evident in our visits to CDAs. Examples include:
adopting an introductory session as the first point of contact for patients
maximising clinicians working to the top of their scope of practice within a multidisciplinary team
upskilling dental assistants to enable them to:

undertake fluoride varnish applications
take on the oral health education/coach role and complete oral health promotion and prevention activities for less cost.
As described above, DHSV initially engaged broadly with CDAs to communicate the case for VBHC as the new way of delivering public dental services, and then to co-design the DHSV VBHC framework.
DHSV advised us that it has worked closely with CDAs to identify, encourage and share examples of innovative practice and adoption of VBHC principles. It has done this largely through its annual Public Oral Health Innovations Conference and regional forums. DHSV staff also visit CDAs.
DHSV did not support CDAs to adopt principles and components of the new VBHC approach. Instead CDAs selectively 'opted-in'. The best way to understand the extent to which CDAs have already begun to incorporate components of VBHC into their current services would be to map this activity back to VBHC principles. This analysis would help DHSV ensure ongoing engagement of CDAs and build an evidence base to share learnings with CDAs.
Its engagement with CDAs since the initial stages has not been as effective as it could have been. CDA staff expressed to us uncertainty about the outcomes of the new MoC testing, the plan for implementing it in CDAs, and the status of work to develop a new funding model.
DHSV now has additional responsibility for leading the co-design, piloting and implementation of the new school dental program, though this had not been planned when it began the transition to VBHC.
A new school dental program was announced in May 2019 and intends to provide free dental check-ups to Victorian school children in the public system and reach 650 000 children by 2022.
DHSV considers that the experience of the school dental program will allow it to better understand CDAs' capacity to implement VBHC principles in a MoC for adults. This is because the school dental program is underpinned by VBHC principles and CDAs are involved in its co-design.
DHSV must effectively manage the piloting and implementation of the school dental program, so as to not compromise progress in piloting the general dental care MoC for adults, or in CDA uptake of VBHC principles and MoC components. Equally, implementation of the school dental program during the transition to VBHC will provide DHHS and DHSV with an opportunity to use it as a platform to enhance the success of the VBHC approach for adults. This is because establishing good oral hygiene and behaviours early in life sets the foundation for good oral health outcomes in later years.
Cost-benefit analysis of models of care
Recommendation 2
| | |
| --- | --- |
| | That the Department of Health and Human Services and Dental Health Services Victoria work with community dental agencies to carry out a cost-benefit analysis of the long-term outcomes of adopting a model of care for public dental services. |
Costs
DHHS and DHSV have not yet completed a CBA of the VBHC MoC. DHHS committed to complete this work by December 2020.
Time-driven activity‑based costing is a methodology that calculates the total cost of services as a patient progresses through a care pathway.
DHSV has engaged consultants to develop a cost model that will enable it to estimate the cost of new care pathways and compare it to traditional service delivery. Time-driven activity-based costing is being used as a means of establishing the cost of delivering services.
Until the end of July 2019, DHSV had not yet developed an estimate of costs for the new MoC pathways. DHSV advised us that in October 2019 it reported to its finance committee on the methodology and initial analysis supporting the development of the costing and funding model for the new MoC. Further analysis is to be carried out to inform the specification of the proposed model, the results of which will be reported to its board in November 2019.
The cost modelling is based on the MoC for general dental care at the RDHM, and therefore may not be representative of the costs at CDAs. DHSV advised us that it is starting this work at the RDHM because data is readily available. CDAs are separate entities that would need to consent to provide cost data. This means that DHSV does not have easy access to CDAs' cost data for treating patients and performing particular activities.
The cost modelling work is independent of the general dental care MoC proof of concept, which is also being undertaken at the RDHM. The cost of new VBHC pathways is not part of testing the operation of the MoC. This is a lost opportunity. Had cost analysis been incorporated into the proof of concept, it would have provided DHSV with evidence about the indicative cost of the new MoC. This could then have informed the CBA and would potentially help to identify those features of the new MoC that are most cost-effective.
Benefits
DHSV advised us that it has not attempted to quantify the potential monetary benefits of a transition to a VBHC approach, or how these benefits compare to the cost of implementing this approach. This is because it is confident, based on a body of health research evidence, that the benefits of such an approach outweigh the cost.
While the research evidence may be compelling, completing a high-level CBA of DHSV's proposed VBHC approach by December 2020, as agreed in 2016, will build further confidence about the case for reform. It may also highlight the key variables that are most influential for attaining the potential benefits.
2.3 Funding model
Our 2016 audit made three recommendations in relation to the existing funding model for public dental services. These concerned the development of a new model that would enable the government to improve oral health outcomes, including loadings in the model to address existing funding inequities, and implementing a consistent rate for activities across CDAs.
Review of funding model
Recommendation 7
| | |
| --- | --- |
| | That the Department of Health and Human Services, in consultation with Dental Health Services Victoria, review the most appropriate and effective funding model to deliver public dental services to achieve the government's goals—this will include an assessment of the value of applying the Commonwealth funding model. |
Action on this recommendation is in progress. DHHS and DHSV commissioned two studies to identify an appropriate and effective funding model to support a MoC based on VBHC principles. This helps to incentivise improved patient outcomes and prevention over treatment they examined a number of alternative models, including the option of retaining the existing 'fee for service' Commonwealth funding model. These studies have been rigorous and comprehensive, and examined international experience with funding models for public dental services and healthcare.
Capitation is a type of funding model where annual fees are paid to healthcare providers for each patient enrolled in their service.
DHHS and DHSV identified a 'blended' funding model as the preferred conceptual model and have provided this to consultants to further develop. It has three components:
a risk-adjusted, 'packaged' payment per enrolled client over a fixed term (also referred to as a 'capitation' payment)
payments based on outcomes delivered
retention of activity-based funding for low-volume, complex care.
Figure 2A summarises the key differences between this model and the current output-based funding model.
Figure 2A
Comparison of output-based and blended funding models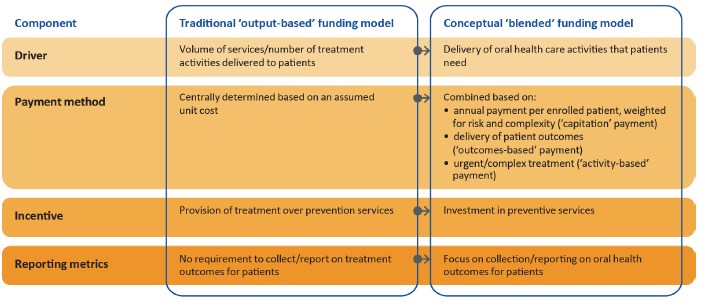 Source: VAGO.
The blended model is now at a conceptual stage. DHHS expects that it will be at least three years before the model is operational. There are many practical implementation issues that need to be resolved.
One of the two studies, led by DHSV, is using the RDHM to examine development and design aspects. This project began in March 2019 and the results are scheduled to be reported to the DHSV board in November 2019.
DHHS leads the other project, called Public Dental and Community Health Services Funding Model Redesign. In July 2019, DHHS engaged consultants to identify parameters, principles and the scope of pricing models, develop options for funding/pricing models and to analyse how this could work in practice within a CDA. The project will recommend a preferred design. This project is due to be completed in March 2020.
DHHS and DHSV have kept CDAs informed about a proposed shift to a MoC based on VBHC principles, which is to be accompanied by a change in funding arrangements. In April 2018 consultants for DHSV completed a discussion paper on the proposed funding model changes, with the intention of seeking feedback from CDAs. DHSV advised us that it subsequently decided not to publicly release this document because 'things have moved on'. This means that CDAs have not been involved in the review of alternative funding models or had any role in selecting a blended model as the preferred option.
As the design of the new funding model progresses, DHHS and DHSV should, through the consultants, engage constructively with CDAs to ensure the design process accounts for practical issues. This will also support development of a better model and greater CDA engagement when introducing the new funding arrangements.
Consideration of loadings in the funding model
Recommendation 8
| | |
| --- | --- |
| | That the Department of Health and Human Services, in consultation with Dental Health Services Victoria, when developing the funding model, consider including loading for variables that affect how services are delivered, such as remoteness and client complexity. |
As part of the review of funding models, DHHS and DHSV considered how different models address potential funding inequities between CDAs due to differences in patient populations or degree of remoteness. This action only partly meets the requirements of our recommendation. In the absence of a quantitative analysis of CDA costs, it is not possible to draw conclusions about the extent of inequity and whether loadings are needed in allocating funding.
Funding model capable of addressing inequities
The preferred conceptual funding model that DHHS and DHSV have provided to consultants to work on is capable of addressing potential inequities in funding across CDAs. This is because the capitation payment being considered by DHSV is a risk-weighted payment, in which higher payments are made to CDAs enrolling patients with poorer pre‑existing health or at a higher risk of developing serious health conditions.
DHSV advised us that it will be at least three years before a system of risk‑weighted capitation payments are introduced. This is because DHHS is taking a staged approach to reforming funding arrangements instead of a single‑step shift to a blended funding model. In the interim, DHHS is considering whether it should modify the existing fee for service model by applying loadings to the DWAU payment rates.
The amount of funding for a particular dental activity is determined using the DWAU of that activity. Funding for each CDA is capped, with each CDA required to deliver a specified agreed activity level.
Quantitative analysis of the need for loadings
In May 2018, DHHS committed to investigating the need for a new funding formula for allocating global dental health budgets based on population need, complexity and demand.
In July 2019, DHHS engaged consultants to develop recommendations for DWAU loadings, where appropriate, and how they should apply to particular CDAs to take account of contextual factors. Based on our review of available documentation, the methodology used to assess the need for loadings, and what the weighting factors should be, is sound. This work is not due to be completed until March 2020.
While commencement of this quantitative analysis is a positive step, DHHS could have started this work earlier and initiated it independently of its review of funding models.
A consistent unit price for public dental services
Recommendation 9
| | |
| --- | --- |
| | That the Department of Health and Human Services, in consultation with Dental Health Services Victoria, develop an implementation plan for introducing a consistent Dental Weighted Activity Unit rate for all community dental agencies while the Dental Weighted Activity Unit funding model is in place, informed by a sound analysis of reliable data. |
DHHS agrees with the principle of setting a consistent DWAU rate for all CDAs. However, it has not yet committed to a date to do this, nor does it have a planned pathway to transition to a single rate. Further work is therefore required to address this recommendation.
Action to address this recommendation has been slow. On 1 July 2017, DHHS introduced a minimum price of $410 per DWAU for all CDAs. It did not engage consultants to begin work on identifying an appropriate consistent DWAU rate that would apply to all CDAs until July 2019. This work is part of the Public Dental and Community Health Services Funding Model Redesign project.
The methodology being used to develop a recommended consistent DWAU rate is sound. This work will also involve cost benchmarking and an efficiency review of CDAs, which will identify an efficient price for dental services. This project is due to be completed by March 2020.
Implementation issues
DHHS advised that implementing a consistent price is likely to present challenges. This is because some CDAs are likely to be financially disadvantaged due to the consistent DWAU rate being lower than what they currently receive. Other CDAs, however, may benefit from a rate increase. Promoting funding reform to those CDAs that may lose funding will be difficult.
DHHS also expressed concern that the shift to a consistent rate will put pressure on its constrained budget. This is because the additional funding required to lift some CDAs to a higher DWAU rate may exceed the funding made available through reduced payments to CDAs that are being paid above the identified consistent rate.
In addition, DHHS advised us that the introduction of a consistent DWAU rate will be dependent on the funding it receives from the Australian Government. A reduction may result in a shortfall in funding to meet current service targets. Nevertheless, this does not weaken the case for identifying the efficient cost of service delivery as a matter of priority. If Commonwealth funding is reduced, DHHS will need to reassess what services can be procured from CDAs with the funds available and the efficient price.