Local Government Assets: Asset Management and Compliance
2 Managing asset information
Comprehensive and accurate asset information enables councils to make informed decisions about their assets—for example, decisions about maintaining, renewing, and replacing assets.
2.1 Conclusion
The audited councils do not have enough comprehensive and accurate information to understand asset performance and enable evidence-based decision-making. Although they maintain basic data about their assets—such as location and description—councils do not always supplement this with asset maintenance and failure data. This reduces their ability to identify poor performing assets and justify new asset investments.
The audited councils collect more detailed asset information where there is a legal requirement to do so—for example, all audited councils have better information about their roads than other asset classes, due to obligations under the RM Act.
Except for Mildura, the audited councils store their asset information across a range of partially integrated systems, making it difficult for staff to access and manage information. This further reduces the ability of decision-makers to find and use asset information to support decision-making.
2.2 Asset information governance arrangements
Governance arrangements for asset information should:
identify roles and responsibilities for capturing, managing and maintaining all asset information
establish procedures to ensure the council collects, maintains and manages all information efficiently.
All audited councils have governance arrangements for asset information management within their asset management policies.
Nillumbik, Mildura and Hindmarsh outline more specific and clear roles and responsibilities for asset information—for example, responsibility for assuring the quality of the information—in position descriptions or in AMPs. This detail improves staff accountability for managing asset information.
The data owner has ultimate responsibility for the data. The data custodian is the person with the delegated authority from the data owner to approve the use and access of the data.
Mildura and Colac Otway have asset management steering groups with defined roles and responsibilities, such as responsibility for monitoring asset management. This arrangement provides better coordination of asset information requirements.
However, no audited council has clearly nominated data owners and data custodians. Darebin, Colac Otway and Hindmarsh advise that they see asset data control and assurance as the responsibility of the assets team. However, by not documenting roles and responsibilities, there is a risk that council staff across the organisation do not know who is accountable for data quality, use and security.
Guidelines and frameworks
Data guidelines or frameworks help councils standardise data collection and maintenance to ensure consistency.
In an example of better practice, Nillumbik has a data framework that outlines the information the council will collect against each type of asset. Mildura is developing similar guidelines.
2.3 Identifying asset information needs
The more information councils have about their assets, the more evidence they have to support decision-making on asset maintenance, renewal and replacement. However, not all assets require the same level of information—critical, riskier and higher-cost assets, such as bridges and roads, require more information. Councils should identify the level of asset information they need to support management and decision-making, and to meet legal requirements.
None of the audited councils have comprehensively documented all their asset information needs. However, all audited councils have AMPs—either final or draft—that identify and prioritise asset information needs for roads and related infrastructure.
Legal requirements for asset information
As outlined in section 1.3, councils have a range of legal obligations about how they manage their asset information. Councils need to identify and document these obligations in their AMPs to ensure that they collect the right type of information. Colac Otway, Mildura and Nillumbik have done this—their AMPs refer to relevant regulatory and statutory requirements. In contrast, Hindmarsh has not fully documented its obligations in AMPs, and Darebin has only noted its legal obligations about roads information.
Road management information
Under the RM Act, councils must maintain a register of all public roads for which they are the coordinating road authority, however, they can choose whether to develop a formal road management plan that sets out its system for maintaining and repairing roads. We found that all audited councils keep a register and a road management plan.
Due to these obligations, councils have better asset information about roads than other asset classes, and are better at using roads data in planning and decision-making. We discuss this further in Sections 2.5 and 3.3 of this report.
Essential safety measures
Councils, as owners of public buildings, must keep records of maintenance checks and service and repair works for essential safety measures, such as fire doors and alarm systems. Except Nillumbik, the audited councils keep information about essential safety measures separate to their standard AIMS. By keeping this information across multiple locations, councils create a risk that staff will be unable to find and update the information.
In contrast, Nillumbik addresses this risk by transferring information from its essential safety measures and asbestos audits—including compliance status and inspection dates—into its AIMS. It also has a documented procedure for essential safety measure audits, which also assigns responsibilities for monitoring compliance.
Asbestos registers
Under the Occupational Health and Safety Regulations 2017, anyone who controls a building or workplace where asbestos has been identified must maintain a register which notes the location and type of asbestos as well as any workplace activities likely to disturb it.
All audited councils have asbestos registers. Mildura maintains asbestos registers but does not include this information in its general asset register.
Disaster Recovery Funding Arrangements
None of the audited councils refer to the DRFA in their AMPs. This includes Colac Otway, which received financial assistance through the federal government's previous disaster relief program, the NDRRA. This creates a risk that councils may fail to collect appropriate information about their assets and may not be able to satisfy claims for financial assistance.
2.4 Asset information management processes
To ensure that asset information is accurate and consistent, councils need to document their processes for capturing, maintaining and improving asset information, rather than rely solely on staff expertise and knowledge.
Capturing new assets
Asset handover is the process of transferring the responsibility for maintaining and managing a new asset from the staff that constructed it to the staff that will be responsible for its ongoing management.
To maintain comprehensive asset information, councils need to capture and record information about the new assets they acquire. Councils should do this at the point of asset handover.
Nillumbik, Hindmarsh and Mildura have formal processes for capturing new asset information as part of the asset handover process. In an example of better practice, Nillumbik captures this information through an online process. Hindmarsh advised that it is in the initial stages of improving their process by implementing an asset handover form.
In contrast, Colac Otway and Darebin do not have established processes for documenting new assets during asset handover. Both councils advise that they do not have established processes for finding assets. If they find assets during condition inspections they typically record the assets. Processes such as these are ineffective, as they create a risk that councils will fail to record information about new assets. For example, Colac Otway advised that during fire and flood recovery work, its asset handover process failed—the council acquired new assets, but did not record them in the council's AIMS. This means the council's asset information was not complete and up-to-date at that time.
Colac Otway and Darebin advise they are now planning improvements to their asset handover processes.
Asset maintenance and failure data
Understanding the maintenance and failure history of an asset helps councils to predict the likelihood of future failures or performance issues. This allows councils to identify and plan preventive maintenance on assets to avoid failure.
The audited councils do not have adequate processes to capture detailed asset maintenance and failure information. This reduces their ability to analyse and make informed decisions for operational and capital planning. All audited councils—except Hindmarsh—have documented improvement actions to remedy this.
Roads and related assets
Intervention level refers to the lowest condition level of an asset that a council will allow; that is, the point in the asset's life that the council has decided is appropriate for renewal or replacement.
By value, roads, bridges, and related infrastructure represent 26 per cent of council assets in Victoria. As a result, councils devote a significant proportion of their asset maintenance activities to roads. The road management plans at each council provide well-documented maintenance performance criteria and intervention levels.
Asset teams at the audited councils do not always receive feedback from the staff who complete maintenance works and do not record the cost of the works against specific road assets. As a result, while councils can access the overall cost of their road maintenance program in their finance systems, they cannot analyse the cost of maintaining each road. This lack of detail reduces councils' ability to compare the cost of maintaining a road with the value it provides to the community.
Buildings assets
Building, plant and equipment assets represent 10 per cent of the value of Victorian council assets. Although a building can be considered as a single asset, it also comprises asset categories—such as electrical equipment—and many component assets—such as coolrooms, bathroom fixtures and switchboards. Each of these component assets have specific maintenance needs, risks and costs. Figure 2A outlines the relationship between component assets and buildings.
Figure 2A
Building assets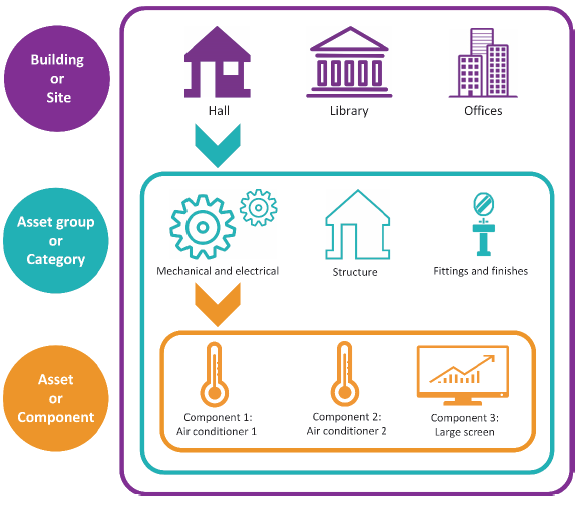 Source: VAGO.
Four of the audited councils assign work orders—tasks necessary to fix an issue—to the building, rather than to the relevant component asset. In addition, three audited councils—Colac Otway, Nillumbik and Mildura—do not separate planned and reactive maintenance, and combine the maintenance and operational costs into one account or work order for the building.
As a result, most councils do not have the information they need to make decisions about maintaining and improving buildings. For example, without information linked to component assets, councils must use an overall average of building condition to predict future renewal costs. This is ineffective, as different component assets may require renewal or replacement at different times. In addition, if councils want to understand the maintenance and failure history of a particular component asset, their staff need to review all work orders for that building.
Darebin has started to assign planned tasks to building component assets and, as a result, it can access planned contractor and material costs for these components. If the council continues to do this, it will improve the quality and usefulness of the building asset information.
Reviewing asset information
To ensure asset information is accurate and complete, councils need to review, validate, correct and continuously improve it.
Of the audited councils, only two—Nillumbik and Mildura—have adequate processes for validating asset data. Colac Otway and Darebin do not have adequate processes, while Hindmarsh relies on contractors to conduct their own quality assurance processes when collecting data. As a result, these councils cannot assure themselves that they are collecting and using accurate asset information.
In an example of better practice, Nillumbik's asset data framework—discussed in Figure 2B—sets out processes for reviewing and validating data.
Figure 2B
Nillumbik's asset data framework
Nillumbik has established asset data control and assurance processes to ensure that the information it collects is accurate and meets the council's information needs.
The council uses error scripting—a computer program that automatically checks data within a system for consistency—to validate its asset information on drains. This program highlights missing or inaccurate data and notifies the asset manager. The asset manager then sends the data back to the responsible person to correct any errors.
The council has also documented its procedures for receiving asset information from contractor reports. For example, one procedure details how to check and clean data from contractor condition reports.
In addition, the council rates its asset information by self-assessing its availability and completeness. This provides the council with a higher confidence level in their data.
Source: VAGO, based on information from Nillumbik.
2.5 Accuracy and completeness of asset information
Completeness of asset information
We found Nillumbik had the highest completeness across all asset classes, with an average completeness of 89 per cent. As shown in Figure 2C, councils have more data on their road and related assets—an average of 67 per cent—than on other asset classes.
Figure 2C
Comparison of asset data completeness by asset class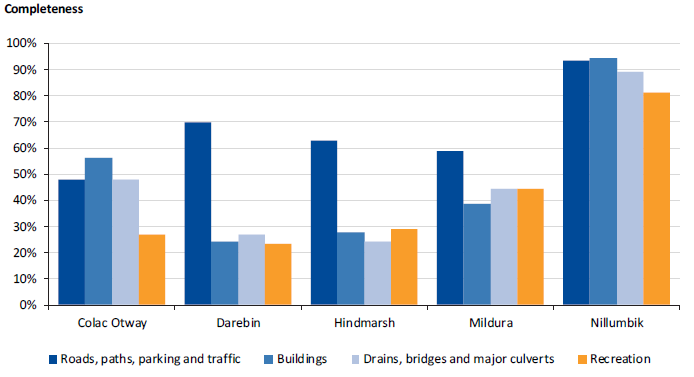 Note: This self-assessment considers the councils' confidence in the data they collect at the building or asset category level.
Source: VAGO, based on audited councils' data.
Confidence in asset information
Councils need to be confident that their asset information is accurate and complete, so that they can use it to make evidence-based decisions.
Except Nillumbik, the audited councils had low confidence that their asset information was accurate and complete. As shown in Figure 2D, Nillumbik had high confidence in 79 per cent of its asset information.
Figure 2D
Council confidence in accuracy and completeness of asset information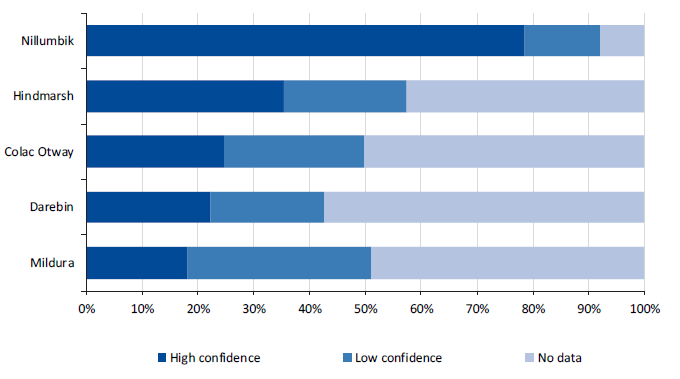 Note: 'High confidence' means available data is based on reliable information systems, records and procedures, with minor shortcomings only. 'Low confidence' means data is unconfirmed or based on cursory analysis. 'No data' means the council lacked information about the assets.
Note: Assets are weighted by estimated value.
Source: VAGO, based on audited councils' data.
The audited councils had more confidence in their roads data than in their other asset classes, as shown in Figure 2E. As discussed in section 2.3, this is due to councils' obligations under the RM Act.
Figure 2E
Average data confidence by asset class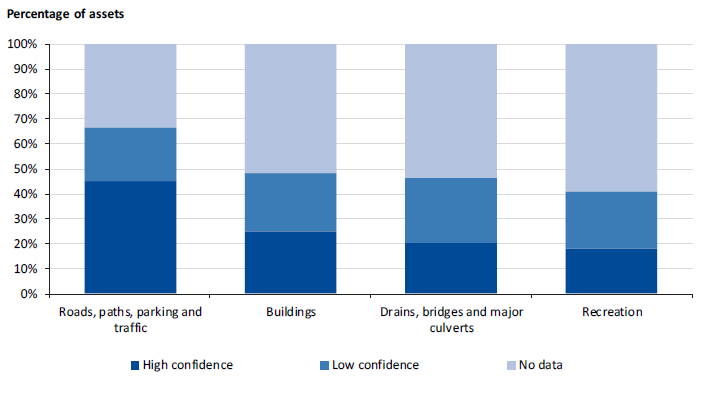 Note: Assets weighted by estimated value.
Source: VAGO, based on audited councils' data.
Except for Nillumbik, audited councils had low confidence that they had accurate and complete data for parks and recreation assets—such as sporting fields, playgrounds and trees. Nillumbik had higher confidence in this type of data because it had identified and documented these assets in its Reserves Asset Management Plan.
2.6 Asset information management systems
An AIMS is a software solution for capturing, managing and analysing asset information. Councils need to select an AIMS that meets their needs, scale of operations and available resources. To best support asset information management, including using it to support decision-making, an AIMS should integrate the functions outlined in Figure 2F.
Figure 2F
AIMS functions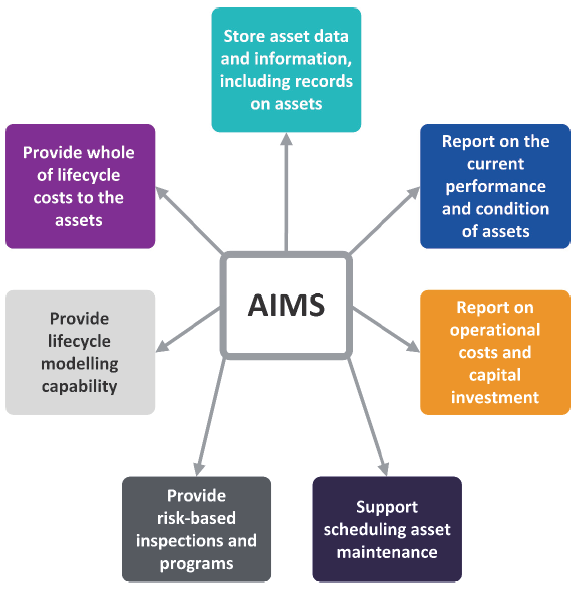 Source: VAGO, based on DTF's AMAF.
To allow councils to effectively maintain and use their asset information, all software applications that form a part of councils' AIMS should be well integrated.
Except Mildura, the audited councils use multiple software applications, but these are not well integrated. In addition, Hindmarsh and Colac Otway have limited documentation on how to use or manage their applications. This often leads to manual data entry, resulting in inefficiencies and potential for error.
In 2017, Nillumbik hired a consultant to review its asset information management applications. The consultant highlighted that the council had procured and implemented its various applications over time, creating a complex network of asset information management. They also found that the council had not documented the links between these applications and instead relied on staff knowledge of how the applications worked together. Nillumbik advised that, in response to the consultant's findings, it has developed a plan to prepare and implement a new AIMS over the next three years.
As outlined in Figure 2G, Mildura has purchased a single AIMS to meet its asset information management needs.
Figure 2G
Mildura's asset information management system
In 2014, Mildura purchased and began implementing a new AIMS. The system links to the council's customer relationship management system, geographic information systems and—through a manual export process—its finance system.
Although it has not done so yet, Mildura advises that it plans to enter data about all asset classes into the AIMS. To date, it has entered roads data and work orders and has recently started to enter parks and recreation data. The council has also not yet used the AIMS's cost modelling capability, which would allow the council to forecast future asset costs based on available asset information.
The council has established an AIMS project control group to oversee implementation of the AIMS. The group maintains a register of improvement tasks and issues, including software issues to address with the vendor. This helps the council to ensure the AIMS meets the council's needs.
Mildura advises that the AIMS has led to improvements in asset information and better management of work orders.
Source: VAGO, based on information from Mildura.