Managing the Municipal and Industrial Landfill Levy
2 Financial management of trust funds
Public monies are set aside in trust accounts for specific purposes, and as such are quarantined from the rest of a department's operations. This places an added premium on good financial management and control, and transparency.
In this part of the report, we consider how well the monies in the two trusts are controlled. We place emphasis on making sure the systems of financial control that support their operation are sound, and operate so that:
funds are distributed only for approved purposes
unused cash balances are managed and invested to maximise return
administration costs are relevant and not excessive.
2.1 Conclusion
DELWP is exercising appropriate financial control over, and management of, trust balances, transfers and disbursements. Administration costs are reasonable and investment performance is meeting the objectives of the investment policy.
However, there are significant control weaknesses in distributions made under section 70E(3)(d) of the Act from the MILL Trust Account —namely ensuring that money is being used for the purpose provided. Money distributed under this provision is not subject to assessment against the legislative objectives. In addition, only 5 per cent of these distributions are subject to financial acquittals to ensure they are used for their intended purpose. This creates a risk that programs may be funded that are not in line with the legislative purpose.
2.2 Transfers
EPA —MILL collection and transfer
EPA is responsible for the collection of the MILL from licensed landfills and for the transfer of the income to DELWP's MILL Trust Account. Section 70E(2) requires EPA to credit funds to the MILL Trust Account by 15th day of the following quarter. We are satisfied that EPA transfers MILL income to DELWP in a timely manner, consistent with legislative requirements.
DELWP —MILL Trust Account and Sustainability Fund
When DELWP took over responsibility for distribution of the MILL and administration of the fund on 1 July 2015, the minister approved the establishment of the MILL Trust Account and the Sustainability Fund Trust Account, as required by the Act.
MILL Trust Account
DELWP has established appropriate internal controls around transfers to and from the MILL Trust Account. However, not all agencies that receive distributions made under section 70E(3)(d) are required by DELWP to demonstrate that funds provided were used for their intended purpose.
Section 70F(2) of the Act requires the remaining balance of the MILL Trust Account to be transferred to the fund by the end of each quarter.
Sustainability Fund Trust Account
We independently confirmed the balance of fund investments as at 30 June 2017.
Payments are subject to DELWP's standard internal controls, financial delegations and supported by evidence of approval by the minister and the Premier.
2.3 Distributions
Distributions from the MILL Trust Account
Distributions from the MILL Trust Account primarily support the core operating activities of specified environmental agencies and from 2014 can also be used to fund a broad range of agencies provided that these monies are 'used for environment assessment, protection, restoration or improvement purposes'. Figure 2A shows MILL income distribution over the past three years.
Figure 2A
MILL Trust Account distribution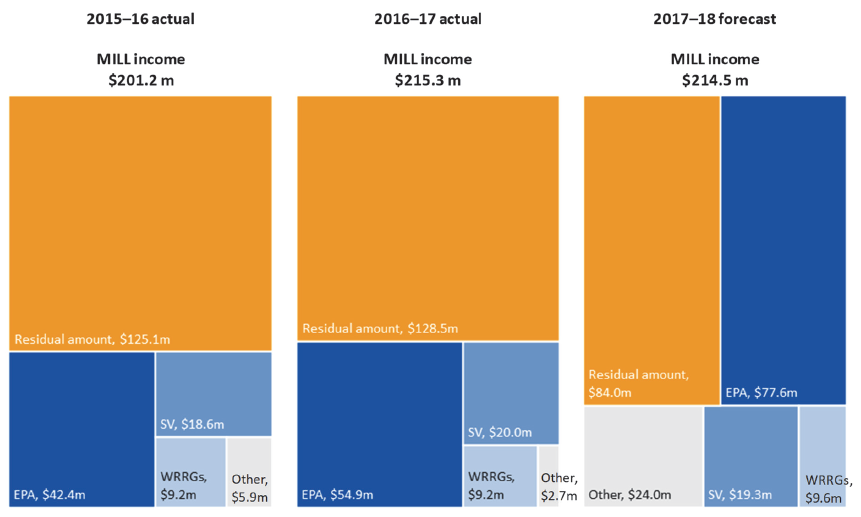 Note: The increase in EPA's distribution from 2016–17 to 2017–18 was a direct result of EPA reform funding initiatives. The amounts above are shown on an accruals basis. Amounts shown in Figures 1G and 1I differ as they are shown on a cash accounting basis.
Source: VAGO based on DELWP data.
Expenditure from the MILL Trust Account is not subject to the same governance framework as the fund. In line with the legislation, the minister determines the amount to be paid from the MILL Trust Account, the timing of payments and period over which they are to be applied.
DELWP's Energy, Environment and Climate Change policy team brief the minister seeking an approved determination based on DTF-approved estimates of available funding in the MILL Trust Account. These briefings are made collaboratively with the team to ensure there is sufficient funding available for any existing and new commitments made from the fund. The team is responsible for processing agency distributions made under ministerial determination. The team maintains contact with DELWP policy areas to monitor the cash flow impacts of distributions from the MILL Trust Account on the fund.
Over the past two years, funding distributed under section 70E(3)(d) has increased from $5.9 million in 2015–16 to $24 million in 2017–18. PV, CES and committees of management have received funding under this provision. Figure 2B shows funding received by each agency under section 70E(3)(d).
Figure 2B
Agencies funded under section 70E(3)(d)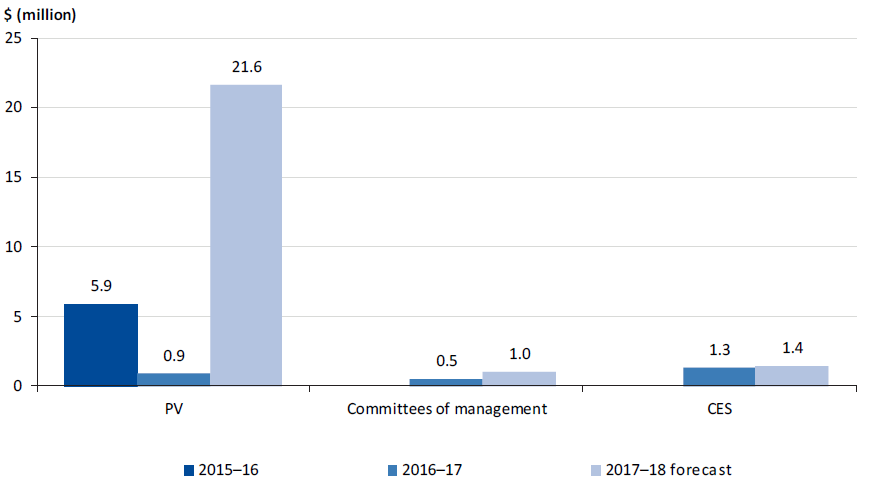 Source: VAGO based on DELWP data.
There are currently no guidelines or governance processes to inform or evaluate the use of this funding from the MILL Trust Account and ensure it meets the conditions of section 70E(3)(d). In addition, only committees of management are required to provide financial acquittals to demonstrate that they have used these funds for the purpose provided. These control weaknesses need to be resolved to address the risk that this money is spent on programs that do not align with its legislative purpose. The current arrangement means that it is difficult to identify any unspent funds to ensure they are transferred back to the fund.
DELWP should consistently assess and provide advice on the alignment of any distributions made under this provision and require recipients to provide financial acquittals for this expenditure.
DELWP recognised the importance of ensuring these funds are used as intended by the legislation and has made an effort to assess alignment for the distributions to PV and CES. It obtained legal advice on whether proposed funding for PV and the CES met the intended purpose of the legislation: that is, whether the allocations were consistent with the legislative purpose of 'environment assessment, protection, restoration or improvement purposes'. The advice received stated that funding for the CES met the purpose for environmental assessment and the funding for PV broadly met the legislative purpose of section 70E(3)(d).
2.4 Sustainability Fund investment performance
Investing unused funds
DELWP has developed an investment policy compliant with legislative requirements that aims to maximise returns and minimise risk.
DELWP's SFIP sets out the general principles that govern the investment of monies held in the fund. The minister delegated the power to approve investments with the Victorian Funds Management Corporation's (VFMC) Capital Stable Fund to DELWP's Executive Director, Finance and Planning in February 2016. The minister did so on the condition that the agency provide a six-monthly report on the fund's cash balance and investments.
DELWP designed the SFIP to operate within the Financial Management Act 1994 (FMA) and Victorian Government and DELWP investment policies.
The FMA governs DELWP's cash reserve investment, administration and management. The Treasurer's centralised treasury and investment policy, which applies to all Victorian public sector agencies, requires agencies to undertake all investments and financial arrangements with the Treasury Corporation of Victoria (TCV) and/or VFMC. DELWP's Trust Fund Policy requires all trust accounts to maintain a positive balance and be in interest-bearing deposits approved by the Minister for Finance. Agencies investing with VFMC are required to have an investment strategy.
The SFIP is reviewed annually and DELWP's Risk and Audit Committee note revisions. DELWP obtained independent advice on the SFIP as part of the revision that occurred in 2016–17. The advice found that the fund complied with legislation and government policy. It examined how the fund could preserve its balance, minimise risk and maximise return, and recommended the appropriate mix of investments to achieve this outcome. DELWP incorporated all of the recommendations in their policy update in 2017–18.
Investment objectives
Funds 'at call' are available for access quickly when needed to make contract payments to fund recipients.
DELWP's investment objectives for the fund are to maximise returns on the available cash balance, to ensure that funds are available at call to meet funding distributions, and to comply with legislative requirements.
To guide the strategic allocation of long-term investments, the SFIP specifies the following risk and return investment objectives:
return —Consumer Price Index (CPI) plus 1.5 per cent on a rolling three-year basis for long-term investments
risk —experience an annual investment loss no more than once every 10years, and experience a loss greater than 1 per cent no more than once every 20 years.
Investment profile
DELWP has established investments with TCV and VFMC, consistent with the SFIP. DELWP's short-term investments are with TCV and its long-term investments are in VFMC's Capital Stable Fund, the most conservative investment option offered by VFMC. Figure 2C shows the investment profile of the fund as at 31 December 2017.
Figure 2C
Fund investment profile as at 31 December 2017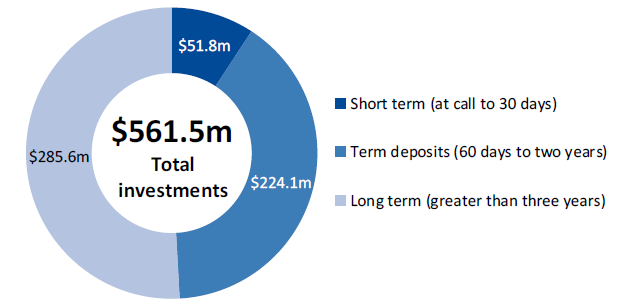 Source: VAGO based on DELWP Quarterly Compliance Report, 31 December 2017.
Our review of DELWP's quarterly compliance reports for the current financial year indicates that the fund mix of investments complies with the SFIP. Figure 2D shows the current fund investment profile compared with the SFIP investment parameters.
Figure 2D
Actual fund investment profile against the SFIP as at 31 December 2017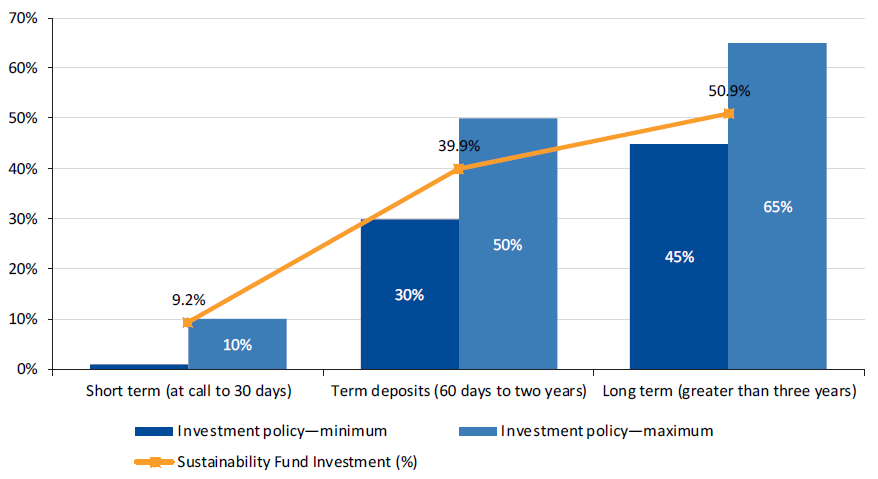 Source: VAGO based on DELWP data.
Investment performance
The fund is achieving SFIP targets and maximising returns. The SFIP target return for long-term investments of 1.5 per cent greater than the CPI, on a rolling three-year basis, equated to 3.2 per cent as at 31 December 2017. VFMC reported that the fund achieved a three-year return of 3.89 per cent to 31 December 2017, 0.69 per cent ahead of the target, and 0.16 per cent ahead of VFMC's performance benchmark. TCV short-term deposits currently return 1.45 per cent to 1.77 per cent.
Interest
The Minister for Finance granted approval, under section 20 of the FMA, for interest to be earned and retained by the fund when administrative responsibility was transferred to DELWP in 2015.
Prior to its transfer to DELWP, EPA was responsible for the financial management of the fund and retained the interest earned (consistent with the Act) on the fund as a revenue stream to support its operations.
The transfer of the fund to DELWP resulted in a revenue shortfall for EPA. To address this shortfall, the Treasurer approved up to $15 million in additional funding to EPA for both 2015–16 and 2016–17. EPA received these payments in addition to its distribution from the MILL Trust Account, equivalent to the value of actual investment returns on the fund balance: $13.80 million in 2015–16 and $14.65 million in 2016–17.
Interest earnings since the fund transferred to DELWP, total $36.5 million to 31 December 2017. The interest earned for the year to 31 December 2017 was $10.5 million. Forecast interest for 2017–18 is $15.3 million.
Cash flow forecasting
DELWP invests surplus cash in accordance with the SFIP.
The team monitors cash flows by updating a rolling cash flow forecast monthly. Estimates of MILL income from EPA, distributions to portfolio agencies, investment income and expected milestone payments to funding recipients are progressively replaced with actuals as they become known.
DELWP bases investment decisions on the SFIP and monthly cash requirements of the fund. DELWP uses a milestone payment report from its grant management system, Global Engagement Management System (GEMS), to determine the expected timing of distributions.
DELWP reports indicate that budgeted funding distributions have been underspent since it has administered the fund. This is mainly due to project management issues which are discussed further in Section 4.5 of this report.
As at 30 September 2017, GEMS shows that actual payments were $18.2 million compared with an expected $36.7 million for the quarter —a 50 per cent underspend. As at 31 December 2017, performance had improved, with year‑to‑date payments of $52.6 million, in line with the forecast of $52.1 million. DELWP advised that budgeted cash flows had undergone significant reworking as part of the mid-year State Budget update in December 2017 to align them with contracted milestones and to include the impact of contract variations. We discuss the challenges with project management further in Section 4.5.
Overestimating expected expenditure results in DELWP holding more liquidity than required. However, the variance in return for amounts held at call, in short‑term investments and investments for a fixed 12-month period is minimal.
2.5 Sustainability Fund administration costs
Administration costs have remained constant despite a significant increase in the activity of the fund. Figure 2E shows administration costs compared to fund distributions over time. The current cost of fund administration compared with distributions is very low. While fund distributions provide an indication of the level of activity, the amount distributed does not reflect the effort involved in other administrative activities such as establishing memorandums of understanding (MoU) for new projects.
Figure 2E
Administration costs compared to fund distributions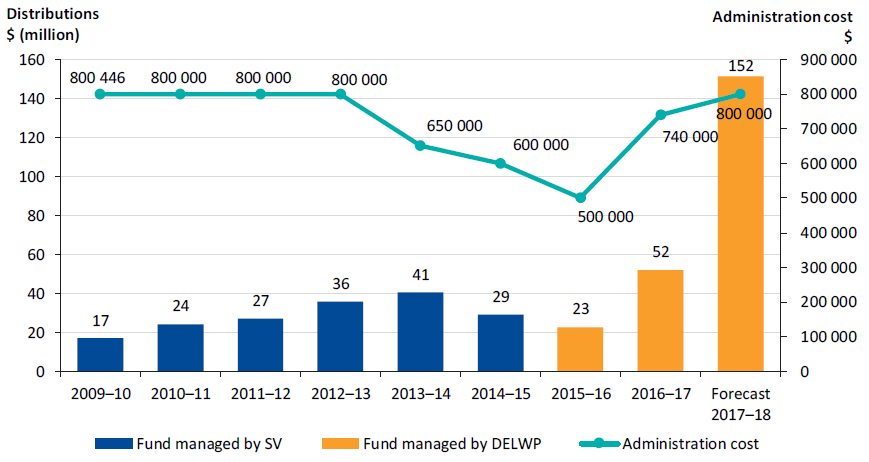 Note: Administrative cost for 2017–18 is the budgeted amount.
Source: VAGO based on DELWP and SV data.
The activity of the team and committee has increased as the value and number of programs approved for funding from the fund has gone up. However, the administrative budget has remained at $0.8 million for 2016–17 and 2017–18.