Meeting Obligations to Protect Ramsar Wetlands
1.1 Introduction
1.1.1 Wetlands
Wetlands are areas that hold still or slow-moving water permanently, periodically or intermittently. They may be formed by natural processes or made by humans. Wetlands are diverse and include swamps, billabongs, lakes, mangroves, coral reefs, peatlands, mudflats, estuaries and seagrass areas.
Wetland functions and values
Wetlands are an important part of the natural environment and are culturally, socially, environmentally and economically valuable. They protect shores from wave action, reduce the impacts of floods, absorb pollutants, improve water quality and provide a habitat for diverse animals and plants. Often, they are also areas of natural beauty. Indigenous people are the traditional owners of many wetlands, which are important to them.
Wetlands provide economic benefits by supporting commercial and recreational activities, such as fishing, tourism, boating and game hunting.
Threats to wetlands
There are a range of threats to wetlands including:
changed water regimes—alterations to the frequency, duration or season of inundation including river regulation, water extraction, drainage or changes to the catchment flow that interrupt the natural ebb and flow of the wetland system
water quality—such as changes in salinity and increases in nutrient levels from nearby agriculture, which can trigger an algal bloom
agricultural use—including draining, cropping and grazing of wetlands
invasive species—invasive animals and plants competing with and degrading the environment of native animals and plants
climate change—impacts include changes to water regimes from increased temperatures and decreased rainfall, and salinisation of coastal systems due to sea level rise
recreational use—camping, hiking, fishing, boating, duck hunting and other recreational activities can disturb the soil, habitat and native flora and fauna.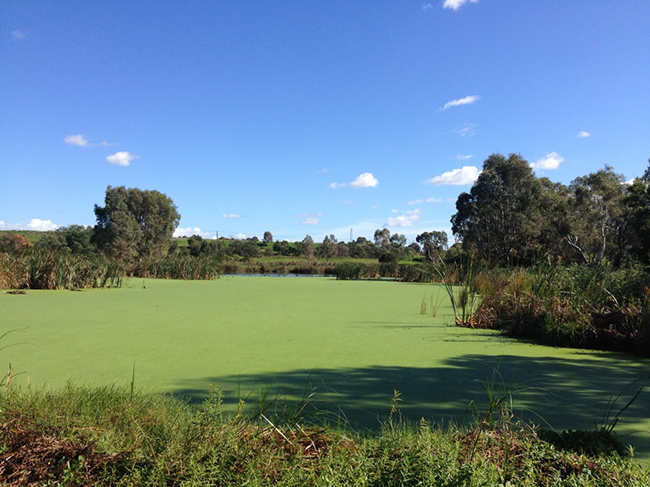 Algal bloom at Macleod Morass, Gippsland Lakes, April 2016.
These threats make conserving wetlands challenging. A consequence of the declining health of wetlands is the decline or loss of many bird and fish species. In 2015, the University of New South Wales annual Eastern Australian Waterbirds Survey found a continuing long-term decline in water bird numbers, wetland area, breeding numbers and breeding species richness throughout Australia.
1.1.2 Victoria's wetlands
The Department of Environment, Land, Water & Planning (DELWP) maintains the Victorian wetland inventory, which was last updated in August 2014. The inventory contains data on 35 499 natural and artificial wetlands, covering 1 960 990 hectares. The number of wetlands occurring on public and private land is shown in Figure 1A.
Figure 1A
Number of wetlands on public and private land according to wetland origin
| Origin | Completely private | Completely public | Both private and public | Total |
| --- | --- | --- | --- | --- |
| Natural | 17 207 | 5 457 | 2 960 | 25 624 |
| Artificial | 8 945 | 445 | 344 | 9 734 |
| Unknown | 43 | 82 | 16 | 141 |
| Total | 26 195 | 5 984 | 3 320 | 35 499 |
Source: VAGO based on information provided by DELWP.
As shown in Figure 1B, natural wetlands occupy around 94 per cent of Victoria's wetland area while artificial wetlands make up less than 6 per cent.
Figure 1B
Natural and artificial wetlands in Victoria
| Origin | Area (hectares) | Per cent of total |
| --- | --- | --- |
| Natural | 1 843 896 | 94% |
| Artificial | 107 914 | 5.5% |
| Unknown | 9 180 | 0.5% |
| Total | 1 960 990 | 100% |
Source: VAGO based on information provided by DELWP.
It is estimated that more than a quarter of Victoria's wetlands have been lost since European settlement.
1.2 Wetlands of international importance
1.2.1 Ramsar Convention
The Convention on Wetlands of International Importance Especially as Waterfowl Habitat, or the Ramsar Convention, is an international intergovernmental treaty. The convention provides a framework for the conservation and wise use of wetlands throughout the world.
Under the Ramsar Convention, sites containing representative, rare, unique wetlands important for conserving biological diversity may be designated as wetlands of international importance and placed on the Ramsar List of Wetlands of International Importance. Listed wetlands are known as Ramsar wetlands or Ramsar sites.
For a wetland to be included on the list, it must satisfy one or more of nine criteria. The current Ramsar criteria are listed in Appendix A.
In designating a wetland as a Ramsar site, countries agree to set up and oversee a management framework aimed at conserving the wetland and ensuring its wise use by maintaining the wetland's ecological character. These terms are defined in Figure 1C.
Figure 1C
Ramsar Convention definitions
Wise use—the maintenance of the ecological character of wetlands, achieved through the implementation of ecosystem approaches, within the context of sustainable development.
Ecological character—the combination of ecosystem components, processes and benefits/services that characterise the wetland at a given point in time.
Source: VAGO based on Ramsar Convention definitions.
Changes to the wetland's ecological character outside natural variations could mean that impacts on the site are unsustainable and could degrade natural processes and the wetland's ecology, biology and hydrology.
As of May 2016, there were 169 signatories to the Ramsar Convention and 2 222 Ramsar sites. Australia became a contracting party in 1974 and currently has 65 Ramsar sites, with 11 in Victoria, as shown in Figure 1D.
Figure 1D
Location of Victoria's Ramsar sites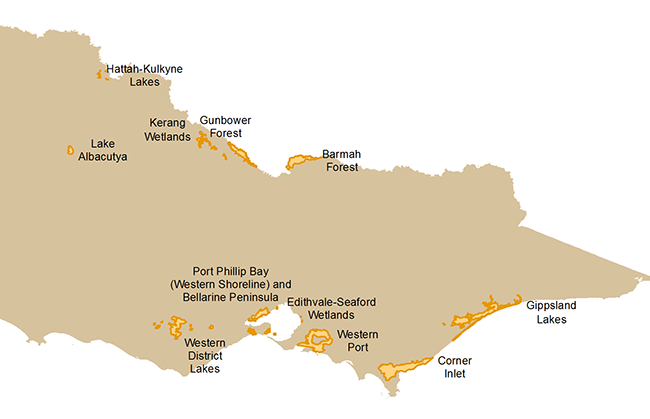 Source: VAGO based on information provided by DELWP.
The Commonwealth Environmental Water Office at the Department of Environment and Energy is responsible for Australia's Ramsar commitment. Some of its key responsibilities include:
designating Australian sites to be added to the List of Wetlands of International Importance
leading the development of national guidance on and approaches to implementing the Ramsar Convention in Australia
working with state and territory governments to promote the conservation of Ramsar sites and wise use of all wetlands and to review the condition of Ramsar sites
representing Australia at the triennial Conference of Parties and collating the national report for these meetings
coordinating other reporting for the Ramsar Convention, including updates of Ramsar information sheets (RIS), reporting any changes to the ecological character of Australia's listed wetlands and responding to inquiries from the secretariat about reports from third parties
providing advice on the Ramsar Convention and any agreed assistance to wetland managers.
Key documents for Ramsar management
Three key documents are prepared and maintained for each Victorian Ramsar site—the RIS, ecological character description (ECD) and the management plan.
The RIS is a requirement under the Ramsar Convention. It is a standard data sheet for each site that includes information on the criteria met, the wetland type, the wetland values and the conservation measures taken or planned. An up-to-date map and boundary description accompanies the RIS. The Ramsar Secretariat uses the RIS to populate the Ramsar information database.
The ECD is a national requirement. It provides the baseline description of the wetland at a certain time and can be used to assess ecological changes at a site. An ECD should be prepared for all Ramsar sites and should identify:
the critical elements—components, processes, benefits and services—that form the ecological character of the site
limits of acceptable change for each critical component of the ecological character of the site
threats to the site
knowledge gaps
monitoring needs
any change in ecological character.
The management plan is a requirement of the Ramsar Convention. It promotes the wise use and conservation of a wetland and should detail:
the characteristics that make the wetland internationally important
strategies to maintain the wetland's ecological character and reduce risks to the wetland
provisions for continuing monitoring and reporting.
The management plan should be reviewed every seven years.
Site management
The site manager is the landowner or legal manager of a Ramsar site. The site manager may be the government, a community entity, traditional owners, a company or organisation, or a private owner. Site managers are encouraged to:
manage the Ramsar site to maintain its ecological character
have procedures in place to monitor and detect changes and threats to the site's ecological character
where possible, create and implement strategies to reverse changes in ecological character
report any actual or likely changes in ecological character to DELWP
carry out site updates for the RIS and report as required
seek approval under the Environment Protection and Biodiversity Conservation Act 1999 before doing anything that will, or is likely to, have a significant impact on the ecological character of the site.
Figure 1E shows the size of Victoria's Ramsar sites and their primary site managers.
Figure 1E
Victoria's Ramsar sites
Ramsar site

Area (hectares)

Primary site manager

Barmah Forest

29 305

Parks Victoria

Corner Inlet

67 193

Parks Victoria

Edithvale–Seaford Wetlands

261

Melbourne Water

Gippsland Lakes

61 151

Parks Victoria

Gunbower Forest

20 218

Parks Victoria

DELWP

Hattah–Kulkyne Lakes

977

Parks Victoria

Kerang Wetlands

9 793

Parks Victoria

Goulburn-Murray Water

Lake Albacutya

5 659

Parks Victoria

Port Phillip Bay (Western Shoreline) and Bellarine Peninsula

22 646

Parks Victoria

Melbourne Water

Western District Lakes

32 671

Parks Victoria

Western Port

59 955

Parks Victoria

DELWP
Source: VAGO based on information provided by DELWP.
There are also a number of other organisations including councils, traditional owners and other authorities with some involvement in site management.
1.3 Relevant legislation and policy
Key Commonwealth legislation relevant to protecting and managing Ramsar sites is described in Figure 1F.
Figure 1F
Key Commonwealth legislation relevant to Ramsar sites
Legislation

Environment Protection and Biodiversity Conservation Act 1999

Provides the legal framework for the protection and management of nine matters of national environmental significance, including Ramsar. Other relevant matters include listed migratory species and listed threatened species and ecological communities.

Water Act 2007

Establishes the Murray-Darling Basin Authority's functions and powers, including enforcement powers, needed to ensure that basin water resources including wetlands are managed in an integrated and sustainable way.

Also establishes a Commonwealth Environmental Water Holder to protect and restore the environmental assets of the Murray-Darling Basin and other areas where the Commonwealth owns water.
Source: VAGO.
State legislation does not specifically cover Ramsar sites. However, legislation that is relevant to wetland management includes:
Catchment and Land Protection Act 1994
Environment Protection Act 1970
Environment Effects Act 1978
Flora and Fauna Guarantee Act 1988
Water Act 1989.
The former Department of Environment and Primary Industries (now DELWP) prepared Improving our Waterways: Victorian Waterway Management Strategy.
The strategy sets up an integrated waterway management framework that provides:
clear policy directions for waterway management
specific actions to make the management of waterways more effective and efficient
aspirational targets that summarise key regional management activities over eight years, with the aim of maintaining or improving the condition of waterways
for adaptive management (see Part 3.3.1).
The strategy integrates wetland management into an overall waterway management framework and has policies and actions that relate to Ramsar sites (see Appendix B). It also streamlines the processes for approving, investing in and reporting on outcomes for Ramsar sites and introduces a role for catchment management authorities (CMA) in Ramsar management through their regional waterway strategies (RWS).
Regional waterway strategies
The RWS is a single planning document for river, estuary and wetland management in each region. It supports the Victorian Waterway Management Strategy.
RWS is developed by waterway managers in partnership with other regional agencies, authorities and boards, plus traditional owners, regional communities and other key stakeholders. They outline regional goals for waterway management and set out strategic regional work programs for priority waterways.
Ramsar management plans are incorporated into the RWSs for seven sites—see Figure 2A. CMAs lead the development of RWSs.
1.4 Agencies
Several bodies have a role in planning for or managing Victoria's Ramsar wetlands.
Department of Environment, Land, Water & Planning
DELWP is the main body responsible for legislation and policy for managing Victoria's wetlands. It aims to improve the environmental condition of waterways to ensure that Victoria has safe and sustainable water resources to meet future needs.
To comply with Ramsar and Environment Protection and Biodiversity Conservation Act 1999 requirements, DELWP must:
adhere to national Ramsar guidelines, including management principles, management plans and the requirement to describe and report changes or potential changes to the ecological character of sites to the Commonwealth Government
coordinate and maintain documents for Ramsar sites—including RISs, ECDs, management plans, site descriptions and maps
together with the Commonwealth Government, lead the nomination of potential Ramsar sites.
Parks Victoria
Parks Victoria manages national, state and metropolitan parks and marine national parks, as well as having a role in managing Melbourne's bays, waterways and other significant cultural assets. It is the primary site manager for 10 of the 11 Victorian Ramsar sites. Four of these sites also have another primary site manager, because they have multiple tenures and are on different parcels of land.
Melbourne Water
Melbourne Water is a statutory authority that manages water catchments, treats and supplies drinking and recycled water, removes and treats most of Melbourne's sewage and manages waterways and major drainage systems in the Port Phillip Bay (Western Shoreline) and Western Port region. It is the main site manager for the Edithvale–Seaford Wetlands site and manages the Western Treatment Plant and part of the Port Phillip Bay (Western Shoreline) and Bellarine Peninsula site.
Catchment management authorities
CMAs are statutory authorities set up to maximise community involvement in decision‑making and to deliver programs to effectively manage catchments. They have a lead role in developing and delivering regional programs for waterway management.
CMAs' functions include:
developing RWSs and associated action plans
developing and implementing work programs
authorising works on waterways and acting as a referral body for planning applications, for licences to take and use water and construct dams, for water use and for other waterway health issues
identifying regional priorities for environmental water management and facilitating the delivery of environmental water
providing input to water allocation processes
developing and coordinating regional flood plain management plans
managing regional drainage in specified areas
responding to natural disasters and incidents affecting waterways such as bushfires, floods and algal blooms
undertaking community participation and awareness programs.
1.5 Audit objective and scope
This audit assessed how effectively Victoria's Ramsar wetlands are managed, including how effectively agencies are working with each other, and whether Victoria is meeting its national and international obligations.
To address these objectives, we assessed whether:
comprehensive, reliable and current information and effective consultation with stakeholders informs the management of Ramsar wetlands
comprehensive management plans are in place
management plans are implemented as intended
monitoring, evaluation and reporting occur and whether these are used to understand the impact of management activities, inform management practices and meet reporting obligations.
We audited DELWP, Parks Victoria, Melbourne Water and relevant CMAs.
We did not assess the effectiveness of Commonwealth or non-government agencies.
1.6 Audit method and cost
To test the effectiveness of Ramsar wetland management in Victoria, we reviewed relevant legislation, policies and documents, such as site management plans and ecological character descriptions. We interviewed and consulted agency staff and stakeholders.
We tested management activities at three Ramsar sites—Gippsland Lakes, Kerang Lakes and Western District Lakes
We chose these sites because they have a range of different management arrangements, site values, threats and land tenure.
The audit was carried out under section 15 of the Audit Act 1994, in keeping with the Australian Auditing and Assurance Standards. Pursuant to section 20(3) of the Audit Act 1994, unless otherwise indicated, any persons named in this report are not the subject of adverse comment or opinion.
The total cost of the audit was $330 000.
1.7 Structure of the report
The report is structured as follows:
Part 2 looks at how Ramsar management plans are planned and implemented
Part 3 looks at monitoring, evaluation and reporting on the management of wetlands using examples from selected sites.