Outcomes of Investing in Regional Victoria
1.1 Regional Victoria's role in the economy and community
Regional Victoria is home to 24 per cent of the state's population. In 2017–18 it produced 19 per cent of the state's GRP despite challenges such as low population and job growth.
Since 2005–06, regional Victoria has experienced negative GRP growth in six years and growth of less than 1 per cent in another four. The gap in GRP per person between regional Victoria and metropolitan Melbourne is increasing, as shown in Figure 1A.
Figure 1A
Annual GRP growth per person in regional Victoria and metropolitan Melbourne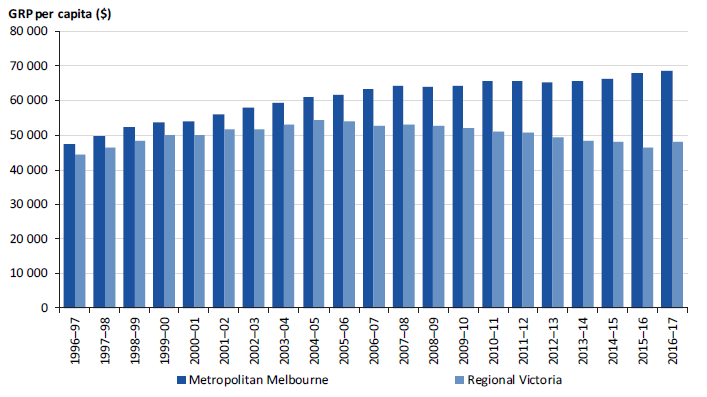 Source: VAGO, based on RDV's public information portal.
Victoria's Regional Statement 2015—the government's overarching policy to support regional Victoria—acknowledges that population growth can 'bring significant opportunities through new skills and economic activity'. Overall, regional Victoria has experienced significantly lower population growth than metropolitan Melbourne, as shown in Figure 1B.
Figure 1B
Population growth in regional Victoria and metropolitan Melbourne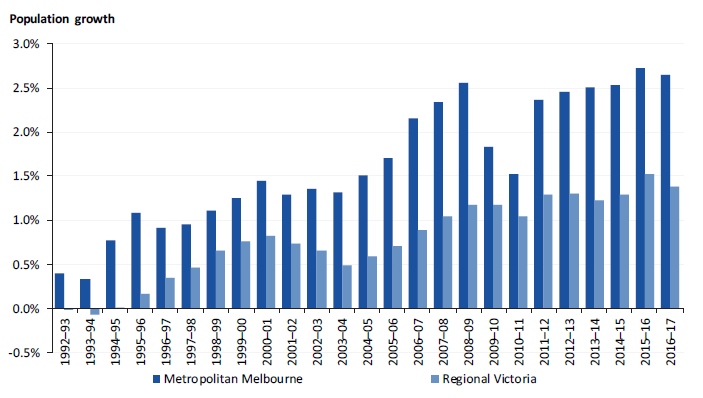 Source: VAGO, based on RDV's public information portal.
1.2 Legislation and policy
Various pieces of legislation and policy have established Victoria's regional development grant programs over time, directed their management and provided guidance on better practice.
Regional Development Victoria Act 2002
RDV manages RJIF under the RDV Act. The government created each fund through amendments to the RDV Act—most recently, the Regional Development Victoria Amendment (Jobs and Infrastructure) Act 2015, which simultaneously established RJIF and abolished RGF.
Section 17 of the RDV Act sets out the five purposes for which grant funds can be used to support regional Victoria:
to provide for better infrastructure, facilities and services
to strengthen the economic, social and environmental base
to create jobs and improve career opportunities
to support the development and planning of local projects
to support economic or community development.
Schedule 2 of the RDV Act lists the 48 LGAs and six alpine resorts in regional Victoria that can apply for RJIF grants.
The RDV Act requires the Minister's approval for all grants. The Treasurer must also approve grants of more than $5 million. The RDV Act has provisions for the Minister to delegate this power to RDV, however this has not occurred.
Policy guidance
DTF's Standing Directions of the Minister for Finance 2016 details agency responsibilities when distributing 'discretionary financial benefits'. Under these directions, agencies must maximise value for money and have effective and efficient administrative controls over their grant programs.
The standing directions require agencies to apply DTF's 2016 Investment principles for discretionary grants when developing and managing grant programs. These principles recommend agencies minimise administration costs, ensure that recipients' compliance costs are proportionate and that the program does not overreach into local governments' areas of responsibility or create an ongoing need for funding.
The Commonwealth Department of Finance produced the Commonwealth Grants Rules and Guidelines 2017 (the commonwealth guidelines), which—although only directly applicable to Commonwealth agencies—supply further guidance relating to the design, implementation, governance and transparency of grant programs.
1.3 Regional grant funds
Successive state governments have implemented initiatives to address the economic and social challenges facing regional Victoria. Figure 1C shows the regional grant programs administered by RDV since 1999.
Figure 1C
Key regional development grant programs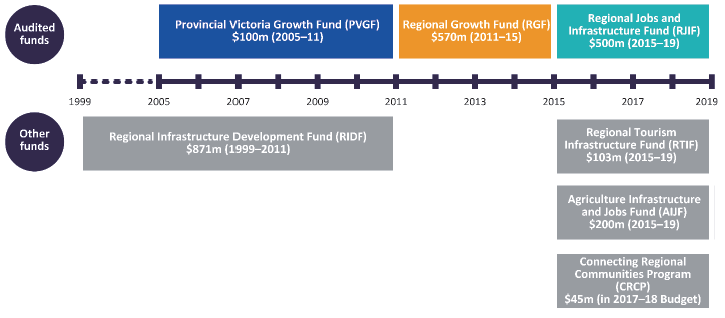 Note: RGF was an eight-year program that planned to distribute $1 billion in grants, but RJIF replaced it in 2015–16. At the time the government ceased RGF it had allocated up to $570 million for grants.
Source: VAGO, based on RDV information.
1.4 Regional Jobs and Infrastructure Fund
The government set up RJIF with the aim of 'growing jobs, building infrastructure and strengthening communities in regional Victoria'.
RJIF aims to deliver $500 million in grants over four years to 2018–19. Councils, businesses and non-government organisations in Victoria's 48 regional LGAs can apply for grants.
Figure 1D shows RJIF's three programs and their funding levels, objectives and 12 streams.
Figure 1D
RJIF's three programs and streams

Source: VAGO, based on RDV information.
RDV is responsible for assessing RJIF applications and making recommendations to the Minister for approval. Figure 1E shows RDV's assessment process for RJIF applications.
Figure 1E
Current RJIF application assessment process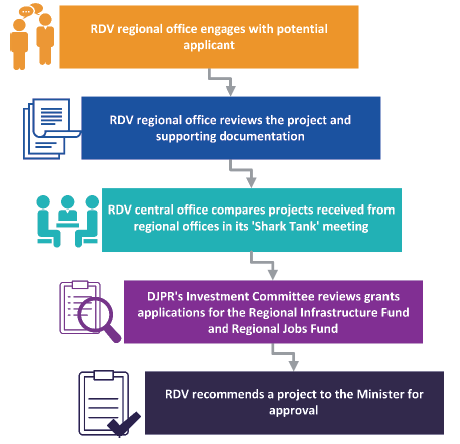 Note: RDV recommends applications under the communities plan directly to the Minister without requiring Investment Committee approval.
Source: VAGO, based on RDV information.
Until 2017, RDV's Regional Infrastructure Development Committee evaluated Regional Infrastructure Fund applications. RDV chaired the committee, which included representatives from DPC, DTF and DJPR.
DJPR's Investment Committee evaluates applications for the Regional Jobs Fund (jobs fund). It includes senior public servants and independent experts responsible for assessing a range of investment opportunities. It meets regularly and is the final stage in deciding whether to recommend a grant to the Minister for consideration.
The Investment Committee has reviewed applications for both the Regional Infrastructure Fund and the jobs funds since 2017 to improve the consistency of decision-making between the two programs.
RDV refers applications for the communities plan directly to the Minister without the Investment Committee's consideration as these grants are smaller and focused on community building activities.
RDV uses the GEMS case management system to manage RJIF and to capture all information relating to a grant—enquiries and engagement with organisations, applications and supporting documents, assessments, ministerial briefs, grant agreements, implementation activities and payment. RDV's monitoring and reporting is based on the data entered in GEMS.
RDV plans to evaluate RJIF outcomes two years after the fund ends.
1.5 Roles and responsibilities
Many agencies play a part in social and economic development in regional Victoria.
Regional Development Victoria
RDV is the lead agency responsible for facilitating development across regional Victoria and has administered more than $1 billion through grant programs since 2011. RDV was part of the former Department of Economic Development, Jobs, Transport and Resources until 1 January 2019. Since then, RDV has been part of DJPR.
RDV manages RJIF by:
providing public information about eligibility criteria and assessment processes
working with potential applicants to develop grant proposals
assessing and recommending grant applications to the Minister
monitoring the delivery of funded projects
reporting to government and the public on the fund's outputs
monitoring and evaluating the fund's outcomes.
Councils
Councils have an obligation under the Local Government Act 1989 to promote the social, economic and environmental viability and sustainability of their municipal districts.
Regional councils can apply directly for RJIF grants. For example, RJIF partially funded the Geelong Library and Heritage Centre, alongside council and Commonwealth funding. Councils also support local businesses to apply for RJIF grants by facilitating engagement with RDV.
Other state entities
Multiple state entities, programs, and projects influence economic and social outcomes in regional Victoria, including:
the Department of Environment, Land, Water and Planning, which manages eight Regional Growth Plans to provide direction for land use and development
the Latrobe Valley Authority, which works with communities, businesses and relevant councils to increase jobs in the Latrobe Valley
the Geelong Authority, which advises the Minister for Planning on strategies to attract investment to central Geelong to help create jobs and drive growth
Regional Partnerships, which engage with their communities to identify local priorities and provide feedback to government for planning and budgeting.
1.6 Past audits
We have audited two of RDV's previous regional funds.
Management of the Provincial Victoria Growth Fund (2012)
The Provincial Victoria Growth Fund (PVGF) was the subject of our 2012 audit Management of the Provincial Victoria Growth Fund, which found an inadequate application of funding criteria and poor documentation of decisions. We also found RDV lacked a framework to evaluate PVGF and to incorporate the lessons learned into the design of RGF.
Regional Growth Fund: Outcomes and Learnings (2015)
Our 2015 audit Regional Growth Fund: Outcomes and Learnings examined RDV's management of RGF. It found that due to weaknesses in the fund's design and implementation, RDV could not show it achieved value for money or the program's objectives.
1.7 Why this audit is important
The ongoing development of Victoria's regional areas is important to the state's economic and social future. The regional economy plays a vital role in the overall Victorian economy.
Our audits of previous programs found deficiencies in their administration and made recommendations for the design of RJIF. It is important to assess if RDV is applying the lessons learned from its previous funds to improve its management of RJIF, and whether the state's current and historical investments in the regions is achieving the intended objectives.
1.8 What this audit examined and how
The audit evaluated whether state investment through various funds has improved outcomes in regional Victoria. We evaluated RDV's implementation of RJIF by focusing on its design, assessment processes, monitoring and evaluation. The audit also examined how RDV has evaluated earlier grant programs to ensure it is implementing better practice and helping drive regional development.
We engaged with five councils of varying sizes and regional stakeholders to gain added perspectives on RDV's effectiveness in administering RJIF.
We conducted our audit in accordance with Section 15 of the Audit Act 1994 and the Australian Auditing and Assurance Standards. The cost of this audit was $445 000.
1.9 Report structure
The remainder of this report is structured as follows:
Part 2 reviews RDV's management of RJIF, including changes it has made and areas for further improvement.
Part 3 evaluates whether the funds have improved outcomes in regional Victoria and highlights how RDV could use data to assess need and distribute grants.