Outcomes of Investing in Regional Victoria
2 Managing the Regional Jobs and Infrastructure Fund
RDV's current regional grant fund is RJIF, which commenced in 2015 and will conclude in June 2019. We audited two previous funds and in 2015 made nine recommendations to RDV about the implementation of RJIF.
In this part we assess whether RDV's design of RJIF, decision-making, record‑keeping and public information have been effective, transparent and accountable.
2.1 Conclusion
RDV's delivery of RJIF is an improvement on its management of the earlier funds. RDV has driven cultural change, implemented better oversight mechanisms and increased the detail of its reporting.
However, RDV cannot show that it has managed the fund efficiently as it cannot demonstrate that it has kept RJIF administration costs—mainly staffing—to the state guideline of 5 per cent. RDV advises that this is because RDV staff undertake multiple functions like project management and maintaining its regional network as well as managing RJIF grants. Within this operating model, RDV did not establish processes to accurately track how much it spent managing RJIF.
RDV's assessment of RJIF applications has often been slow and the application process requires significant effort from applicants and RDV. The lack of a risk‑based approach to grant assessment is a key reason for the fund's high administrative burden.
Throughout RJIF's implementation, RDV has raised awareness of the fund by publicly promoting the fund and providing information about grant eligibility and processes. However, it could do more to improve RJIF's transparency by increasing the information it makes public about the grants awarded and RDV's assessment policies. This would enable stakeholders and the public to know where RDV has disbursed the money and help applicants understand how RDV assesses grant applications.
2.2 RJIF alignment with policy and better practice
Victoria and the Commonwealth have both issued guidance to agencies that manage grant programs. RJIF's design aligns with most of the guidance in state policy and some of the commonwealth guidelines.
Victorian guidelines—Investment principles for discretionary grants
DTF's Investment principles for discretionary grants include nine principles for grant management, including capping administrative costs at 5 per cent. Figure 2A shows how RDV has incorporated the principles into RJIF's design.
Figure 2A
RJIF compliance with DTF's Investment principles for discretionary grants
| Principle | Assessment | VAGO analysis |
| --- | --- | --- |
| Grants should only be used when they secure a government policy outcome. | ✔ | RJIF requires grants to align with government policy objectives. |
| Discretionary grants should not be used without first considering alternative policy mechanisms or existing grant programs. | ✘ | RDV implemented RJIF to deliver the government's 2014 election commitment of having a regional grant fund. The government approved both the RJIF business case and the RJIF guidelines. The business case did not consider or provide government with alternatives to achieve its policy objectives. |
| Grants should not be used with the principal objective of transferring revenue to local government. | ✔ | A range of entities, including councils, community organisations and businesses, received RJIF grants. |
| Care should be taken to ensure grants do not lead to state government overreach into local government's areas of responsibility, nor create an ongoing need for funding. | ✔ | RDV awards RJIF grants to specific projects and does not provide ongoing funding. |
| Grant programs should be designed to minimise administration costs. | ✘ | RDV cannot prove it has kept administrative costs below the recommended 5 per cent. |
| Where small grants are used, they should be administered by the organisation that is able to do so most efficiently. | ✘ | RDV assesses all grant applications and monitors project implementation in the same way regardless of grant size. |
| Accountability requirements imposed on grant recipients should be proportionate to risk. | ✘ | RDV does not have a risk-based policy to determine accountability requirements based on grant size or risk. |
| Grants can be disbursed by competitive, negotiated or allocated mechanisms. | ✔ | RDV uses an allocative grant model for RJIF, which is a supported model in the investment principles. |
| Better Grants by Design should be used to provide further guidance when designing and developing new grant programs. | ✘ | This document has the same principles as above but recommends capping administration costs at 10 per cent. |
Note: Better Grants by Design is a DTF guide for agencies managing grant programs.
Source: VAGO.
Commonwealth guidelines—Commonwealth Grants Rules and Guidelines 2017
Competitive grant program—assessors compare applications against each other, and against the grant guidelines, to determine which applications offer the best outcomes and value for money.
Allocative grant program—applications are assessed against the grant criteria only.
RDV could use the commonwealth guidelines to inform the design of any future regional fund, like the RJIF. The guidelines overlap with the Investment principles for discretionary grants in recommending agencies take a risk‑based approach and minimise the effort needed by all parties to process small grants.
RDV could use several added areas covered by the commonwealth guidelines to strengthen its management of RJIF:
Competitive grants program—the guidelines recommend the use of a competitive grant process in most circumstances. RJIF is an allocative model that does not compare applications.
Ministerial transparency—the guidelines require that Ministers tell Parliament when they award grants in their electorates or against departmental advice. This is not part of RJIF's legislation, policy, design or public reporting.
Implementing VAGO's 2015 recommendations
In 2015, we made nine recommendations to RDV to enhance the implementation of RJIF. RDV has taken steps to implement all the recommendations. However, based on our findings for this audit, there is a need for further action to fully implement the recommendations. Appendix B shows our assessment of RDV's performance in implementing the recommendations.
2.3 Implementing RJIF
Although not identical, RJIF's objectives and criteria are similar to those of the previous funds, including its focus on employment and social improvements, and the outputs and outcomes against which RDV measures performance.
In implementing RJIF, RDV has undertaken a significant amount of work to incorporate the recommendations of our 2015 audit. RDV has driven changes by implementing effective oversight mechanisms and focusing on cultural change.
RDV advises that it recognised the need to drive cultural change to improve performance, which it did by improving its staff engagement and willingness to examine problems. Examples include:
engaging a consultant to evaluate cultural issues
developing a cultural priority initiative plan to monitor the implementation of projects driving cultural change
conducting culture change workshops
staff engagement activities
developing and monitoring a new people and culture framework.
Despite previous audits and multiple reviews, RJIF's delivery has not been without challenges and some issues with RDV's performance have continued into RJIF.
Governance
Our 2015 audit found significant issues with RDV's governance structure and its ability to report on the fund's progress and outcomes. In response, RDV has put in place a range of management frameworks and reporting processes.
Management structures
RDV uses a range of committees to manage RJIF and assess grants, prior to making recommendations to the Minister. Three key bodies oversee RJIF's implementation:
The RJIF Implementation and Monitoring Committee is made up of executive level staff responsible for managing RJIF's delivery. This body has also monitored the implementation of our 2015 audit recommendations.
The Regional Infrastructure Development Committee and Investment Committee comprise RDV staff, staff from other departments and non‑government experts who review applications.
The Shark Tank is made up of RDV executives reviewing grant applications prior to referring them to the Investment Committee.
These committees have enabled RDV to manage the delivery of the fund by progressing grants systematically. RDV expects to have processed grants totalling the allocated $500 million by its close in June 2019.
Monitoring and reporting
RDV management rely on a range of reports to manage the fund's delivery. RDV's reporting framework outlines the range of reports produced, their time frames and recipients. RDV has adapted and improved some of these reports from the RGF, while implementing others for RJIF. The reporting framework includes:
a range of monthly and quarterly reports designed for different audiences, such as RDV executives and the Minister
a major projects report, providing updates on significant projects and new grants over $1 million
tracking of projects linked to election or budget commitments
a new projects report.
RDV has also integrated risk reporting into its reporting framework, including:
a dashboard report of the number of projects with risks to delivery
a case-based report about high-value projects and election commitments that face risks to delivery, which includes mitigation strategies
a strategic risk register, which includes mitigation strategies.
Since the RGF, RDV has improved its reporting to provide more relevant and detailed information. RDV's reports now include information on:
the value and number of grants distributed
the number of jobs created
the amount of outside investment leveraged by grants
some measures of timeliness
distribution of funds per person by LGA
pipeline reporting to the regional level
progress and risks to the delivery of key funded projects
strategic risks to the fund.
Although the reports do allow RDV to oversee RJIF, issues with the accuracy of the data they include undermines their effectiveness. We discuss this issue in detail later in this part. Figure 2B describes one example of how RDV's data quality issues affect its reporting.
Figure 2B
Inaccurate data for jobs created
RDV's June 2018 quarterly report showed RJIF grants were expected to create 5 166 jobs. However, in the data extract used to produce the report, we found that 81 per cent of the projects did not list any expected jobs. We reviewed 10 of these grants and found that across eight cases there were 465 expected jobs—recorded in signed grant agreements—that were missing from the data extract and therefore not included in its reporting.
RDV advises that in response it has undertaken work to encourage officers to correctly enter jobs data into GEMS. As a result, in preparing the September 2018 quarterly report RDV added 2 239 expected jobs, of which only 278 came from projects newly entered into the system.
We reviewed the same 10 grants in February 2019 and found that four still had errors that affected RDV's reporting. This shows a lack of effective quality assurance of the data RDV relies on.
Source: VAGO, based on RDV reports.
RJIF grant administration costs
In August 2017, DTF recommended a joint capability review of RDV by DTF, DPC and DJPR arising from errors in the advice it provided to government during the transition from RGF to RJIF. DTF requested that the review evaluate RDV's fund management capabilities and 'significant administration and project costs'. The government and RDV agreed to the review. RDV advised that DPC and DTF developed the terms of reference in consultation with RDV, but the government did not approve these and consequently the review did not occur.
Government policy in 2015, at the time RDV prepared the business case, was for the maximum grant administration costs to be 10 per cent of the allocated funds. In 2016, DTF's guidelines revised this cap to 5 per cent.
RDV advises that its allocation from RJIF funds both RJIF's grant administration and other 'service delivery' activity. RDV defines grant administration as activity related directly to assessing and administering grants. It defines service delivery as including managing regional networks, supporting economic development, providing advice to the public on grant options and overseeing the implementation of election and budget commitment projects funded through RJIF.
RDV advises that while it will have expended $61.45 million by 30 June 2019, only 5 per cent of the total fund—$25 million—will have gone towards grant administration. However, RDV does not have adequate information to confirm the cost break up between the two categories. We reviewed the available information and could not determine with certainty what proportion of the $61.45 million RDV has spent on grant administration compared to service delivery.
As such, RDV cannot know if it has followed state guidelines on grant administration costs in administering RJIF. To provide greater clarity in future, RDV has used its 2019 budget bid to separate these costs, seeking 5 per cent of future funds for their administration and separate funding for its service delivery activities. RDV's 2015 RJIF business case did not separate the level of funding needed to administer the fund versus supporting RDV's other costs. If implemented, this would improve the transparency of the fund's administration costs and enable RDV to determine whether it is complying with state guidelines. RDV would need to develop effective systems to track its expenditure under this arrangement.
Transition to RJIF
RDV gave inadequate advice to government concerning the transition from RGF to RJIF, which created a temporary funding shortfall and consequent delays in grant approvals.
The previous government planned to distribute RGF as $1 billion over eight years, from 2011 to 2019. In 2015, RDV recommended that the new government reprioritise RGF's remaining $500 million to fund RJIF when it changed over between the two funds. However, RDV did not advise the government about $226 million in outstanding commitments for RGF projects.
As a result, RDV was unable to finalise RJIF funding agreements until the government finally decided to fund the full $500 million promised for RJIF grants alongside the committed RGF projects. While the government resolved this issue, RDV delayed progressing grants which affected applications in 2016 and 2017.
Timeliness and risk-based processing
RJIF has experienced significant timeliness issues, resulting in delayed project implementation and a high administration burden for RDV and applicants. RDV's lack of a risk-based grant processing approach and issues with finalising RJIF's funding arrangements are some causes of these delays. RDV officers, councils and other stakeholders have described a slow approval process for RJIF grants ranging from nine to 12 months.
Our analysis of available data found an average of:
314 days between an EOI submission and a signed grant agreement
202 days between an applicant lodging a formal application and a signed funding agreement.
Application assessment processes for each RJIF program involve multiple reviews prior to grant recommendations to the Minister. RDV applies each program's full process to all applications without applying a risk-based approach based on factors such as grant size.
In a risk-based approach, RDV would apply varying levels of assessment based on a project's risk profile, including the amount of funding requested or the project complexity. Factoring in risk would enable RDV to efficiently process low-risk grants while focusing resources on assessing applications for projects of higher risk. This approach would also align RJIF's management with the state policy guidance discussed earlier in this section.
RDV has identified that its processes contribute to the timeliness issue. An internal review team recommended steps to improve practices, including:
setting time line targets for each grant process stage
standardising the EOI process across funding streams
developing a grants training program for newer staff.
RDV is implementing these changes in the fourth year of RJIF's administration. RDV needs to incorporate these and any further process improvements into any future fund to ensure it benefits from the efficiency gains.
RDV customer satisfaction results also show that timeliness has had a negative impact on the delivery of RJIF. Figure 2C shows that while overall dissatisfaction levels are low, timeliness is a key issue and driver of the overall dissatisfaction result.
Figure 2C
RJIF grant recipient client dissatisfaction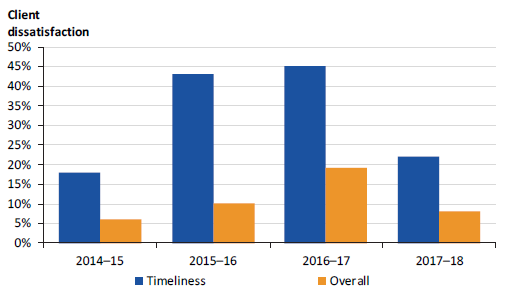 Source: VAGO, based on RDV data.
Timeliness was particularly an issue in years two and three of RJIF, which RDV attributes to its inability to finalise applications in 2016 and 2017 due to the temporary funding shortfall. This would have impacted the middle years of RJIF but grant recipients have expressed dissatisfaction with processing times in all years of the fund's management.
RDV's ability to adopt a risk-based approach is in part limited by the Minister's decision not to delegate the power to approve RJIF grants to RDV officers. As a result, RDV must prepare a brief to the Minster for each grant application, regardless of size or risk.
This contrasts with financial delegations in other areas of RDV. For example, regional directors have financial delegation up to $150 000 and the CEO up to $500 000. Delegating grant approval to these levels—or at a lower threshold such as $50 000—would enable RDV to manage low‑risk grants internally.
Figure 2D shows that 63.5 per cent of grants were for less than $150 000.
Figure 2D
Percentage of all RJIF grants up to 31 December 2018 by financial threshold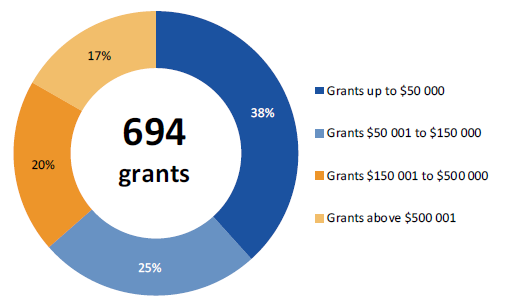 Source: VAGO, based on RDV data.
Adopting a risk-based approach would also enable RDV to increase its cost efficiency in processing grants. While it is not possible to determine the actual cost of administering RJIF, at the 5 per cent benchmark the average cost of processing a grant was $31 520 to 31 December 2018. This compares to a median grant value of $60 714 and the fact that 214 of the 694 grants were for less than the average cost. This indicates that a considerable proportion of grants had a high administrative cost relative to the value of the grant, which RDV should be able to reduce by using a risk-based approach to processing low‑value grants.
Value-for-money outcomes
RDV has developed measures to assess grants' value for money and includes this information where appropriate in:
assessments of applications
DJPR's Investment Committee consideration
ministerial briefings
monthly and quarterly reporting
cabinet and budget briefs.
RDV produced a position statement outlining four criteria—equity, efficiency, effectiveness and economy—which RDV advises is its framework to deliver value for money. It includes ways RDV will assess RJIF's value for money outcomes at the fund and grant levels.
RDV's measure for equity is based on the geographical spread of grants and providing 'additional support in those areas under-represented'. RDV has not undertaken an analysis of available data to identify areas of highest need and target grants to drive equity. We discuss this further in Section 3.4. Instead, the delivery of election and budget commitments has driven grant distribution.
To measure effectiveness, RDV intends to evaluate whether approved grants are in line with RJIF guidelines, which include a criterion that they align with government objectives. In reviewing a selection of cases, we found projects delivering election or budget commitments under the communities plan that do not follow the program's guidelines. This is discussed in Section 2.4.
When assessing a grant, RDV uses two measures that link most closely to its goal of achieving economy and efficiency:
"Dollars per job"—the ratio of a grant's value per job created.
Total project cost to grant ratio—the total cost of the project compared to the grant.
The total project cost includes the RJIF grant and any other sources, including private sector or other government investment.
RDV advises that it may support higher total project cost to grant ratios to deliver projects in specific sectors or disadvantaged regions due to the perceived value of the project or potential jobs. However, RDV has not documented its assessment criteria under this approach, which has led to inconsistency in the value for money delivered by RJIF grants. This practice also reduces the fairness of RDV's assessment of applications and means the disbursement of funds is not transparent. Figure 2E shows that RDV has recommended grants with a large range of value for money outcomes.
Figure 2E
Range of RJIF value-for-money outcomes to 31 December 2018
| Measure | Lowest value-for-money project | Highest value-for-money project | Overall |
| --- | --- | --- | --- |
| Dollars per job | $185 034 | $833 | $8 065 median per job |
| Total project cost to grant ratio | Fully funded | $70 total project to $1 of RJIF funding | $4 total project to $1 of RJIF funding |
Note: The dollars-per-job calculation only includes jobs fund grants, as grants in other programs may not include jobs as an output.
Source: VAGO, based on RDV data.
Data quality and documentation
RDV has ongoing issues with its recording and reporting of data and the way it attributes jobs created by its grants. Multiple consultancies and audits dating back to 2009 have identified issues with RDV's data quality.
Inaccurate data and RDV's reporting
RDV's inconsistent record-keeping in GEMS undermines its ability to monitor and report accurately to the Minister and the public.
We reviewed a selection of cases and identified several types of errors in GEMS, which will affect the quality of the information RDV includes in its reports. The errors were:
not recording the number of expected jobs created in the correct field
incorrectly recording the total value of projects
not recording that a grant is linked to an election commitment
inconsistently using goods and services tax exclusive and inclusive figures for grant amounts
attributing the grant to the incorrect LGA.
The most common and significant issue was RDV's reporting of the total 'jobs created' figure based on its extraction of data in GEMS as discussed in the section on monitoring and reporting.
The fact that we found these issues from reviewing only a limited selection of cases demonstrates poor data quality and a lack of quality assurance activities. Further organisation‑wide effort—including a review of all cases—is necessary to improve RDV's data quality and ensure that other errors are not present.
These data errors affect the quality of information RDV uses to recommend grants, monitor the program and report to government.
Estimating jobs created figures
RDV estimates the number of jobs its grants will create in its internal and external reporting, rather than relying on validated figures. RDV uses different methods to count the total number of jobs, as shown in Figure 2F.
Figure 2F
RDV counting jobs
| Report | Jobs included | Source |
| --- | --- | --- |
| Internal reporting | Direct jobs, indirect jobs and construction jobs | Grant application |
| Annual report | Direct jobs | Grant agreement |
| Evaluation | Direct jobs | Validated numbers |
Source: VAGO, based on RDV information.
RDV advised that it engages with organisations while discussing grant applications to test the accuracy of the number of claimed jobs, but we found no record of this in the cases we reviewed.
Consistent with its practice as part of RGF reporting and in contrast to our recommendation from the 2015 audit, RDV continues to attribute the full number of jobs created by a project to RJIF, regardless of the size of the grant relative to the project's total cost.
For example, RJIF contributed $1.5 million to a $55 million project—2.7 per cent of the total project cost—yet included all 357 expected jobs in RJIF output figures. This overstates RDV's influence in creating jobs in regional Victoria. RDV advises it uses the phrase 'facilitated by RJIF' to communicate that multiple parties are involved in the project. However, this does not clearly communicate RDV's level of investment and its influence in creating the jobs for which it takes full credit in its internal and public reporting.
Shortly after project completion, RDV verifies if the grant recipient did create the promised jobs. A full evaluation of RJIF's outcomes would provide RDV with an opportunity to confirm whether grant recipients had sustained the jobs created through RJIF projects. RDV could then publicly report against these figures to demonstrate the outcomes of its funds.
Leveraging external investment
RDV has overstated the amount of other funds RJIF grants have leveraged in multiple budget briefs, most recently in its 2019 bid to establish a new fund. It did this even after we advised RDV that this issue had occurred in its briefings to government in 2017.
RDV calculates RJIF's 'funding ratio' by comparing the value of RJIF grants to the total value of projects, which includes the RJIF grant. In this metric, the total project cost compared to RJIF grant is approximately four to one. RDV advised government that it has facilitated 'a total investment of $4.16 for every dollar of RJIF grant funding'. In fact, based on that calculation it had leveraged $3.16 of private or other government funding for each RJIF dollar.
Documenting grant decision-making
RDV inconsistently documents its decision-making, which reduces accountability and makes evaluation challenging.
In late 2018, an internal RDV review identified that a lack of policy guidance for staff on how to document grants resulted in 'inconsistent practices which impacts the timely and efficient storage and retrieval of key documentation'.
The different assessment processes and documentation RDV has used over time and across programs to deliver RJIF compound the issue of inconsistency. This will make aggregating and comparing grants more difficult when it evaluates the fund. The consultants that attempted to evaluate RGF identified this barrier to evaluation.
We reviewed a selection of files—some in GEMS and other documentation provided by RDV—for 40 grants valued above $2 million and found inconsistencies in RDV's documentation of its evaluation process. Based on the available documents, it was not possible to assess how RDV had critically evaluated the application and supporting documentation. The specific issues identified were:
not independently verifying information provided by the applicant such as the claimed economic impacts or building costs
not documenting its analysis of information provided by the applicant
copying content from the application into its internal documentation and Ministerial briefs.
We also reviewed a random selection of 40 grants in GEMS to test whether RDV documented the pre-application stage. Doing this was one of the recommendations of our 2015 audit. We found RDV had recorded:
engagement with an organisation prior to application—for example emails, meetings, phone calls—in only 30 per cent of cases
internal assessments of EOIs and supporting documentation in only 20 per cent of cases.
From 2017, RDV implemented meetings of senior officers to review applications prior to providing them to the Investment Committee. RDV refers to these meetings as the 'Shark Tank' and advises that they improve the consistency of applications across different offices and the completeness of the supporting information. RDV did not record any meeting minutes for these discussions until late 2018, so it is difficult for RDV to assess the impact this practice has on its management of RJIF.
RDV advised it did not record the meeting outcomes because it did not consider them as a decision point. However, after the commencement of this audit RDV did start documenting these minutes. Keeping records of meetings in which RDV considered grants would help retain knowledge within RDV.
2.4 Transparency and accountability
Ensuring transparency and accountability is essential if the public is to have confidence in RDV's administration of grant funds. While RDV publishes information about the fund, it does not provide a complete report of the grants funded or how it processes grant applications.
Public information about the fund
RDV delivers information about RJIF through its website, offices, regional networks and Regional Partnerships. The publicly available information allows potential applicants to understand their basic eligibility and directs them to RDV's regional offices to obtain detailed information and support to develop applications.
Since 2016, RDV has implemented the Regional Partnerships, which enables it to engage with a wide range of regional stakeholders, identify regional needs, promote RJIF and identify grant opportunities. GEMS data shows that two of the 694 grants approved to 31 December 2018 are linked to the Regional Partnerships.
RDV established a goal to equitably distribute the RJIF, which it plans to assess in part by the availability of public information and its promotion of the fund. RDV customer satisfaction results over the past four years show that more than 90 per cent of grant recipients were satisfied with the accessibility and clarity of the information about RJIF. This indicates success in this area, but only based on information from stakeholders who obtained grants. Our engagement with councils and stakeholders reflected this result as they advised us that RDV's regional offices maintain positive and constructive relationships with them.
Public reporting of awarded grants
The disclosure of awarded grants enables the public and stakeholders to understand how departments and Ministers are distributing state funds. RDV does not provide comprehensive public information about the grants it manages, including who received them, for what project and at what value. RDV also does not provide public information about the grants awarded under previous funds.
Victoria does not have a policy on grant disclosure, and RDV practices are consistent with the information other government grant programs make public. However, this does not provide transparency to the public. In the absence of state guidance, RDV could use the commonwealth guidelines, which state that agencies must publish as much information as legally possible about grants. If an agency withholds information, it must publicly declare this and the reason why. The guidelines also advise agencies to take all reasonable steps to ensure that future grant agreements contain provisions that do not prevent the disclosure of information.
RDV's website and annual report
RDV's website has provided varying amounts of information over time about grants awarded under its regional funds. Under RGF, RDV published a list of grants and the value awarded. However, this practice has changed and RDV no longer publishes information about RGF grants on its website.
Until October 2018, RDV did not publish a list of RJIF grants on its website. A list is now available, but it is incomplete because RDV only publishes information about grants the Minister has announced. As at April 2019, the website listed 335 of the more than 600 grants the Minister has approved. Appendix C shows the value of RJIF and RGF grants to each LGA.
RDV also does not publish the value of grants to businesses under the jobs fund. RDV advises that it has an unwritten policy to withhold the value of these grants to maintain commercial confidentiality and avoid establishing a benchmark for grants, which could interfere with providing funding based on a business's need. Although this is a risk, it is one managed by other departments in their tender and contracting operations to ensure transparency and should be manageable in the context of a grant fund.
RDV's annual report also does not detail all grants awarded within the year and does not disclose the value of grants to businesses. As it only includes information for one year, the reports are more limited than RDV's website in providing transparency.
Transparency of grant assessment
RDV usually applies consistent processes to assessing grants within each RJIF program. We did not identify significant variation in how RDV assessed applications related to election or budget commitments compared to other applications in the selection of cases we reviewed.
However, we did find two cases in which RDV deviated from its regular practices:
In 2018, RDV processed a grant within one day, but due to subsequent developments RDV did not disburse the grant.
In October 2018, RDV fast-tracked a grant by obtaining 'out of session' approval from the Investment Committee, which ensured that the Minister could approve and announce the grant prior to the 2018 election caretaker period. The grant was a 2014 election commitment, which RDV had been processing since then without finalising the grant prior to 2018.
In both cases, RDV diminished the transparency and accountability of the fund by diverting from its regular processes.
Undocumented assessment policies
RDV applies weightings—which it has not documented in policy or publicised—when it evaluates applications:
RDV's assessment favours applications that create jobs, whereas the jobs fund's guidelines value both job creation and retention. RDV's preference potentially disadvantages small LGAs where job retention is more important and likely than job creation. Small councils confirmed this in our discussions with them.
RDV has applied two ways to assess an application's value-for-money—focusing on grants that deliver more jobs for the grant money invested or that leverage more funds from other sources.
The use of these policies can aid decision-makers to better assess and rank applications. However, by not documenting and publicising the policies, RDV risks being inconsistent and is not transparent.
Stronger Regional Communities Plan funding
RDV developed the RJIF business case, including the communities plan after the 2014 election. In the business case, RDV identified 10 election commitments valued between $100 000 and $8 million that the government had allocated to the communities plan to deliver. After the government approved the business case, RDV developed guidelines for the communities plan including a cap of $50 000 per grant, which the government approved as RDV advised that the limit would 'allow for sufficient projects to be supported'.
RDV developed the guidelines and continues to publish them, despite knowing that projects connected to election commitments and subsequent budget commitments would exceed the grant cap. RDV did not develop exceptions within the guidelines to allow for these projects. Since the program started, RDV has assessed 34 grants delivering election or budget commitments that exceed the program's $50 000 cap. RDV's grant recommendations to the Minister did not advise her that the grants did not comply with the program's public guidelines. This diminishes the transparency of the program as there is one set of guidelines for public applications and another, unwritten set for applications tied to election commitments.
Figure 2G shows an example of a grant funded above the $50 000 cap.
Figure 2G
The communities plan grant approved above $50 000
In January 2016, the Minister approved the allocation of $1.4 million from the communities plan to Sport and Recreation Victoria—then part of the Department of Health and Human Services—to support the delivery of a sport tournament.
RDV officers described the allocation as a 'grant'. However, unlike other grants, the organisation did not submit a formal application and RDV did not document the reason it did not receive an application.
The briefing to the Minister recommended approval on the basis that the grant was an election commitment and that it 'aligns with the objectives and requirements' of the communities plan. However, the briefing identified employment and business opportunities as objectives of the communities plan, which is inconsistent with the public guidelines.
This advice resulted in the Minister approving a grant that had limited alignment with the program's objectives and that was above the funding cap.
Source: VAGO, based on RDV information.