Ravenhall Prison: Rehabilitating and Reintegrating Prisoners
1.1 Rehabilitation and recidivism
Over 99 per cent of people sentenced to prison in Victoria will be released, so successfully rehabilitating prisoners is in the public's interest. Wherever possible, rehabilitation involves preparing prisoners to reintegrate and make a meaningful contribution to the community.
Rehabilitation aims to
re-educate and retrain offenders to positively reintegrate them into society. It can involve targeting criminal attitudes and behaviours but may also involve more general education, such as literacy skills and work training.
Rehabilitating offenders is complex and extends beyond the role of the criminal justice system. Many factors influence a prisoner's ability to positively reintegrate into the community. CV focuses on the following areas:
housing
employment
education and training
independent living skills
mental health
alcohol and other drugs
family and community connectedness.
Victorian prisons provide pre and post-release programs that target these areas and other risk factors.
Recidivism
Recidivism measures the rate at which a convicted criminal reoffends within a specified period of time after completing their sentence.
While rehabilitation is a well-established goal for CV, measuring it is complex. One way that justice systems and researchers assess rehabilitation is to measure recidivism.
Recidivism is measured in a range of ways. Measures can be based on different types of crime and time frames after a prisoner's release, and may be triggered by rearrest, reimprisonment, or self-reported criminal behaviour.
Contributing factors
The Australian Institute of Criminology (AIC) has established that the following factors increase the likelihood of a person reoffending:
age—young offenders are more likely to reoffend
gender—some studies have found that males are more likely to reoffend than females
cultural group—Aboriginal and Torres Strait Islanders are over-represented in the criminal justice system and are more likely to reoffend than offenders from other cultural groups
criminal history—this includes the timing and number of previous offences
offence type—offenders who commit property offences or robbery/theft are more likely to reoffend than offenders of other crime types, including violent offenders
demographic—unemployment, low education levels, living in low socioeconomic areas and low family attachment influence reoffending
health—in particular, mental health problems and drug use influence reoffending.
Recidivism in Victoria
The Productivity Commission annually reports on national and state return to prison rates in its Report on Government Services (RoGS).
RoGS's measures of reoffending rates include the proportion of adults:
released from prison after serving a sentence who returned to corrective services (prison and community corrections measured separately) with a new correctional sanction within two years
discharged from community corrections orders who returned to corrective services (prison and community corrections measured separately) with a new correctional sanction within two years.
Between 2001 and 2010, the rate of offenders who returned to prison within two years fell to a low of 33.7 per cent in Victoria. This change was largely consistent with national trends. Since 2010, the rate has increased, sitting above 40 per cent for the past five years. In 2018–19, Victoria's return to prison rate was 43.3 per cent, which is slightly above its target of 41 per cent.
Figure 1A
Comparison of return to prison rates within two years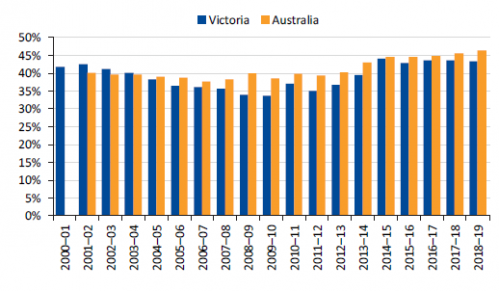 Note: Australian data for 2000–01 is unavailable.
Source: 2020 RoGS and the Department of Justice and Community Safety Annual Report 2018–19.
Increased demand on the justice system
Between December 2012 to December 2019, Victoria's prisoner population increased by approximately 58 per cent. Over a similar period, Victoria's population only increased by 17 per cent. While the rise in recidivism rates has contributed to this, a large proportion of this increase has come from a surge in the remand prisoner population, which has more than tripled since June 2013.
The number of remand prisoners in the Victorian system has increased due to multiple legislative and procedural changes over the past five years. These changes include reforms to bail and parole processes, changes to sentencing laws and the abolition of suspended sentences and home detention. Population growth and significant increases in police resourcing have also led to more crime being detected.
1.2 Ravenhall Correctional Centre
Ravenhall is a men's medium-security prison that is privately operated by GEO. Ravenhall first received prisoners in November 2017. It opened with 1 000 available prisoner places but had the capacity for 1 300. This included 75 forensic mental health beds.
Service focus
The state designed Ravenhall to have a targeted focus on rehabilitation and reducing recidivism. The prison's physical design and services were guided by this goal. Ravenhall's seven key focus areas are shown in Figure 1B.
Figure 1B
Ravenhall's key focus areas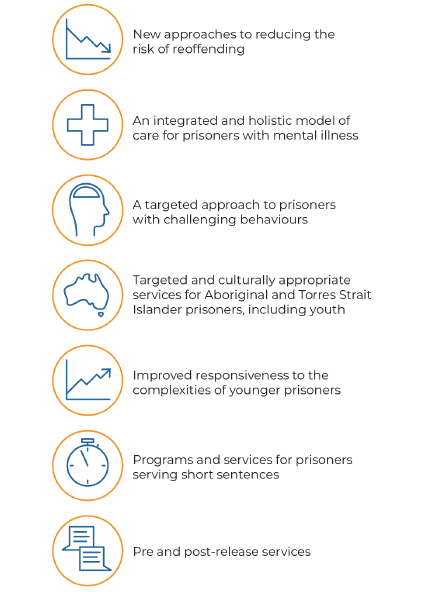 Source: VAGO, based on documents provided by CV.
Figure 1C
GEO's Continuum of Care model

Source: VAGO, based on GEO.
Reintegration and rehabilitation services
Reintegration is the process of re entering a prisoner into society. This includes the reinstatement of their freedoms. Factors that can influence the success of this process include a person's social and cultural adjustment, lifestyle changes and if their criminal behaviours have been treated or addressed.
GEO's Continuum of Care model, shown in Figure 1C, integrates prisoner management with its pre and post-release support programs and services. GEO designed the model to address antisocial behaviours and help prisoners develop skills to reintegrate into society. The model includes specific treatment and service pathways for serious violent offenders, family violence perpetrators, general (non-violent) offenders and prisoners with alcohol and other drug abuse issues.
GEO provides support services within the context of its Continuum of Care model. Prisoners transition through the model from their reception at Ravenhall to their release. After their release, they can continue to access services with the same clinical staff.
Alliance Partners
GEO delivers its programs and services using in-house clinical and program staff as well as external subcontracted providers, called Alliance Partners. GEO's Alliance Partners are YMCA, Melbourne City Mission (MCM) and Kangan Institute.
Alliance Partners work to increase prisoners' education and vocational training, personal development and life skills and prepare them for release. To do this, Alliance Partners deliver programs including TAFE courses, and industry, social and life skills workshops.
GEO also subcontracts Forensicare and Correct Care to provide health and forensic mental health services at Ravenhall.
The Bridge Centre
The Bridge Centre is a community-based reintegration facility located in Richmond. At the Bridge Centre, prisoners can access post-release services delivered by Alliance Partners and GEO's clinical and reintegration staff. Former Ravenhall prisoners can access services and support through the Bridge Centre for up to two years after their release.
1.3 Measuring Ravenhall's performance
CV monitors and measures the performance of all private prisons against the SDOs and KPIs outlined in each operator's contract with the state. These SDOs and KPIs relate to:
safety and security
health services
programs and reintegration
facility management
availability and accuracy of performance data.
In its contract with GEO for Ravenhall, the state has developed specific KPIs to measure prisoner reintegration and recidivism outcomes.
Key performance indicator 15—reintegration services
GEO designed KPI 15, which CV approved during the Ravenhall procurement process. KPI 15 measures if Ravenhall's interventions successfully address its prisoners' post-release needs. As shown in Figure 1D, KPI 15 has five pathways aligned to key reintegration factors. To identify a prisoner's post-release needs, GEO staff conduct a needs assessment within six weeks before their release. This assessment covers key reintegration factors.
Prisoners who are eligible to be included under KPI 15 are known as 'pathway participants'. GEO reports on the percentage of its pathway participants that achieve the target outcome for each KPI pathway.
Figure 1D
KPI 15 pathways and target outcomes
|   | Pathway  | Target outcome |
| --- | --- | --- |
| 15.1 | Education and training | The pathway participant has enrolled in and attended appropriate education or training activities as defined in their Individual Reintegration Plan (IRP) within two months of their release. |
| 15.2 | Employment | The pathway participant has maintained stable employment (full‑time or part‑time) of 20 hours or more per week for two months following their release. |
| 15.3 | Housing | The pathway participant has maintained stable accommodation at a personal or public residence for two months following release. |
| 15.4 | AOD treatment | The pathway participant has been referred to and maintained AOD treatment as defined in their IRP or as recommended by the Australian Community Support Organisation (ACSO) for two months following their release, or for a such lesser period if recommended by ACSO. |
| 15.5 | Mental health treatment | The pathway participant has been referred to and maintained mental health treatment as defined in their IRP for two months following their release. |
Source: VAGO, based on documents provided by CV.
GEO began reporting its performance against KPI 15 to CV for the period of April to June 2018, which was Ravenhall's third quarter of operation.
Key performance indicator 16—reducing recidivism
KPI 16 measures the rate at which prisoners released from Ravenhall return to any Victorian prison within two years after their release. This KPI is designed to indicate the effectiveness of Ravenhall's rehabilitation services in reducing recidivism compared to the broader prison system.
As shown in Figure 1E, KPI 16 has two components. CV will begin calculating KPI 16 results in 2021 for prisoners released in 2018–19.
Figure 1E
Components of KPI 16
Component

Measure

16A

Compares the difference in percentage between the rate of return to prison of:

sentenced prisoners released from Ravenhall, and
sentenced prisoners released from other Victorian prisons.

The rate of return is measured two years after release.

Each year, Ravenhall will aim to reduce its rate of return to prison by 12 per cent compared to other prisons.

16B

Compares the difference in percentage between the rate of return to prison of:

sentenced Aboriginal and Torres Strait Islander prisoners released from Ravenhall, and
sentenced Aboriginal and Torres Strait Islander prisoners released from other Victorian prisons.

The rate of return is measured two years after release.

Each year, Ravenhall will aim to reduce its rate of return for Aboriginal and Torres Strait Islander prisoners by 14 per cent compared to other prisons.
Source: VAGO, based on CV documents.
Performance payments
Private prisons, including Ravenhall, are eligible for a quarterly performance payment, which is made up of six components. One of these components is the service-linked fee, which pays prisons for successfully achieving their KPIs and SDOs.
Ravenhall's KPI 15 and 16 are incentive-based payments. This means that GEO is financially rewarded if it achieves its KPIs, but not financially penalised if it does not. GEO can receive performance payments of up to $1 million per year for each of its KPI 15 and 16 targets.
Ravenhall is the first prison in Australia to have service payments linked to its recidivism outcomes. If successful, the state can learn from Ravenhall and potentially roll out this incentive across Victoria.
1.4 Ravenhall's prisoner cohort
While Ravenhall was initially contracted to hold 1 000 prisoner places, it was built with the capacity for 1 300 in case the state required them. These additional 300 places were activated in July 2018—nine months after Ravenhall commenced operations.
As of 31 December 2019, CV and GEO are finalising a contract variation to further increase the number of available prisoner places at Ravenhall to above its design capacity of 1 300.
Remand prisoners
Excluding its 75 forensic mental health beds, Ravenhall was intended to exclusively hold sentenced prisoners.
Before it opened, the state amended Ravenhall's contract to hold 450 remand prisoners, which was 45 per cent of its total population at the time. CV has since increased this number. As of 31 December 2019, Ravenhall is contracted to hold up to 675 remand prisoners, which is 52 per cent of its total population.
Remand prisoners present different challenges and risks than sentenced prisoners, such as cost, transition needs, family support and facilities. Remand prisoners have ongoing legal matters and may need to be transferred to and from prison more often. This creates a more unsettled prison environment.
Based on their presumption of innocence, remand prisoners are entitled to less restrictive conditions and have different rights to sentenced prisoners. For example, remand prisoners are not required to participate in programs or work. They often have significant drug and alcohol abuse issues and a higher prevalence of physical and/or mental health issues.
1.5 Roles of agencies and associated entities
Corrections Victoria
CJS is a business unit within DJCS. It is responsible for custodial operations, offender services, security and intelligence, and sentence management. CJS also includes Justice Health and Justice Services.
CV sits within CJS and is responsible for establishing, managing and overseeing the security of Victoria's prisons in line with their legislative requirements. CV's key functions include:
facilitating correctional operations across the state
establishing standards and monitoring performance against them.
In public prisons, CV aims to rehabilitate prisoners and reduce reoffending by delivering programs and services that encourage positive behaviour changes.
CJS represents the state in all its contracts with privately operated prisons, including Ravenhall. It manages these contracts to ensure that private operators adhere to the required standards and performance expectations.
The GEO Group Australia Pty Ltd
GEO privately operates Ravenhall as part of a public–private partnership. Under its contract with the state, GEO provides accommodation services (suitable for prisoner containment) and correctional services (to maintain the safety, security and welfare of prisoners). These services must comply with the relevant state legislation and policies.
GEO also provides prisoners with education and training, employment within prison, health services, and rehabilitation and reintegration interventions and services.
1.6 Previous reviews
Our 2018 audit Managing Rehabilitation Services in Youth Detention examined how well rehabilitation services were meeting the developmental needs of children and young people in the youth detention system and reducing their risk of reoffending.
We found that young people in detention had not been receiving the rehabilitation services they were entitled to and necessary for their needs. As a result, youth detention had not been effectively reducing reoffending because correction facilities were not providing adequate services, case management and needs assessments. Correction facilities were also prioritising security over offenders' education and health.
Other integrity bodies
The Victorian Ombudsman's 2015 investigation into prisoner rehabilitation and reintegration in Victoria found that the current system is not sustainable. The Ombudsman found that increases in prisoner numbers had reduced the system's ability to deliver consistent and effective rehabilitation and reintegration services.
1.7 Why this audit is important
Ravenhall is an opportunity to trial new methods to reduce reoffending. This is a core principle of the criminal justice system and a strategic priority for CV.
Ravenhall is also the first prison in Australia to have financially incentivised KPIs for reducing recidivism. It is in the state's interest to ensure that these measures promote best practice in prisoner rehabilitation and reintegration. If this approach is effective, then it could be rolled out across Victoria to help reduce the high running costs and overcrowding of prisons.
We intend for this audit to be longitudinal and conducted in two phases.
In this first phase, we have sought to identify any early gaps or weaknesses in the design and implementation of Ravenhall's rehabilitation initiatives. We have also examined the appropriateness and effectiveness of CV and GEO's proposed performance monitoring and evaluation framework, including the KPIs.
The second phase of this audit will assess if GEO has achieved its proposed outcomes to reduce reoffending at Ravenhall compared to other prisons. In the second phase, we will report on the impact of GEO's new model and assess if the state has achieved a return on investment for this innovative approach in prison management.
1.8 What this audit examined and how
In this audit we examined if CV and GEO have developed best practice prisoner management at Ravenhall to rehabilitate offenders and reduce recidivism. We also assessed if there are effective performance and evaluation frameworks in place to measure these outcomes.
To do this we:
interviewed staff from CV, GEO, Ravenhall's Alliance Partners and key stakeholders
visited Ravenhall and observed how GEO manages and operates it
reviewed key CV and GEO documents
undertook a file review of 20 Ravenhall prisoners. We did this by selecting 20 sentenced prisoners that were discharged in December 2018 or June 2019. This is approximately 8 per cent of the 243 sentenced prisoners who were discharged in those two months.
We conducted our audit in accordance with the Audit Act 1994 and ASAE 3500 Performance Engagements. We complied with the independence and other relevant ethical requirements related to assurance engagements. The cost of this audit was $402 000.
1.9 Report structure
The rest of this report is structured as follows:
Part 2 examines the contractual changes to Ravenhall and how these impact its service delivery.
Part 3 examines Ravenhall's performance and how this has been monitored and evaluated.