Regulating Gambling and Liquor
1.1 Introduction
The social and economic lives of many Victorians include consuming alcohol and participating in gambling activities. About 75 per cent of the population gamble at least occasionally, and about 80 per cent drink alcohol regularly. The alcohol and gambling industries employ over 130 000 people in Victoria, and both are important parts of our tourism industry.
In 2015–16, Victorians' expenditure on gambling activities (player loss) was more than $5.8 billion. Gambling in Victoria includes sports betting and wagering, 30 000 electronic gaming machines (EGM), Keno, lotteries, minor gaming (such as bingo, lucky envelopes and raffles) and Melbourne's casino.
The Victorian Government collected $1.9 billion in taxation and licence fees from liquor and gambling activities in 2015–16.
1.2 Harm from gambling and alcohol
Both the gambling and liquor industries have a high economic and social impact on the community. The misuse or abuse of gambling and alcohol can have serious negative impacts for individuals, their families and friends, and the wider community. These impacts include street and domestic violence, injuries and fatalities associated with vehicle accidents, depression, theft and fraud to support gambling and alcohol addiction, neglect of family, the loss of family assets and income, and medical conditions associated with alcoholism.
Gambling and alcohol harm have a financial cost to the community. Alcohol-related harm may include violence, hospital admissions and car accidents, while the negative impact of problem gambling can be more hidden and may include family violence, child neglect and self-harm.
While no Victoria-specific data is available, studies have estimated the cost of alcohol abuse in Australia to be in excess of $14 billion per year and the cost of problem gambling to be almost $5 billion per year.
The population is drinking more alcohol over a longer period than previous generations. Some recent data on alcohol consumption in Victoria shows:
about 42 per cent of Victorians will drink more than four standard drinks on a single occasion—in the 18 to 24 age group, this rises to about 75 per cent of men and 60 per cent of women
in2010, over 1200 deaths in Victoria were directly attributable to alcohol, and about 2 per cent of hospital admissions were related to alcohol consumption.
Gambling in Victoria has become increasingly common over the last 25 years. In 2014−15, Victorians lost on average 2 per cent of their household disposable income on gambling. Figure 1A shows a steep increase following the introduction of EGMs in 1992 and the opening of Melbourne's casino in 1994. More than half of Victorians' annual gambling expenditure (loss) is spent on EGMs.
Figure 1A Gambling expenditure as a percentage of household disposable income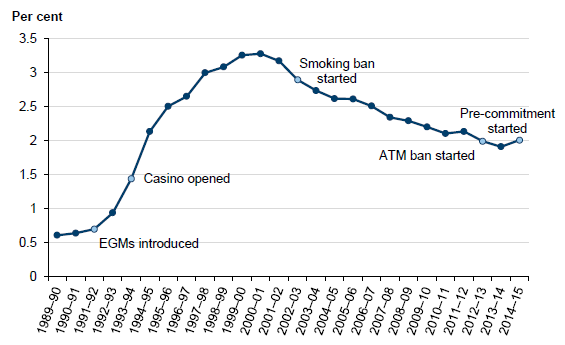 Note: The pre-commitment scheme enables players to track the time and money they spend on EGMs and pre-commit a time or dollar amount if they choose to do so.
Source: VAGO, based on Australian Gambling Statistics, 32nd edition.
The Victorian Responsible Gambling Foundation and the Department of Justice and Regulation (the department) jointly funded a 2014 study on the prevalence of gambling, which found that about 0.81 per cent of the population, or 35 563 adult Victorians, are problem gamblers.
1.3 Gambling and liquor regulation in Victoria
Government regulation of gambling and liquor is important to support the economic and social benefits of alcohol and gambling, while minimising harm for individuals, businesses and the community. Regulation also helps to ensure the integrity of the participants and practices involved in providing gambling activities and alcohol to the community.
1.3.1 Legislative framework
In Victoria, alcohol and gambling are primarily regulated by the following legislation:
Liquor Control Reform Act 1998(LCRA)
Gambling Regulation Act 2003 (GRA)
Racing Act 1958
Casino Control Act 1991
Casino (Management Agreement) Act 1993.
The government regulates these activities by controlling:
who can sell alcohol and gambling products
where alcohol and gambling may be sold and consumed
what alcohol and gambling products may be sold
how and when alcohol and gambling products may be available.
A licence must be granted to operate a liquor or gambling venue, and compliance activities seek to ensure that licensees comply with the legislation and conditions of their licence.
The regulatory remit is wide, and covers businesses, individuals, products, premises and systems involved in the provision of gambling and alcohol to the community.
Licences in Victoria
There are around 21 000 liquor licences in Victoria—the range of licensed venues includes traditional pubs and clubs, restaurants and cafes, bars, packaged liquor outlets, wholesalers, and wine and beer producer licences. Organisers of one-off events such as music festivals must also apply for a temporary liquor licence.
There are about 500 venues that have both liquor and gaming licences. However, the largest number of gambling licence applications come from employees of the gaming industry, certain types of casino employees and associates of EGM venue operators.
Figure 1B lists the number of gambling and liquor licence applications finalised since 2012–13.
Figure 1B
Licensing applications finalised by year
| | 2012–13 | 2013–14 | 2014–15 | 2015–16 |
| --- | --- | --- | --- | --- |
| Liquor applications | 16 101 | 16 014 | 15 873 | 15 776 |
| Gambling applications | 9 920 | 9 784 | 10 767 | 7 810 |
| Total applications | 26 021 | 25 798 | 26 640 | 23 586 |
Source: VAGO.
Crown Casino is the only licensed casino in Victoria and has a contract to operate until 2050. It is the only venue in Victoria permitted to offer table games such as roulette, poker, blackjack and baccarat. The casino has around 540 gaming tables, 200 automatic table games and 2 628 EGMs. This makes Crown Casino the eleventh‑largest casino in the world.
Gaming industry employees whose jobs involve functions related to the integrity of gaming machines or restricted monitoring units must be licensed for that purpose. Casino employees who conduct or supervise gaming or betting, or monitor the movement, exchange or counting of cash or chips, and security and surveillance staff must also hold a licence.
Sports organisations can apply for approval to become a sports controlling body to enable them to participate in the monitoring of betting on their sport. When a sports organisation becomes a sports controlling body, they enter into agreements with betting providers to receive a share of the revenue betting providers earn when offering betting opportunities on their events.
Betting providers cannot offer bets on events without an agreement in place with a sports controlling body. Under these agreements sports controlling bodies can access information from betting providers on who is placing bets on their sport, to help them monitor compliance with integrity systems. Sports organisations that are approved sports controlling bodies include the Australian Football League, Tennis Australia and Bowls Australia.
1.3.2 Victorian Commission for Gambling and Liquor Regulation
The Victorian Commission for Gambling and Liquor Regulation (VCGLR) began operating in February 2012. It is an independent statutory authority that regulates Victoria's liquor and gambling activities.
The VCGLR's chair and commissioners—known as the Commission—are appointed by the Governor in Council, on the recommendation of the minister. The current chair was appointed in May 2015.
The commissioners perform statutory decision-making under gambling and liquor regulation. The commissioners also perform the functions that a board would perform in a public sector body—they are collectively accountable to government for the organisation's overall strategy, governance and performance.
The Victorian Commission for Gambling and Liquor Regulation Act 2011(the VCGLR Act) sets out its functions and responsibilities, including:
licensing activities—approval, authorisation and registration—under relevant Acts
informing and educating the public about VCGLR's regulatory practices and requirements
promoting and monitoring compliance
detecting and responding to contraventions of gambling and liquor legislation
advising the Minister for Consumer Affairs, Gaming and Liquor Regulation on the Commission's functions and the operation of gambling and liquor legislation
ensuring that government policy on gambling and liquor is implemented.
The key purposes of the Casino Control Act 1991 are to ensure that gaming in casinos is conducted honestly, and that the management and operation of casinos is free from criminal influence or exploitation. VCGLR's remit for regulating the Melbourne casino is wide ranging and includes approving some suppliers, new activities such as automatic table games, rule changes and the layout of the gaming floor. VCGLR is also required to conduct a review into the casino operator and licence every five years. The most recent review was completed in June 2013.
VCGLR took on the responsibilities of its two predecessor regulatory bodies—the Victorian Commission for Gambling Regulation (VCGR) and Responsible Alcohol Victoria (RAV), a business unit of the former Department of Justice. The new entity was formed with the intention of providing Victoria with a modern, world-class regulator that could deal with both liquor and gambling matters, particularly for the compliance role.
VCGLR is a statutory body within the department's portfolio. It is accountable to the Minister for Consumer Affairs, Gaming and Liquor Regulation, and is obliged to comply with the minister's directions.
VCGLR has authority for all licensing activities and holds public hearings on matters such as the approval of proposed gaming premises or requests for increases to numbers of EGMs. It also holds hearings on contested liquor licences, disciplinary actions and reviews of decisions made by a single commissioner or VCGLR staff.
Compliance inspectors
VCGLR has compliance inspectors who are appointed by the chair under the VCGLR Act. Before appointing an inspector, the chair must be convinced that the person is competent to perform the role and of good repute.
Compliance inspectors monitor licensed gambling and liquor premises throughout Victoria by inspecting licensed venues. This involves visiting a venue to ensure it is complying with either the LCRA or the GRA, or both for gambling venues. Compliance inspectors are located at the Melbourne casino 24 hours a day, seven days a week, to monitor the integrity of the casino's operations.
Compliance inspectors have the power to:
enter and inspect licensed premises
request that licensees and their staff answer questions and provide information, documents, records and equipment
seize items as evidence
request proof of age and seize liquor from minors
issue infringement notices.
VCGLR's compliance inspectorate is based in Melbourne and is made up of about 40 operational inspectors divided into eight teams. Currently, each team is responsible for conducting inspections in a number of metropolitan local government areas and in a regional area of Victoria.
VCGLR's regulatory approach
VCGLR describes itself as a risk-based regulator. A risk-based regulator makes informed choices on how it allocates the resources dedicated to its core activities and functions by assessing the risk level. For example, a risk-based approach would apply more effort and resources to assessing a liquor licence application for a late-night pub than for a cafe that closes at 5pm.
VCGLR's regulatory approach is based on five principles:
risk-based—using a risk-based strategy to guide decisions, priorities and use of resources in discharging statutory functions
proactive—assessing the environment to detect, proactively manage and dedicate more resources to emerging issues
collaborative—finding opportunities to partner, collaborate and share information with other co-regulators and industry
transparent—giving industry, the community and other regulatory partners a clear understanding of what to expect from VCGLR, its regulatory approach and its decision-making
targeted—following a targeted enforcement approach that involves an escalation of sanctions, in accordance with the severity of the breach or risk posed to the community.
Difficulties with the establishment of VCGLR
Establishing VCGLR and bringing together diverse regulatory functions was a major undertaking in a time of intense change. In its first 12 months, VCGLR staff were relocated to new premises and a new governance framework and operating environment were established, requiring the rapid development of integrated processes and systems. Additionally, there were a number of major gaming and liquor projects and activities taken on by the new organisation. A number of foundation pieces of work were also commenced including the development of strategic priorities, corporate values, a focus on business process improvement and the development of a regulatory framework.
Budget and staff issues
VCGLR has faced budget reductions since it was established. The predecessor organisations—VCGR and RAV—had a combined budget of $41.3 million in 2010−11 and around 287 staff members. In contrast, VCGLR's budget in 2016−17 is just under $31 million and its staffing is 206 full-time equivalent staff members. This equates to about a 30 per cent reduction in both staff numbers and in its budget in real terms. In 2016−17 VCGLR received supplementary funding of $1.5 million from the department to meet operational requirements. This additional funding is for one year only and is not recurrent.
VCGLR was given a target to reduce 24 positions as part of the Sustainable Government Initiative in 2012. VCGLR awarded voluntary departure packages based on length of service, which led to 24 experienced officers departing. A reduction in base funding from 2012 caused VCGLR to restructure, and a further 22 staff were made redundant in June 2014.
VCGLR also inherited 12 outstanding industrial relations and employee matters from RAV—six performance management cases, four WorkCover cases, one return‑to‑work case and one serious bullying case, which resulted in a major investigation.
While the merger of RAV and VCGR should have created some cost efficiencies, VCGLR's establishment coincided with a range of industry changes that had to be rolled out or continued by the regulator. This included implementing Victoria's move to allow venue operators to own and operate EGMs, ending the duopoly arrangement that existed previously—where two companies owned all EGMs in venues other than the Melbourne casino—and implementing a new EGM monitoring licence which required the development of new processes and system changes.
When VCGLR was first established, the satisfaction level of the merged staff was the second lowest in the Victorian public sector, as measured by the 2012 'People Matter' Survey. As a result, VCGLR created improvement plans, and VCGLR's staff satisfaction has increased to now be generally similar to comparable agencies.
When VCGLR was established, inspectors were brought in from RAV and VCGR at different pay levels and working conditions. The process to align these has created dissent between compliance inspectors and the management of the division. Tensions remain, and VCGLR's proposal for new roster arrangements to provide greater flexibility in deploying inspectors at higher risk times is yet to be agreed on by staff and management.
Information technology issues
When VCGLR was established, it did not have a single information technology (IT) platform. Liquor systems ran from the department's IT platform, and the VCGR's IT platform was retained for gambling matters. VCGLR sought to integrate the IT platforms using the department's IT provider. However, it was not until October 2015, after VCGLR hired its own in-house technical experts, that it was able to operate from a single IT platform.
VCGLR's IT issues have been further compounded by the issues it has faced with its IT system LaGIS (liquor and gambling information system). LaGIS was originally intended to incorporate about 30 IT systems, including VCGLR's internet and intranet platforms. The contractor was unable to deliver the planned system, and the scope of the project has now been significantly reduced to incorporate only three IT systems used in the compliance division. The system suffered a range of delays and was rolled out in December 2016.
Review of VCGLR during 2015 and ministerial expectations
In May 2015, the Minister for Consumer Affairs, Gaming and Liquor Regulation requested that the incoming chair of VCGLR review its capability and performance.
The minister outlined the government's significant concerns about VCGLR's ability to make the community feel confident that Victoria has an effective regulator for gambling and liquor industries. These concerns included:
ongoing absence of a permanent chief executive officer (CEO)
the need to develop a positive and unified workplace culture and integrate gambling and liquor functions to create a truly integrated regulator
a significant decline in compliance and enforcement activities, particularly in regional Victoria, relating to harms such as the supply of alcohol to minors and intoxicated persons and allowing minors and intoxicated persons to gamble
delays in delivering LaGIS.
The minister asked that the review focus on how VCGLR could more effectively enforce and ensure compliance with the legislation, including in regional Victoria, minimise the harm from problem gambling and the misuse and abuse of alcohol, and better engage with industry and community stakeholders.
The chair completed his review in November 2015 and provided a report to the minister. The report identified that although VCGLR aspired to be a risk-based regulator, this ambition was either underdeveloped or unrealised in a number of areas of operation, particularly in its compliance activities. The chair found that there was a solid foundation to build on, but also found that VCGLR needed to address significant challenges as a matter of priority including:
a lack of leadership stemming from the lengthy time taken to fill the CEO role, an unstable management team, and a past lack of cohesion in the management team—the first chair was in the position for less than a year, the inaugural CEO was in the role for just over two years, and the senior executive team had undergone considerable change throughout the three years of VCGLR's operation, with people serving in acting positions for extended periods
a critical need to develop a positive and unified workplace culture
inadequate and poorly implemented systems and procedures, which undermined the quality and efficacy of accountability and reporting mechanisms
a lack of integration of gambling and liquor functions, particularly in the compliance division
the need for greater focus on a range of compliance and enforcement activities, particularly in regional Victoria and in relation to the enforcement of prohibitions on supplying alcohol to minors and intoxicated persons and allowing minors and intoxicated persons to gamble
pressures throughout the organisation due to either resource constraints or possible misalignment of resources
inadequate IT systems, due in large part to the significant delays in the delivery of the LaGIS project.
The chair recommended a number of actions including building VCGLR's leadership capacity, addressing serious systemic gaps in the compliance division, seeking additional budget to establish a presence in regional Victoria, finalising the LaGIS system, reviewing and updating people and culture policies and practices, working better with other regulatory and enforcement bodies such as Victoria Police, and having greater input into decision-making by the department and minister on Budget Paper 3 performance measures.
The minister's statement of expectations for VCGLR for 2016–17 indicated that it should:
develop regional hubs to support compliance efforts in regional Victoria
review standard liquor licence conditions to determine if they are effective and appropriate for minimising harm
further streamline licensing processes including those that impose unnecessary duplication on industry
improve its service and determination times by enabling online licence applications for both temporary and permanent licences
make the VCGLR's published decisions available in a form that is modern and more readily searchable
deliver a modern inspection and compliance IT system to better support risk‑based regulation
refine its risk-based approach to assessing and determining licence applications
refine its risk-based approach to compliance activities to appropriately target the supply of alcohol and gaming to minors and the supply of alcohol to intoxicated persons
implement a consistent ongoing formal training program to support compliance inspectors to undertake their role effectively
develop performance indicators aligned with VCGLR's strategic priorities, particularly harm minimisation, evidence-based decision-making and co‑regulatory activities.
VCGLR took action during 2015 and 2016 to address the issues and recommendations arising from the chair's review and the minister's statement of expectations. This included undertaking additional assessments of priority activities and seeking additional funding from government to establish a regional presence.
In this report, we looked at VCGLR's progress on a number of these issues and highlight outstanding gaps.
1.4 Other bodies
1.4.1 Department of Justice and Regulation
The department's Office of Liquor, Gaming and Racing (OLGR) is responsible for gambling and liquor regulation policy and provides advice to the Minister for Consumer Affairs, Gaming and Liquor Regulation.
The OLGR is involved in major gambling and liquor projects. It is currently undertaking reviews of the LCRA and the regulatory arrangements for the operation of EGMs. It has recently rolled out the pre-commitment scheme for EGMs, which allows gamblers to set limits on the time or money they spend and track their gaming machine activity.
VCGLR is included in the department's 'Industry Regulation and Support' output group for the purposes of Budget appropriations and reporting. VCGLR must negotiate its Budget Paper 3 performance measures with OLGR. To request new funding, VCGLR must go through OLGR and the department's internal processes.
1.4.2 Victoria Police
Victoria Police has a number of roles in liquor regulation. Victoria Police has three Divisional Licensing Units located in Melbourne, Stonnington and Geelong. It also has Police Service Areas (PSA) in each local government area. The commander of each PSA is responsible for reviewing liquor licence applications in the area and can object on the basis of detriment to the amenity of an area. The Chief Commissioner of Victoria Police may also object on any grounds he or she thinks fit.
Victoria Police also undertakes targeted liquor licensing compliance and enforcement activities via Taskforce Razon and has a dedicated liquor licensing prosecutions team known as the Liquor Licensing Unit.
Victoria Police signed a memorandum of understanding with VCGLR in October 2015. This agreement gives VCGLR access to Victoria Police data and sets out a framework for cooperation.
Victoria Police undertakes a range of activities related to gambling including investigating illegal gambling, and gathering and assessing intelligence relating to the integrity of racing and other sporting activities where gambling is involved. However, this work has little impact on or crossover with the activities of VCGLR.
1.4.3 Local councils
Local councils play an important role in the licensing process for liquor and gambling venues. They have the power to grant or reject planning permits. A licensee must already have a planning permit for the venue when applying for a liquor licence.
Councils also have a role in VCGLR's processing of applications for licences. VCGLR must notify the relevant council when it receives a new liquor licence application or variation of an existing licence. The council has 30 days to object to the granting of a new liquor licence, or a variation or relocation of an existing licence for an objection to be considered by VCGLR.
Under the LCRA, a local council can object on the grounds that the licence would detract from the amenity of the area around the venue or premises. Councils can also object to packaged liquor or late-night packaged liquor licences only, on the grounds that they would be conducive to or encourage the misuse or abuse of alcohol.
VCGLR is not required to notify a local council in the case of an application for a major event licence or a limited licence or transfer.
1.5 Why this audit is important
Alcohol and gambling provide a range of positive economic and other benefits to the community. However, the misuse and abuse of gambling and alcohol can have significant harmful effects on individuals, families and the community, and both industries need to be regulated effectively to minimise these risks of harm.
1.6 What this audit examined and how
Our objective was to examine the effectiveness and efficiency of VCGLR in regulating gambling and liquor activities. To assess this objective, we examined whether:
VCGLR's licensing and compliance activities adequately fulfil legislative requirements
VCGLR works effectively with the department and Victoria Police to regulate gambling and liquor activities
VCGLR effectively monitors, evaluates and reports on performance to demonstrate efficient achievement of intended outcomes.
We focused on VCGLR's policies, procedures, systems, data and processes, and examined the relationships between VCGLR and the department and Victoria Police. We also followed up on the recommendations made in our previous audit reports Taking Action on Problem Gambling in 2010 and Effectiveness of Justice Strategies in Preventing and Reducing Alcohol-Related Harm in 2012.
VCGLR, the department and Victoria Police were key sources of information for this audit. We gathered evidence by conducting interviews, reviewing key documents provided by VCGLR, the department and Victoria Police. We also conducted file reviews of licensing applications, analysed VCGLR's compliance data and observed compliance inspections.
We conducted the audit in accordance with section 15 of the Audit Act 1994 and the Australian Auditing and Assurance Standards. The total cost of the audit was $590 000.
1.7 Report structure
The remainder of the report is structured as follows:
Part 2 examines VCGLR's licensing methodology, its process for assessing liquor and gambling applications, and the tools it uses to support licensing decisions
Part 3 examines VCGLR's compliance methodology, its inspections for liquor and gambling applications and, the tools it uses to support compliance activities
Part 4 examines VCGLR's supervision of casino operations
Part 5 examines VCGLR's internal and external performance measures and reporting, the actions taken by VCGLR, the department and Victoria Police to address our previous recommendations, and VCGLR's relationships with the department and Victoria Police.