Regulating Gambling and Liquor
Licensees in liquor and gambling must comply with requirements in the legislation and licence conditions in order to achieve the policy objectives of the legislation.
The Victorian Commission for Gambling and Liquor Regulation (VCGLR) seeks to make sure that licensees comply by educating them, inspecting venues and activities, investigating potential breaches, and taking action against licensees when needed.
This Part of the report examines VCGLR's compliance approach and activities.
3.1 Conclusion
VCGLR has not adequately performed its compliance functions. Compliance activities are not sufficiently risk based and have been focused on meeting a target number of inspections, rather than on targeting inspections where noncompliance has a high risk or high potential for harm. This approach to compliance does not support the legislative objectives for harm minimisation.
VCGLR has identified and started to address many of these issues, and its proposed actions are reasonable. However, these actions are not yet sufficiently developed, so it is too early to assess whether they will improve the effectiveness of VCGLR's compliance activities in minimising harm and protecting the community.
3.2 Managing and targeting inspection activities
VCGLR has not yet established a robust compliance inspection methodology, and compliance activities are not sufficiently targeted to the risks of noncompliance.
VCGLR's public statements about its regulatory approach emphasise that risk guides its activities and the use of its resources. However, it does not have a risk-based methodology for its compliance activities that is integrated, focused on harm minimisation, and underpinned by robust data.
VCGLR's compliance inspection activities have focused on the need to meet publicly reported targets for these activities, rather than on its legislative objectives to minimise harm and uphold a culture of integrity in the liquor and gambling industries.
VCGLR's compliance division has 40 compliance inspectors working on an eight-week roster that covers 24 hours a day, seven days a week. During 2015–16, inspectors conducted over 14 000 inspections of gaming venues and premises with liquor licences. Inspectors maintain a constant presence at the Melbourne casino.
There are eight inspection teams, each with responsibility for specific local government and regional areas. Each team has a team leader and usually three inspectors. Each team is assigned a target number of inspections to be carried out each financial year in their areas, based on VCGLR's overall Budget Paper 3 (BP3) target for the number of compliance inspections. This approach is focused on maximising the number of inspections to reach the performance target, and it discourages the allocation of resources to inspection activities focused on minimising harm, which typically take longer to perform.
VCGLR has not sufficiently considered the risk of the misuse and abuse of alcohol when planning and undertaking compliance activities in regional Victoria. There is no evidence to support current decisions on inspection activity in regional areas, and the budget allocated for regional visits influences decision-making about inspections, rather than the risks to be addressed.
The compliance division has recognised the weaknesses in its current approach, and has started a wide range of actions over the past 12 months to review and improve its activities so they are more flexible and risk based.
3.2.1 Liquor inspections
Liquor compliance inspection activities are not currently based on evidence of potential harms and risk. Instead, inspection activity is driven by the need to meet BP3 targets rather than meeting the objectives of the legislation and VCGLR's stated goals to deliver risk‑based regulation.
This has resulted in an ineffective approach to inspections, which focuses on administrative matters and not the risks of harms that should be driving VCGLR's compliance activities. Inspectors assessing venues licensed to serve liquor focus on maximising the number of inspections they perform. This delivers a large number of short and largely superficial inspections rather than inspections focused on more difficult harm minimisation issues, such as the service of intoxicated patrons.
In 2015–16, VCGLR performed 12 474 liquor inspections, against a target of 11 000. While VCGLR's inspection BP3 target remains at its current level, it will continue to encourage VCGLR to meet targets rather than address risks and focus on harm minimisation.
Breaches detected
In our 2012 audit Effectiveness of Justice Strategies in Preventing and Reducing Alcohol-Related Harm, we found that 75 per cent of breaches detected during liquor licensing compliance inspection activity in 2009–10 and 2011–12 were administrative in nature. These breaches included failure to display the liquor licence or other required notices, and failure to produce a plan of the premises for inspection. These types of breaches are less directly associated with alcohol-related harm and, therefore, achievement of the harm minimisation objective of the Liquor Control Reform Act 1998 (LCRA) than, for example, breaches for serving intoxicated people or minors.
In this audit, we found that VCGLR's compliance focus remains largely on administrative matters. In 2015–16, the 12 474 liquor inspections resulted in the detection of 5 384 breaches. Data shows that only 57, or 1 per cent, were high-risk breaches, which include unlicensed selling of liquor, serving intoxicated patrons, and breaches related to minors. Figure 3A shows high-risk liquor breaches detected by VCGLR during 2015–16.
Figure 3A

Breakdown of high-risk liquor breaches detected in 2015–16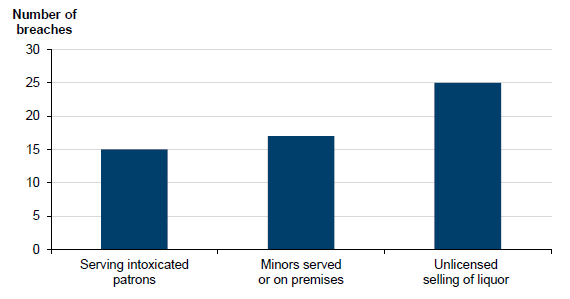 Source: VAGO, based on data from VCGLR.
Timing and duration of liquor inspections
It is widely accepted that alcohol-related harms on licensed premises are more likely to occur between midnight and 7 am. However, almost 88 per cent of VCGLR's inspections of these venues are conducted outside this high-risk time period.
The compliance division set a target of 8 per cent of liquor inspections to be conducted between midnight and 7 am in 2015–16. This was the first time a target had been set and the aim was to double the proportion of inspections conducted in this time period, from under 4 per cent in 2014–15. The division achieved this target in 2015–16.
For 2016–17, the compliance division has set a target of 12 per cent of liquor inspections to be conducted between 10 pm and 7 am. However, analysis of VCGLR's compliance data shows that it achieved 12 per cent of inspections between 10 pm and 7 am in 2015–16. This new target will not result in additional inspection activities during high-risk times.
We expected that the focus of liquor inspections during periods of greater risk would be on detecting offences associated with such harms as service of intoxicated people or minors. However, analysis of the results of these inspections shows that less than 1 per cent of the total number of inspections undertaken between midnight and 7 am between July 2015 and April 2016 resulted in a high-risk breach being detected.
Detecting offences associated with harms takes more time than checking venue licence details, display of responsible service of alcohol posters and patron numbers. However, the average time spent in venues for the late-night inspections between July 2015 and April 2016 was less than 15 minutes, indicating that high-risk or high‑harm offences were not adequately targeted. The compliance division's risk and intelligence unit recommended the development of a specific checklist for late-night inspections to help inspectors target compliance activities to high-risk breaches. However, this checklist has not been developed.
VCGLR data on the duration of liquor inspections conducted in 2015–16 shows that 60 per cent were completed in 10 minutes or less, and almost 88 per cent of all inspections were completed in 20 minutes or less, as illustrated in the case study in Figure 3B. This is further indication that much of VCGLR's work is targeted at meeting BP3 targets and not high-risk breaches.
Figure 3B

Case study: Liquor compliance inspections
On 1 April 2016, one inspector undertook 16 individual inspections on Bourke and William streets in Melbourne.
The inspector began his first inspection at 10.55 am and finished his last inspection at 3.00 pm, including a period of 50 minutes between 1.06 pm and 1.56 pm where he did not log any activity.
The length of these inspections ranged from two minutes to 10 minutes, with an average length of about five minutes and 20 seconds.
Despite the inspector recording three breaches and issuing a warning at one venue, the inspection still only lasted seven minutes. No high-risk breaches were detected.
Source: VAGO.
Regional inspections
Most liquor inspections occur in Melbourne, with only 2 512 (20 per cent) conducted in regional Victoria in 2015–16. VCGLR includes Geelong in its regional data, which inspectors visit regularly from Melbourne.
Of these 2 512 regional inspections, 2 142 (85 per cent) had been conducted by the end of February, and only 370 inspections were carried out in the four months from March to June 2016. The compliance division had exhausted its travel budget by February, and therefore limited its work in regional areas from then on to following up complaints and taking part in joint operations in response to requests from other regulators.
This demonstrates that the compliance program for regional Victoria is not constant and regular. Compliance inspectors commented that it was difficult to get approval for regional inspections and to follow up on issues in regional Victoria. VCGLR's planning of inspection activities does not take into account the particular risks posed by alcohol in regional areas.
In the review conducted in late 2015, the chair of the VCGLR examined the effectiveness of VCGLR's approach to regional compliance activity. He recommended that VCGLR obtain additional budget funding to increase inspections in regional Victoria and improve compliance activity.
The Minister for Consumer Affairs, Gaming and Liquor Regulation issued a statement of expectations for VCGLR on 10 June 2016, which included the recommendation that VCGLR introduce regional hubs to increase its presence in regional Victoria. VCGLR is seeking funding to implement this model.
3.2.2 Gambling inspections
Gambling compliance inspection activities are not based on information about potential harms and risk. Inspection activity is driven by the need to meet BP3 targets, rather than meeting the objectives of the legislation and VCGLR's stated goal to be a risk‑based regulator.
Inspections of gambling venues and operations were a minor part of VCGLR's compliance work in 2015–16. The 1 874 inspections of gambling venues made up around 15 per cent of total inspections performed. VCGLR has increased the target for gambling inspections as a proportion of all compliance inspections from 15 per cent to 30 per cent in 2016–17, but the rationale for this target has not been clearly explained.
Figure 3C shows the different types of gambling inspections undertaken across Victoria in 2015–16.
Figure 3C

Gambling inspections in 2015–16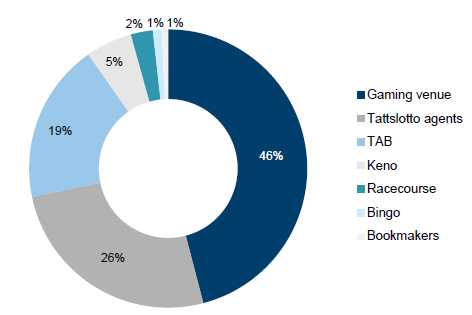 Source: VAGO, based on information from VCGLR.
Almost half of all inspections were of gaming venues, and about a quarter were of Tattslotto agents. There were less than 20 inspections of bingo operations, despite the higher potential for fraud due to the cash-based nature of this activity.
VCGLR does not analyse this data regularly. We found no evidence of any risk analysis or rationale underpinning the number of gambling inspections conducted, and why particular types of venues were inspected. Inspection teams can decide how they meet quotas for gambling inspections. This means that the knowledge and preferences of particular inspectors may drive the choice of venues and operations to inspect, rather than any coherent risk- or evidence-based approach.
The coverage across Melbourne is also inconsistent. We found that it was common for multiple inspections to be carried out at gaming venues within the Melbourne metropolitan area during 2015–16 with little apparent reason. Specifically, we found 40 examples where venues were visited twice in a short period of time, despite no recorded compliance issues being identified on the first inspection.
The case study in Figure 3D highlights two examples where venues were re-inspected within weeks of a first inspection, despite no breaches being identified at the initial inspection.
Figure 3D

Gambling inspections
In July 2015, a compliance inspector visited Venue A and conducted audits of the venue's program for gamblers seeking to be excluded from that venue and compliance with its code of conduct. The inspector did not detect any breaches and noted that the venue was very well organised and staff completed daily checklists. However, just over two weeks later, two different compliance inspectors visited Venue A again and conducted the same audits with the same result.
In 2015–16, inspectors visited Venue B five times, with no breaches detected and no reasons recorded for this level of coverage. Different inspectors conducted two visits eight days apart. In the first visit, inspectors examined the venue's self-exclusion program and conducted a gaming venue audit. There were no issues identified. In the second visit, inspectors also examined the venue's self-exclusion program and the venue's code of conduct program.
Source: VAGO.
This practice is in part the result of pressure felt by teams to meet compliance targets aligned with the VCGLR's BP3 measures. Teams are allocated geographical regions with similar numbers of liquor licensed premises, but the number of gambling venues varies between regions. In the CBD, there are fewer gaming venues, so inspectors visit these venues multiple times to meet targets, despite no compliance issues being detected.
While compliance activity should not be solely focused on detecting breaches of legislation, targeting the same venues on multiple occasions when no indicators of harm or risk are apparent is an inefficient use of resources.
According to VCGLR's business rules, a visit is counted as one inspection, even if two or more different audits are carried out during the visit. This creates a perverse incentive for teams to visit venues multiple times and undertake audits more frequently, to meet team targets. Multiple visits also create a burden for gaming venues.
VCGLR's resources could be better used to increase inspections of other venues or types of gaming activity with greater integrity risks, such as bingo.
We found some examples of good practice in gambling inspections:
An inspector undertook an audit of the pre-commitment program at a gaming venue. The venue was not compliant as it did not have the correct posters displayed and information cards available for players. The venue operators promised to remedy this. One week later, the same inspector revisited the venue and found it to be compliant.
Inspectors undertook three covert visits to a gaming venue in response to reports of gaming staff gambling while on duty. Inspectors observed staff for periods of up to 45 minutes at a time. No breach was detected.
Although there is some evidence of good practice in gambling inspections, VCGLR needs to develop a more risk-based approach to the targeting of inspection activity for gambling compliance.
Regional gambling inspections
VCGLR undertook 430 gambling inspections in regional areas in 2015–16. The distribution over the year was similar to liquor inspections, with the bulk of these inspections conducted in the first nine months of the year. By March 2016, 413 inspections had been completed, and only 17 were done between April and June. VCGLR said that this was due to budgetary issues.
Breaches
We expected VCGLR to be analysing data on gambling inspection breaches to inform its activities and enable it to target its inspection program.
According to VCGLR data, inspectors detected 316 breaches in 2015–16. Seven of these breaches were high risk and related to minors gambling or being in gaming venues. The limited information available indicates that 249 breaches were in gaming venues and 18 related to Tattslotto agencies. VCGLR does not further analyse this data, and there is no evidence that it uses this data to inform its inspection programs for gambling.
3.2.3 Inaccurate recording of inspections
VCGLR is unable to provide assurance on the number of inspections it reports as part of its BP3 data due to inaccurate recording of inspection data. This issue was first identified during an internal audit in late 2015 and has not been resolved.
An internal audit of VCGLR's compliance functions in November 2015 reported that:
8 per cent, or 1 100, of all liquor inspections undertaken in 2014–15 were external observations—inspecting the venue from the outside without physically entering the premises. The purpose of these external inspections was not always clear and they often only lasted a few minutes.
VCGLR has not consistently retained supporting documentation or evidence on file to support the inspections it performed. For 22 of the 50 liquor inspections tested, the compliance team was unable to provide the internal audit team with evidence of the inspection being performed. For 58 out of a sample of 60 compliance inspections tested, there was no evidence of the licensee acknowledging that an inspection had occurred.
We found that the data recorded on liquor licence compliance activities is not reliable. Our analysis of VCGLR's data showed an inspector attending up to three inspections, including in different suburbs, at the same time. These inspections occurred before the November 2015 internal audit.
We expected that this practice would be eliminated and controls would be in place to identify and manage this issue following the internal audit. However, inspection activities recorded in May 2016 show the same inspector attending two inspections in different suburbs at the same time.
VCGLR has developed business rules and included them in the compliance division's business plan about what constitutes an internal or external observation. The division is also monitoring the reporting of observations. When observations do not meet the business rules, they are removed from the division's count of activities.
The compliance division needs to further instruct its inspectors on the importance of accurate recording of inspection activities. It also needs to establish a robust data analytics process to enable the timely detection and review of suspect recording of inspection activities. Inspectors found to be recording inaccurate information should be subject to appropriate disciplinary action.
The compliance division believes its new Liquor and Gambling Information System (LaGIS) will enable improved monitoring of the recording of inspection activities to deliver improved data integrity.
3.3 Supporting better compliance activities
The internal audit of VCGLR's compliance approach and activities in late 2015 found that VCGLR was not meeting its regulatory obligations due to:
inconsistent inspection methodology and the absence of a demonstrably risk‑based approach, leading to inefficiency and reduced effectiveness
a lack of endorsed and operationalised standard operating procedures (SOP)
the absence of a standardised inspection program being used consistently across the organisation
inadequate human resource management, including staff training, development and performance management.
The internal audit report recommended a range of actions to address these gaps and weaknesses, including the development and implementation of a consolidated compliance inspection methodology covering both gambling and liquor activities.
In February 2016, the compliance division documented actions to address the weaknesses in its approach to compliance and has begun work in many of these areas. However, VCGLR has significant further work to do before it can be assured that its approach to compliance promotion, monitoring and enforcement is fully effective.
3.3.1 Recent efforts to implement a more risk-based approach
VCGLR has recognised that its risk-based approach is not sufficiently robust or mature.
The compliance division conducted an Intoxication Pilot Program in 2015. It used intelligence to target licensed venues suspected of serving intoxicated patrons for covert inspections. The results showed that although venues appeared to be well targeted, inspectors were sometimes hampered in making covert observations by the need to identify themselves to gain entry to some venues, or by being recognised by venue staff.
At the beginning of 2016, the compliance division refocused its risk and intelligence unit. It began to collect intelligence and produce a range of reports on issues and risks in the community that could be used to inform the targeting of compliance activities, including monthly risk reports to the director of compliance. These reports are supported by data from past compliance activities and data from Victoria Police.
More recently, VCGLR has taken other actions to review and improve its practices, making them more risk based, including producing a range of maps that:
identify venues and high-risk venues not inspected within 12 months, recent licence transfers and recidivism of licensees
show data from Victoria Police and Ambulance Victoria on assaults and ambulance call-outs mapped against the location of licensed venues.
By using this data and information to target compliance activities, VCGLR is taking a positive step towards meeting its legislative objectives.
3.3.2 Managing compliance activities
Standard operating procedures
When VCGLR was established, two compliance teams were brought together from two separate organisations that had previously regulated either gambling or liquor activities. In order to manage the differences in the approaches and practices of these compliance teams, it was essential that VCGLR document SOPs to clearly communicate baseline expectations for consistent compliance monitoring and inspection practices.
This did not occur. The internal audit in late 2015 found a lack of endorsed and operationalised SOPs, with only seven approved SOPs in place and no standardised inspection programs in use across the division.
The compliance division has taken action during 2016 to address this issue and has almost completed all SOPs, with only three remaining in draft form. By September 2016, 22 SOPs were approved and in operation, compared to seven at the time of the internal audit.
The SOPs and manuals for liquor and gambling inspections are lengthy, technical documents that do not always provide practical guidance on how to undertake key processes. For example, there are three SOPs that relate to issuing an infringement, but none provide sufficiently detailed information on the key steps in this process, such as the internal review procedure.
The new SOPs have been circulated to all compliance inspectors, but they are not yet being consistently applied. We observed variations in the way inspections were carried out. The lack of a consistently applied inspection methodology limits VCGLR's ability to regulate gambling and liquor effectively.
It will take time for VCGLR to achieve consistency, and it needs to support staff by providing improved training and management oversight. The compliance division's information system—LaGIS—may also support more consistent inspections. LaGIS has checklists for conducting inspections, and inspectors have been issued with mobile devices to guide and record inspection activities.
Training
Compliance inspectors operate under two distinct and complex legislative frameworks for gambling and liquor regulation, and they need comprehensive and ongoing training. The lack of formal ongoing training has contributed to inconsistencies in inspection practices and has reduced VCGLR's ability to effectively regulate gambling and liquor.
VCGLR has provided training of various kinds to groups of inspectors since its establishment in 2012. For example:
former liquor inspectors received four days of training on casino operations in September 2013, 18 months after VCGLR was established
eight newly appointed assistant inspectors received 11 days of training in December 2013, which covered a broad range of VCGLR's activities and included a practical inspection component
an unknown number of staff new to the compliance division received 14 days of training in January 2015.
There is some evidence of who attended these training programs, but efforts to train inspectors have been largely ad hoc and have not covered all inspectors. In addition, there is no evidence of any evaluation of training.
Inspectors told us that they dealt with gaps in training by learning from each other and acknowledged that this contributed to inconsistent approaches to inspections across the various inspection teams.
The compliance division drafted training plans in 2014 and 2015 for up to 10 key modules, but there is no evidence that this training has been implemented.
In early 2016, the compliance division allocated resources to developing a draft training plan and content for compliance inspectors. Training has commenced and, if the plan is followed, 75 per cent of VCGLR inspectors will complete 11 out of 15 modules towards a Certificate IV in Government (Investigation) by 30 June 2017. The training will include online modules, face-to-face training and self‑directed learning. There will be workshops that cover all aspects of VCGLR's regulatory remit including the casino, liquor and gambling activities.
The compliance division is also planning to provide leadership development training to team leaders and managers within the division.
ICT systems to support compliance activities
In the four years since VCGLR's formation, despite its commitment to the development of an integrated ICT system, the compliance division continues to operate using three different systems—one each for liquor, gambling and the casino—which are outdated and unconnected.
The aim of LaGIS was to incorporate the functionality of these systems into a single integrated system by mid-2014. However, this project was significantly delayed and was not rolled out until December 2016.
The continued use of multiple legacy systems has only served to reinforce the cultural and practical barriers that existed when VCGLR was established, as staff continued to use the systems that were in use in 2012.
Quality assurance
VCGLR has lacked a documented and consistently applied quality assurance process for routine compliance inspection activities, but it is taking action to address this gap.
The November 2015 internal audit recommended that VCGLR implement a formal quality assurance process. The aim is to ensure consistency in compliance processes and address a range of weaknesses in the documentation of compliance inspection activities, including unreliable data recording by inspectors.
The compliance division responded to the internal audit by committing to develop a quality assurance process for compliance activities. The framework for this process is in the final stages of development. The draft framework covers 15 areas or activities, including systems assurance, evidence management, complaints management, gambling inspections, liquor inspections, training and development, stakeholder management, and administrative matters such as vehicle and telephone usage.
In some cases, the draft documents for this new quality assurance program appear to still be more focused on assuring adherence to schedules and administrative requirements, rather than on monitoring the comprehensiveness and quality of compliance activities. The division advised that it intends to build in a stronger emphasis on the quality of compliance work as it finalises the program.