Cenitex: Meeting Customer Needs for ICT Shared Services
1.1 Provision of ICT
ICT shapes service delivery and workforce productivity in the modern public service, underpinning the work of every public sector employee. It includes:
voice and data communications
desktop computers
software and applications
management of information and digital records
mobile phones and other mobile ICT devices
business process management systems.
This technology enables the public service to engage with the Victorian community, deliver services and functions, and effectively administer public funds.
The Victorian Government's ICT strategy
The Victorian ICT Strategy, released in May 2016, gives agencies direction and targets for managing ICT in the public sector. The strategy has four priorities:
information and data reform—improving information and data sharing to better inform decision-making
digital opportunity—using digital technology to engage with citizens more effectively
technology reform—upgrading the government's underlying technology by investing in common systems across departments and agencies where appropriate and new cloud-based platforms to further support productivity
capability uplift—increasing the capability and skills of public sector employees to implement ICT solutions that are innovative, contemporary, and beneficial.
ICT shared services
Government departments and agencies often share business support services to achieve a higher standard than they could alone, take advantage of specialist expertise, and reduce overhead costs. Examples include ICT, payroll processing, accounts payable, accounts receivable and human resources.
Recognising the need for ICT shared services, the Victorian Government established Cenitex.
1.2 Cenitex
The Victorian Government created Cenitex in July 2008 as a state body under the State‑Owned Enterprise Act 1992 to provide specific ICT services to departments and agencies.
Cenitex combined two government ICT service providers—the ICT Shared Service Centre and the Information and Technology Group—with an initial mandate for all government departments to transition their ICT services to Cenitex.
The Business Support Services Strategic Review assessed whether outsourcing Cenitex's services to a private provider would deliver improved business outcomes and value for money.
After DPC's Business Support Services Strategic Review in 2015, the government reaffirmed Cenitex's role as the ICT shared services provider. However, it removed the mandate for Victorian departments to use its services.
Cenitex operates on a cost recovery basis, with pricing designed to cover operating expenses including staff costs and capital reinvestment.
Role and objectives
Cenitex plays a key role in implementing and supporting the Victorian ICT Strategy and in setting the direction for major corporate systems and cybersecurity.
Cenitex's aim is to support a modern, agile and productive public sector. To achieve this, its 2019–21 Corporate Plan includes four strategic objectives, as shown in Figure 1A.
Figure 1A
Strategic objectives

Source: VAGO, based on Cenitex's Corporate Plan, 2019–21.
To support the productivity and collaboration necessary for a modern, agile and productive public sector, Cenitex has deployed Office 365 to more than 25 000 public servants.
Governance and reporting
The Assistant Treasurer is the minister responsible for Cenitex, which operates as a state-owned enterprise within DTF.
Cenitex must submit its corporate plan annually, and performance reports quarterly, half yearly and yearly, to DTF. These reports include financial statements against forecasts and key financial and non-financial indicators.
Cenitex is governed by a nine-member board, which comprises a mix of independent representatives and customers, appointed by the Victorian Government. The board advises the Assistant Treasurer directly on all matters within the minister's areas of responsibility that relate to Cenitex.
Customer base
Cenitex currently delivers customer‑focused ICT services to about 45 000 public servants across 35 Victorian Government departments, portfolio agencies, government entities and a local council, as listed in Figure 1B.
These customers are located at 1 337 sites throughout the central business district (CBD), and metropolitan and regional locations.
Figure 1B
Cenitex customers in June 2019
Victorian Government departments, portfolio agencies and entities
Department of Education and Training
Department of Environment, Land, Water and Planning
Department of Health and Human Services
Department of Jobs, Precincts and Regions
Department of Justice and Community Safety
Department of Premier and Cabinet
Department of Transport
Department of Treasury and Finance
Ambulance Victoria
Architects Registration Board of Victoria
Commercial Passenger Vehicles Victoria
Court Services Victoria
Creative Victoria
Emergency Management Victoria
Emergency Services Telecommunication Authority
Environment Protection Authority Victoria
Essential Services Commission
Forensicare
Metropolitan Waste and Resource Recovery Group
Office of the Chief Parliamentary Counsel
Office of the Governor
Public Records Office Victoria
Public Transport Victoria
Rail Projects Victoria
Service Victoria
State Electricity Commission of Victoria
Transport Safety Victoria
VicForests
VicRoads
Victorian Building Authority
Victorian Multicultural Commission
Victorian Ombudsman
Victorian Public Sector Commission
WorkSafe Victoria
Other
Source: VAGO, based on information provided by Cenitex.
1.3 Cenitex services
In designing and delivering services, Cenitex often needs to broker a common agreement between customers who may have differing priorities and ICT strategies.
Cenitex defines its service arrangements in an MoU with each customer. The MoU sets out the terms and conditions for departments and agencies to request services from Cenitex as well as the key instruments that underpin the service arrangements, pricing, service level measures and associated targets, as shown in Figure 1C.
Figure 1C
Service arrangements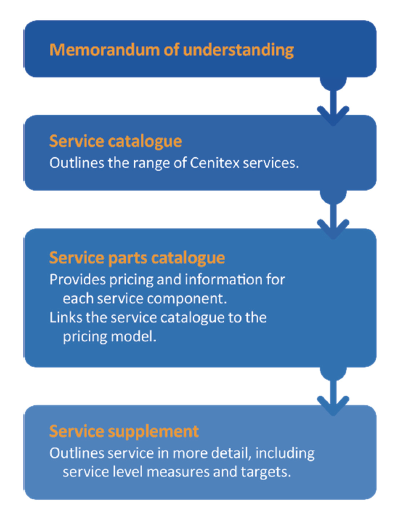 Source: VAGO, based on Cenitex Service Catalogue, Parts Catalogue and Service Supplement.
Cenitex groups its services into five areas, as shown in Figure 1D.
Figure 1D
Cenitex service areas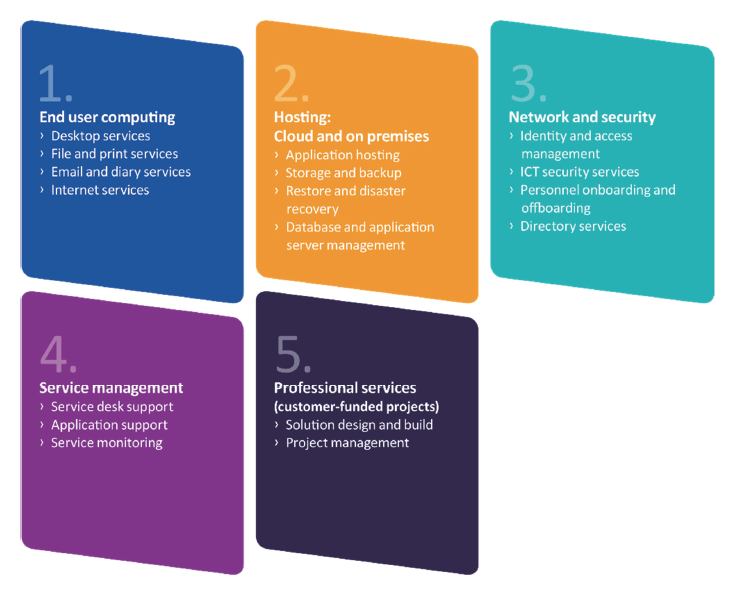 Source: VAGO, based on Cenitex Service Catalogue.
Service operation
Cenitex manages four ICT infrastructure platforms:
the Government Shared Platform (GSP),which hosts most customers and operates under full shared service arrangements
three independently supported legacy platforms, for the Environment Protection Authority Victoria,Department of Health and Human Services (DHHS) and a combined platform shared by the Department of Justice and Community Safety (DJCS) and Court Services Victoria. DHHS, DJCS and Court Services Victoria are transitioning services to the GSP.
The GSP is a scalable, shared ICT infrastructure that enables Cenitex to offer end user computing, hosting, network and professional services to customers, including desktop computing, custom applications, virtual workplaces and mobility solutions. This allows for cross‑departmental communication and information sharing. It also meets Victorian Government requirements for secure data processing and storage, database administration and specialist information security services.
The GSP is vital to Cenitex's commitment to reliably support its customers. The intended key benefits include:
greater efficiency by reducing duplication in customer ICT environments
improved productivity through centralised processes and technology, and implementing leading practices that benefit all customers
lower overall delivery cost.
The more entities that engage Cenitex, and the more services that these entities consume, the greater the potential benefit provided by the GSP.
Challenges to service delivery
Since its establishment, Cenitex has faced many challenges. In its first few years, it had to integrate disparate technologies and infrastructure of variable age and levels of support. This included data centres spread throughout the CBD and regional Victoria.
From 2011 to 2014, Cenitex faced a period of uncertainty with the government proposing to sell it to the private market. Consequently, there was little investment in updating ICT infrastructure during this time.
After the government removed the mandate from departments and agencies to use Cenitex in 2015, it became especially important to be cost‑competitive and focus on customer needs and expectations to remain competitive with the private sector.
Cenitex describes its challenges as including changes in the delivery and consumption of modern technology, the ageing and unreliable technology and assets used by Cenitex and its customers, lack of automation, and slow delivery processes.
These factors impact its ability to meet customer expectations, as do service failures, which disrupt service availability.
To address these challenges, Cenitex:
reviewed its cost model in 2015 and Service Catalogue in 2017,unbundling previously packaged ICT services, which enables customers to have more flexible arrangements
embarked on an organisational restructure in 2016 to transform Cenitex into a more customer‑focused organisation, offering its customers more choice, greater responsiveness, and more efficient services
benchmarked its service level targets in 2018 against a peer group comprising five Australian ICT shared service organisations
invested around $25.1 million over 2017–18 and 2018–19 in Program Fortify to upgrade core technologies and improve service delivery through increased automation and an uplift in staff capability.
1.4 Service performance measurement
Cenitex uses service level measures to define its standards of service. These focus on service availability, and the timeliness of service centre requests, restoration of services and requests for services. Figures 1E and 1F set out Cenitex's key service areas, measures and associated targets.
Figure 1E
Cenitex service areas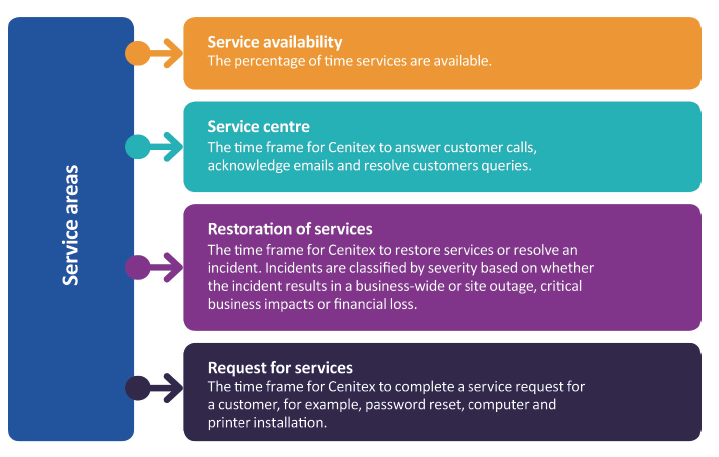 Source: VAGO, based on Cenitex Service Supplement 2018–19.
Some of Cenitex's service level targets distinguish between CBD, metropolitan and regional locations, and other targets are the same across all locations. Standard and premium services also have differing targets. Premium customers receive priority for service requests and restoration of services following an incident. For example, premium customers requesting services can expect it completed within one business day, whereas a standard customer's request can take up to three business days.
Figure 1F
Cenitex standard service level measures and targets
Service level measures

Region

Target

Service availability

Email and calendaring

All

98.80% availability

File and print

All

99.80% availability

Network services

All

99.80% availability

Internet services

All

98.00% availability

Collaboration tools

All

99.98% availability

Mail achieving services

All

98.00% availability

Service centre

Call answering

All

90% of calls answered within 30 seconds

Call abandonment

All

Less than 5% of calls abandoned after 15 seconds

First level resolution

All

70% of common/recurring problems resolved within 2 hours

Email acknowledgement

All

98% calls logged acknowledged within 1 hour

Restoration of services

Severity 1

All

95% of severity 1 incidents resolved within 2 hours

Severity 2

All

95% of severity 2 incidents resolved 4 hours

Severity 3

CBD

95% of severity 3 incidents resolved within 1 business day

Request for services

General request for service

CBD

95% of service request calls resolved within 3 business days

New user accounts

All

95% of requests completed within 8 hours

Password resets

All

95% of requests completed within 15 minutes

Access modifications

All

95% of requests completed within 2 hours

Data file restoration (standard restore)

CBD

90% of requests completed within 3 business days

Personal computer installations

CBD

95% of requests completed within 3 business days

Printer installation

CBD

95% of requests completed within 3 business days

Workplace relocation

CBD

95% of requests completed within 3 business days

Workplace extended software installation

CBD

95% of requests completed within 3 business days

External access

CBD

95% of requests completed within 3 business days

Software installation (non‑packaged)

CBD

95% of requests completed within 3 business days

Open workplace implementation

CBD

95% of requests completed within 3 business days

Mobile: email and calendar access

CBD

95% of requests completed within 3 business days
Source: VAGO, based on Cenitex's Service Supplement 2018–19.
1.5 Why this audit is important
Cenitex's performance affects many aspects of ICT in government. This includes key government functions and services, the security of data and systems, and the adoption of new technologies that will meet the future needs of Victorian public servants and users of government services.
Cenitex's performance also impacts on the overall cost of delivering government services. Therefore, it is important to assess Cenitex's performance and whether it is meeting the needs of its customers.
1.6 What this audit examined and how
In this audit, we examined whether:
Cenitex's performance meets customer needs, expectations and service level targets
Cenitex is effectively identifying and managing current and future challenges.
The audit included DTF, due to its role in overseeing and monitoring Cenitex's planning and operational performance.
We also interviewed CIOs from six departments and three agencies on Cenitex's performance and the alignment of its current and proposed services to meet their needs.
Unless otherwise indicated, any persons named in this report are not the subject of adverse comment or opinion.
We conducted this audit in accordance with the Audit Act 1994 and ASAE 3500 Performance Engagements. We complied with the independence and other relevant ethical requirements related to assurance engagements. The cost of this audit was $590 000.
1.7 Report structure
The remainder of this report is structured as follows:
Part 2 examines whether Cenitex has met agreed service level targets and customer expectations.
Part 3 examines whether Cenitex is effectively identifying and managing current and future challenges.