Cenitex: Meeting Customer Needs for ICT Shared Services
2 Operational performance
Cenitex's performance measurement and reporting framework aims to assure its board and management that it operates effectively and delivers services that meet customer needs.
A well‑designed performance measurement regime includes:
clearly defined and evidence‑based measures and targets that are tailored to customers' needs
sufficient, appropriate and reliable data
regular monitoring of critical aspects of performance by senior management, so that they can address emerging issues promptly.
This Part examines:
whether Cenitex has met agreed service level targets and customer expectations
the adequacy of arrangements for monitoring Cenitex's performance.
2.1 Conclusion
Cenitex's performance has fallen short of its own targets and customer expectations. Service disruptions due to ageing assets, unreliable end‑of‑life technology and lack of automation have contributed to this outcome.
While Cenitex has a performance management and reporting framework, many of its service level measures were set more 10 years ago and the basis for their targets is unclear. As a result, not all the service level measures are relevant or reflect current customer expectations.
2.2 Measuring performance
Many of Cenitex's service level measures and targets were set more than 10 years ago, and despite the changing ICT and customer environments, it has not updated them. Cenitex sets its own service level measures, but has not documented, and could not explain, the basis for the associated targets and their alignment with the ICT infrastructure, service requirements and funding.
Service level measures and targets
In October 2018, the Cenitex board commissioned consultants to review its service level targets. The review benchmarked Cenitex's targets against a peer group comprising five Australian ICT shared services organisations. However, the review did not measure delivery against those targets.
The review found that Cenitex's service level measures and targets:
do not address all key aspects of performance
are not standardised across CBD, metropolitan and regional areas.
Measuring what is important
One of the objectives in the Victorian ICT Strategy is for government services and information to be useful, easily accessible and always available for Victorians. Therefore, the ability to reliably process information in real time is one of the most important needs of customers today and a key measure of performance in the ICT market. This places a premium on service availability.
In line with this, more than 80 per cent of the service level measures used by entities in Cenitex's peer group focus on service availability and incident management. The Victorian ICT Strategy also focuses on service availability. However, the benchmark assessment found that Cenitex's service level measures focus on service provision and requests, which are less important aspects of performance. Only 17 per cent of Cenitex's measures relate to service availability and incident management.
While Cenitex's measures align with the peer group, it does not have some availability and incident management measures that would help to prioritise resources and address what is important for customers. For example, the peer group has measures that assess the number of recurring incidents and availability measures based on criticality of the customers' systems.
Benchmarking targets
Cenitex advised it set different targets for CBD, metropolitan and regional customers because the network was originally set up with better connections in the CBD than the regions.
For example, Cenitex's regional service requests can take up to five business days, two days more than its CBD target.
The benchmark assessment found that only 37 per cent of Cenitex service level targets were equal to or better than the comparative peer groups. If regional services are removed, this is 47 per cent.
For standard service requests as an example, targets were equal to the comparative peer group in the CBD, but less competitive or worse for metropolitan and regional areas across the following targets:
personal computer installation
printer installation
data file restoration
workplace extended software installations
external access
software installation (non-packaged)
software installation (packaged)
open workplace implementation
mobile—email and calendar access.
Cenitex targets for these service requests are four and five business days for metropolitan and regional locations respectively. In contrast, the market can address service requests within three business days across all regions.
As technology has changed, the comparative peer group adopted innovative approaches to reach more challenging service level targets, particularly in their metropolitan and regional service areas. These service providers have achieved this by automating processes and providing some self‑service options for customers, such as password resets.
To address this, the benchmark assessment recommended:
introducing service level measures and targets based on customers' service requirements and expectations
developing dynamic service level targets, using the average result and the lowest result of the previous measurement period as the basis. This would be a more realistic approach to establishing targets, as it considers funding constraints and the supporting ICT infrastructure
analysing Cenitex's systems to prioritise funding to meet service level targets.
Cenitex is yet to implement the recommendations. However, it advised its board in February 2019 that it will work with customers to redefine and revise its service level measures and targets by February 2020.
Cenitex is updating its technology to increase process automation through Program Fortify.
2.3 Snapshot of Cenitex's performance
To assess Cenitex's performance in meeting service level targets, we examined consolidated data from all its customers from 1 January 2016 to 31 December 2018 for key services.
Figure 2A shows that Cenitex met its service level targets on average 68.8 per cent of the time over this period. However, Cenitex's performance across the different areas varied significantly. While it met its service availability and request for service targets more than 70 per cent of the time, it met its call centre and restoration of service targets less than half of the time.
Cenitex only met 10 of its 68 service level targets every month over the period.
Figure 2A
Cenitex's performance, January 2016 to December 2018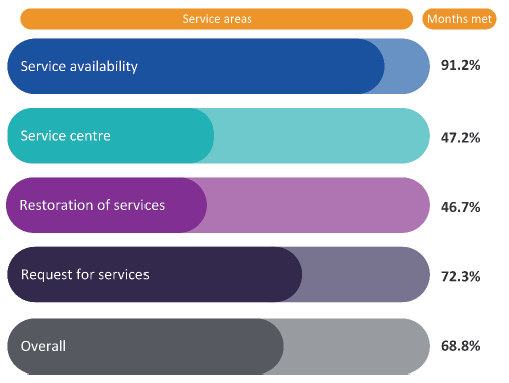 Source: VAGO, based on Consolidated Service Delivery Reports January 2016 to December 2018.
Appendix B provides further details on Cenitex's performance in meeting individual service level targets.
The CIOs we interviewed expressed frustration at Cenitex regularly missing its monthly service level targets. The MoUs between Cenitex and its customers do not include penalties, the ability for customers to withhold payments, or other motivations to meet targets.
In its December 2018 corporate strategy workshop, Cenitex's board and executive leadership team agreed to investigate methods to enhance performance, including penalties to provide incentives to meet service level targets. However, this has yet to occur. ICT agreements with the private sector commonly include such penalties, so not including them makes Cenitex less competitive.
Failure to meet restoration of service targets
Infrastructure outages can lead to the loss of essential ICT services. Cenitex's ability to resolve unplanned outages for critical business services within agreed service level targets is paramount. Customers may lose confidence in Cenitex and seek ICT solutions from alternative providers if it cannot resolve these incidents within agreed time frames.
The frequency of significant incidents is a core indicator of Cenitex's performance. Figure 2B shows that severity 1 incidents declined over the audit period. This is because of a targeted program of initiatives that assessed and mitigated root cause issues related to legacy systems.
Figure 2B
Severity 1 and 2 incidents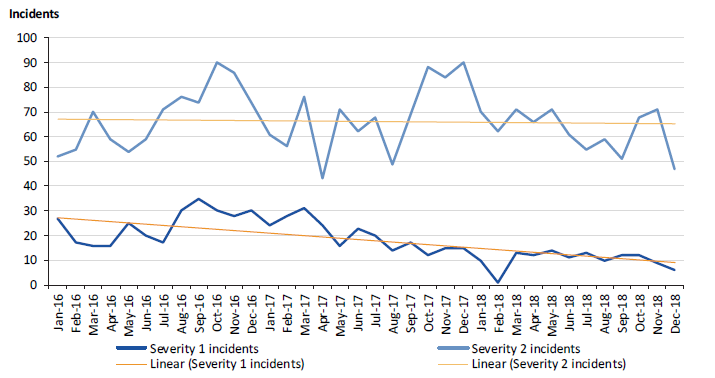 Source: VAGO, based on Consolidated Service Delivery Reports January 2016 to December 2018.
However, intermittent network access, internet slowness and a power outage at a data centre during the second half of 2017 led to a spike in severity 2 incidents.
In November 2017, repeated lightning strikes on a data centre used by Cenitex caused an 11-second power outage. Although some infrastructure services came back online immediately, the incident left all users of the data centre, including Cenitex, dealing with an unprecedented number of system and service disruptions for more than two days.
In December 2017, Cenitex commissioned a review of the incident, which highlighted the need for planning and the deployment of processes and procedures to manage extraordinary incidents, including better communication for staff and customers. Cenitex did not have a process for catastrophic incidents, meaning it was not well prepared for the data centre outage.
In line with the review's recommendations, Cenitex fully reviewed its incident management processes, which were used during a subsequent data centre outage in April 2019. During this incident, customers were updated throughout the crisis by email, text message and web communications. Cenitex also immediately assembled a crisis management team, consisting of its executive leadership team and members of the incident response team. This ensured critical decision-making was timely and at the correct level.
Cenitex's focus on minimising outages led to a further drop in the number of severity 1 and 2 incidents. From 2017–18 to 2018–19, severity 1 and 2 incidents dropped a further 30 and 20 per cent respectively.
Despite the downward trend in incidents from January 2016 to December 2018, Figure 2C shows that Cenitex has consistently not resolved severity 1 and 2 incidents within its monthly service level targets.
Figure 2C
Percentage of severity 1 and 2 incidents resolved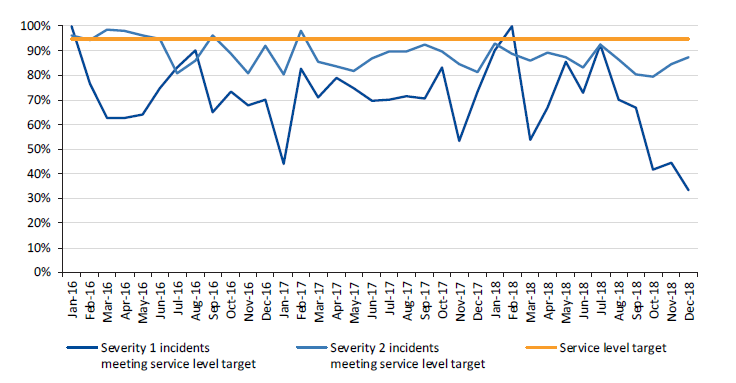 Note: Service level target for:
Severity 1—95 per cent less than 2 hours
Severity 2—95 per cent less than 4 hours
Source: VAGO, based on Consolidated Service Delivery Reports January 2016 to December 2018.
The average resolution time for severity 1 and 2 incidents also increased:
The resolution time for severity 1 incidents increased by 28 per cent, from 7 hours and 2 minutes per incident in 2017 to 9 hours and 2 minutes in 2018.
The resolution time for severity 2 incidents increased by 37 per cent, from 6 hours and 19 minutes per incident in 2017 to 8 hours and 46 minutes in 2018.
Cenitex advised that as the number of incidents decrease as it removes simple reoccurring issues, it is left with more complex issues, which take longer to resolve.
Figure 2D shows that although the number of severity 1 incidents is dropping, the percentage resolved within service level targets is not improving. This is because Cenitex has focused on reducing the number of incidents by addressing the root cause rather than reducing resolution times.
Cenitex advised that it is becoming harder to meet its service level targets. For example, a drop in severity 1 incidents to 123 in 2018 meant that one failure to meet the response time in any month had a proportionally greater impact on Cenitex's ability to meet the service level target.
Figure 2D
Severity 1 incidents and percentage resolved within service level targets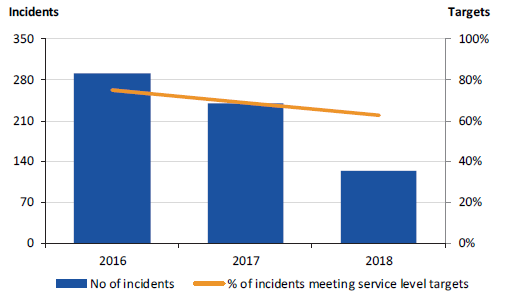 Source: VAGO, based on Consolidated Service Delivery Reports January 2016 to December 2018.
Failure to meet service centre targets
The service centre provides a single point of contact for Cenitex customers to get help with their workplace technology needs. Service level targets set the expectation that Cenitex will quickly answer and resolve customer service requests and reported faults.
Between 1 January 2016 and 31 December 2018, Cenitex always met its target to resolve 70 per cent of common/recurring problems received via phone and email within 2 hours. Its performance ranged from 88 to 97 per cent, which also exceeds the peer group's target of 75 per cent resolved within 2 hours. However, it has regularly missed its other service level targets—to acknowledge 98 per cent of emails within 1 hour, to answer 95 per cent of calls within 30 seconds and that less than 5 per cent of callers abandon their calls after 15 seconds.
Call answering and abandonment
Figure 2E shows the monthly calls answered and abandoned from 1 January 2016 to 31 December 2018. As the percentage of calls answered has dropped, the proportion of calls abandoned by the caller after 15 seconds has risen.
Figure 2E
Call handling and abandonment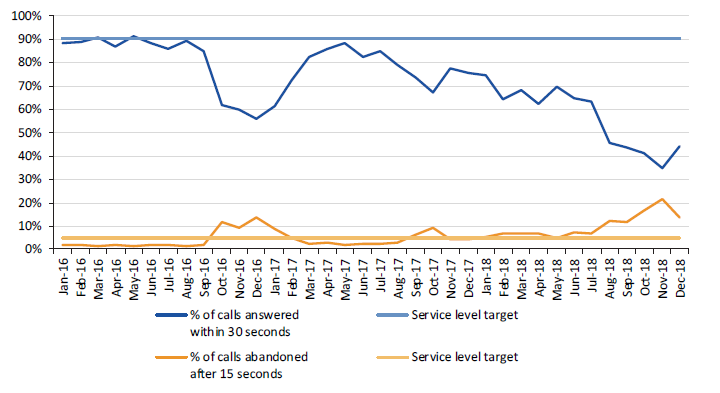 Source: VAGO, based on Consolidated Service Delivery Reports January 2016 to December 2018.
Cenitex advised that their telephony system creates 'ghost calls', which affect these results. For example, our analysis of call data for 2018 shows one call lasting for more than 6 hours and another five calls lasting between 1 to 3 hours. Cenitex cannot determine the cause of the ghost calls and is unable to identify their origin.
Go Connect provides a remote connection from a corporate personal computer or notebook to the internal corporate network, regardless of location.
The rollout of new products such as Office 365 and Go Connect from 2017 led to a significant increase in the number and length of calls to the service centre, as shown in Figures 2F and 2G.
During 2017 and 2018, the service centre received, on average, around 25 000 calls a month, an increase of more than 50 per cent from 2016 due in part to the increase in Cenitex's customers. Cenitex advised that the increase in average talk time occurred due to callers seeking assistance on how to use these new products, which is not currently Cenitex's role.
Figure 2F
Number of calls received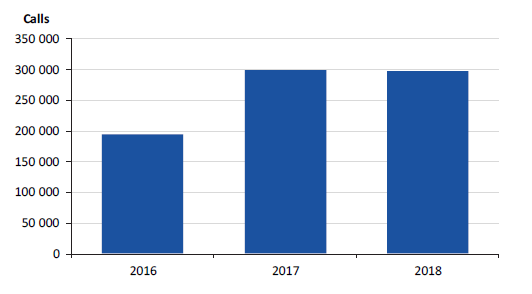 Source: VAGO, based on Consolidated Service Delivery Reports January 2016 to December 2018.
Figure 2G
Average call talk time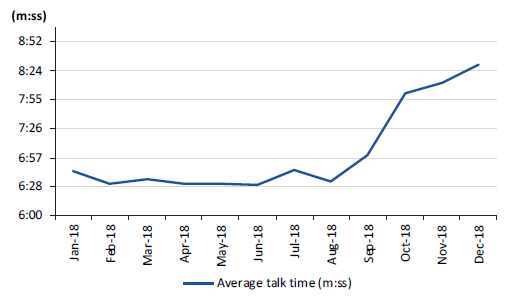 Source: VAGO, based on information provided by Cenitex.
To meet caller demand, Cenitex increased service desk staff from November 2018, adding six full‑time and six part‑time positions. While this helps in the short term, Cenitex's analysis highlights that to meet its service levels on some days it would need almost 70 staff over 2 to 3-hour periods, compared to its current average of 20.
Cenitex has recognised that employing more staff to meet service level targets is unsustainable and inefficient. To address this, it developed a Service Centre Strategy in 2018, which aims to modernise its service. Figure 2H sets out the four key themes and supporting initiatives to uplift service centre capability.
Figure 2H
Service Centre Strategy
Themes

Supporting initiatives

Embed a culture of service excellence

Focus on quality of service and communication
Consolidate the three disparate desks into one to drive consistency and efficiency
Provide the team with the right skills and access to improve first call resolution rates and the quality of service
Measure what matters

Provide the right channel at the right time

Modernise phone channel
Enable chat capability
Drive improvements to self-service
Make it easy to access self-service from any device, anywhere

Make self-service its flagship channel

Develop the portal service road map
Digital-first strategy for all new services
Establish Knowledge Management for customer and internal consumption

Implement automation of process wherever possible

Establish a service desk digitisation team
Develop a program of work to continuously deliver automation
Establish a cross-functional working group to focus on identifying opportunities to automate
Source: VAGO, based on Cenitex's Service Centre Strategy.
Cenitex has three key initiatives underway, comprising:
the consolidation of its three service desks into one desk
tendering for updated telephony, allowing for a call‑back option during times of peak demand and better forecasting and workforce planning
tendering to improve the customer portal and provide new channels, such as web chat.
Cenitex expects to fully implement the Service Centre Strategy by mid‑2020.
Once implemented, Cenitex will also review and revise its service level measures and targets against contemporary call centres, as its current ones are difficult to meet following a severity 1 or severity 2 incident.
For example, if there is a wave of calls by customers across departments and agencies relating to the same incident, the service centre cannot answer all calls within 30 seconds.
Figure 2I provides an example of how an incident that affects many customers impacts on Cenitex's ability to meet its service level targets.
Figure 2I
Ability to meet service level targets following an incident
A severity 2 incident occurred in which customers could not access their wi-fi. This resulted in a surge of calls over a 3‑hour period—9.00 am to 12.00 pm—with Cenitex unable to answer all calls within 30 seconds, and therefore some customers abandoning calls.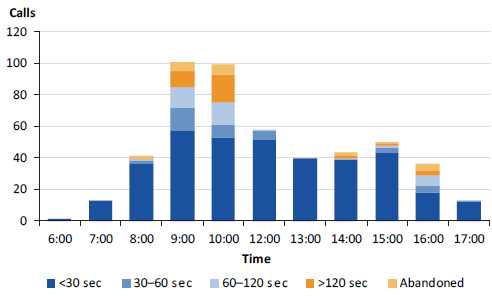 Due to this incident, the service centre answered only 77 per cent of calls within 30 seconds for the day. If this was to occur over three or four days in a month, Cenitex would not meet its service level target of answering 95 per cent of calls within 30 seconds, even if it met its target every other day during the month.
Source: VAGO, based on information supplied by Cenitex.
While we acknowledge that it is challenging for Cenitex to meet its target of answering calls within 30 seconds following an incident, there are other solutions than altering, and presumably lowering, the target. Cenitex could retain the target and simply provide better analysis explaining any variances to the board and senior management, while it implements its Service Centre Strategy.
2.4 Monitoring of Cenitex's performance
Simple and transparent reporting against service level targets helps Cenitex manage performance and make informed decisions on resource investment.
Cenitex analyses and periodically reports its service performance to its board and its customers. Key monitoring reports and recipients are set out in Figure 2J.
Figure 2J
Key performance reports
Report

Frequency

Board

Customer engagement board report—focuses on customer satisfaction, project budget and schedule, service level performance, severity 1 and 2 incidents and customer issues

Monthly

Service delivery and customer portfolio report—provides details of service and project delivery, including Program Fortify

Monthly

Finance board report—outlines Cenitex's financial position

Monthly

Customers

Service delivery report—focuses on service delivery

Monthly

Operations security report—provides visibility of current security threats and trends

Monthly

Project reports—details of project status

Depends on the project
Source: VAGO, based on information provided by Cenitex.
While these provide useful insights into the extent that Cenitex is meeting some of its performance targets, it is unclear if they are meeting customer needs or are sufficient to drive improvement in performance.
Board monitoring and reporting
Cenitex's board includes members with a range of expertise, including ICT knowledge and financial literacy. The board and senior management also have annual workshops to discuss Cenitex's strategic direction. Through this and other forums, the board has provided stewardship and direction. The board also advises the Assistant Treasurer on matters relating to Cenitex.
Boards rely on digestible information that is sufficient to allow them to make informed decisions. Cenitex's board receives two types of reports relating to customers:
customer engagement reports
service delivery and customer portfolio reports.
Cenitex has improved the format and content of both reports by removing unnecessary detail and having consistent reporting fields. This allows board members to compare the same information from month to month and focus on key performance issues.
Despite these improvements, the reports limit the board's ability to assess Cenitex's overall performance, as they do not align with key service level targets in the Corporate Plan, as shown in Figure 2K.
Figure 2K
Comparison of performance information in board reports and Corporate Plan
Corporate Plan service measure

Included in board reports

Service desk

Call answering

Yes

Call abandonment

Yes

First level resolution

No

Incident acknowledgement

No

Restoration of services

Severity 1

No(a)

Severity 2

No(b)

Severity 3 Standard CBD

No

Severity 3 Standard metropolitan

No

Severity 3 Standard regional

No

Severity 3 Premium CBD

No

Severity 3 Premium metropolitan

No

Severity 3 Premium regional

No

Request for service

Standard CBD

No

Standard metropolitan

No

Standard regional

No

Premium CBD

No
(a) Individual severity 1 incidents are reported in terms of whether Cenitex has met the service level target. However, there is no overall reporting against the target that 95 per cent were resolved within 2 hours.
(b) Severity 2 incidents are reported in terms of volume.
Source: VAGO, based on information provided by Cenitex.
The board has also identified the need for reports to mirror the real impact of significant events on customers. However, the data or commentary of reports does not always address this.
In February 2019, Cenitex briefed its board on the findings from the benchmark assessment. The board requested the development of principles for engaging with customers on the service level targets. This occurred in March 2019 and Cenitex is aiming to redefine and revise its service level targets by February 2020.
Customer reports
As part of its MoUs with departments and agencies, Cenitex agreed to supply a set of reports to its customers at predefined frequencies.
Cenitex advised that its reporting is dynamic to ensure it continues to meet customers' needs. Consequently, the type of reports provided to customers and the presentation of information has changed over time to make it easier to assess if Cenitex is meeting its service levels. Changes include reporting on projects and the introduction of a traffic light rating system to communicate performance results at a glance.
Despite these changes, the reports limit Cenitex's customers' ability to get a complete picture of its performance, including:
the presentation of trend data over only a three-month period. Showing trends over a longer period in a graphical format would be more informative
insufficient detail on actual performance. The traffic light rating system for service availability and project status provides a good snapshot. However, the absence of service availability data and project cost and progress data makes it hard for customers to determine the extent services are available or if projects are on track and on budget.
DTF's November 2018 internal audit, Governance and Performance Management of Cenitex, and our discussions with CIOs also identified some dissatisfaction with the quality of reporting. In particular, CIOs considered the reports too high-level to be meaningful and that they do not provide the information they need. Two CIOs we interviewed said that without any commentary on how Cenitex is addressing its inability to meet service level targets, the reports are of little value. Another CIO we interviewed said the customer has no way of verifying if the results reported by Cenitex are accurate.
DTF's monitoring of Cenitex
DTF's 2018 internal audit found:
there is an established framework for DTF's oversightof Cenitex. However, the review of the Corporate Plan and performance reporting is primarily financial in nature and lacks rigorous analysis of service levels
there is no technical ICT capability within DTF to critique Cenitex's performance.
Consequently, Cenitex's service level targets face little scrutiny from DTF.
The audit recommended that:
DTF should work with DPC, given its role in setting the Victorian ICT Strategy, to find appropriate technical expertise to review Cenitex's Corporate Plan, including its key performance measures and reporting
this technical specialist resource should proactively drive Cenitex's performance against service level targets and promote the sharing of relevant learnings across the Victorian Government.
From 2019, DTF has begun meeting with Cenitex on a quarterly basis, with DPC attending its first meeting in May 2019. However, there is still further work to define DPC's role and monitor Cenitex's performance on meeting its service level targets.