Cenitex: Meeting Customer Needs for ICT Shared Services
3 Managing current and future challenges
The public sector ICT landscape is rapidly evolving. Machinery of government changes, the rise of cyber threats, and maturing cloud capabilities' potential to reduce ICT costs and improve service delivery all have implications for Cenitex.
As change occurs, so do the needs and expectations of Cenitex's customers. Having open and timely channels to understand customers' needs and mechanisms to respond to them is critical.
This Part examines whether Cenitex understands and responds to customer needs and expectations, including the identification of the new technologies and services they need now and in the future.
3.1 Conclusion
Cenitex's processes to understand customer needs are not effective, limiting its ability to identify customer needs and make timely changes to its services. The SAC is poorly attended and used to disseminate information to customers, rather than seeking input on current needs. The account management plans are not current, and the annual customer satisfaction survey is a limited tool due to its low response rate and the difficulty for individuals to distinguish between the services provided by Cenitex and those provided by their own departments.
These weaknesses and the years of uncertainty surrounding its status as an ICT shared service provider affected Cenitex's performance. Investment in its technology platforms and services has not kept pace with change in the ICT industry, impacting its customers' service delivery and workforce productivity.
Cenitex expects that Program Fortify will deliver new technologies as well as increase service automation that will improve its service reliability and responsiveness to customer needs. However, the absence of a benefits management plan means Cenitex has no objective baseline from which to gauge the extent of improvement achieved from Program Fortify.
3.2 Understanding customer needs
To understand its customers' needs, Cenitex engages with them mainly through:
forums and stakeholder committees
account management processes
customer satisfaction surveys.
In addition, since January 2016, Cenitex's board includes customer representatives.
Forums and committees
Figure 3A outlines the composition, purpose and frequency of meetings for each forum and committee through which Cenitex engages it customers. The groups collate customer feedback to identify their service requirements and inform their ICT service.
Figure 3A
Key forums and committees
Name

Description

Stakeholder Advisory Committee
Established 2015

Purpose
A key forum for customers to discuss service provisioning, pricing, and levels

Composition
Senior customer representatives with responsibility for ICT (CIO or equivalent), Cenitex Chief Executive Officer (chair) and Director Customer Engagement

Frequency
Monthly

Service Operations Forum
Established 2017

Purpose
An advisory body to discuss Cenitex's service delivery, including service levels, responsiveness, priorities, new services, tools required for service delivery and reporting

Composition
Cenitex Director Service Delivery, with a rotating chair role. Department CIOs or equivalent

Frequency
Bimonthly or quarterly as agreed

Shared Cyber Security Working Group
Established 2018—replaced the Cyber Security Customer Group

Purpose
A forum for problem-solving and sharing cybersecurity leading practice among customers

Composition
DJCS CIO (chair), a Cenitex Group Manager, Cenitex security specialists and members from departments, Environment Protection Authority Victoria and Court Services Victoria members directly responsible for security

Frequency
Monthly

Innovation and Services Group
Established 2015

Purpose
The forum represents the interests of Cenitex customers in the design and implementation of new and enhanced catalogue services, and explores common interests, innovation and opportunities to deliver benefits to customers and the Victorian Government

Composition
Chaired by Cenitex Director Customer Engagement Representatives from all customers

Frequency
Quarterly
Source: VAGO, based on Cenitex committee charters.
CIOs we interviewed highlighted that the customer engagement process is not operating effectively. This is due to Cenitex using these forums and committees to disseminate information to customers, rather than seeking input on current and emerging needs. Similarly, CIOs consulted as part of DTF's Governance and Performance Management of Cenitex internal audit noted that the SAC primarily discusses new service offerings and products instead of raising performance issues.
Our review of minutes for all forums and committee meetings held during 2018 confirmed the issues raised by the CIOs and revealed:
that Cenitex did not schedule SAC and Innovation and Services Group meetings in line with the frequency specified in its charter. Cenitex advised that they did not meet due to competing customer priorities
a low attendance rate for the SAC. Only 54 per cent of participants attended meetings during 2018. At times, attendees were delegates and not at the CIO or equivalent level. This is inconsistent with the SAC charter, which requires senior customer representatives with responsibility for ICT attend.
Figure 3B shows SAC meetings scheduled during 2018 and the attendance rate.
Figure 3B
SAC meetings scheduled and attendance rate, 2018
| Month | Meeting held? | Attendance rate |
| --- | --- | --- |
| January | No | – |
| February | Yes | 71% |
| March | Yes | 78% |
| April | No | – |
| May | Yes | 50% |
| June | Yes | 39% |
| July | No | – |
| August | Yes | 47% |
| September | Yes | 43% |
| October | No | – |
| November | Yes | 52% |
| December | No | – |
| Overall |   | 54% |
Source: VAGO, based on SAC minutes.
Cenitex advised that it relies on CIOs to represent their department and agency needs. Therefore, to improve the effectiveness of the SAC, Cenitex and CIOs need to work together to make the forums more relevant.
Account management
One of Cenitex's strategic objectives in its Corporate Plan is to focus on customer service and grow its customer base. A key initiative is to develop detailed account plans that examine the customer landscape, risks, issues and goals.
By September 2017, Cenitex had completed account plans for seven of its largest customers. These plans consistently highlight the need for Cenitex to:
more proactively understand customer needs
improve turnaround times for requests and projects
improve service delivery reporting.
Account plans are a crucial tool for Cenitex to successfully manage its customer relationships, but they must be regularly reviewed and updated as customers' ICT needs and expectations evolve. As these plans are more than two years old and Cenitex has not updated them to reflect changes in customer personnel, risks, or their expectations, they may no longer be relevant.
CIOs we interviewed indicated that account and service delivery manager relationships generally work well. However, they believe that account management teams are poorly connected to the Cenitex executive. A stronger connection would empower the account management teams and help them better respond to customer feedback.
Customer satisfaction
Cenitex conducts an annual customer satisfaction survey and a fortnightly QuickPoll survey to gather customer feedback.
Annual customer satisfaction survey
Since 2016, Cenitex has commissioned an annual survey run by a market research firm to obtain customer feedback. As some ICT services are jointly delivered by Cenitex and its customers, the survey measures the satisfaction level for ICT services and support provided by:
Cenitex to its customers
departments and agencies to their staff.
The survey is sent to a broad range of customers across all employment grades, roles and technology usage types, such as office-based, mobile worker or tablet user, working in various locations.
Limitations of the survey
The survey has some limitations as a tool for measuring customer satisfaction.
The response rate has remained consistently low. The 2018 survey response rate was less than 7 per cent, a drop from 9 per cent in 2017.
This is not a statistically strong sample, with the market research firm noting that a more informative sample would be 20 per cent for larger departments and agencies and a minimum of 40 per cent for customers with under 500 users. By comparison, the annual People Matter Survey run by the Victorian Public Sector Commission, which asks public sector employees about their workplace, had an average response rate of 47 per cent in 2018.
Cenitex advised that this is partly due to customers being responsible for distributing the survey to their own staff. This was in response to feedback from the previous year, when staff thought the survey was a spam email message. Cenitex had no control on the time frames allowed for staff to respond or reminders to encourage responses.
DHHS did not participate in 2018, as it perceived the survey to be ineffective. Improving the survey could help to increase the response rate.
Individual customers could also find it difficult to distinguish between services provided by Cenitex and those provided by their own departments. For example, network performance, one area cited in survey responses as needing improvement, has shared responsibilities. While Cenitex is responsible for supplying the network and the equipment to route traffic, it has no control over departments' use of operating systems, which could be out of date, or whether departmental applications being used are optimally designed.
Some respondents reported difficulty determining who to call for assistance:
'This is very confusing. There is mobile support, Cenitex, various teams in Technology Services or in other areas that own particular business applications and then sometimes no one knows what they are doing and no one can help.'
'It's a mystery to me as to who is responsible for fixing what. How should I know? It's not like there's a list of "we do this but not that" around. Even if there was a list, I'm sure it'd be confusing because it would use IT lingo and not plain language that I understand.'
'Often you are shunted between Cenitex and internal IT, each saying it's the others' responsibility.'
These factors inhibit Cenitex's ability to gauge customer satisfaction and if it is meeting their needs.
Survey results
With these data caveats in mind, we assessed the annual survey results from 2016 to 2018.
Appendix C outlines the percentage of survey respondents who were satisfied with services and support provided by Cenitex and internal ICT divisions. The number of ICT service elements collected in the annual customer satisfaction survey has increased from 10 to 17 over the three years. The results in Figure 3C show that of the original 10 ICT services in 2016, satisfaction has increased for six. However, for three of these—external remote access, logging onto a computer or device, and printing and scanning—the increase was 5 per cent or less.
End users praised many service changes. One respondent said the rollout of Windows 10 was 'extremely well-managed', while another noted that the switch from Lotus Notes to Outlook was 'smooth and significant support was provided throughout the transition'. Respondents also praised improvements to the remote working experience.
However, ICT services are inconsistent in meeting respondents' needs. This suggests that while ICT services are improving, there is still a significant disconnect between end users' expectations and their experiences.
As Figure 3C shows, the satisfaction with ICT support has declined for five of the seven elements from 2016 to 2018, particularly in relation to timely responses to requests, issues being fixed the first time and quickly, and communications on request progress.
Responding to survey results
The survey is a useful tool for Cenitex to understand its customers' needs, expectations and perceptions of ICT, and it provides some baseline results to identify and measure improvements over time. However, its limitations make it difficult for Cenitex to use the information in a targeted way to drive improvement. Additionally, the survey is retrospective, and the absence of targets means it is difficult to determine what satisfaction level Cenitex and the departments should aim for.
Cenitex needs to work more collaboratively with customers to proactively gauge their needs in advance of issues being raised in the annual survey. They could achieve this through staff advisory groups, analysing service desk data or conducting other formal research exercises on recurring issues. The survey results explain the 'what', but not the 'why', which needs deeper, more targeted feedback from CIOs.
While Cenitex performs an analysis of the results, develops action plans and provides each participating department and agency with their individual survey results, it does not work with departments or agencies to develop a coordinated action plan to address the issues raised. Consequently, there is no agreed commitment to action, clarity of responsibilities or way of tracking how Cenitex and departments are responding to concerns raised in the survey.
Figure 3C
Change in satisfaction with key ICT services and support elements from 2016 to 2018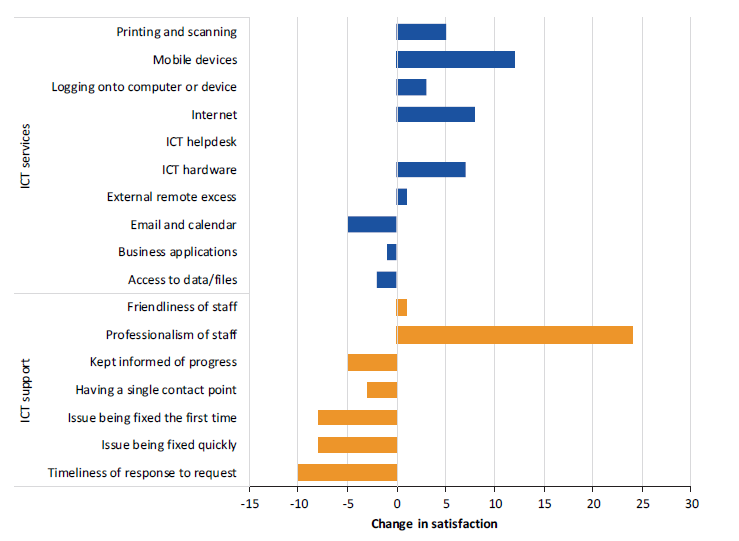 Source: VAGO, based on annual customer satisfaction survey, 2016, 2017 and 2018.
QuickPoll customer survey
Cenitex sends a QuickPoll survey for every 10th helpdesk ticket. These surveys provide an opportunity for customers to give feedback on their recent experience with the service centre, with ratings of satisfied, neutral or negative. From 1 January 2016 to 31 December 2018, the survey has had an average response rate of 27 per cent. However, this has been trending down—30 per cent in 2016, 27 per cent in 2017 and 25 per cent in 2018.
Cenitex's target is for 85 per cent satisfied customers. As shown in Figure 3D, it has met this target every year.
Figure 3D
QuickPoll results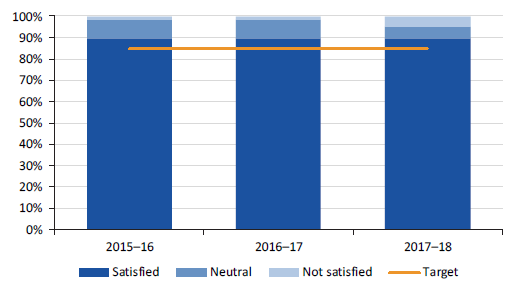 Source: VAGO, based on information provided by Cenitex.
However, Cenitex cannot explain how it set this target. As a result, it is difficult to determine whether 85 per cent represents a reasonable level of customer satisfaction.
Board composition
When establishing Cenitex, the then Minister for Finance appointed an independent board of six directors. The inaugural board was chaired by a retired Victorian departmental secretary with a background in the private sector. The other board members' experience varied, with careers in law, finance, ICT and sales. However, they had all worked primarily in the private sector rather than in government.
This was intentional, since Cenitex aimed to have a mission and a culture that was commercial and service-oriented.
However, this structure gave customers no say in the services Cenitex would provide. Although Cenitex had a mandate to improve efficiency and reduce costs as an ICT shared service provider, it had no control over customers' priorities or ability to influence their consumption of standardised services. Consequently, Cenitex struggled to meet the demands and expectations of departments.
To address these issues, DPC's 2015 Business Support Services Strategic Review recommended a change to the composition of Cenitex's board. This included making it comprise mostly customer representatives from departments and delivery agencies, while also retaining appropriate expertise through existing members. The government accepted this recommendation, however, the Assistant Treasurer appoints the board members.
We found that customer representatives have not made up the majority of Cenitex's board from 2015–16 to 2017–18, as shown in Figure 3E.
Figure 3E
Customers on Cenitex Board
| Year | Customer members | Non-customer members | Total members | Customer members |
| --- | --- | --- | --- | --- |
| 2015–16 | 4 | 5(a) | 9 | 44% |
| 2016–17 | 4 | 5 | 9 | 44% |
| 2017–18 | 3(b) | 5 | 8 | 38% |
(a) A non-customer board member was appointed in April 2019. The board comprised 50 per cent customer members until March 2016.
(b) Only two customer board members from October 2017 to May 2018.
Source: VAGO, based on Cenitex 2015–16 to 2017–18 Annual Reports.
DTF now advises that the addition of two further customer representatives, on 17 September 2019, ensures that Cenitex's customers make up the majority of its board.
Customer board members have also consistently had a lower attendance rate at board meetings. The average attendance rate over the three financial years for customer board members was 76 per cent, compared to 90 per cent for non‑customer board members.
Despite this, the addition of customer members to the board has helped it better understand customer needs, as noted in a May 2019 research paper—Government Shared Services Governance That Works—which used Cenitex as a case study. The research, undertaken by an advisory company that works with government shared services organisations globally, found that the impact of customers on Cenitex's board has been profound, as they have a say about the services Cenitex provides to meet their needs. One senior Victorian Government official who has been a shared services customer since Cenitex was established and is now a member of its board said in the review:
'Appointing directors to the board who are able to provide a customer voice in decision making has helped better connect Cenitex with government and departmental priorities and informed the strategic direction of the organisation. Cenitex is working hard to drive its focus on customer service, and the refreshed approach to governance is an important part of that.'
3.3 Key challenges
Compared to the past 10 years, Cenitex is experiencing a period of relative stability. Nevertheless, there are still significant challenges to ensure it stays relevant to its customer base, particularly given changes to the delivery and consumption of modern technology:
Cenitex has hosted most of its business in managed data centres with internet traffic having to pass through up to 20 network links. This has created major resiliency issues resulting in the failures affecting service availability noted in Part 2 of this report.
Cenitex's ability to automate processes and extend services into the cloud was limited and reliant on manual configuration.
In March 2018, in response to these challenges, Cenitex's board approved Program Fortify, which aims to improve the reliability of services, automate processes and responsiveness to customer needs.
Program Fortify will deliver four key technology initiatives, along with an increase in service automation, redesign of the organisation's structure and business processes, and improvement in staff skills.
The four key technology initiatives are:
Digital Workplace—allows secure, ubiquitous access to office tools and business applications.
Software Defined Data Centre—refresh critical hosting infrastructure to increase reliability and resilience and improve disaster recovery capability.
Software Defined Network—an integrated network architecture optimised to deliver shared ICT services and advanced cybersecurity options.
Smart Internet Gateway—enables secure access to cloud services everywhere and removes the dependency on data centres for securing user traffic.
In its 2017–18 annual report, Cenitex described Program Fortify as its 'most ambitious technology refresh'. Given the importance of Program Fortify, it is critical for Cenitex to have developed a sound business case to set out the problem being addressed and the intended benefits.
Business case for Program Fortify
DTF's Investment Lifecycle and High Value/High Risk Guidelines apply to all government departments, corporations, authorities and other bodies falling under the Financial Management Act 1994, including Cenitex.
DTF's Investment Lifecycle and High Value/High Risk Guidelines require:
business cases for capital investments with a total estimated investment of $10 million or more. However, they can be used for investments of any type, complexity or cost
a benefits management plan, setting out the measures to assess the benefits defined in the business case, the responsibility for their delivery, and how they will be reported.
Cenitex's March 2018 business case for Program Fortify outlines that the project will deliver significant benefits, including a 50 per cent reduction in severity 1 incidents, a 'significant increase in customer confidence' and a 'reduction in customer waiting time'.
The approved business case details total funding of $17.3 million over the three‑year period of 2017–18 to 2019–20, with an ongoing $3.8 million per year. Yet in its 2017–18 annual report, Cenitex reported the total budget for Program Fortify as $30 million.
DTF's Developing ICT Investments Technical Guidance states that 'an evaluation of the skills for implementation and ongoing support teams should be budgeted for and included in the business case'.
In June 2019, the Cenitex board approved a variation of over $7.8 million, which brought the total approved budget for the project to approximately $25.1 million. Cenitex advised that this was for internal staffing costs, however, it did not include these costs in the business case. This is contrary to DTF's Developing ICT Investments Technical Guidance, which requires all costs to be included. Many ICT-enabled projects experience significant cost overruns. Therefore, cost information is central to the business case and critical in determining whether to proceed with a project.
Good practice also requires that project owners continually update their business case with current information on costs, risks and benefits. The significant cost increase of around 45 per cent from the original business case budget raises questions of whether the benefits of Program Fortify still outweigh the costs.
Measuring and reporting on benefits is an important accountability mechanism, allowing Cenitex to demonstrate that the investment was a good use of funds. However, Cenitex has not developed a benefit management plan or equivalent. Cenitex advised that it intends to assess the project's success after completion, given that is when they expect the realisation of any benefits.
While some benefits may take months or years to materialise, the absence of a benefits management plan means Cenitex has no objective baseline from which to gauge the extent of improvement achieved from Program Fortify.
3.4 Service pricing
Cenitex's funding comes from the fees paid by its customers in return for services provided. However, as departments and agencies can choose any ICT service provider, it is important that its pricing aligns to market offerings.
In November 2015, Cenitex commissioned a review to benchmark its service cost with the market. The review found that Cenitex's prices were equivalent to or just above market rates for some services, but significantly higher for others, particularly data centre services.
Unlike the broader ICT market, which allows customers to control and customise their consumption of services, Cenitex grouped its services into integrated bundles, resulting in customers paying for products or services they did not need.
The review concluded that Cenitex was unlikely to reach comparable market cost points without significant staff reductions, investment in standardisation, technology change and unbundling of services. It recommended:
implementing a new service bundling approach to ensure alignment of current services to market offerings and to improve cost and service transparency for customers
investigating opportunities to reduce costs through standardisation and automation
pursuing selective sourcing of services that the market can provide more efficiently due to economies of scale and access to innovation, particularly hosting and storage services.
Nearly two years later, in October 2017, Cenitex developed a pricing strategy on how it would cost its products and services.
In 2018, Cenitex undertook Project Phoenix to identify material differences between service bundles and unit prices used by Cenitex and industry peers. The key outcomes of Project Phoenix included:
revised service offerings and pricing in a new service catalogue
changes to Cenitex's internal cost structure
changes to the service bundling model to allow customers to choose specific services.
Cenitex implemented a new service bundling approach in 2018, with the other recommendations addressed through Program Fortify, four years after the 2015 review.
In November 2018, Cenitex engaged a contractor to undertake a benchmark assessment of its efficiency (price) and effectiveness (quality of services). The review benchmarked Cenitex against two separate Australian peer groups with similar scope of services, service level targets and customer numbers:
five ICT shared services organisations
six ICT service vendors.
The results showed that Cenitex delivers services:
8 per cent cheaper than the selected shared services organisations and 10 per cent cheaper than selected ICT managed services vendors
11 per cent more effectively than selected vendor peer organisations.
However, a key limitation of the benchmarking review was its assumption that the shared services organisations, ICT service vendors and Cenitex were meeting its service level targets. This is an incorrect assumption, as detailed in Part 2 of this report. Lifting Cenitex's performance will require changes in how it delivers services, which will impact on its service costs.