Compliance with the Asset Management Accountability Framework
Previous audits have identified that many departments and agencies need to improve their asset management practices. The AMAF has a strong focus on continuously improving asset management. Departments need well-planned approaches to use the AMAF to improve their practices, and departmental staff need to be well organised and clear about their roles.
We examined how departments planned their AMAF implementation approaches at a whole-of-department level, and the leadership that steered the implementation. We also reviewed the key documents that form whole-of-department asset management plans.
Figure 2A highlights how the AMAF implementation and the whole‑of‑department asset management plan form part of a department's asset management approach.
2.1 Conclusion
The introduction of the AMAF has increased departments' focus on asset management. DEDJTR and DET recognised early that to apply the AMAF they needed to change their practices and document their processes, and they planned how they would do this. These departments positioned themselves to not only achieve compliance, but to improve asset management practice across their organisations. Their senior leaders played a significant role in driving and overseeing this improvement.
The other departments' whole-of-department implementation planning focused on what they needed to do to prepare for the 2018 attestation rather than on their longer-term improvement needs. Three departments are now planning further action to address their longer-term asset needs.
At the time of the 2018 attestation, only DEDJTR had a whole-of-department asset management plan that was comprehensive enough, relative to the complexity of its assets, to coordinate and control its asset-related activities. This is not surprising because, for most departments, having a whole-of-department plan is a new approach to managing their assets. Three departments are now improving or planning to improve their whole-of-department plans.
Departments without a whole-of-department asset management plan or with limited content in their plans may find it challenging to consistently achieve their asset management and service delivery objectives and comply with the AMAF across all their asset-related activities.
Figure 2A
Relationship of AMAF implementation and the whole-of-department asset management plan to a department's overall asset management approach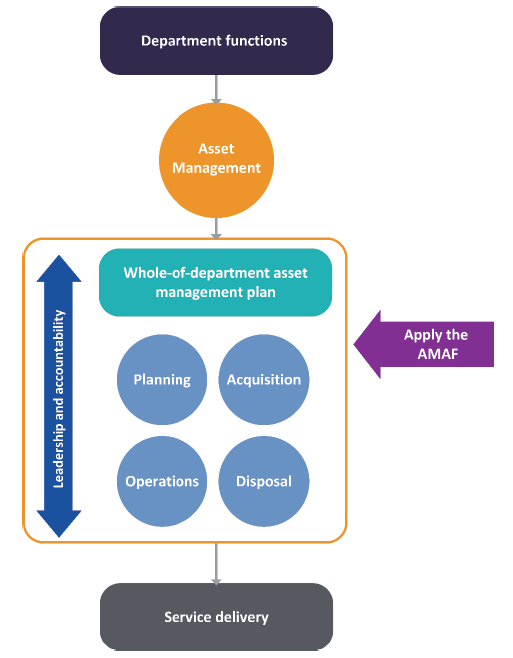 Source: VAGO.
2.2 AMAF implementation approaches
All departments have a whole-of-department approach to implementing the AMAF except for DHHS, which adopts a 'bottom-up' approach—implementing the AMAF separately for each of its asset classes.
DHHS advised us that it did not embark on a whole-of-department approach because of the variation in responsibilities between asset classes and in the way business areas manage their asset classes.
We consider that a whole-of-department approach would better enable DHHS to:
understand where its asset management strengths and weaknesses lie
prioritise, direct and coordinate effort across the department
monitor progress, not just in implementing the AMAF but in improving asset management.
We reviewed the DHHS public housing group's implementation of the AMAF as an example of its approach for an individual asset class and found that overall it has a good implementation plan. However, gaps remain at the departmental level.
DHHS's June 2018 report to its audit committee highlighted that one asset class was likely to be non-compliant because it had been slow to address deficiencies identified through the department's 2016–17 trial assessment. This demonstrates that the lack of a whole-of-department implementation approach and monitoring can put the department at risk of overlooking certain asset areas, which can negatively impact the implementation process.
Gap analysis
The AMAF implementation guidance suggests undertaking a gap analysis as a starting point for organisations to implement the AMAF. It points out that by evaluating current systems, processes, policies, information and reports, agencies can understand the gaps to achieve compliance with the AMAF and identify any actions required to address these gaps.
We assessed whether departments followed common steps in a gap analysis. Steps include analysing the current state of asset management, identifying the ideal future state—for departments this involves consistently applying the AMAF principles, improving outcomes for assets and service delivery, and achieving compliance—and identifying actions to bridge any gaps.
Four departments completed whole-of-department gap analyses and the remaining three did this for individual asset classes. These exercises helped departments define their asset types and values, assess gaps against each of the AMAF's 41 mandatory requirements, and identify deficient areas and actions to address them.
All but one department considered their capability and practices as part of this gap analysis, along with assessing whether they had the right policies and procedures.
Only DEDJTR comprehensively assessed what it needed to improve to meet the AMAF's aims and principles, and how much it needed to strengthen its asset management culture, capability and practices to be able to do this.
Implementation planning
Implementation planning approaches varied between departments in terms of timing, comprehensiveness, complexity and quality. This did not always align with the complexity of their asset portfolios.
Aligning implementation with asset complexity
The AMAF implementation guidance recommends agencies determine the complexity of their asset portfolios as the basis for scaling their compliance approaches to match need. Together with the gap analysis, this helps departments identify the time, effort and detail of planning needed to implement the AMAF across their assets.
Departments with low complexity may need a simpler plan and shorter time for implementation, while departments with higher complexity and risk will require more effort and a relatively longer time to implement the AMAF.
Figure 2B identifies some of the factors that determine the level of complexity and shows departments' relative positions in terms of asset complexity.
Figure 2B
The relative complexity of the departments' asset portfolios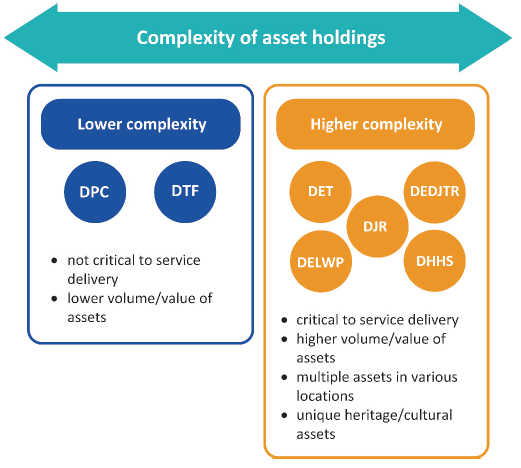 Source: VAGO.
Figure 2C shows when departments started their implementation planning and DTF's progressive support throughout the journey.
Three departments recognised that implementing the AMAF and applying it across their large organisations and portfolios with multiple asset classes would take a long time—between two and five years.
Figure 2C
Time line of departments' AMAF implementation planning and DTF's support for implementation
Source: VAGO, based on departments' information.
Detail of implementation planning
The departments' implementation plans range from a one-page schematic to more detailed plans. Only three departments—DEDJTR, DET and DTF—have plans that align to the nature of their assets and the breadth of their organisational involvement in asset management. DJPR and DoT each adopted DEDJTR's implementation approach when they formed.
DEDJTR and DET had many good practice elements in their implementation planning approaches, as shown in Figure 2D. Better practices are more common in departments with dedicated resources and trained staff members supporting AMAF implementation. They designed appropriate actions and developed internal guidance to help staff to implement the AMAF.
Figure 2D
Good practices in implementation planning
Gap analysis considers current and future asset management needs and risks and includes a complexity analysis.
Complexity and gap analyses provide the rationale for the implementation approach.
Implementation planning addresses gaps in compliance with the mandatory requirements and identifies support needed to improve asset management to the level desired and achieve full compliance. The planning includes:

implementation objectives, which align with corporate objectives
the governance structures needed to guide and oversee delivery and embed AMAF implementation in routine department business planning
identification of staff responsible for delivering actions and time lines for delivery
incremental targets for improvement—for example, levels of compliance achieved or levels of maturity in asset management practices.
Source: VAGO, based on DEDJTR's and DET's implementation approaches.
The other five departments had short-term implementation approaches that focused on compliance and what they needed to do for the 2018 attestation only. They planned to fill key gaps in policies and procedures against the mandatory requirements, but did not plan beyond that to implement these policies and procedures and meet future needs.
They adopted this short-term implementation approach even though the AMAF does not focus on a time frame for achieving compliance. It recognises that agencies will have different starting points and different pathways towards achieving compliance.
In three departments, the corporate finance and compliance group was the main unit responsible for driving or coordinating the AMAF implementation. This may be appropriate where the asset base is simple and has lower risk. However, where assets are more complex and higher risk, the finance and compliance group found it difficult to drive the whole-of-department AMAF implementation if it did not have strong support from those with asset management responsibilities or expertise.
Departments' implementation progress
Up until the 2018 attestation, departments had introduced a range of actions as part of their AMAF implementation, including:
developing or updating asset management policies and procedures
communicating the aim of the AMAF to staff
conducting stocktakes of certain asset classes
establishing clearer roles and responsibilities with other asset managers in the department and/or other agencies with roles in the asset lifecycle
introducing new roles specific to managing assets at a whole-of-department or asset class level and improving asset management capability.
Three departments are now introducing longer-term whole-of-department implementation plans, and three are clarifying and strengthening their governance arrangements. One department does not yet have further implementation activities underway.
Maturity assessment
Although the AMAF does not require a maturity self-assessment until 2020–21, five departments—DEDJTR, DHHS, DPC, DELWP and DJR—conducted one before the 2018 attestation.
DEDJTR built the maturity assessment analysis into its compliance assessment and attestation tool. Each business unit completed multiple compliance and maturity assessments prior to the 2018 attestation. This approach provided an early opportunity for the department to raise staff understanding of asset management maturity and the AMAF implementation journey. It also provided the Secretary with evidence of commitment to and progress in improving asset management.
2.3 Whole-of-department asset management plans
The AMAF aims to support agencies to implement effective asset management systems and be accountable for their assets and asset management. Many of the AMAF's requirements collectively describe an asset management system, and a structured approach for developing, coordinating and controlling asset-related activities.
Our audit included a focus on the key whole-of-department documents departments use to describe their asset management systems, because these documents are important for guiding consistent asset management across the multiple asset classes of each department. We refer to these documents collectively as the 'whole-of-department asset management plan'—not an asset management system—because there are other components of their overall systems.
The whole-of-department asset management plan sets expectations and explains to staff with asset management responsibilities:
how their asset management should align with corporate service delivery objectives and business systems
what their asset-related decisions need to consider
how risk should inform their practices
the asset information that the department requires from them
expectations for continuous improvement.
All departments also have a suite of additional policies and procedures that are designed to support asset management, but sit outside the whole-of-department asset management plan. These were not part of this assessment because:
some are specific to individual aspects of asset management, such as asset disposal policies, maintenance plans and operating procedures
others are part of the corporate business environment, such as the delegations instrument, occupational health and safety policy, and the procurement manual.
Departments with complex asset portfolios or assets with high-risk exposures may need more detailed information in their whole-of-department asset management plans than those with simple assets or lower risk exposures. The management approaches that different asset managers take should align with the whole-of-department plan, but will necessarily vary between different asset classes and at various stages of the asset lifecycle.
We assessed the comprehensiveness of the whole-of-department asset management plans at the time of the 2018 attestation to determine whether they had enough information relative to the complexity of the departments' asset portfolios.
Establishing whole-of-department plans
Establishing a whole-of-department asset management plan was a common starting point to implementing the AMAF across departments:
Only DET had any whole-of-department asset management plan documents in place before the introduction of the AMAF.
Five of the other six departments developed them in response to the AMAF requirements.
DHHS chose not to develop a whole-of-department asset management plan or other asset management system elements. Instead, it relied on managers of its different asset classes to do this. This approach meant the department was not in a strong position to direct or control asset management activities across its five asset classes.
The departments' whole-of-department asset management plans ranged from a single document that aimed to describe the policy, strategy, and the system of processes and controls to having separate documents for these. For five of the six departments that had whole-of-department plans, the overall approach aligned with the complexity of their asset holdings.
Content of the plans
The AMAF is non-prescriptive. This allows agencies the flexibility to manage their assets according to their own operational environments and the nature of their asset bases. In practice, agencies can find it challenging to know whether an approach is appropriate to meet the AMAF's aims and principles and to support compliance.
Our assessment of the content of the whole-of-department asset management plans identified that only DEDJTR had a comprehensive plan at the time of the 2018 attestation.
It is not surprising that other departments did not have a comprehensive whole-of-department plan by then, as it is a new approach for them. Most have continued to improve their plans since the attestation.
DEDJTR's plan was comprehensive because it:
largely addressed the mandatory requirements
contained enough department-specific information and references to relevant policies and procedures to adequately guide asset management across its asset classes.
We identified examples of good practice for different components of the plans across the other departments. Weaknesses in content were common across most departments. Appendix C describes these characteristics.
One component of the whole-of-department plan that many of the departments struggled with was describing an asset strategy over the entire asset base and asset lifecycle, which is one of the AMAF's mandatory requirements for agencies. The AMAF and its implementation guidance outline what agencies should consider in developing the strategy component. Departments determine what they need to include in their whole-of-department strategy and what is more appropriately included in plans specific to individual asset classes.
Figure 2E provides a good practice example of an approach to the strategy component of a whole-of-department asset management plan, based on what we found in department documents and the AMAF implementation guidance.
Figure 2E
Good practice: Strategy component of a whole-of-department asset management plan
Good practice at a whole-of-department level means that the department understands:
the policy, legal and accountability environment in which it operates
the composition, value and risk associated with its asset portfolio
where to focus activities based on service dependency risks
its asset management service delivery goals and objectives
where it needs to improve across the whole portfolio
how it intends to deliver improvements to achieve its objectives
how it monitors improvements and provides assurance of compliance
how it allocates resources across the portfolio.
Including this strategic information in the plan increases staff awareness of expectations, since the whole-of-department plan has wider exposure than an implementation plan or asset class plans.
Appropriate asset management strategies for the asset classes or portfolio agencies would underpin this approach. Depicted below is one example of a good department-level approach.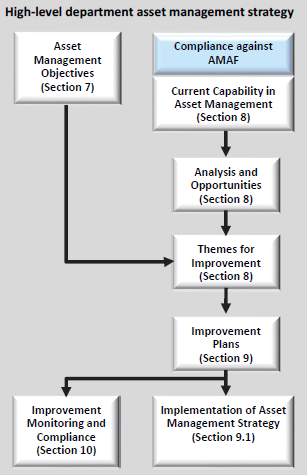 Source: DEDJTR Asset Management Strategy.
Source: VAGO, based on AMAF guidance and good practices observed in departments.
Departments can also improve their whole-of-department asset management plans by incorporating more specific information on how they identify and manage asset risks. Figure 2F describes a good practice example, based on published literature on managing asset-related risks.
Figure 2F
Risk management and contingency planning
Some departments referred to corporate risk frameworks as the basis for their asset risk assessment. However, they did not typically refer to the application of risk assessments in determining which assets are critical to agency performance. Critical assets are those that would have significant consequences if they failed—for example, a bridge. Identifying critical assets enables an agency to determine asset management strategies for, and prioritise expenditure on, those assets that pose the greatest risk.
Asset criticality assessment is a useful tool for identifying critical assets. Criticality assessments can be applied at the departmental level to assess the department's asset risks and can be depicted visually using a 'heat map'. Criticality assessments can also be applied by asset class to gain a better understanding of risk exposures and enable management strategies or actions to be determined.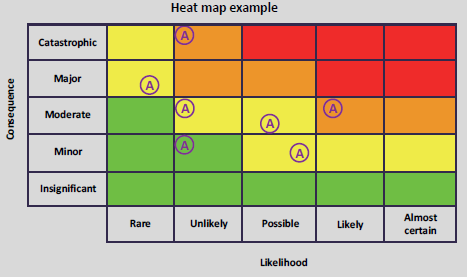 Note: The 'A' points indicate the relative allocation of risk across the different asset classes.
Conventional risk (likelihood and consequence) matrices can be used to support asset risk and criticality assessments provided they contain appropriate consequence categories, such as worker and public safety, customer or community service, or financial or regulatory compliance impacts.
The resulting risk profiles also need to be considered against a department's risk tolerance statement to determine acceptability. Risk profiling in asset classes can best be performed using asset information and data collected to highlight condition and performance.
Asset management strategies best suited to manage the relative criticality of assets can then be identified in line with the department's asset risk tolerance—for example, 'we plan to avoid failure of critical assets'.
Depending on the criticality rating, appropriate management strategies can range from asset performance and condition monitoring, predictive maintenance and planned replacement for critical assets to fix-on-fail strategies for non-critical assets.
Source: VAGO.
Appendix C provides examples of good practices for two other important areas of the AMAF—asset information and performance monitoring—for which we found common weaknesses across most departments.
Updates to asset management plans
All departments have continued to implement the AMAF since the 2018 attestation. Three of the five departments where we identified multiple weaknesses have improved or started improving their whole-of-department asset management plans.
DHHS advised us that it sees the merit in having a whole-of-department asset management plan and intends to develop one when its asset class plans are completed.
2.4 Leadership
The AMAF identifies that 'effective asset management is supported by organisational leaders who promote the principles and policies of asset management'. Half of the AMAF's 41 mandatory requirements and a third of its good practice guidance points relate to leadership. These include the need for senior leaders to:
drive the application of the AMAF, the agency's asset management system and any supporting policies
drive a culture of continuously improving asset management
proactively promote the implementation of the AMAF and asset management more broadly in the agency to ensure that asset management adds value and is not just a compliance process.
The audit assessed the extent to which senior leaders who have asset management responsibilities—such as deputy secretaries—were involved in applying the AMAF and checking compliance with it.
Figure 2G summarises examples of good leadership by senior leaders in three departments. Senior leadership and accountability for asset management was less visible in the remaining four departments.
Figure 2G
Good leadership practices
Leadership actions that drive the AMAF include secretaries:
delegating accountabilities for the AMAF to deputy secretaries with asset management responsibilities
communicating directly with portfolio agencies on their AMAF responsibilities and oversight arrangements
providing input to the whole-of-department asset management plan.
Other leadership actions that drive the AMAF include:
the involvement of executive committees in early decisions about the priority and approach needed to implement the AMAF
the inclusion of senior leaders on the asset management steering committee/reference group to provide direction for the AMAF implementation
the requirement by senior leaders for an objective form of checking compliance before information is sent to the audit committee.
Source: VAGO.
Examples of implementation issues linked to senior leaders being inadequately engaged included:
departments not strongly engaging with DTF's AMAF implementation working group meetings
when senior leaders advised us that the introduction of the AMAF did not affect the on-ground staff, who needed to maintain their assets every day regardless of the AMAF
where there was no identifiable implementation of AMAF by asset classes
when the funding for projects to improve asset management was not approved, senior leaders in one department made funding available from other business areas, while those in another department decided to put the project on hold.
Two of the three departments in which senior leaders were more visibly or actively engaged in the AMAF's implementation and compliance are also the departments that have better approaches to implementing the AMAF and whole-of-department asset management plans.