Compliance with the Asset Management Accountability Framework
Appendix C. Good practices in whole-of-department asset management plans
Figure C1 provides examples of good practices and weaknesses we observed across departments in the content of their whole-of-department asset management plans.
Figure C1
Good practices and common weaknesses in whole-of-department asset management plans
Plan element

Good practices

Common weaknesses

Whole-of-department asset management plan

Overarching policy and framework elements are specific to the department, clearly identify any portfolio agencies they also apply to and focus department efforts in particular areas.

Policy elements are generic, e.g. requiring all asset classes to develop asset management plans but not providing any expectations or guidance on what these need to address.

Policy

Articulates asset management values or principles and decision-making criteria that should influence asset-related activities in a consistent way across all asset classes.

There is a lack of clarity in identifying the values, principles and/or decision-making criteria that direct how a department wants to manage all asset classes and asset-related activities.

Integrated decision-making

Demonstrates alignment with corporate objectives and decision-making.

No information provided on asset management objectives or how these link to corporate objectives.

No information on how asset management decisions are integrated into the department's corporate planning and budget decisions.

Portfolio agencies

Identifies all portfolio agencies and their asset classes.

Identifies that oversight of portfolio agencies' asset management will be provided through existing whole-of-department oversight arrangements or describes separate arrangements needed for some/all portfolio agencies.

Most plans did not identify the departments' portfolio entities, the assets they hold and any role the department may have in the lifecycles of those assets.

They also did not specify any assurance processes that the department needed to follow to oversee their portfolio management responsibilities.

Complexity

Maps asset classes in the department and portfolio agencies and responsibilities for managing them over the asset lifecycle. For example, departments have responsibilities related to assets such as transport, water, hospitals and information technology, even though the assets are owned by a separate entity with its own board.

Most departments identified the complexity rating for their assets and some documented their rationale for this based on the AMAF guidance on assessing complexity.

Departments usually did not include all portfolio agencies with assets in this assessment or use it as an opportunity to check for or clarify their roles in the asset lifecycle.

Risk and criticality

Identifies risk and criticality for all relevant asset classes related to service delivery needs, and uses this information to focus strategies and efforts on the asset classes and aspects of asset management with highest risk exposure.

Describes how asset risks should be identified and managed, but leaves specific risk management planning to the asset class plans.

Departments did not refer to any risk management requirements or the need to use risk and criticality to:

design the scope and content of the plan
focus efforts and resources on high-risk exposures
guide the standards required for different asset classes
design the assurance processes needed to oversee their asset portfolio responsibilities.

Asset management strategy

The strategy specifies that it covers the entire asset base and asset lifecycle and identifies the strategy for managing assets over time to achieve service delivery objectives.

Most department plans have limited or no content on this, e.g. the plan does not outline expectations for all asset owners, including what long-, medium- and short-term planning they need to do to inform overall department planning, prioritising and budgeting processes.

Capability

Includes evidence of how the department considers capacity and capability, and what this showed at a whole-of-department level, or identifies a process to do this, e.g. as a focus of the improvement plan.

Identifies actions to addresses skill gaps, such as training, support guides, recruitment or using external expertise where needed.

Most plans do not provide any information to indicate how the department assesses current capacity and capability of the asset management function and its future needs in these areas and plans to address any gaps.

This should be done in the context of the department's asset complexity, risk and the level of work required to reach a suitable level of maturity or achieve the asset management improvement plan.

Asset information management systems

Outlines requirements for all asset owners related to having appropriate systems and using these to inform asset management.

Few plans provide guidance for asset owners on having an appropriate system for managing asset information, identifying minimum asset information requirements, and demonstrating that asset information is adequately informing asset management and planning decisions.

Performance monitoring, evaluation and review

Specifies performance monitoring, evaluation and review requirements, and how these are integrated into the overall corporate and strategic planning framework.

Most plans referred to the need for asset performance monitoring but provide limited guidance on expectations for how the asset classes should deliver those requirements, or how the department would evaluate and review them for effectiveness.

Arrangements for devolved/ outsourced asset management

Requires contract management processes to include processes to drive adequate resourcing, training and assessment relating to AMAF compliance.

Procurement policies specify the need to include AMAF requirements in contracts.

Most plans do not provide any guidance for applying the AMAF requirements to outsourced arrangements.

Integration with relevant department-wide policies and procedures

Other department-wide policies and procedures/controls that need to be considered in managing assets are referenced in the asset plan, e.g. those related to procurement.

Departments do not signpost the additional policies and controls well in the plans, particularly those considered routine practice across the organisation, such as procurement policies. Referencing them sets a clear expectation that staff will apply them to asset-related activities.

Asset management improvement plan

The plan includes an asset management improvement plan (e.g. as an attachment) or provides a link to a separate improvement plan

Many plans did not clearly link the asset management strategy to the opportunities and actions to improve asset management that were identified through the gap analyses. Sometimes these were in separate plans, but the whole-of-department asset plan documents did not refer to them.
Source: VAGO, from analysis of whole-of-department asset management plans.
The following sections provide good practice examples for two important but often weak areas of the plans—asset information management and performance monitoring, evaluation and review. The AMAF requires departments to understand and report on 'asset management and performance across their portfolios to assist government in making informed resource allocation decisions'. To do this, departments need useful information and data on the performance of their assets and their asset management systems.
This information is valuable for demonstrating that a department is:
efficiently providing services to the community
supporting service delivery by providing the right assets at the right time
enhancing services through better management of existing assets
identifying and managing asset-related risks
maximising value for money by accounting for the full costs of ownership and lifecycle management of assets
driving continuous improvement.
The following examples are based on the AMAF implementation guidance and good practices we observed in departments.
Asset information management
An AIMS should record assets owned by the department, under its direct control and under portfolio agency management, and identify where legislative requirements compel the collection of asset data.
Depending on the department's responsibilities for managing the assets and associated reporting and legislative requirements, the AIMS will need to record details of asset attributes, such as age, locality, function, condition and maintenance costs.
The information included in the AIMS should match identified reporting needs to support asset performance assessment, risk assessment, asset management strategy delivery and assessment. Common types of information include asset replacement values, asset condition and trends, expenditure trends and forecast liabilities.
This requires departments to carefully consider and communicate their AIMS data requirements and reporting needs.
Performance monitoring, evaluation and review
The AMAF requires agencies to have performance monitoring, evaluation and review processes. These processes are part of an agency's asset management system.
The design of a department's performance monitoring and reporting activities should align with its service delivery objectives and assurance requirements and influence the asset information it collects and manages.
The monitoring, assessment, evaluation and review elements commonly provide the following asset-related information:
compliance levels
program delivery
the effectiveness of the department's asset management strategy
asset condition and function
results against key performance indicators.
At the whole-of-department level, it is good practice to have visibility over the overall asset portfolio in the form of reporting, for example, in the form of 'state of the assets' reports, asset portfolio dashboards or asset risk profiles. An example of this is an asset condition report, as seen in Figure C2.
Figure C2
Example of an asset condition report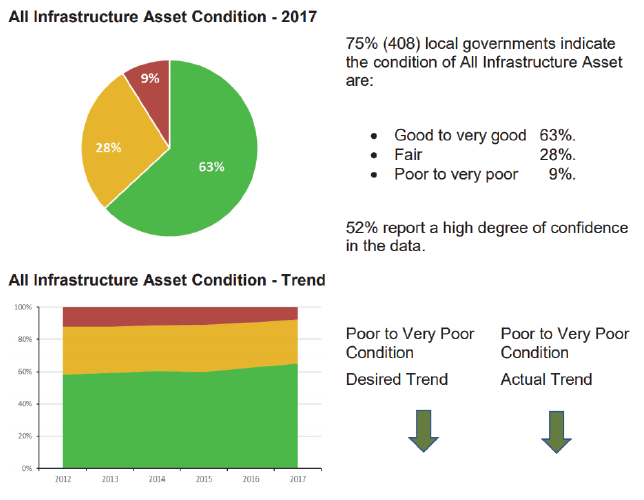 Source: National State of the Assets, Australian Local Government Association, November 2018.