Follow up of Oversight and Accountability of Committees of Management
2 The land management model
In our 2014 audit, we found situations where a CoM overseen by DEPI was not the most appropriate arrangement for managing a Crown land reserve:
Some reserves that had only local significance and use would have been more effectively and efficiently managed by local councils, which were already providing substantial support such as insurance and maintenance, generally through informal arrangements.
Some reserves would have been better aligned with the activities of other government departments.
Some CoMs did not have sufficient volunteers to function effectively, so it was necessary for them to merge with neighbouring CoMs or transfer the management of their reserve to another body such as the local council.
2.1 Summary of progress
Figure 2A summarises our assessment of DELWP's progress in implementing the two recommendations from the 2014 audit that relate to the land management model, as well as progress against the actions it committed to and the updates provided through our annual follow up survey.
Figure 2A
Status of recommendations—land management model
Recommendation

Agency progress

9

That DEPI develop and implement strategies to better identify the most appropriate managers for Crown land reserves, and align reserves accordingly

Incomplete

 

DEPI's committed actions, 2014

 
 

'DEPI is currently developing Crown land assessment criteria to guide determination of the most appropriate manager for a Crown land reserve. This will include seeking to align reserves with the most appropriate department, and engaging with and seeking to reassign to local councils reserves with local-level values—that is, reserves that are not of regional or state significance.'

Criteria have not been developed.
No reserves have been realigned to other departments.
DELWP engaged with City of Bendigo to reassign Crown land reserves but they did not make any progress.

 

DEPI Action Plan, 2014

'The department will undertake engagement with local government to seek opportunities for the reassigning of Crown land reserves with local-level values to obtain the maximum community benefits from community land use.'

 
 

Excerpt from DELWP's response to our 2017 follow up survey

 
 

'A framework to guide the consideration of the most appropriate managers of areas of Crown land has been drafted and pilot work in partnership with the City of Bendigo has been undertaken. Unfortunately, the first proponent of this work and then his successor have moved onto higher priority initiatives within the portfolio … Resourcing for the recommendation is currently under consideration … The major component of this work relates to the aim of local councils assuming management of Crown land reserves where appropriate (where the reserves are of local rather than statewide significance). Work undertaken so far has led to the conclusion that, in a rate capped world, local councils are likely to seek financial assistance from the State to continue to manage reserves currently under their management and will definitely seek financial compensation to take on additional reserves. In the absence of funding to support these efforts, progress will be gradual at best.'

DELWP has not produced the framework it described.
Pilot work with City of Bendigo was an initial discussion but not a partnership or project.
The Municipal Association of Victoria, the peak body for local government, has verified that the rate capping policy is a significant impediment to progress and that councils are not willing to take on additional responsibilities, nor continue some of their existing informal arrangements supporting voluntary CoMs, without additional resources.

10

That DEPI develop and implement strategies to ensure that CoMs have an adequate volunteer base, including by investigating opportunities to amalgamate CoMs

Incomplete

 

DEPI's committed actions, 2014

 
 

'DEPI has committed to investigate opportunities to amalgamate CoMs, where this would provide better management or financial improvements. DEPI has also committed to identifying ways to recognise volunteer service, which should improve volunteer satisfaction and retention.'

DELWP is piloting a new approach to amalgamate CoMs around the Western Port coastline, which it plans to expand to other coastal areas. Discussions about amalgamating CoMs in Waratah Bay in Gippsland have been underway since 2013. No amalgamations have occurred since our previous audit.

 

DEPI Action Plan, 2014

'The department will investigate and influence the amalgamation of CoMs where this would provide better management and financial improvements.'

'The improved categorisation framework will also identify approaches for the recognition of volunteer service suitable for different types of committees.'

DELWP does not monitor where CoMs have inadequate volunteers.
The categorisation framework does not include volunteer recognition.

 

DELWP's response to our 2015 follow up survey

 
 

'In 2015 DELWP conducted a volunteer recognition process for CoMs, involving the presentation of certificates to nominated CoM members, which was very well received by DELWP regions and CoMs. This will now be conducted annually. Additionally, pursuant to Land Administration's long-term response to recommendation 9, Land Administration will seek to identify opportunities to amalgamate CoMs where appropriate.'

DELWP has not repeated the volunteer recognition process that ran in 2015. It has increased its recognition and networking activities for CoM volunteers in some regions and for the 30coastal CoMs.
Source: VAGO.
2.2 Performance improvements
DELWP is considering better arrangements for managing Crown land in some coastal areas, including amalgamating CoMs. A four-year project to streamline land management arrangements across three coastal areas will likely provide some important lessons about the amalgamation process and community engagement. Lessons learnt could be used in other areas, both coastal and beyond, where there are issues with sustainability and appropriateness of the CoMs to manage their reserves. It will be important for DELWP to evaluate and capture these experiences and communicate them for potential broader use.
DELWP has increased its support for volunteers involved in coastal land management—its Coastcare program now includes a volunteer forum, community grants and volunteer awards. Volunteer recognition for non-coastal CoMs varies greatly across different DELWP regions, from established programs to none at all.
DELWP has targeted its support activities to coastal CoMs because it considers them a higher risk. It does not plan to extend this support to all CoMs.
At the local level, DELWP has been engaging with councils to understand the issues they face in supporting CoMs, and to develop solutions around individual reserves as opportunities arise:
In February 2018, DELWP's Hume region began to meet with its councils to discuss various land management issues, including discussions about CoMs on two occasions.
In the Gippsland and the Port Phillip regions, DELWP convenes meetings of all the coastal land managers for wide‑ranging discussions which often touch on CoM issues.
DELWP's Loddon Mallee region convened a meeting with the chief executive officers of its local councils, which included discussion of CoMs. DELWP advised that if reserves managed by voluntary CoMs were to be transferred back to DELWP, they would likely be sold off.
In the Grampians region, DELWP identified two reserves where the council would make a more appropriate manager and initiated the necessary discussions, one of which resulted in a transfer of management.
DELWP has advised that this proactive work with councils is occurring frequently, but poor record-keeping practices limit its ability to demonstrate what is being done.
2.3 Impacts
Since our 2014 audit, six Crown land reserves have been transferred from a CoM to a more appropriate land manager. However, these changes occurred reactively, often at points of crisis. Three of these transfers occurred due to the CoM not functioning adequately. One resulted from community and council concerns about public safety on the reserve and an urgent need for maintenance of the reserve. The other two occurred in response to a request from the relevant local council to facilitate its plans to develop or manage the reserve.
2.4 Residual risks
DELWP has not taken strategic action to identify where Crown land reserves could have more appropriate land managers, and it continues to manage land even when it knows that it is not the most appropriate manager.
During this audit, DELWP advised us that 13 local councils have communicated significant concerns about supporting local CoMs—in some instances, the councils have removed insurance coverage and maintenance support for relevant reserves. The City of Bendigo has communicated its concerns to the responsible minister. During the audit, local government and DELWP were considering a joint workshop to discuss these issues.
At the annual meeting of the Municipal Association of Victoria—the peak body for local councils—in both 2016 and 2017, local councils passed resolutions calling on the state to provide greater support for CoMs managing Crown land reserves, and to work together to access resources.
DELWP has not made any progress in realigning reserves to other government departments whose portfolios better align with the use of the Crown land reserves—for example, transferring hospitals to the Department of Health and Human Services or racing tracks to the Department of Justice and Regulation. DELWP met with the Department of Health and Human Services to discuss the resource burden of leasing arrangements for hospitals. Beyond this, however, we found no evidence that DELWP had broader discussions with any department about transferring the management of Crown land reserves that better aligned with the department's portfolio.
Further, DELWP has not sought to understand where volunteer capacity is inadequate or where the CoM model is not sustainable or effective. DELWP could not advise us how many vacant positions there are on CoMs.
We surveyed volunteers in June 2018. Of the 462 respondents:
26 per cent said they do not have enough volunteers to do the work required to manage their reserve
18 per cent said they do not have enough committee members
19 per cent said that their CoM does not comprise the right skills to manage their reserve effectively
38 per cent were dissatisfied with their CoM's ability to attract new members.
There are many towns where CoMs need to draw large numbers of volunteers from small populations. For example, in the town of Granya in north-eastern Victoria, with a population of 99 people, there are four CoMs comprising 23 volunteer positions—equivalent to 23 per cent of the population. Granya has separate CoMs for the public hall, the public park, the recreation reserve and the local history museum.
Figure 2B shows there are nine towns where filling volunteer positions across their multiple CoMs would require more than 20 per cent of the population to volunteer. This type of analysis could help DELWP to identify priority risk areas for the sustainability of CoMs and opportunities for amalgamations. This is particularly important given our 2014 audit's findings about the ageing profile and declining number of volunteers.
Figure 2B
Towns and suburbs with multiple CoMs that have the highest number of CoM positions relative to their population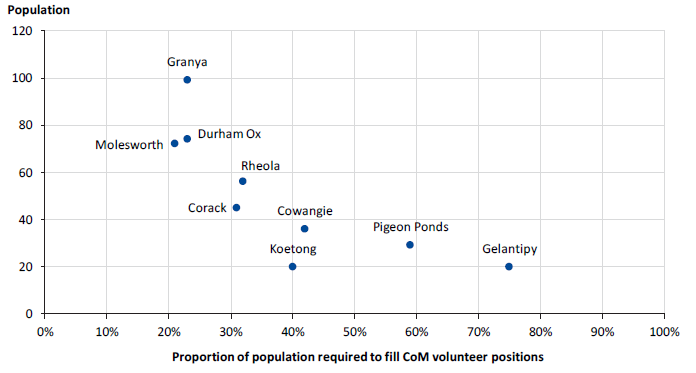 Note: This figure shows only those towns with the highest ratios and with multiple committees. There are additional towns that have very high ratios but only one committee.
Source: VAGO based on DELWP's 'Portal' database of CoMs and Crown land reserves as at March 2018.