Follow up of Oversight and Accountability of Committees of Management
Under section 13A of the Public Administration Act 2004, the secretary of a government department is responsible for 'working with, and providing guidance to, each relevant public entity to assist the entity on matters relating to public administration and governance'.
Our 2014 audit found that DEPI was not providing sufficient support and guidance to CoMs. Gaps in departmental coordination had further reduced the effectiveness of DEPI's support and guidance.
5.1 Summary of progress
Figure 5A shows our assessment of DELWP's progress in implementing the two recommendations from the 2014 audit that relate to guidance and support, as well as progress against the actions it committed to and updates provided through our annual follow up survey.
Figure 5A
Status of recommendations—guidance and support
Recommendation

Agency progress

4

That DEPI develop and implement an engagement guideline to guide its approach to providing support and guidance to CoMs, informed by its revised categorisation framework and the key areas in which CoMs require support and guidance

Incomplete

 

DEPI's committed actions, 2014

 
 

'DEPI has committed to using its revised categorisation framework to develop a tailored approach to providing inductions to CoMs. It is also piloting a CoM engagement program in one region. This program brings CoM members together for a half or full day, provides training and relevant information, offers recognition for volunteer service, and facilitates networking between CoMs.'

VAGO's formal response to DEPI's committed actions, 2014

'While tailored inductions and DEPI's pilot engagement program are good steps forward, DEPI's broader approach to providing support and guidance to CoMs needs to be developed and articulated. A more strategic approach to engaging with CoMs is required.'

Part 2 of the revised categorisation framework details oversight arrangements tailored to categories. However, the arrangements DELWP developed cannot be implemented with its current resources.
DELWP published an induction video for low-risk (Category 3) CoMs on its website in 2016. This has been viewed 406 times.
DELWP could not provide any evidence of the pilot CoM engagement program.
A 'coastal committee forum' was run in 2017 as an induction day for both new and continuing members of four Category 1 CoMs within one region. The forum was attended by 14 of 35 members.

 

DELWP's response to our 2015 follow up survey

 
 

'The completeness of the agreed action has been independently verified by the department's internal auditor and was endorsed by the Risk and Audit Committee for closure in April 2015.'

 

5

That DEPI take steps to improve the support and guidance it provides to CoMs, including:

updating its Committees of Management Responsibilities and Good Practice Guidelines and developing detailed supporting guidance on key issues
consolidating guidance information and useful links for CoMs onto one website
supporting networking between CoMs

Incomplete

 

DEPI's committed actions, 2014

 
 

'DEPI is currently:

updating its CoM guidelines to provide high-level guidance for CoMs, and developing supporting detailed guidance on key areas in the form of fact sheets, tailored to different CoM categories
developing its CoMs webpage to include all existing DEPI guidance material for CoMs, and links to additional guidance and support available from other government and community volunteer support agencies
considering ways to develop networking between CoMs using online engagement and social media.'

VAGO response to DEPI's committed actions, 2014

'These actions will significantly improve the support and guidance that DEPI provides to CoMs. However, DEPI has not indicated that it will prepare any additional guidance materials in some key areas in which they are currently lacking, such as materials tailored to management issues for different types of reserves. The development of further materials should be guided by the engagement guideline proposed in Recommendation 4.'

DEPI Action Plan, 2014

'The department will update the current interim guidelines. The final guidance will be endorsed and published online.'

'The department will provide easy access to current information and useful links relevant to CoMs on one department webpage. This will include links to existing materials on the DEPI website which are relevant to CoMs, links to information about grants available to CoMs and other useful websites and resources.'

'The department will investigate the development of online engagement with CoMs via social media.'

DELWP finalised the guidelines and had them endorsed by the Minister for Environment and Climate Change. However, the guidelines are only directed to Category 3 CoMs.
DELWP has published three fact sheets and four model policies online.
A single website consolidates information for Category 3 CoMs. CoMs in Category 1 and 2 are redirected to DELWP's general good governance guides. No formal guidance is directed to Category 4 CoMs.
DELWP convened an online engagement workshop with CoM volunteers. While this group concluded that social media was not an appropriate strategy for developing CoM networks, the Grampians region proceeded with this approach. Its Facebook group has101 members—6 per cent of CoM members in the region.
DELWP sends a statewide email newsletter to CoMs once or twice per year.
The Hume region's governance training pilot and the Barwon region's induction days both provide networking opportunities for CoM members.

 

DELWP's response to our 2015 follow up survey

 
 

'The completeness of the agreed action has been independently verified by the department's internal auditor and was endorsed by the Risk and Audit Committee for closure in June 2015.'

 
Source: VAGO.
5.2 Performance improvements
During our audit, one region was piloting a governance training program modelled on a course from the Australian Institute of Company Directors. Volunteers from 70 CoMs participated in the training to learn about their duties and responsibilities, finance, strategy and risk, and received a workbook about effective governance. The program cost $78 000 plus 626 hours of DELWP staff time, excluding extensive travel time. DELWP is conducting an evaluation of the course, but it is not yet complete. There was no evidence that DELWP would continue the training program or expand it to other regions.
DELWP is in the very early stages of considering a coaching program for high-risk (Category 2) CoMs. It has identified that such a program needs to focus on increasing volunteers' understanding of their roles and responsibilities, insurance, risk management, governance skills and reporting requirements. However, DELWP has not allocated resources to the program and it did not provide evidence that it had committed to implement it.
Two regions have conducted an in-person induction session for high-risk CoMs—one was a presentation at a meeting of a newly formed committee, and the other brought together the four coastal CoMs in the region for a coastal committee forum. Both new and existing members were encouraged to attend.
DELWP has increased the volume of information it distributes to CoMs through a statewide newsletter, a consolidated website for Category 3 CoMs and an induction video. Individual regions have also introduced a Facebook group and a newsletter. In comparing the results from our June 2018 survey to the 2012 survey, CoM volunteers now report that they consult the DELWP website for information more frequently than they did previously—12 per cent of respondents in 2018, up from 8 per cent in 2012. However, DELWP has not monitored or evaluated the uptake and effectiveness of these mechanisms.
5.3 Impacts
One CoM did not understand its need to insure the assets on its reserve, so when their building, a 125-year-old courthouse, burnt down in an accidental fire in June 2016, it remained derelict and the CoM had to redirect its efforts to raise $1 million for repairs. This example reflects a basic misunderstanding of the CoM's obligations. DELWP is responsible for providing guidance on such matters, but it is not doing this effectively.
The need for building insurance is noted in chapter 11 of DELWP's Committees of Management Responsibilities and Good Practice Guidelines. We assessed this document at a grade 11 reading level, which is too high for public guidance. In our survey, only 42 per cent of CoM volunteers reported using these guidelines, which has decreased from 50 per cent in 2012. Surveyed CoM volunteers assessed the guidelines' usefulness as average.
5.4 Residual risks
DELWP's regional offices are primarily responsible for DELWP's engagement with CoMs. During our audit, DELWP staff repeatedly described their day-to-day approach as 'reactive crisis management'. This was reiterated by CoM volunteers in our 2018 survey:
I would like to see each member sent a copy of the guidelines and strategic planning training offered to assist on making the management of the reserve more than a series of responses to problems.
DELWP is not fully implementing the oversight arrangements it developed after our 2014 audit. Figure 5B shows seven substantial oversight requirements that are not being implemented in all regions. There is an especially low level of oversight occurring in Barwon region which has four high-risk (Category 1) CoMs. No DELWP region is making annual contact with its Category 4 CoMs or running induction days for high-risk (Category 2) CoMs.
DELWP's regional managers advised us that they could not meet all their documented oversight responsibilities with their available resources. However, during the audit, DELWP created and advertised six new positions, one in each region, for CoM coordinators—this role will lead a project to increase the capacity and capability of CoMs and provide a greater level of oversight and support to CoMs. These additional resources should increase DELWP's capacity to implement its oversight arrangements.
Figure 5B
Implementation of oversight requirements by DELWP regions
Oversight requirements(a)

DELWP regions

Barwon

Gippsland

Grampians

Hume

Loddon Mallee

Port Phillip

Annual appraisal of Category 1 CoMs

✘

n/a

n/a

✘

n/a

✘

Induction day for Category 1 CoMs

1 session for coastal
CoMs; others online

n/a

n/a

1 session with
a new Category 1 CoM

n/a

✘

Induction day for Category 2 CoMs

✘

✘

✘

✘

✘

✘

Client manager appointed to Category 1 CoMs

✘

n/a

n/a

✔

n/a

✔

Client manager appointed to Category 2 CoMs

✘

✔

✔

✔

✔

✔

Three-yearly appraisals of Category 2 CoMs

✘

1

✘

✘

1 underway

✘

Annual contact with Category 4 CoMs

✘

✘

✘

✘

✘

✘
(a) Compiled from DELWP's categorisation framework, 2016 –17.
Source: VAGO based on our survey of DELWP regional managers, Land and Built Environment.
Uptake of the new communication tools that DELWP has developed is low, with:
only 6 per cent of the Grampians region's CoM volunteers becoming members of its Facebook group
only 72 per cent of CoMs receiving DELWP's statewide newsletter
the induction video being viewed only 406 times.
To help CoMs apply for grants to manage their reserves, DELWP has added some links to its CoMs webpage, but it is unclear how effective this approach has been—in our survey, 25 per cent of CoM volunteers reported not receiving any information about grants, and 51 per cent reported not receiving any guidance or support on applying for grants.
Because all the new communication tools are distributed by email or online, the 28 per cent of CoMs who do not have an email address for their chair or secretary recorded in DELWP's database are not receiving any increase in communication.
In our survey, 62 per cent of CoM volunteers were not satisfied with the support and guidance provided by DELWP. More specifically, 27 per cent said DELWP never initiated contact with their CoM. This has increased from 19 per cent reporting no contact from DELWP in a 2012 survey—an increase that is statistically significant. The group that reported receiving no contact from DELWP in our 2018 survey included eight high-risk CoMs (Category 1 and 2) and included CoMs across all DELWP regions. There was significant regional variation in these results which suggests that DELWP's regions take different approaches to engaging with their CoMs.
Despite the recommendations from our 2014 audit, DELWP still does not consistently induct new committee members to help them to understand their roles and responsibilities. In our 2018 survey, 27 per cent of CoM volunteers who had been appointed since our 2014 audit reported receiving no induction to their role. A further 30 per cent reported only receiving an induction from their local CoM which did not include information from DELWP.
Local councils provide a significant amount of support and guidance to CoMs despite not being resourced or necessarily equipped to do so.
Figure 5C shows that when CoMs dealt with a significant issue on their reserve, they sought assistance equally from DELWP and their local council as a first point of contact (40 per cent and 41 per cent respectively). For general matters, 34 per cent of respondents contacted a DELWP regional representative first, while 55 per cent contacted their local council first. Similarly, 16 per cent of CoMs identified DELWP's Committees of Management Responsibilities and Good Practice Guidelines as their most common source of information while 42 per cent mostly consulted their local council's website. Of those who contacted DELWP for assistance with a significant issue, 26 per cent reported they had not received a timely and appropriate response.
Figure 5C
Responses to our 2018 survey: DELWP versus local councils as first or major source of information or support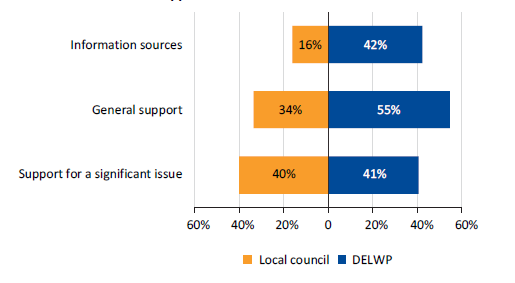 Source: VAGO survey of CoM members, June 2018.
One of the responses to our survey demonstrated the impact of CoM volunteers not understanding DELWP's oversight role:
I didn't even know that DELWP was able to help our committee until a member came to sort out a dispute on our committee and I went to a governance training day. Unfortunately, this is 2.5 yrs into my 3 year term on the committee and I would've loved to have found this out earlier!
Communication methods that DELWP has introduced since our 2014 audit remain one way, from DELWP to CoMs. DELWP does not monitor the usefulness of its communication to CoMs nor their uptake.
Our original 2014 audit found that there could be numerous benefits in connecting CoMs that were managing reserves with similar purposes and similar issues—particularly when the CoMs were managing sites with complex technical requirements, such as cricket grounds, racing tracks or historic sites. This finding and the related recommendation drew upon research by Victoria University that recommended a 'communities of practice' model to connect CoMs with similar purposes to each other and to relevant experts within DELWP and peak bodies. Victoria University's research recommended using online communication to build these connections.
DELWP made one attempt to convene a meeting of the sixteen CoMs in Melbourne that manage public halls and mechanics institutes. DELWP could not provide us with evidence that a meeting took place or that networking occurred. DELWP has not acted on this opportunity that we highlighted in our original 2014 audit.