Follow up of Oversight and Accountability of Committees of Management
3 Understanding risks and needs
Under the Victorian Government's 2016 Asset Management Accountability Framework, DELWP has a statutory responsibility to know what assets are on Crown land reserves and what condition they are in.
Our 2014 audit found that DEPI did not adequately collect, collate and analyse information about CoMs and their performance. It was not using available information to inform its support and guidance. There were significant gaps in DEPI's internal coordination of CoMs. We also found that DEPI was only considering the financial risks of CoMs when there can also be considerable environmental and social risks involved with managing land.
These findings resulted in five recommendations that focused on the need for DELWP to analyse, review or evaluate CoMs' operations to better understand risks associated with the CoM model.
3.1 Summary of progress
Figure 3A shows our assessment of DELWP's progress in addressing the five recommendations from the 2014 audit related to understanding CoMs' risks and needs, as well as progress against the actions it committed to and updates provided through our annual follow up survey.
Figure 3A
Status of recommendations—understanding risks and needs
Recommendation

Agency progress

1

That DEPI further develop its categorisation framework for CoMs, based on an analysis of financial, social and environmental risks

Incomplete

 

DEPI's committed actions, 2014

 
 

'DEPI has committed to further develop its categorisation framework to include consideration of social and environmental risks as well as financial risk.'

DEPI Action Plan, 2014

'The department will commit to developing the CoM Categorisation in consultation with regional and corporate staff to provide a tailored approach to induction, reporting, governance and compliance requirements for each category of CoMs.'

DELWP has added nine non‑financial risks to its categorisation framework, covering significance, political interest, coastal land and multiple governance arrangements, plus regional discretion of a need for greater oversight.
DELWP has not analysed risks. The process and information which informed the new non‑financial risks was limited to internal discussions that it did not document.
DELWP contends that 'significance' is a sufficient social risk and escalating coastal committees to higher risk categories is sufficient consideration of environmental risks. DELWP also advises there are reserves with significant historical or cultural values that are still categorised as low risk because of limited resources.

 

DELWP's response to our 2017 follow up survey

 
 

'The completeness of the agreed action has been independently verified by the department's internal auditor and was endorsed by the Risk and Audit Committee for closure in April 2015.'

The documentation that informed the internal audit rating of 'complete'did not reference the full recommendation, including the risk analysis component.

6

That DEPI evaluate its current collection and use of information, identify any shortcomings, and develop and implement a strategy to guide information collection with respect to CoMs and their management of Crown land reserves

Incomplete

 

DEPI's committed actions, 2014

 
 

'DEPI has committed to evaluating how it currently uses the information that it collects. It will centrally review and analyse information reported to date by CoMs through annual returns and will distil and refer any issues identified to regional offices for follow-up.

DEPI has also committed to using its revised categorisation framework to tailor and streamline the annual reporting information it seeks from CoMs. DEPI will tailor its template for annual returns across CoM categories, such that it requests a greater range of information from higher-risk CoMs than is currently sought and less information is sought from lower-risk CoMs, with the template requesting summary financial details and providing an opportunity for CoMs to raise issues.'

DELWP has not undertaken this evaluation of information it collects or the review of information that CoMs have reported through their annual returns to date.
DELWP has recently started to centrally analyse and report on annual returns from the high-risk (Category 1 and 2) CoMs.

 

DEPI Action Plan, 2014

Nil.

DELWP only reviews annual returns from Category 3 CoMs to determine whether their expenditure warrants an increase in their categorisation. Otherwise, the information collected is only accessed reactively.
DELWP has tailored reporting requirements across CoM categories.

 

DELWP's response to our 2015 follow up survey

 
 

'DELWP reviewed the range of information sought from CoMs via the annual return process which is the primary information collection method. Information sought from category 1 CoMs has been made more comprehensive and consistent whereas information sought from category 3 CoMs has been reduced. In addition, a simpler declaration of private interest form has been introduced for category 3 CoMs.

All CoMs that are subject to divisions 2 and 3 of part 5 of the Public Administration Act 2004 have been made aware of the associated requirement for three yearly audits of their financial statements.

Other ongoing CoMs (over 90 per cent) are incorporated associations which are subject to a governance framework pursuant to the Associations Incorporation Act 2012; in this context the CoM Categorisation Framework provides that DELWP's involvement with these CoMs will be confined to issues that are specific to Crown land.'

DELWP did not provide evidence of its review of the information sought from CoMs.
Commencing July 2015, DELWP revised its reporting processes, requiring:

CoMs in Category 1 to provide their annual report
CoMs in Category 2 and 3 to submit annual return templates, with a chairman's report (for Category 2) or a section bringing issues to DELWP's attention (Category 3)
CoMs in Category 4 (also known as 'ongoing') no longer report to DELWP—DELWP no longer has any oversight of these CoMs and it contends that this is appropriate.

7

That DEPI clarify staff roles and responsibilities relating to committees of management through group and work performance plans

Incomplete

 

DEPI's committed actions, 2014

'DEPI has established a cross-organisational project team responsible for leading the CoM initiatives it has committed to. It is developing project plans for each of the initiatives that will clearly identify and allocate responsibilities across these projects.

More broadly, DEPI has also indicated that it is undertaking a business planning collaboration project, which is aimed at ensuring that business plans for DEPI's six regions and for DEPI's policy groups are aligned, assign responsibilities and accountabilities, and avoid duplication.'

VAGO's formal response to DEPI's committed actions, 2014

'These actions will improve the clarity of responsibilities. However, DEPI should take steps to ensure that it systematically identifies and clearly allocates all organisational responsibilities for CoMs.'

The project team was short term, and this recommendation relates to ongoing responsibilities that are a separate matter.
DELWP articulates specific oversight roles and their responsibilities in its categorisation framework for CoMs. However, the roles described in the framework exceed its resources, so roles and responsibilities remain unclear.
DELWP has not documented internal responsibilities such as reviewing annual returns or following up on them.
There is significant variation, by region and over time in how roles are allocated and carried out.

 

DEPI Action Plan, 2014

'The department will determine who is responsible for the ongoing development and publication of consistent information and guidance for CoMs.'

DELWP's response to our 2017 follow up survey

'The CoMs categorisation framework provides tailored governance and oversight for each of the four CoM categories. Simpler annual return templates and declaration of private interest forms are now in place for smaller CoMs. Additionally, the development of the categorisation framework has helped to clarify DELWP roles relating to CoMs.'

There is no evidence that the collaboration project that DEPI described has improved responsibility for CoMs. Machinery-of-government changes and restructures of the regional offices since the 2014 audit potentially make the collaboration project redundant.

8

That DEPI develop and implement an internal communication strategy outlining formal and informal communication channels to improve information sharing across the department on issues relating to CoMs

Incomplete

 

DEPI's committed actions, 2014

 
 

'DEPI has taken steps to improve internal communication regarding CoMs. It has established a cross-organisational project team with responsibility for implementing DEPI's CoM initiatives, which includes staff from regional offices and from head office. Public land program managers from each region—who have lead responsibility for DEPI's public land roles, including CoMs—are now meeting on a monthly basis, with the project team chair attending these meetings.'

VAGO's formal response to DEPI's committed actions, 2014

'These steps should significantly improve communication across DEPI regarding CoMs. However, DEPI should go further to formalise its communication channels and processes, as this is important to ensure improved information sharing.'

DEPI Action Plan, 2014

'The department will ensure information on the risks is effectively communicated to decision-makers.'

During the audit, DELWP has committed to establish a whole‑of‑department reporting process for monitoring risks and actions related to CoMs, with a single DELWP executive responsible and the risk and audit committee auditing the process by March 2019.
DELWP has not developed an internal communication strategy.
Regional managers of the public land program continue to meet monthly.
There is no evidence that DELWP has formalised communication channels.

 

DELWP's response to our 2015 follow up survey

 
 

'The development of the categorisation framework has clarified the roles and responsibilities relating to CoMs in DELWP. Further improvements have been identified for implementation.

Additionally, DELWP's "Information for CoMs" web page has been reconfigured accordingly. It includes linkages to the updated "Responsibilities and Good Practice Guidelines" (which include many useful linkages including to the WoVG grants page), guidance notes and model policies.'

The 'Oversight' chapter of the categorisation framework identifies some roles and responsibilities but does not address how DELWP should communicate or manage issues internally.
The guidelines do not suffice as an internal communication strategy.

11

That DEPI develop an informed approach to understanding the funding needs of CoMs, so that funding decisions appropriately consider and address risks, including the sustainability of CoMs

Incomplete

 

DEPI's committed actions, 2014

 
 

'DEPI has committed to provide information about grant opportunities and guidance on preparing grant applications on its CoMs website. DEPI has also acknowledged the need to develop a better understanding of CoMs' funding needs, so that it can allocate funds to best address risks, and ensure that the government is aware of the potential consequences of funding arrangements. Other actions that DEPI has committed to, particularly in regard to Recommendations 6 and 8, will assist it to achieve this.'

DEPI Action Plan, 2014

Nil.

DELWP has not taken any strategic action to understand CoMs' funding needs. Grants programs collect information that could increase DELWP's understanding of CoMs' funding needs, but there is no evidence that it uses applications for grants programs in this way.
One regional manager maintains an informal spreadsheet of CoMs' funding needs, which total $169 million.
DELWP has added a link to Grants Victoria in the guidelines. It also includes links to grant opportunities in the CoMs email newsletter two to three times per year.
DELWP has not provided guidance on preparing grant applications.

 

DELWP's response to our 2015 follow up survey

 
 

None. The survey response duplicated a response to another recommendation and did not relate to funding needs so appears to be an administrative error in DELWP's completion of the survey.

 
Source: VAGO.
3.2 Performance improvements
DELWP has introduced nine non-financial criteria for categorising CoMs—shown in Figure 3B—which consider the significance of the land, political interest in the land, whether the land is coastal and whether the CoM is subject to a governance framework separate to the Crown Land (Reserves) Act 1978. There is an additional criterion that allows regional staff to apply their local knowledge and discretion to recommend a higher level of oversight.
DELWP reports that this is an effective and appropriate risk management approach and that it considers all financial, social and environmental risks. However, this approach is not consistent with the methods for assessing the value and significance that DELWP's own entities have developed, discussed further in Section 3.4.
Figure 3B
DELWP's new non-financial criteria for categorising CoMs
Category

Non-financial criteria

Category 1

Crown land is of statewide significance.
Crown land is likely to generate statewide political interest.

Category 2

Crown land is of region-wide significance.
Crown land is likely to generate region-wide political interest.
The CoM manages coastal land and is not a Category 1 CoM.
The CoM manages multiple reserves of combined significance.
A major development is underway, and the CoM is not Category 1.
The region has determined that the CoM would benefit from being assigned a client manager.

Category 3

n/a(a)

Category 4

CoMs and other DELWP-delegated land managers that are subject to a governance framework separate to the Crown Land (Reserves) Act 1978,but which remain accountable to the Minister for Energy, Environment and Climate Change as Crown land manager.
(a) There are no specific criteria for CoMs in Category 3. DELWP defines CoMs in this category as those 'which DELWP has full oversight responsibility for that do not qualify as a Category 1 or Category 2 CoM'.
Source: VAGO based on DELWP's categorisation framework, 2016−17.
DELWP uses the four categories defined in its categorisation framework to scale the intensity of its planned oversight of CoMs. While DELWP has documented these oversight arrangements, it has not fully implemented them in critical areas that the framework prescribes, including annual reviews, site inspections and annual contact.
DELWP has acknowledged repeatedly that it has poor-quality information on the location, type, age, integrity and use of many assets on Crown land reserves managed by CoMs. In June 2018, DELWP engaged a contractor to deliver a $2.7 million project to improve its Crown land information and business systems by 31 December 2019. This may improve DELWP's understanding of the assets for which it is responsible, however, it is too early for us to examine how well this project will address the risks identified in our 2014 audit.
3.3 Impacts
DELWP acknowledges that poor information inhibits its ability to strategically manage CoMs. In advice to government in May 2018, DELWP described this limitation:
With poor information constraining the capacity for DELWP to make strategic decisions in relation to funding and supporting efforts across all CoMs, efforts tend to concentrate on areas that are 'broken' creating a highly reactive rather than proactive approach to public land management.
The same advice also noted that DELWP's lack of data about Crown land reserves, combined with degrading facilities, is responsible for some of the insurance claims that DELWP faces. For the five years from 2013 –14 to 2017 –18, DELWP paid $2.01 million on 25 insurance settlements for below-excess claims on Crown land reserves managed by voluntary CoMs. The Victorian Managed Insurance Authority paid an additional $3.6 million in the same period for four above-excess claims. These six claims per year on average remain a small portion of the 80 claims per year across DELWP's portfolio.
Where public land is not managed and maintained appropriately, risks to public safety can arise, especially when reserves contain sporting facilities or very old buildings, which are common on Crown land reserves managed by CoMs. DELWP's May 2018 advice acknowledged also that 'many [facilities] have deteriorated to the point that they expose users to risk of serious injury or death'.
In our survey, CoM members detailed 106 examples of public safety risks that they were managing on their reserves. The types of risks include:
infrastructure or vegetation that is a fire risk
buildings that expose users to injury
dangerous trees
roads or tracks that need to be upgraded
insufficient lighting for safety
sporting grounds that are dangerous to play on
inadequate fencing
car parks that cause safety problems
buildings that contain asbestos
fire safety equipment in need of an upgrade.
The case study in Figure 3C provides an example of ageing assets that pose a risk to public safety.
Figure 3C
Case study: Melbourne's former Royal Mint
The former Royal Mint in Melbourne has 140-year-old brick walls up to 5.4 metres high around its perimeter. Specialist surveyors had monitored the walls' condition over the past 15 years and recommended a full engineering assessment in 2013. On the Building Commission's advice, the surveyor recognised similarities to an incident in Swanston Street earlier that year, where masonry walls collapsed and killed three people. Despite the surveyor's recommendation, an assessment of the Royal Mint's brick walls was not conducted for a further three years.
The March 2016 engineering assessment commissioned by the site's CoM found that it was extremely likely that the walls could collapse outward onto the footpath and adjoining buildings at any time. The walls run along the busy thoroughfares of Latrobe and Little Lonsdale streets, making this assessment a significant public safety risk.
In April 2018, DELWP sought the minister's necessary endorsement so that the CoM could seek a loan to finance the repairs and, at the time of this follow up audit, repairs had commenced.
The Royal Mint's CoM first identified this issue when it started managing the site in 1998. This means that a significant public safety risk had been known about for 20 years and was known to be at a critical level for two years since the 2016 assessment before repairs commenced.
The CoM managing the Royal Mint is a high-risk (Category 1) CoM known as Working Heritage Inc. As a Category 1 CoM, it receives the highest level of oversight and support from DELWP, but this was still not sufficient to address this very serious risk promptly.
Source: VAGO.
Dangerous trees are another risk to public safety on public land, but some CoMs cannot manage this risk effectively. In our survey, members provided 22 detailed reports of dangerous trees that their CoM was concerned could pose a risk to public safety. As an example, one high-risk (Category 2) coastal CoM engages an arborist every year to review and manage its highest-risk trees. The arborist consistently advises the CoM to do further work to protect public safety on its reserve, which includes a camping ground where serious incidents have occurred as a result of falling trees. However, the CoM lacks the financial and other resources to do so.
In 2017–18, DELWP's grants program Public Safety on Public Land awarded 12 of the 27 grants it made to CoMs for removal of dangerous trees. This grants program cannot fund all applications it receives each year, and it only seeks applications on advice from DELWP staff. Given the sporadic nature of DELWP's oversight of CoMs, this process is unlikely to be capturing all of the cases where CoMs need assistance to manage dangerous trees.
3.4 Residual risks
DELWP does not adequately understand the risks that exist on Crown land reserves managed by CoMs. It therefore cannot target its resources to the areas of greatest risk and need.
In 2015–16, an independent risk assessor engaged by DELWP's Public Safety on Public Land grants program made five recommendations about DELWP taking a more strategic approach to identifying and managing public safety risks on Crown land reserves. Its recommendations included ensuring that CoMs specifically improve their risk identification and reporting. However, there is no evidence that DELWP has acted in response to this advice.
The approach to assessing risks and needs of CoMs which is prescribed by DELWP's categorisation framework for CoMs is not robust or transparent and is inconsistent with approaches developed by its own entities. The framework does not define several key concepts in the criteria used to categorise CoMs, despite definitions existing in other DELWP documents.
The Victorian Government Land Use Policy and Guidelines (2017) state that determining the value of government land requires assessment of environmental, economic, social and intergenerational impacts and details the types of issues that should be considered, as shown in Figure 3D. The Heritage Council of Victoria also provides a detailed methodology for assessing whether places or objects have cultural heritage significance. The Victorian Government's Strategic Crown Land Assessment Policy and Guidelines (2017) identify four tiers of significance—local, regional, state and national—and provide definitions for each.
Figure 3D
Public value indicators defined by the Victorian Government Land Use Policy and Guidelines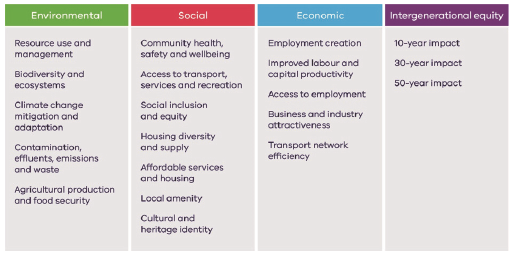 Source: Victorian Government Land Use Policy and Guidelines, 2017.
When a Crown land reserve is created, it has a specific purpose registered as the reason for reserving that land for public use. During this audit, DELWP staff reported that there are reserves with significant cultural heritage that would benefit from higher categorisation which would, in turn, result in greater DELWP oversight, to ensure their CoM is managing them appropriately.
There are 31 reserves currently categorised by DELWP as low risk (Category 3) whose purpose is registered as conserving a natural, scientific or historic interest, including an Aboriginal cemetery and a war memorial. Figure 3E shows nine of these low-risk reserves whose cultural significance has been formally recognised with a heritage or similar listing. DELWP has not implemented stronger governance arrangements for these significant reserves because its regional offices do not have the capacity to provide additional oversight.
Figure 3E
Crown land reserves assessed as low risk (Category 3) that have been formally recognised as significant
Reserve

Listing

Carman's Tunnel Historic Reserve

Victorian Heritage Inventory

Coleraine Historical Court House Reserve

Southern Grampians Shire

Knob Recreation Reserve

Gunaikurnai Settlement Agreement under the Traditional Owner Settlement Act 2010

Moliagul Historic Interest Reserve

Victorian Heritage Register

Mount Macedon War Memorial Cross Reserve

Victorian Heritage Register

Psyche Bend Historical Reserve

Victorian Heritage Register

National Trust

Suggan Buggan Old School House

National Trust—file only(a)

The Pines

Victorian Heritage Register

Trentham Police Camp Reserve

National Trust—file only(a)
(a) 'File only' means the National Trust retains a file on the reserve but it is not officially classified.
Note: This list is limited to reserves managed by Category 3 CoMs that were gazetted for historical, conservation or preservation reasons and are also recognised on a heritage register or list, as well as other reserves managed by Category 3 CoMs whose significance was identified through this audit. A full analysis of every reserve and its significance is likely to identify additional reserves that meet these two criteria.
Source: VAGO based on the Victorian Heritage Database and DELWP's Portal database as at March 2018.
DELWP does not analyse the non-financial information that it receives through annual returns from the 1 020 low-risk (Category 3) CoMs that are required to report annually, and the information is only used sporadically and reactively.
DELWP's central program area and six regional offices share responsibility for implementing its support and oversight arrangements. Despite this shared responsibility, there is no structure or process for coordinating these responsibilities aside from an informal monthly meeting of regional managers.
In our 2014 audit, we identified five areas requiring either evaluation or analysis:
social and environmental risks on Crown land reserves
funding needs of CoMs
sustainability of CoMs
information that the department collects from CoMs and how it uses it
the support and guidance needs of CoMs.
Since the original audit, DELWP has not evaluated or analysed these issues. While it has taken action in some of these areas, as described in Figure 3A and Section 3.2, the appropriateness of those actions cannot be assured, because they were not informed by analysis that we recommended in 2014.
The poor quality of information that DELWP holds about Crown land reserves and CoMs, combined with poor information systems and record-keeping practices, have contributed to its inaction in fully understanding the risks and needs of CoMs. DELWP's current work to improve Crown land information and business systems, due for completion at the end of 2019, is positive and should increase DELWP's capacity to understand the risks and needs of CoMs. However, it was at a very early stage during this audit.