Local Government: 2015–16 Audit Snapshot
In this Part we detail the outcomes of our financial audits of the local government sector for the 2015–16 financial year. We discuss the main reasons for the combined net result achieved by the 79 councils, and focus our analysis on the five council cohorts.
We also comment on the internal control matters we found during 2015–16, and provide an update on matters raised in previous audits.
2.1 Financial audit outcomes for 2015–16
2.1.1 Financial report opinions
Independent audit opinions add credibility to financial reports by providing reasonable assurance that the information reported is reliable and accurate. A clear audit opinion confirms that the financial report presents fairly the transactions and balances for the reporting period, in accordance with the requirements of the applicable accounting standards and relevant legislation.
All 79 councils were issued with clear audit opinions for their financial statements for the financial years ended 30 June 2015 and 30 June 2016.
At the date of reporting, 10 regional library corporations and 14 associated entities had been issued with clear audit opinions for their financial statements for the financial year ended 30 June 2016. The audit of one regional library corporation is still to be finalised.
2.1.2 Performance statement opinions
Councils' performance statements contain 90 performance indicators, of which we audit 30. Our audit opinion notes that the performance statement presents fairly, in all material respects, the outcome of the audited performance indicators.
We issued all 79 councils with clear audit opinions for their performance statements for the financial years ended 30 June 2015 and 30 June 2016.
2.2 Council financial results
Figure 2A summarises the key financial balances of the local government sector—comprising the 79 councils—for the financial year ended 30 June 2016. The sector generated a net surplus of $1.6 billion ($1.5 billion in 2014–15).
We measure financial performance using net result—the difference between revenues and expenses. We measure financial position as the difference between total assets and total liabilities.
Figure 2A

Key balances for local government sector for the financial year ended 30 June 2016
Cohort

Revenue

$ million

Expenditure

$ million

Net result

$ million

Net assets

$ million

Metro

4 000.6

3 441.3

559.3

44 561.0

Interface

2 428.9

1 626.6

802.3

17 875.5

Regional city

1 373.5

1 205.2

168.3

9 875.3

Large shire

1 126.9

1 060.1

66.8

9 731.0

Small shire

447.7

447.8

–0.1

4 087.5

Total

9 377.6

7 781.0

1 596.6

86 130.3
Source: VAGO.
Figure 2B shows the net result of the cohorts for the financial years 2011–12 to 2018–19. The information for this figure, and all analysis in this Part, has been drawn from:
councils' audited financial statements for the 2011–12 to 2015–16 financial years
councils' 2016–17 budget, which contains forward estimates for the 2016–17, 2017–18 and 2018–19 financial years—this information has not been audited.
Figure 2B

Net result per council cohort for years ended 30 June 2012 to 2019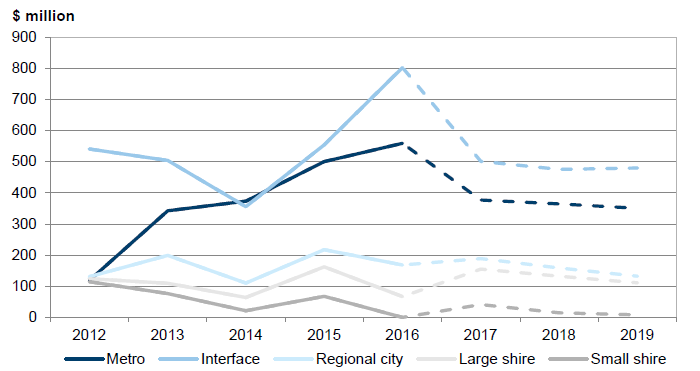 Note: Dashed line represents budgeted forward estimates.
Source: VAGO.
The net result for the sector at 30 June 2016 was a $100 million increase on the prior year. Two key revenue changes affected this result:
timing of grant funding provided to councils—which reduced revenue, due to half of the funding being received in the prior year
growth in developer contributions—which increased revenue.
Financial assistance grants
The combined net result of the 79 councils is influenced by the timing of payments of the financial assistance grant from the Commonwealth Government—received through the state government. This grant is provided to councils each year, to be used towards the provision of council services. Under Australian Accounting Standard AASB 1004 Contributions, councils are required to recognise this income in the financial year it is received, even if it relates to the provision of services in the following financial year.
In recent financial years, councils have sometimes received a portion of the grant early. The first payment for 2015–16 was received in June 2015. This resulted in additional revenue of $269.8 million, which councils would ordinarily have recorded in 2015–16, being recorded in 2014–15.
During 2015–16, councils received the balance of their financial assistance grants for that financial year, but the first payment of their 2016–17 grant was paid in 2016–17. This meant that councils recognised only $269.6 million grant income in 2015–16, compared to $811.5 million in 2014–15.
In 2014, the Commonwealth Government announced that it would stop indexation of the financial assistance grant until 2017–18. This means that the total value of the grant provided to Victoria will be similar each year until 2017–18, and may not reflect the cost increases councils incur as they provide services to their communities. As a result, councils will need to ensure they have other funds available to meet any shortfall in grant funding.
Developer contributions
Developer contributions are received either as cash or physical assets (in-kind contributions) when a new community has been built. The council then maintains the assets on an ongoing basis. Items include infrastructure—footpaths, roads, drainage—or community buildings, such as a school or library. Alternatively, the developer will provide cash to enable the council to build these items as required. Both types of contribution are recognised as revenue when they are handed over to the council.
While total in-kind developer contributions are recognised as revenue up front, councils have an ongoing obligation to maintain the assets they receive and also to spend developers' cash contributions on community assets.
Interface councils generated the largest surplus in most of the last five financial years. This reflects their 'growth council' status—which means that they undertake more community development than other councils. This results in these councils receiving more developer contributions than other councils each financial year. The peak in 2015–16 was driven by $692.4 million in contributions, a 54.7 per cent increase on the $447.7 million they received in 2014–15.
2.3 Financial reporting controls
When carrying out our financial audits of the sector, we found that councils' internal controls generally were adequate for financial reporting. However, we found instances where important internal controls needed to be strengthened.
We report the weaknesses we find in a council's internal controls to the mayor, chief executive officer and audit committee in a management letter.
2.3.1 Issues identified in 2015–16
In 2015–16, we reported 211 issues that we classified as extreme, high and medium risk in our management letters across the 79 councils. Figure 2C summarises the issues by area and risk. Appendix C provides additional information on our risk ratings, and our expected time lines for resolving issues.
Figure 2C

Reported issues by area and risk rating for 2015–16
Area of issue

Risk rating of issue

Extreme

High

Medium

Total

Governance

–

1

8

9

Information systems

1

19

26

46

General ledger

–

1

6

7

Revenue and receivables

–

–

13

13

Expenditure and payables

–

1

21

22

Employee benefits

–

1

16

17

Property, infrastructure, plant and equipment

–

5

85

90

Cash and other assets

–

1

6

7

Total

1

29

181

211
Note: Issues rated as low risk are excluded from this analysis.
Source: VAGO.
We found the key areas of weakness across the councils relate to the areas of information systems (IS) controls and fixed assets.
Information systems
IS are an integral part of day-to-day council processes. In particular, each council has several key systems that feed into the financial reporting processes. It is important that data held within these systems is secure, and the risk of an unauthorised person accessing the data and systems in minimised.
Across the 79 councils, we raised 46 issues relating to:
poor patch installation—the latest security updates may not be in place across a particular system or on networked computers
the use of software that is no longer supported by the provider—these applications will not be subject to updates that enable them to remain secure
poor password policies—increasing the risk that an unauthorised user may be able to gain access to the IS
back-up restoration procedures were not documented and/or had not been recently tested—increasing the risk that they may not work when required, resulting in lost data.
All of these issues increase the vulnerability of council IS systems to a potential loss of data or the failure of a particular system, which would reduce the integrity of the data available to the council, and potentially affect their financial information.
Property, infrastructure, plant and equipment
We raised 90 issues regarding the fixed assets and the valuation framework in place across the 79 councils, including failure to:
regularly update the fixed asset register to ensure that it is accurate and complete
put an asset valuation policy in place for non-current physical assets
identify and mitigate asset valuation risks through the risk management process
conduct a thorough review of valuers'reports before adopting the results of the valuation.
These issues are discussed further in Part 4 of this report, where we assess the non-current physical assets valuation frameworks in place across the 79 councils.
2.3.2 Status of issues raised in previous audits
Through our management letters, we provide an update on the status of internal controls that have been identified and reported during previous audits. We monitor these issues to ensure that they are resolved. Figure 2D shows the status of these issues, as reported in our management letters to the 79 councils.
Figure 2D

Prior-period internal control deficiency issues—resolution status by risk
Issue status

Risk rating

High

Medium

Total

Unresolved

17

81

98

Resolved

25

97

122

Total

42

178

220
Note: Issues rated as low risk are excluded from this analysis.
Source: VAGO.
While councils are taking corrective action—with 55 per cent of prior-year issues resolved in 2015–16—issues are still being left unresolved for too long. We recommend that high risk issues are resolved within two months of our management letter being issued. Medium risk issues should be resolved within six months.