Local Government: 2015–16 Audit Snapshot
At 30 June 2016, the 79 Victorian councils controlled $84.6 billion of fixed assets, compared with $78.4 billion in 2015. Councils hold a wide variety of fixed assets, both for community use—such as roads, bridges, drains—and to provide services to the community—such as buildings and land. Figure 4A provides a summary of the types of assets held across the local government sector at 30 June 2016.
Figure 4A

Fixed assets held by local government at 30 June 2016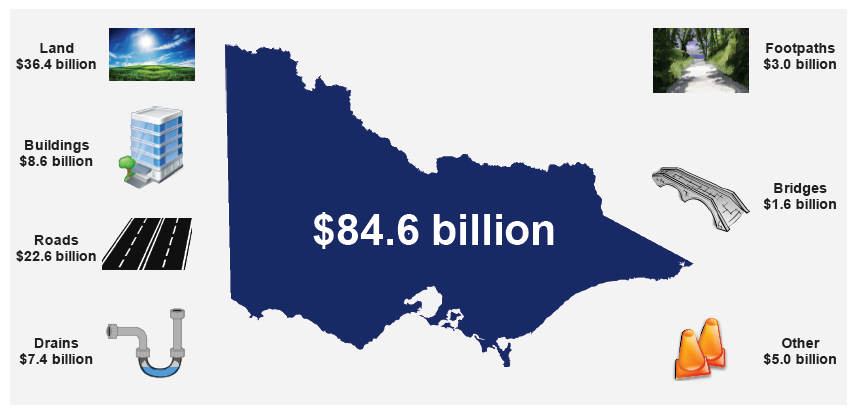 Source: VAGO.
The information that councils hold about these assets needs to be accurate and complete. Understanding the details of an asset's location, condition, valuation and expected life span will enable a council to:
inform asset management and maintenance planning
identify underused assets that can be sold or re-purposed
comply with the disclosure and valuation requirements of the Australian Accounting Standards.
This Part of the report focuses on the last of these items. We provide details on issues identified in our audit of council valuations for the financial year ended 30 June 2016. We also look at the asset valuation frameworks in place across the 79 councils during 2015–16, and provide two case studies highlighting the issues faced by the sector that affect their ability to report on the assets they hold.
4.1 Conclusion
Asset valuation frameworks in place across the 79 councils are not in line with better practice. Improvements to asset recognition processes are required to reduce the frequency of 'found' and duplicated assets recorded by councils.
4.2 Valuations
4.2.1 Australian Accounting Standards requirements
In their annual financial statements, councils are required to report on the value of their fixed assets in accordance with Australian Accounting Standards AASB 116 Property, Plant and Equipment and AASB 13 Fair Value Measurement. These accounting standards detail the valuation and reporting requirements councils need to comply with for financial reporting purposes.
The valuation process is complex due to the scale and variety of assets that councils control. Asset valuation requires sound management judgement, the engagement of a valuation expert, and the identification and use of a number of key assumptions to underpin the methodology applied when determining fair value. Incomplete or inaccurate asset information may lead to noncompliance with these standards, or result in a material error in the council's financial statements.
4.2.2 Cyclical asset valuations
Councils are required to review the value of their fixed assets annually, and engage valuers to undertake formal valuations as required. This is a complex process that relies on strong data and good judgement. If there is reason to believe the value of an asset is materially inaccurate, then a council should complete a revaluation.
Councils often have programs detailing when they will conduct a formal valuation process on each type of asset, rather than valuing all assets at the same time. For example, drains might be revalued every three years, but roads every second year. There are no set cycles for this process, and this approach is acceptable under AASB 116 and AASB 13.
Figure 4B summarises the revaluation cycles of the four main asset classes for the 79 councils.
Figure 4B

Revaluation cycles for major asset classes in the 79 councils
Note: 'Variable' indicates that revaluations take place within a range of years—for example, 2–5 years, 3–5 years or 'ad hoc'.
Source: VAGO.
4.2.3 Financial impact of asset valuations
The revaluation of an asset class needs to be accounted for in the council's financial statements. Figure 4C shows the impact of asset valuations for the different asset categories across the local government sector for the last two financial years.
Figure 4C

Asset revaluation increments per asset category, for financial years ended 30 June 2015 and 30 June 2016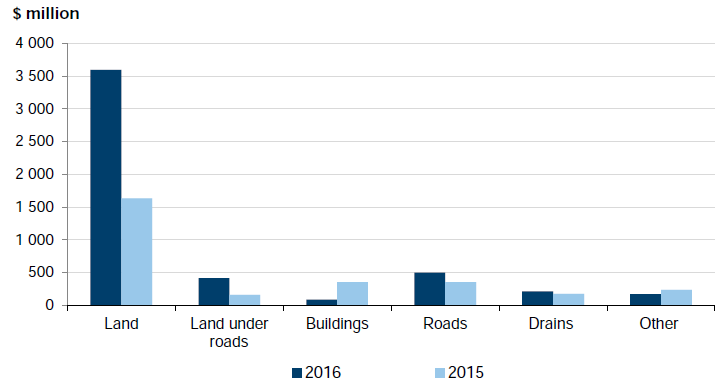 Source: VAGO.
4.2.4 Issues arising from 2015–16 valuation process
Due to its complexity, we identify asset revaluations as a key risk that we need to address through our financial audit. This means that we assess each element of the judgements made by management and the valuation experts to ensure that the figures reported in the financial statements are materially accurate.
During 2015–16, our review found the following issues with valuations:
the use of incorrect unit costs when revaluing assets
asset condition assessments not being completed for all revalued assets
proposals to depreciate assets on a deterioration curve basis when a straight line basis is required.
Councils could improve their approach to valuations by implementing an appropriate quality assurance process, and improving communication between the council's accounting and finance area and their engineering area.
All of the issues we identified were resolved by the councils concerned before signing their financial statements.
Found, ghost and duplicate assets
A common issue across councils is the identification of 'found' assets—an asset that the council was unaware of, but for which they have control. As a result, the asset has not been valued nor included in the asset valuation process until the point it is found.
In 2015–16, councils have accounted for found assets either by:
recording them as income in the financial year they were identified
making a correction to the prior-year asset information.
During this process, 'ghost' or 'duplicate' assets may also be identified. A ghost asset is one that the council has been recording as an asset but is identified as no longer existing, and a duplicate is an asset that has been identified as a duplicate of an existing asset.
Across the local government sector, 31 councils identified $149.3 million of found assets in the 2015–16 financial year, and $36.8 million of duplicate and ghost assets.
4.2.5 Key systems
All councils have an asset register in place to collate information about their physical assets. The data in this register must be accurate and complete, both for financial reporting purposes and to assist in the valuation process. Figure 4D shows how these elements are linked.
Figure 4D

Asset valuation process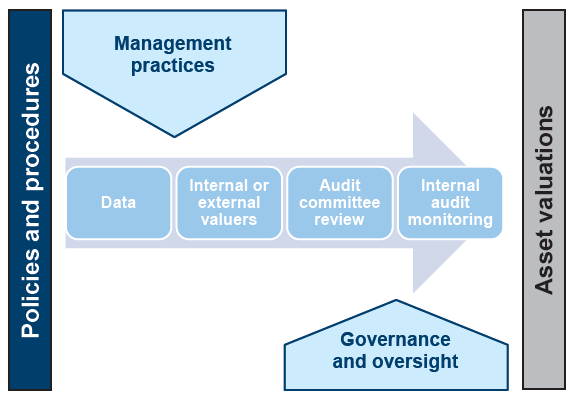 Source: VAGO.
Asset management system
The asset management system should store all of the data relating to the council's assets. Ideally, it should be available to both the finance and engineering functions of the council to enable asset information to be kept up to date, and to inform all aspects of asset management.
Asset register
Councils collate and store all financial information regarding their physical assets in an asset register. This is the key source of information for councils' financial statements. The asset register must be updated every time the council acquires, disposes of, or revalues an asset. Often the accounting and finance department of a council maintains the asset register.
Asset registers—which can be specialist systems or spreadsheets—are usually updated manually. Many have been in place for a number of years. This increases the risk that they contain errors. Council management must carry out regular quality assurance reviews of the data to confirm that it is complete and accurate.
Our review identified 57 councils (72 per cent) that carried out formal quality assurance reviews of data held in the asset register before providing the data to the valuers. If this review is not done, the valuation may not cover all assets, or may value the wrong assets. It is not the valuer's role to confirm the accuracy of the asset register—only to value the items listed.
Geographical Information System
All councils also operate a Geographical Information System (GIS). The GIS can hold a more detailed registry of all assets similar to the asset register, but with more information about individual assets— such as a description, accurately measured physical dimensions, the geographic location, and photos.
Often a council's engineering department maintains its GIS. Like the asset register, the system needs to be manually updated when a council acquires, disposes of, or reassesses the condition of an asset.
Integrity of the datasets
One of the ways to maintain accurate asset information is to reconcile these separate systems. By performing a reconciliation, councils will be able to identify and investigate any discrepancies, such as:
assets missing from one system but included in another
assets included in different asset classifications on the two systems.
By undertaking this reconciliation, council management will also build up a familiarity with their assets base, improving their ability to review and question the valuers' assessments as required.
4.2.6 Valuation frameworks across councils
Councils should have an effective asset valuation framework in place to provide guidance, oversight and management of the asset valuation process. The key elements of an asset valuation framework are shown in Appendix E.
Our review identified 49 councils (62 per cent) had an approved or draft policy covering asset valuations. From those, 25 policies had been reviewed in the last two years, which means that these policies reflect the introduction of AASB 13 Fair Value Measurement for the financial year ended 30 June 2014. Older policies may not include these requirements.
Councils without policies mainly relied on accounting standards for guidance on asset valuations. Although this provides details on the financial statements reporting requirements, it does not cover key aspects of a valuation framework for individual councils, including:
roles and responsibilities
frequency of revaluation
valuation approach and methods
sources of valuation information
quality assurance requirements.
Without a policy, councils lack formal direction about how to complete, manage and assess the valuation of their assets. This could lead to potential misstatements in the financial statements. In turn, incorrect valuations will affect the council's depreciation expenses and, potentially, their asset management processes.
Key elements of policies
We analysed the 49 asset valuation policies in place in the sector using the key elements listed in Appendix E. This analysis highlighted common weaknesses across the policies. This is illustrated in Figure 4E.
Figure 4E

Assessment of council asset valuation policies against key elements of better practice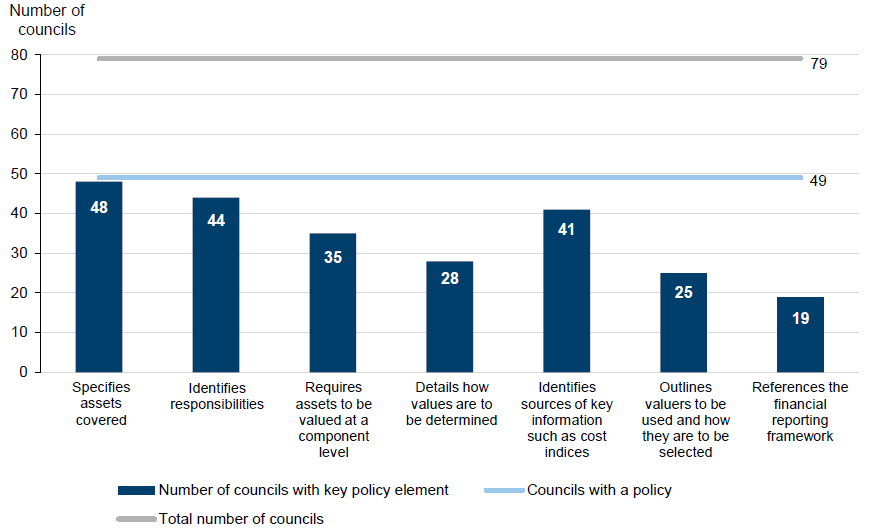 Source: VAGO.
Councils need to improve their policies to include all elements of better practice. For example, by not identifying agreed sources of key information, there is a risk that councils are changing the information they use for each valuation from one cycle to the next. This may mean the valuations are not comparable and could result in wide fluctuations in the outcome. The eventual impact of this will be on the depreciation expense and asset revaluation reserve, and on the council's retained surplus.
Similarly, if councils do not specify whether assets should be valued at a component level or not, they are not providing a consistent methodology for capturing data within the asset register. By not capturing the components of an asset, councils are at risk of noncompliance with the requirement under AASB 116 Property, Plant and Equipment that major components of assets are identifiable and depreciated individually, rather than as a single asset—for example, a leisure centre is not recorded as a single item—but itemised as a building, a swimming pool, gym equipment, fixtures and fittings, etc. It may then be possible to further specify items such as components of the building.
By including all the better practice elements in their valuation frameworks, councils will be able to get the most accurate valuation for their assets possible at the appropriate time. As well as complying with the financial standards, this information can be used in their asset planning processes across the council, to ensure that both the finance and engineering functions have a complete and accurate list of all assets, their useful lives and values.
Management practices
Council management is responsible for maintaining complete and accurate records to prepare financial statements in line with reporting requirements. This includes maintaining control of the asset valuation process, making key decisions at each stage and ensuring that appropriate quality assurance procedures are in place.
Our review identified that 58 councils (73 per cent) review and agree to the terms of reference before starting the asset valuation process.
Similarly, we noted that management formally reviews the proposed methodology to be adopted by the valuers at 60 councils (76 per cent). This is important for management to be able oversee and understand the asset values.
All councils should use these elements of better practice, regardless of whether the valuers engaged are external contractors or internal council staff. In both cases, the valuers need to have reliable data from the asset systems to enable them to provide an accurate valuation.
Governance and oversight
A good governance and oversight process is required to ensure that the results of the asset revaluation stand up to scrutiny. Management must review and query valuers' reports to ensure that they understand any substantial movements in asset valuations within a financial year. Errors arising from the valuation process could lead to material misstatements in a council's financial statements.
Encouragingly, 75 of the 79 councils performed the quality assurance processes over asset valuation reports. These checks included reviewing the unit rates used, assessing the condition and remaining useful lives of assets, and determining asset component levels. Management generally sought answers to any queries from the valuers after reviewing the reports.
Asset valuation risks
Due to the complexity of asset valuations, councils need to identify and mitigate the risks arising from the revaluation process using their risk management framework. This will add an extra level of oversight to the valuation process.
Our review identified that 28 councils (35 per cent) have identified asset valuation risks as part of their risk registers. Councils who are not identifying, mitigating and resolving issues related to the asset valuation process have an increased risk of material errors arising during the process.
Working with audit committees
Councils require their audit committee to independently review the draft financial statements and to recommend whether they should be adopted. Therefore, the audit committee is an ideal high-level reviewer of asset valuation movements. The committee should complete its review before the financial statements are completed.
However, we found that 69 councils (87 per cent) did not separately brief the audit committees about the results of the valuation process to outline key movements in the asset balances.
Review by an audit committee of a revaluation's terms of reference, the key assumptions made in a revaluation and the reasons for the underlying movements in asset values will provide greater assurance over the revaluation process.
Although the audit committee review does not replace robust oversight by management, it should be included in the oversight process. Our recent report Audit Committee Governance, tabled in August 2016, notes that audit committees should be an independent and objective source of advice on matters including financial expertise. Reviewing and understanding asset revaluation movements is a key area where this should occur.
4.2.7 Case studies
Our review identified two councils that provide good examples of the challenges faced by councils as they undertake the valuation process.
Case study: Reconciling asset systems
Mornington Peninsula Shire Council has undertaken a comprehensive review of their asset register, including a reconciliation with the GIS system. As a result of this process, the council found assets they were previously unaware of, and removed duplications in the systems. The case study in Figure 4F provides an example of the issues that councils face.
Figure 4F

Case study: Mornington Peninsula Shire Council
Background
Mornington Peninsula Shire Council (the shire) looks after an area of 723 square kilometres, and is responsible for $2.0 billion of non-current physical assets.
Found assets
The shire has a history of reporting found assets in their financial statements. Over the five financial years 2011–12 to 2015–16, $95.9 million of found assets were identified and recognised. These are outlined in this chart.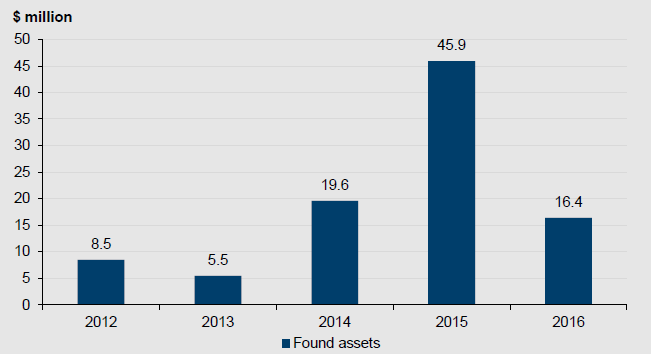 Fair value of found assets ($ million) for financial years ended 30 June 2012 to 2016
Source: VAGO.
The high volume of found assets illustrates the risk of not having a complete register of assets, in particular, infrastructure and drainage assets.
Identifying these assets
To resolve the situation, the shire has used its infrastructure maintenance contracts to gradually identify assets that were not previously recorded, and update missing asset data. Using tools such as geospatial software linked to the fixed asset register, the asset management team has been able to map out infrastructure assets.
In early 2016 the shire found $42.8 million of infrastructure assets in the asset register that did not exist. It derecognised these assets through the financial statements.
Improving internal processes
To get accurate and reliable data about the type and condition of the assets, regular communication between the asset management team (engineers and valuers) and the finance team is important.
In the past, the asset management team at the shire entered new data and updated existing data without understanding the financial reporting implications. The finance team relied on this information and used it for reporting purposes. Starting in 2015–16, regular meetings between the finance and asset management teams have resulted in the fixed asset register having a greater degree of accuracy.
Source: VAGO.
Case study: Found assets
If councils do not have a formal valuation policy, or good governance and oversight in place, errors may arise in the valuation process. These councils may also have a higher than expected number of found assets. Figure 4G provides a case study of Maroondah City Council, which illustrates the impact on a council in this situation.
Figure 4G

Maroondah City Council case study: Asset valuations and data issues
Background
Maroondah City Council, part of the metropolitan cohort of councils, is located east of Melbourne and has a population of 111 000. At 30 June 2016, the council was responsible for $1.4 billion of non-current physical assets.
The asset valuation framework
Maroondah City Council has no documented asset valuation policy or procedures in place. Its asset valuation framework relies on its experienced and knowledgeable staff to carry out the valuations in line with mandated reporting requirements.
The council engages external valuers to complete their asset valuations, with council management setting the terms of reference for the process. However, the external valuers are required to determine the datasets—such as cost indices for asset materials—and other information used in the review. This means that council management has limited oversight of the valuation methodologies.
This may limit management's ability to review and challenge the final valuation report.
The audit committee is briefed on valuation matters. However, this is completed as part of the financial statement review process, rather than as a separate briefing, which does not reflect the risks and management judgements involved in the asset valuation process.
Found assets
Maroondah City Council has identified a net total of $41.9 million in found assets and $0.7 million in duplicated assets over the financial years ended 30 June 2012 to 2016.
These assets have been identified in two main ways:
limited record keeping by previous councils before amalgamation (in 1996) has resulted in asset details not being transferred to the current asset register
mapping of new asset reserves has led to the identification of hidden assets—particularly drainage.
An example of how drainage assets have been identified occurred in 2015–16, with the mapping of two reserves located in Ringwood and Croydon. Through this process, 3.9 kilometres of drains were identified as found assets. These have since been included in council's asset registers and included in the valuation schedules.
At 30 June 2016, the council had yet to map the underground stormwater drainage in other reserves, including 13 large reserves, most of which contain cricket ovals or other sporting and play facilities, and about 25 small or 'link' reserves. These reserves may also contain unidentified underground stormwater drainage assets.
Source: VAGO.