Local Government and Economic Development
Economic prosperity is important to a community's wellbeing. The World Bank describes local economic development as building the economic capacity of a locality to improve its economic future and the quality of life of its citizens. In this process, public, business and community sector partners work collectively to create better conditions for economic growth and job creation.
Every community has unique conditions that affect its development and should shape the design and implementation of a local economic development strategy.
1.1 Local economic development
Victoria's economic context
Statewide
Victoria is home to a quarter of Australia's population and contributes around 22 per cent to the Australian economy.
One of the key economic performance measures at the state level is gross state product (GSP). It represents the total value of all goods and services produced in the state during a given year. In 2015–16, Victoria's GSP was $374 billion.
Figure 1A shows Victoria's annual GSP growth rates since 2006–07.
Figure 1A
Victoria's annual GSP growth rates, 2006–07 to 2015–16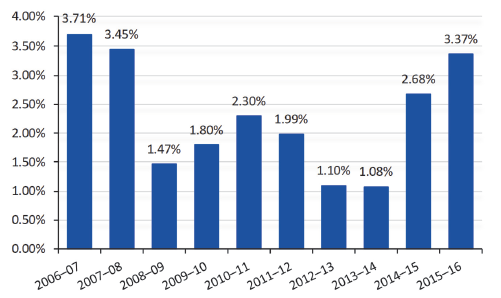 Source: VAGO, using RDV data.
Gross regional product (GRP) measures each local government area's contribution to the state economy. Figure 1B shows that the 31 metropolitan councils account for 81 per cent of the state's GRP.
Figure 1B
Councils' contribution to state economy, 2015–16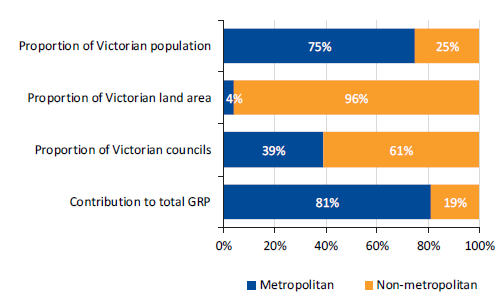 Source: VAGO, based on RDV and Australian Bureau of Statistics data.
Regional and metropolitan partnerships
Victoria's 79 councils are grouped into 15 partnerships—six metropolitan and nine regional partnerships. Figure 1C shows the nine regional partnership groups.
Figure 1C
Regional partnerships in Victoria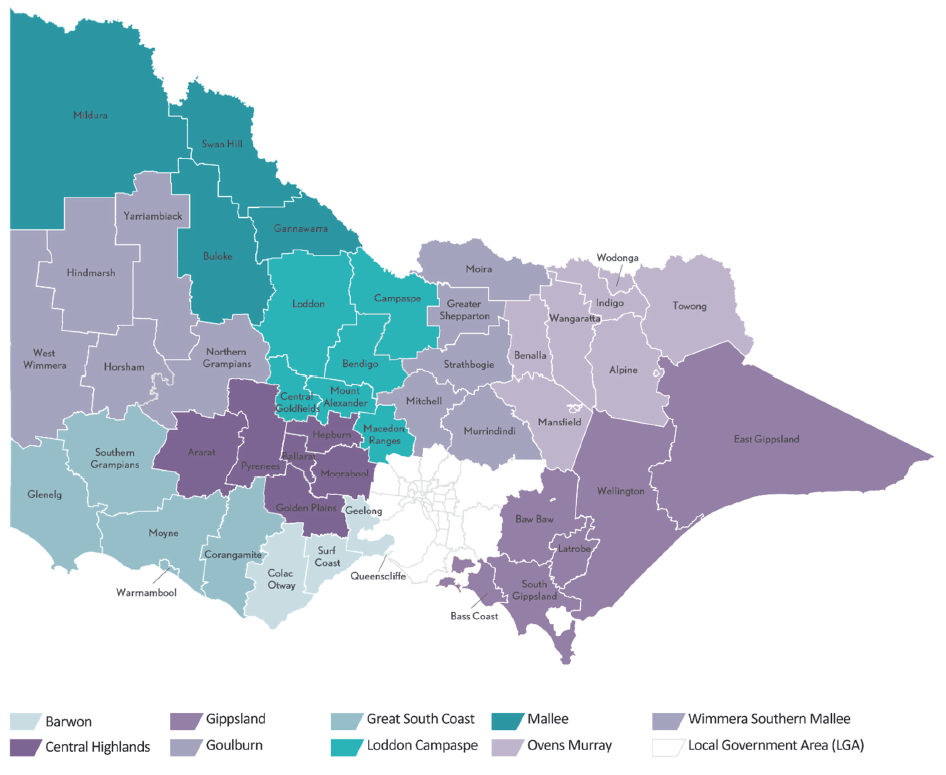 Source: RDV.
Victoria's Regional Statement: Your Voice, Your Region, Your State (Regional Statement) acknowledges the contribution regions make to Victoria's economy and its way of life. The statement introduces the nine regional partnerships—which aim to increase collaboration between communities, industry, businesses and government—to address the most important challenges and opportunities in each region. The partnerships seek to have more regional community views represented in government decision‑making.
Figure 1D lists the 15 regional and metropolitan partnership groups.
Figure 1D
Metropolitan and regional partnerships in Victoria
Partnerships

Councils

Metropolitan

Eastern

Knox, Manningham, Maroondah, Monash, Whitehorse, Yarra Ranges

Inner Metropolitan

Melbourne, Port Phillip, Yarra

Inner South East

Bayside, Boroondara, Glen Eira, Stonnington

Northern

Banyule, Darebin, Hume, Moreland, Nillumbik, Whittlesea

Southern

Cardinia, Casey, Frankston, Greater Dandenong, Kingston, Mornington Peninsula

Western

Brimbank, Hobsons Bay, Maribyrnong, Melton, Moonee Valley, Wyndham

Regional

Barwon

Colac-Otway, Greater Geelong, Queenscliffe, Surf Coast

Central Highlands

Ararat, Ballarat, Golden Plains, Hepburn, Moorabool, Pyrenees

Gippsland

Bass Coast, Baw Baw, East Gippsland, Latrobe, South Gippsland, Wellington

Goulburn

Greater Shepparton, Mitchell, Moira, Murrindindi, Strathbogie

Great South Coast

Corangamite, Glenelg, Moyne, Southern Grampians, Warrnambool

Loddon Campaspe

Campaspe, Central Goldfields, Greater Bendigo, Loddon, Macedon Ranges, Mount Alexander

Mallee

Buloke, Gannawarra, Mildura, Swan Hill

Ovens Murray

Alpine, Benalla, Indigo, Mansfield, Towong, Wangaratta, Wodonga

Wimmera Southern Mallee

Hindmarsh, Horsham, Northern Grampians, West Wimmera, Yarriambiack
Source: VAGO, based on Suburban Development Victoria information.
Economic growth across partnership groups varies, ranging from an average GRP decline of 11 per cent for the Mallee group councils to an average increase of 34 per cent in the Western group, as shown in Figure 1E. The GRP growth for the state in the same period was 21 per cent.
Figure 1E
Average GRP growth of councils by Victorian partnership, 2007–16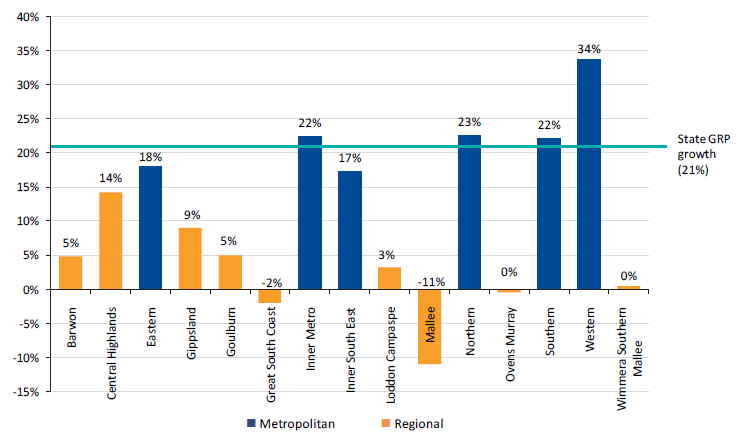 Note: Growth represents average for councils in that partnership. See Appendix A for individual council growth.
Source: VAGO, based on RDV data.
Local councils
A locality's economic growth keeping pace with—or exceeding—its population growth is a positive indicator of economic development. From 2007 to 2016, GRP has not kept pace with population growth in 50 of the 79 councils. This includes both metropolitan and non-metropolitan local government areas, as shown in Figure 1F.
Figure 1F
GRP growth and population growth of Victorian councils, 2007–2016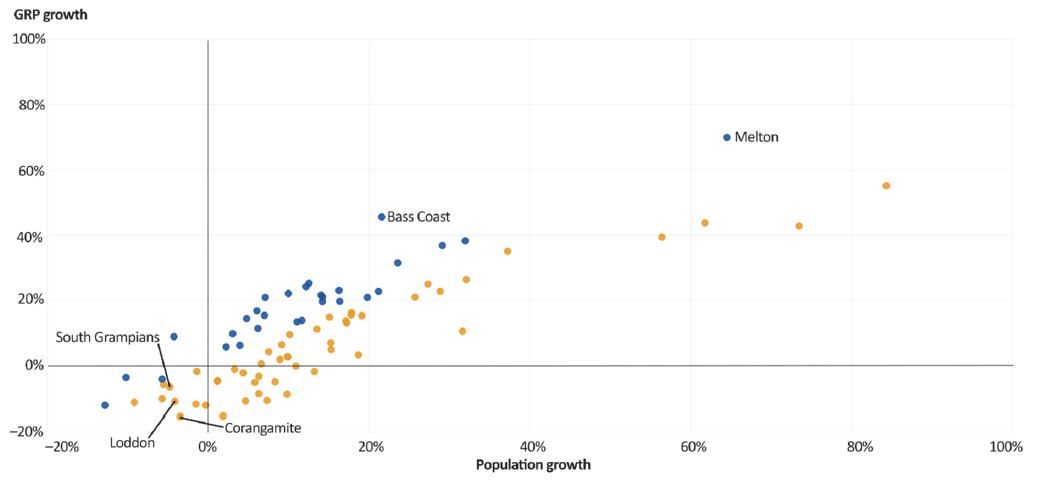 Key: ● Councils whose economies have grown faster than their populations. ● Councils whose economies have grown slower than their populations.
Source: VAGO, based on RDV and Australian Bureau of Statistics data.
For audited councils, economic growth ranged from a decline of 15 per cent in Corangamite to an increase of almost 70 per cent in Melton. Appendix B has economic and population growth data for all 79 councils.
1.2 Frameworks for economic development
Legislative framework
Local Government Act 1989
The powers and accountabilities of local government are set out in the Act. According to the Act, councils' primary objective is to achieve the best outcomes for the local community, taking into account the long-term and cumulative effects of decisions. To achieve this objective, councils must have regard to:
promoting the social, economic and environmental viability and sustainability of the municipality
ensuring resources are used efficiently and effectively
promoting appropriate business and employment opportunities.
Local government also has a number of specific powers that help facilitate economic development. These include entrepreneurial powers, the power to sell or lease land and the power to enter into contracts, which may also be subject to specific conditions and limitations.
Council plans
Strategic planning is an essential aspect of economic development. There are three planning requirements under the Act:
a council plan which includes strategic objectives, plans and indicators
a strategic resource plan, which must be included in the council plan and list the resources required to achieve the council's strategic objectives
a budget, which includes a description of services and funded initiatives.
Figure 1G shows the three mandated planning requirements.
Figure 1G
Council planning requirements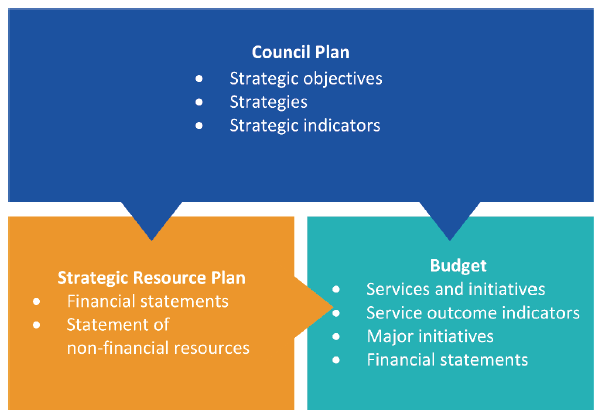 Source: VAGO, based on Local Government Better Practice Guide: Strategic Resource Plan 2017, LGV.
LGV, a business unit of DELWP, provides better practice guidelines to help councils develop their council plan, strategic resource plan and budget.
Planning and Environment Act 1987
Land use planning is an effective tool that councils can use to facilitate economic development in their municipality. The purpose of the Planning and Environment Act 1987 is to 'to establish a framework for planning the use, development and protection of land in Victoria in the present and long-term interests of all Victorians'.
Section 4(b) of the Planning and Environment Act 1987 lists the objectives of the planning framework, including to 'enable land use and development planning and policy to be easily integrated with environmental, social, economic, conservation and resource management policies at State, regional and municipal levels'.
Regional Development Victoria Act 2012
The Regional Development Victoria Act 2012 established RDV, a statutory agency within DEDJTR, to facilitate economic and community development in rural and regional Victoria. It also established a Regional Development Advisory Committee and made RDV responsible for administering the Regional Jobs and Infrastructure Fund (RJIF), which distributes grants to support economic development in regional Victoria.
Policy framework
Ministerial Statement on Local Government
The August 2015 Ministerial Statement on Local Government (Ministerial Statement) outlined the government's reform agenda for the local government sector. The Ministerial Statement recognised that local government builds local economies and is the government closest to the Victorian community. It also outlines a range of reforms to improve councils' performance, including social procurement policies to support local economies.
Victoria's Regional Statement
In 2015, the government released the Regional Statement, which builds on a number of previous strategies to drive regional economic development. It acknowledges the contribution regional Victoria makes to Victoria's economic strength and commits to delivering a stronger voice for regional communities in government decision-making across all areas of policy and service delivery. The key reform of the Regional Statement was the introduction of nine new regional partnerships across the state to help drive economic development in regional Victoria—as discussed in Section 1.1.
The government developed the Regional Statement in response to the findings of the 2015 Regional Economic Development and Services Review.
State Planning Policy Framework
As discussed, strategic land use planning is a critical foundation of local economic development. Each of Victoria's 79 councils has a separate scheme governing land use planning.
Every planning scheme contains the State Planning Policy Framework, which requires planning policies to consider the environmental, social and economic factors necessary for sustainable development, and the Local Planning Policy Framework. Included in the Local Planning Policy Framework is the Municipal Strategic Statement, which:
identifies long-term direction for land use and development in the municipality
presents a vision for the community and other stakeholders
provides the rationale for the zone and overlay requirements and particular provisions in the scheme.
The relevant planning authority—usually the local council—must select the appropriate zones and overlays from the Victorian Planning Provisions for inclusion in their planning scheme.
1.3 Roles and responsibilities
Municipal councils
The local community elects a council to govern the municipal district. Under the Act, councils must have regard to their district's social, economic and environmental viability and sustainability.
Councils' contributions to the Victorian economy are significant, including more than 43 000 employees in the sector, managing over $84 billion in public assets and spending more than $7 billion annually on services.
Under the Act, the roles of a council include:
acting as a representative government by taking into account the diverse needs of the local community in decision-making
providing leadership by establishing and monitoring strategic objectives
maintaining the viability of the council by ensuring that resources are managed in a responsible and accountable manner
advocating for the interests of the local community
acting as a responsible partner in government by taking into account the needs of other communities
fostering community cohesion and encouraging active participation in civic life.
Department of Economic Development, Jobs, Transport and Resources
DEDJTR works across many portfolios to increase jobs, investment, exports and opportunities in Victoria. DEDJTR aims to stimulate innovation, competitiveness, confidence and sustainability in Victoria's economy.
Regional Development Victoria
RDV works closely with various Victorian government agencies including local councils to facilitate economic, infrastructure and community development in regional Victoria. RDV aims to strengthen regional Victoria through job creation, better infrastructure and new investment. RDV works with government agencies, including local councils, to:
support business and industry development
help new businesses to establish themselves
assist existing industries to grow and diversify
build prosperous, stronger regional communities.
RDV also administers the RJIF, which distributes grants to rural and regional businesses, industry groups, government agencies, not-for-profits and community groups to support economic development in regional Victoria.
RDV works with Regional Development Australia (RDA) to facilitate regional engagement and economic development. RDA is a Commonwealth Government initiative that involves all levels of government in supporting regional development.
RDA committees provide independent advice to local, state and Commonwealth government on critical issues affecting each region. They work closely with community leaders to identify funding sources and develop project proposals to support economic growth. Regional strategic plans articulate critical issues facing each region—including the economic context, priorities and actions to achieve the region's vision.
Department of Environment, Land, Water and Planning
DELWP covers Victoria's planning, local government, environment, energy, suburban development, forests, emergency management, climate change and water functions. DELWP lists its mandate as 'supporting Victoria's natural and built environment to ensure economic growth and liveable, sustainable and inclusive communities'. One of DELWP's key outcomes is 'sustainable and effective local government'.
In 2016, the Premier of Victoria created the suburban development portfolio within DELWP. The priorities for the portfolio are to:
develop a five-year plan that considers the employment, services and infrastructure needs of Melbourne's fastest-growing
identify and address local opportunities and priorities by overseeing the development of six metropolitan partnerships
facilitate and coordinate the state government's social, economic and environmental investments in Melbourne's suburbs.
Local Government Victoria
LGV provides policy advice, oversees legislation and works with the Minister for Local Government and Victoria's 79 local councils to support responsive and accountable local government services. Along with providing policy advice to the minister, LGV oversees the administration of the Act and other relevant legislation.
1.4 Past reviews and inquiries
Past reviews and inquiries into local government and its contribution to economic development have identified the importance of clearly defined outcomes, performance reporting, partnerships, and utilising a range of activities to drive economic development.
Inquiry into Local Economic Development in Outer Suburban Melbourne, 2008
In 2008, the Victorian Parliament released its report Inquiry into Local Economic Development in Outer Suburban Melbourne. The report concluded that there is no 'silver bullet' solution to generating local economic development. Rather, sustainable jobs and the economic benefits that flow from them generally result from well-researched, carefully planned and adequately resourced programs implemented in partnership with government at all levels. The report made 170 recommendations.
Inquiry into Regional Centres of the Future, 2009
In 2009, the Victorian Parliament released its report Inquiry into Regional Centres of the Future. The inquiry sought to identify and consider measures to build on the government's investment in regional Victoria, through the further development of regional centres. The report identified that regional centres should be places of economic, environmental, social and cultural innovation that enable regional Victoria to meet the challenge of predicted future population growth. The report recommended that government redirect its energy and its funding efforts to regional centres, as a priority.
Inquiry into Local Economic Development Initiatives in Victoria, 2013
In 2013, the Victorian Parliament released its report Inquiry into Local Economic Development Initiatives in Victoria. The report concluded that local government is well placed to drive local economic development because of its proximity to the community, local businesses and organisations. However, it found a range of barriers including issues with the Victorian planning system, occupational health and safety compliance issues, a lack of access to skilled workers, ineffective regional collaboration, and insufficient engagement with the private sector. The inquiry found that few local councils have adopted an integrated, whole‑of‑government approach to economic development.
The report made 43 recommendations, including:
clarifying the roles of government, the private sector and the community in economic development
promoting and strengthening collaboration and partnerships
improving investment attraction and the regulatory environment.
Regional Economic Development and Services Review, 2015
In February 2015, the Minister for Regional Development announced a review of DEDJTR's regional economic development strategy and service delivery model. The aim of the Regional Economic Development and Services Review was to identify best practice, evidence-based policy directions to foster regional growth and job creation.
The review developed a new approach to regional governance and service delivery and recommended a new approach to regional development. In response to the review, the government established regional partnerships to increase collaboration between communities, industry, businesses and government. It also recommended 48 policy reforms across transport and planning, industry and innovation, trade and investment, education and skills, and regulation.
1.5 Why this audit is important
Local economic viability and sustainability affects Victorian communities and their wellbeing. Given the important role of local government in facilitating economic development, this audit aims to assist councils and, in turn, their communities by identifying areas for improvement and sharing examples of better practice.
1.6 What this audit examined and how
We assessed whether councils' economic development activities improve the economic viability and sustainability of their municipalities. Specifically, we assessed whether councils' actions to improve economic viability and sustainability are strategic and achieve their intended outcomes. We also assessed the role agencies like RDV and LGV play in providing guidance and support to the local government sector.
Our preliminary analysis, which drew on multiple indicators of economic development, identified economic sustainability and capacity risks in large and small shire councils. The analysis also identified accelerated growth risks for interface councils—the 10 councils surrounding metropolitan Melbourne. We chose five councils to include in this audit that either did well or poorly on the key indicators:
Bass Coast
Corangamite
Loddon
Melton
Southern Grampians.
We visited each council and met with members of the council's economic development team and a selection of internal and external partners, including RDV regional offices. We consulted with a range of stakeholders, including industry groups, peak bodies and business owners in each area. We also examined supporting documentation such as economic assessment material, guidelines, strategies, action plans, monitoring reports and available data.
We conducted our audit in accordance with Section 15 of the Audit Act 1994 and ASAE 3500 Performance Engagements. We complied with the independence and other relevant ethical requirements related to assurance engagements. The cost of this audit was $570 000.
1.7 Report Structure
The remainder of this report is structured as follows:
Part 2 examines whether councils create the conditions for economic development
Part 3 examines the outcomes of council actions to improve economic viability and sustainability.