Local Government and Economic Development
2 Creating the conditions for local economic development
Local governments play a key role in facilitating economic development by attracting businesses and residents to municipalities. They aim to achieve this through strategic long-term actions and plans.
This part of the report focuses on whether the audited councils are creating the conditions for local economic development. We examine whether councils are strategically planning for local economic development and working collectively with strategic partners.
2.1 Conclusion
Overall, the audited councils strategically plan their local economic development activities and actively collaborate with relevant stakeholders. They have developed effective local economic development strategies. These strategies reflect available information, reference regional priorities and provide adequate resources for councils' economic development functions. Councils effectively engage with stakeholders who can influence economic development at the local level.
Councils face barriers to effectively implementing strategic land use planning to create conditions for economic development because of the competing priorities of other agencies, such as providers of utility infrastructure and roads.
2.2 Local economic development
Each community has unique local conditions that affect its economic development. Local conditions influence how attractive an area is to businesses, workers and supporting institutions.
To best respond to these conditions, communities need to build and implement a tailored local economic development strategy. Building a strong local economy through a collaborative, strategically planned process requires councils to understand and act upon their municipalities' strengths, weaknesses, opportunities and threats.
Integrated local economic development
The 2013 Inquiry into Local Economic Development Initiatives in Victoria recommended that all local councils implement economic development strategies with clear aims and measurable outcomes.
Figure 2A shows the local government sustainable planning and accountability framework based on the council planning requirements and the key local plans and strategies that guide councils' local economic development activities.
Figure 2A
Sustainable planning and accountability framework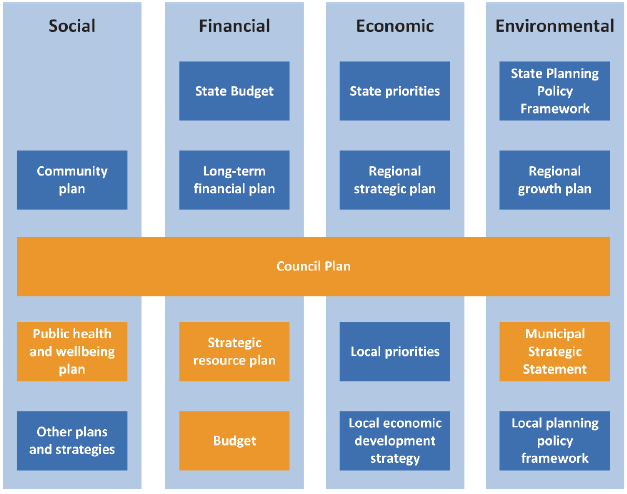 Note: Legislative planning requirements of the Local Government Act 1989 are in orange.
Note: In 2017, the government amended the State Planning Policy Framework to recognise regional partnerships, with the regional growth plan for each partnership group included in the framework.
Source: VAGO.
The World Bank's local economic development guidance recommends that councils strategically plan, implement and review local economic development. Figure 2B shows this process.
Figure 2B
Local economic development process map

Source: VAGO, using the World Bank's Local Economic Development guidance.
This part of the report discusses the first four steps of this process. We examine the implementation and review of the audited councils' local economic development strategies in the next part of this report.
2.3 Establishing management teams
To effectively design and develop a local economic development strategy, councils need to assign responsibility for economic development. Various actions by different business units will also have an impact on the economic development outcomes of councils.
All audited councils have established teams who are responsible for economic development. Most teams also had responsibility for other related functions, such as events, tourism and agriculture.
We found some economic development actions were a shared responsibility with other business units within the council. Based on council size and our assessment, the number of staff assigned to economic development teams was reasonable.
We found councils use varying governance structures to set up their economic development function. The case studies in Figures 2C and 2D show councils' use of innovative governance structures and management support to resource economic development planning and activities.
Figure 2C
Case study: Creating cross-council groups to support economic development
Southern Grampians established an Integrated Planning and Design Group, which meets on a quarterly basis to discuss progress and issues with any major development projects, including discussions held with referral agency partners.
The group consists of team members from the economic development, planning, infrastructure, recreation and community access teams. To improve planning and coordination, the economic development and planning teams are located within the same directorate.
Strategic partners advised that the process has improved the efficiency of the overall development approval process—which is a key enabler for economic development.
Source: VAGO, based on information provided by Southern Grampians.
Figure 2D
Case study: Creating governance structures to support economic development
In 2010, Melton recognised the need for a different approach to economic development planning and established a new internal governance structure—the Business Growth and Sustainability Unit. Melton also established a Planning and Assessment Committee to provide direction to council on the promotion and sale of land within key business and industrial areas.
Since then, the council has grown from a large shire to a city council. As a result, responsibility for economic development moved to the council's Engagement and Advocacy Unit.
This demonstrates that the council's governance structure has responded to a period of significant population growth.
Source: VAGO, based on information provided by Melton.
2.4 Developing partnership networks
Effectively coordinating with stakeholders
Councils need to:
identify the people and groups with interests in the local economy
identify the skills and resources that each group brings
establish collaborative working relationships and supporting structures.
The audited councils all identified internal and external stakeholders. Some examples are shown in Figure 2E.
Figure 2E
Examples of internal and external stakeholders for local economic development
Internal stakeholders

External stakeholders

Tourism and events
Strategic and statutory planning
Community planning
Engineering and infrastructure

Local and regional businesses
Tourism associations
Other councils
Regional partnership groups (both existing and under new partnership arrangements)
State government agencies
Regional tourism boards
Sector-specific industry groups
Referral agencies (water corporation and utility providers etc.)
Source: VAGO, based on information provided by audited councils.
All audited councils consulted with local business operators and representative bodies in planning their economic development strategy. Methods included visiting business premises, surveys, workshops, information sessions and email requests for feedback. Councillors also attended workshops and provided feedback on the development of the strategy. There was evidence of robust engagement with all relevant stakeholders at the local level.
Figure 2F is an example of a strategic partnership that Bass Coast established to address an identified challenge and priority area in the municipality.
Figure 2F
Case study: Establishing strategic partnerships
Bass Coast identified education as a key challenge to future economic sustainability.
The percentage of 15–19 year olds not engaged in school or employment in Bass Coast was 7.18 according to the last Census, compared to the state average of 5.31 per cent. This is despite the council having higher than average rates of economic and population growth.
One of the economic development performance measures in Bass Coast's economic development strategy is a reduction in the unemployment rate.
The council developed the Bass Coast Shire Council Education Plan 2013–17, which aimed to promote sustainable relationships between education providers, local business, industry and the community. The plan includes the development of an education precinct in Wonthaggi. Bass Coast advised that the state government has now agreed to fund this precinct.
The council's Education Reference Group, comprising schools, youth services, businesses, community groups, government agencies, sporting clubs and registered training organisations, is driving the education plan. The Bass Coast economic development team also participates in this reference group.
Source: VAGO, based on information provided by Bass Coast.
Planning applications are often the first trigger of local economic development. As part of the planning application process, identifying strategic partners is an important step in progressing new developments and creating conditions for economic development.
All audited councils undertake meetings with potential developers and investors before they submit planning applications. These meetings with strategic partners addressed the issues, risks and opportunities of developments, and identified other potential agencies for councils to consult. These meetings were effective and provided an avenue for all relevant parties to discuss the proposal, making the application process more efficient.
Making strategic partnerships a local priority
The Regional Statement identifies the need for effective collaboration through regional partnerships to achieve shared goals.
Using partnerships strategically to capitalise on regional strengths and jointly address shared challenges can be an effective way for councils to support achievement of their strategic objectives for economic development. This can also strengthen their ability to secure available funding.
All five audited councils identified the need to collaborate with strategic partners in their economic development strategies. For example, Loddon has included actions to collaborate with neighbouring councils to develop a settlement strategy to capitalise on growth in a neighbouring council.
The nine recently formed regional partnerships should provide additional avenues for councils to engage with strategic partners. At the time of this audit, it was too early to assess the effectiveness of these partnerships. Assessing the effectiveness of these partnerships in supporting economic development activities will help stakeholders understand whether the partnerships are achieving their intended objectives.
2.5 Creating an economic development strategy
Economic development strategies
The Act defines 'strategic objectives' as the outcomes a council is seeking to achieve over the next four years. These must be included in the council plan. The Act does not mandate the development of an economic development strategy, but it does require the development of strategies to achieve the council plan.
Economic development as a strategic objective of councils
All the audited councils realise the significance of local economic development and identify economic development as a strategic objective in their 2013–17 council plans, as shown in Figure 2G.
Figure 2G
Audited councils' themes and strategic objectives for economic development
| Council | Themes/strategic objectives for economic development |
| --- | --- |
| Bass Coast | Economic development—our economy is supported by diverse, local and innovative businesses and employment. |
| Corangamite | Positioning for economic growth—grow population and support expansion of agriculture and tourism sectors. |
| Loddon | Grow and diversify our economy—attract investment that introduces new industries, presents opportunity for existing businesses and grows our working population. |
| Melton | Managing our growth—generate an innovative local economy that stimulates opportunities for investment, business and training. |
| Southern Grampians | Foster population and economic growth—strong economic performance and an innovative tourism sector. |
Source: VAGO, based on audited councils' 2013–17 council plans.
To achieve their council plan's strategic objectives for economic development, the audited councils listed supporting strategies, actions and performance measures.
Key elements of a local economic development strategy
The key elements required to create an effective local economic development strategy are:
vision—agreed economic future for the community
goals—priority areas and desired outcomes to achieve the vision
objectives—set performance standards and targets that are time bound and measurable
programs—collective projects to achieve goals and objectives
projects and action plans—that describe specific program components that are prioritised, costed, time bound and measurable.
We assessed the economic development strategies of the audited councils against the key elements. The audited councils incorporated all the key elements, except one council, which was missing only one element, as shown in Figure 2H.
Figure 2H
Key elements in audited councils' economic development strategies
| Council | Vision | Goals | Objectives | Programs | Projects and action plans |
| --- | --- | --- | --- | --- | --- |
| Bass Coast | ✔ | ✔ | ✔ | ✔ | ✔ |
| Corangamite | ✘ | ✔ | ✔ | ✔ | ✔ |
| Loddon | ✔ | ✔ | ✔ | ✔ | ✔ |
| Melton | ✔ | ✔ | ✔ | ✔ | ✔ |
| Southern Grampians | ✔ | ✔ | ✔ | ✔ | ✔ |
Source: VAGO.
Integrating regional priorities
In collaboration with RDA, RDV has developed regional strategic plans that cover the nine broad RDA regions across Victoria—five regional and four metropolitan. These plans outline the priorities for each region.
Councils need to align their economic development strategies with the government's regional and state priorities if they are to compete for resources —this is a requirement of grant funding from agencies, such as RDV.
All the audited councils met this requirement.
Assessing local economic conditions
Councils need an effective local economy assessment to ensure their economic development strategy creates jobs, spurs economic growth and fosters social development.
Data collection is the first step in an economic assessment, followed by a robust analysis of the relevant data. This includes assessing local strengths and weaknesses to identify opportunities and challenges. The analysis helps create a clear economic development vision and allows prioritisation of activities.
Access to data for informing local economic development
Councils rely on multiple data sources when planning economic development actions and outcomes. Councils use sufficient and appropriate national and state level data to inform their economic development activities. However, there is room for improvement, especially in collecting data at the municipality level.
Council capacity and resources can restrict data collection and analysis. The smaller councils find it more difficult to collect all the relevant data. Southern Grampians also advised that there is a need for consistent interpretation of the available data to ensure all councils use information in a similar way.
Economic data
RDV hosts an information portal on its website, which includes economic data for each local government area. The audited councils were either unaware of the information portal or did not use it. While most of the underlying datasets are available from other sources like the Australian Bureau of Statistics, councils should take advantage of RDV's efforts to collate and present the data. RDV and councils need to work towards using consistent information across the Victorian local government sector.
At the time of the audit, four of the five audited councils subscribed to economic modelling software. They used various economic modelling programs to analyse and interpret data, and to produce supply-chain reports and impact modelling. However, the smallest council in our sample, Loddon, found such software to be too expensive for its needs. Close to the conclusion of our audit, Loddon advised that it has also recently subscribed to an economic modelling software.
As part of our fieldwork, we observed one council apply its economic modelling software to assess a proposal for the construction of a new secondary school. The modelling report was informative and showed the:
projected number of jobs that the project would create
industry sectors that these jobs would be in
flow-on effect for other sectors in the supply chain.
Business activity data
Business activity data is a key information source of local economic activity. Councils access the ABR for business registration data. The audited councils and the Economic Development Australia Victorian State Practitioners Network have raised issues with the usefulness of this data as it requires extensive filtering and data cleansing. The data includes shelf companies and superannuation funds that are not trading entities. Lack of reliable data—especially of actual ongoing businesses—affects the planning and monitoring of economic development. Councils use their own stakeholder networks to work around these challenges.
In 2013, LGV, in consultation with local councils, established economic development indicators for councils as part of the Local Government Performance Reporting Framework (LGPRF). LGV advises that, as economic development is a complex area of activity with many externalities, the indicators are optional and indicative only. Councils use ABR data to report on three of the four indicators in the LGPRF. While these indicators are optional, the limitations of the ABR data highlight potential issues with the robustness of performance reporting to LGV.
In 2015, the Economic Development Australia Victorian State Practitioners Network surveyed its members to understand the performance measures utilised by local government economic development practitioners and to test the LGPRF's proposed performance measures. Forty-one councils responded and the majority reported that using ABR data as a measure of business activity and council's economic development performance was poor or meaningless.
LGV is working with the Economic Development Australia Victorian State Practitioners Network to identify better data sources and indicators to measure councils' economic development performance.
Assessing strengths and weaknesses
Some strategic theoretical frameworks are available to councils to help them undertake effective economic assessments and understand their competitive advantages relative to other councils. Competitive advantages are conditions that allow a municipality to produce goods or services at a lower price or in a more desirable fashion for the community.
Strategic frameworks that councils use to assess their economic context include:
competitive advantage analysis
problems or issues analysis
SWOT—Strengths, Weaknesses, Opportunities and Threats—analysis.
Four of the audited councils outsourced their local economic assessments because of the skill and time required to complete them. Bass Coast developed an effective economic development strategy in-house that had a clearly articulated vision and provided strategic direction for key areas of economic development.
The breadth of the economic assessments were appropriate for the size and complexity of the councils, but there were some areas for improvement. For example, there was limited analysis of how each municipality performed relative to other municipalities, or whether they produced specific goods and services more efficiently or desirably than other municipalities.
We found that councils generally focused on their strengths while planning for economic development, to capitalise on local conditions. For example, Southern Grampians and Loddon both identified a need to focus on agriculture as part of their most recent council plans. To facilitate this, both councils appointed an agribusiness specialist. In the final stages of the audit, Loddon advised that the role is now vacant due to budgetary constraints and council's assessment of its future direction.
2.6 Barriers to economic development
World Bank guidance on local economic development states that municipalities should improve the processes and procedures, and remove the expensive complex regulations, that impact businesses. This will improve the investment climate and make the municipality more appealing to businesses.
The Treasurer of Victoria asked the Victorian Red Tape Commissioner to consult with stakeholders in regional Victoria in 2016. The Commissioner identified red tape issues with the Planning Scheme Amendment approval process, some of which are also significant barriers to economic development:
Council and referral authorities are not adhering to statutory time lines for determining planning applications.
Relevant authorities have little regard for, and appreciation of, the commercial implications of poor process, especially regarding the costs, delays and rework imposed on businesses.
Businesses experience a one-size-fits-all process, with little difference in treatment between simple and complex matters.
The state government is planning to address these issues through its Smart Planning program, a two-year initiative it launched in mid-2016 that aims to remove significant barriers to growth in regional Victoria.
Strategic land use planning
Strategic land use planning is a critical foundation for local economic development. Councils face three main land use barriers to local economic development.
Lack of public utility infrastructure
While councils can create the conditions for economic development, they rely on strategic partners to plan and fund public infrastructure like water and sewerage services, roads and electricity. The cost of such public infrastructure is significant. The councils rely on private investors and referral agencies, such as VicRoads, Parks Victoria, catchment management authorities, the Environmental Protection Authority and water corporations.
Councils advised that they are not able to progress developments if the referral agencies have competing priorities when it comes to the timing of public infrastructure delivery. RDV and councils advised that the referral agencies might agree to supply the infrastructure ahead of time, but at a higher cost. This puts rural councils in particular at a disadvantage, because the costs of the project could become too high.
There is an opportunity here for improved communication and more collaboration between councils and referral agencies. Regional partnership arrangements provide the opportunity for key strategic partners to collaborate on regional priorities. However, there is currently limited involvement from referral authorities in these.
Extended time frames for development approvals
Consistent with the Victorian Red Tape Commissioner's findings, council staff and stakeholders reported that the time taken to get feedback or approval from referral agencies on proposed developments is a problem. For some projects, councils may be required to seek feedback from 10 or more referral agencies, which can take considerable time.
Lengthy planning approval processes deter investors from committing to investments. One key issue delaying approval processes is that domestic planning applications—for example, a shed in a backyard—and economically significant local projects are subject to the same planning processes.
There are limited fast-track processes available to shorten approval time frames. The Geelong and Latrobe Valley Authorities—regional planning bodies that the government established in response to declining economic conditions— introduced some arrangements to fast-track development applications. In addition, DELWP expedites some low-risk planning permit applications through VicSmart, which is a more streamlined assessment process. When an application qualifies for VicSmart, councils must make a determination within 10 business days. However, VicSmart does not capture all simple proposals and is not well integrated into the planning system. The state government's Smart Planningprogram aims to address planning delays as well as improve and broaden VicSmart.
Figure 2I and 2J provide case studies of some challenges that councils face in pursuing economic development initiatives.
Figure 2I
Case study: Shipwreck Coast Master Plan
Parks Victoria's Shipwreck Coast Master Plan (SCMP) aims to promote sustainable tourism on the Shipwreck Coast, a 28-kilometre stretch along the state's south-west coast that includes the Twelve Apostles. The implementation of the SCMP, for which Corangamite is a project partner, demonstrates how relying on referral agencies and extended approvals processes can delay economic development in local government areas.
The SCMP provides a strategic plan for the future economic development of Corangamite by improving infrastructure and visitor accommodation. A 2010 Tourism Opportunity Study showed that 85 per cent of visitors to Corangamite did not stay overnight, partly due to a lack of available accommodation. In 2011, a council review identified opportunities to develop accommodation in the region but noted that the planning framework was a potential barrier to this.
After the release of the SCMP in 2015, the Minister for Environment announced an immediate investment in the area with a partnership between Parks Victoria and Wannon Water to build a $4.4 million sewer pipeline—to connect the visitor site at the Twelve Apostles to Wannon Water's sewage treatment facilities at Port Campbell.
Although Parks Victoria and Wannon Water have progressed planning for the project, construction of the sewer pipeline has not yet commenced.
In 2016, an investor proposed an eco-tourism resort at Princetown, a site that the SCMP identified for development. Outcomes expected from the development include 21 jobs during construction and 78 ongoing jobs once operational. The council has issued a conditional planning permit for the proposal. However, at the time of this report, the proposal was yet to obtain a works approval from the Environment Protection Authority in relation to on‑site waste treatment.
Source: VAGO, based on information from Corangamite.
Figure 2J
Case study: Hamilton Structure Plan
The Southern Grampians' Hamilton Structure Plan, finalised in 2011, plans for future growth in Hamilton. It is an example of a council liaising effectively with a referral agency.
For rural councils, a lack of available reticulated sewerage is a barrier to attracting investors. For example, a cafe relying on septic tanks may need to limit its seating due to planning restrictions, making the business unviable. However, the council is dependent on a referral authority to resolve these issues. Wannon Water, not Southern Grampians, is responsible for developing plans to connect residents and businesses to the sewerage system.
When developing the Hamilton Structure Plan Southern Grampians sought input from community and business groups as well as government and sector agencies, including Wannon Water. The council advises that the plan will allow Wannon Water to better plan where to place sewerage infrastructure in Hamilton.
Source: VAGO, based on information from Southern Grampians.