Local Government and Economic Development
3 Improving economic viability and sustainability
The Act states that the primary objective of a council is to endeavour to achieve the best long-term outcomes for the local community, including by:
promoting the social, economic and environmental viability and sustainability of the municipal district
ensuring that resources are used efficiently and effectively
promoting appropriate business and employment opportunities.
This part of the report assesses whether councils are implementing and reviewing their economic development strategy and whether council actions are achieving their intended outcomes.
3.1 Conclusion
Councils have dedicated significant resources and undertaken many actions to implement and review their economic development strategies. However, the four-year council plans are at odds with the longer-term economic development strategies. This often results in poorly aligned and changing priorities.
Economic development in rural and smaller councils is dependent on state government grants. The lack of staff skilled in developing robust business cases has resulted in rural councils failing to secure available grants. This has resulted in missed opportunities for economic development in these areas.
Councils have sufficient strategic performance measures for economic development in their economic development strategies and council plans, but these lack targets and benchmarks. Councils monitor and report on project actions, but as these do not link to strategic performance measures, they do not allow councils to measure their progress against their strategic economic development outcomes.
3.2 Implementing the local economic development strategy
In Part 2 of this report we discussed the first four steps of the World Bank's local economic development process, which focuses on strategic planning. The final two steps in the process are highlighted in Figure 3A.
Figure 3A
Local economic development process map

Source: VAGO, using the World Bank's Local Economic Development guidance.
Implementing the local economic development strategy requires councils to identify and allocate the resources—financial and human—needed to support its delivery, and to develop individual project action plans.
Funding economic development actions
We examined the economic development budgets for the five audited councils, and found that the budgets mostly comprise funding for business support activities including:
financial support for business and tourism associations
festivals and other tourism support events
conferences and field days
workshops and training
marketing and promotional materials.
In rural councils, economic development budgets also provide for the management of saleyards, airports and caravan parks.
Councils prioritise budgets based on their municipality's identified strengths. For example, Bass Coast identifies tourism as its key strength and allocates the majority of its economic development budget to deliver its tourism and events activities. These include:
working with event partners
supporting regional tourism boards
providing grants to facilitate events
operating visitor information centres.
Expenditure on economic development
Councils have different structures for categorising economic development activities and expenditure. For example, some councils' economic development expenditure includes tourism expenditure, while others do not. It is therefore difficult to identify exactly how much councils spend on economic development.
VGC allocates financial assistance grants from the Federal Government to local councils in Victoria. To do this, VGC collects data from a range of sources, including directly from councils.
Lack of consistent data for economic development expenditure, across audited councils, resulted in the audit team relying on VGC data on business and economic services as a proxy.
According to VGC data, in 2015–16, Victorian councils spent $866 million on business and economic services including:
community development and planning
building control
tourism and area promotion
community amenities
non-road transport (for example, ferries)
markets and saleyards
administration of mining and manufacturing industries
business undertakings (for example, management of industrial estates, commercial properties and businesses).
Our analysis of the VGC data indicates that in 2015–16, councils spent an average of 9.3 per cent of their total expenditure on business and economic services. Melbourne City Council spent 50.6 per cent of its total expenditure on these services, which was the highest of any council. The majority of councils—62 out of 79—spent between 6 and 12 per cent, and the audited councils spent between 6 and 10 per cent of their total expenditure, as shown in Figure 3B.
Figure 3B
Expenditure on business and economic services for audited councils, 2015–16
| Council | Business and economic services total expenditure ($m) | Percentage of total council expenditure (%) |
| --- | --- | --- |
| Southern Grampians | 3.8 | 9.78 |
| Bass Coast | 6.77 | 9.55 |
| Corangamite | 3.03 | 7.63 |
| Loddon | 1.86 | 7.00 |
| Melton | 8.28 | 6.38 |
Source: VGC.
The expenditure above does not account for any revenue that councils receive as part of their economic development activities—such as income generated by Southern Grampians in operating their saleyards. Inclusion of such revenue is likely to reduce net expenditure on economic development.
Without actual comparable data, it is difficult to ascertain whether this expenditure is sufficient. Based on our site visits, interviews and discussions with councils and stakeholders it is clear that economic development is high on councils' agenda and councils actively allocate resources towards it.
Accessing regional funding opportunities
One of the opportunities that exists for regional councils to promote economic development in their municipality is to access funds from the RJIF. The RJIF, administered by RDV, is the Victorian Government's overarching regional development package. It focuses on major projects, employment and communities. There are three streams within RJIF:
RIF
Regional Jobs Fund
Stronger Regional Communities Plan.
By 31 December 2017, the RJIF had contributed $317.6 million towards 467 projects in regional city and rural councils. Of these, 265 projects were in rural councils. Figure 3C shows RJIF funding, by the nine regional partnership groupings.
Figure 3C
Approved RJIF grants by regional partnership, 31 December 2017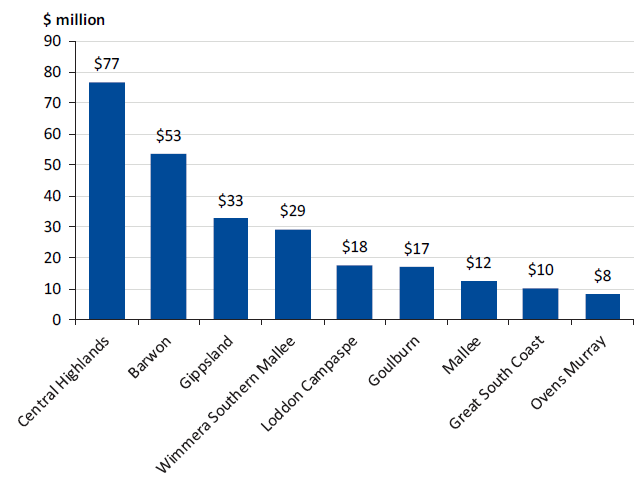 Note: The RJIF was officially launched in July 2015.
Source: VAGO, using information from RDV.
Each partnership group includes at least one regional city. Collectively, Ballarat City Council and Geelong City Council received 47 per cent of the RJIF allocation to regional and rural councils.
Figure 3D provides a case study showing how councils can use grant funding to support economic development.
Figure 3D
Case study: Using grant funding to facilitate economic development
In 2016, Bass Coast received $160 000 in funding from the RDV Planning for Growth initiative. The purpose of the funding was to undertake strategic planning for Wonthaggi. This funding enabled the council to:
rezone areas around Wonthaggi
make a Development Contribution Plan to provide for future infrastructure
provide additional planning tools and facilitate planning scheme amendments
undertake a discrete rural land study.
The funding facilitated economic development and resulted in positive outcomes for the community which included:
clarifying strategic land use in the municipality
securing open space and pathways
identifying future community infrastructure needs
releasing residential land
developing the Wonthaggi Education Precinct concept
creating an environment for commercial expansion, including the expansion of existing retail stores and securing large anchor tenants to the area.
Source: VAGO, based on information provided by Bass Coast.
Failing to take advantage of available funding
One of the three RJIF streams is the RIF. The RIF invests in major infrastructure projects to create or enhance the conditions for economic growth in regional Victoria and build diversified, resilient and sustainable regional economies. The RIF provides funding under four program streams:
visitor economy
productive and liveable cities and centres
enabling infrastructure
rural development.
As part of its 2014 election commitments, the Victorian Government committed $100 million in RIF funding to regional cities and $70 million in RIF funding to rural councils. By December 2017, only $30 million of the rural council allocation was committed, and $24.3 million worth of projects were in varying stages of approval. In contrast, regional cities have accessed all of their allocated RIF funding.
For the four rural councils in this audit, RDV identified $8.5 million in grants for which councils had either not applied, or had applied but failed to meet the funding criteria as of December 2017. This was for 40 potential projects valued at more than $46.5 million.
RDV is working to identify the reasons why some councils do not apply for grants, and why applications often fail to meet the criteria. Most of the audited councils and RDV suggest that a lack of staff with skills and experience in developing business cases is a possible factor. However, Southern Grampians advises that inadequate and delayed feedback from RDV is another reason for the under‑utilisation of grants.
While RDV is willing to assist councils in determining the most appropriate funding stream to meet their project requirements, RDV considers that it is councils' responsibility to make sure they sufficiently resource and position themselves to compete for project funding.
Staff capacity and capability
Having sufficient and appropriately trained staff is important for an effective economic development strategy and enables councils to better access available grants.
In all audited councils, there were dedicated economic development staff. The number of staff varied based on the size of the councils. For example, Loddon—the smallest council in our sample—had fewer than two full-time-equivalent team members responsible for economic development.
Economic development staff undertook varied learning and development activities. Most of the councils had accessed courses or training provided by:
the Municipal Association of Victoria
Economic Development Australia
Rural Councils Victoria.
Regional teams also attended industry sector conferences, the Regional Living Expo and agribusiness-related field days and events.
Skills based training was less evident in economic development staff learning and development plans. As discussed earlier, a lack of appropriate skills or resources means most of the audited councils have outsourced the formulation of their economic development strategies. Only two of the five councils had sent teams on business case writing workshops. However, we did find that three of the five councils had supported staff to complete business degrees.
LGV works in partnership with the local government sector to improve business and governance practices. Considering LGV's sector-wide view of local governments, it should consider ways of providing further guidance to councils to improve their economic development activities, including staff development in this area. Similarly, RDV's role in regional economic development means it is well placed to provide support and guidance to councils to improve their economic development activities.
3.3 Innovative approaches to economic development
Councils can use a combination of their statutory powers and other innovative methods to drive local economic development.
Attracting investment and population growth
We found some innovative examples of councils promoting economic development, which are discussed in the case studies in Figure 3E and 3F.
Figure 3E
Case study: Facilitating business by providing useful information
Southern Grampians completed an agricultural land use capability study, using $40 000 provided under the state government's Victorian Adaptation and Sustainability Partnership. It conducted the study in partnership with a local university and the local catchment management authority. The project outcomes are a series of Geographic Information System maps on cropping, pastures and horticulture. The project is ongoing, and the council is progressively uploading the maps onto its website.
By collecting this information, the council can:
attract potential investors looking for specific soil types to grow crops
provide diversification information for existing farm businesses, particularly in response to changing climate conditions.
Source: VAGO, based on information provided by Southern Grampians.
Figure 3F
Case study: Facilitating local businesses
In 2012, Melton obtained $14.6 million in Commonwealth Government funding to establish the Western Business Accelerator and Centre of Excellence (Western BACE), in partnership with a major developer and a number of educational institutions. The project partners contributed a further $5 million.
Completed in May 2015, the Western BACE includes a 'business accelerator'— a space for local small businesses to establish themselves before moving out into the Melton community.
Melton advised that, to date, the business accelerator has supported 634 business owners. The centre also includes a youth program to help unemployed young people to gain relevant qualifications, which has assisted 223 people since its inception.
Melton considers continued development of the Western BACE central to the council's economic development strategy.
Source: VAGO, based on information provided by Melton.
Use of council powers to promote economic development
The Act provides councils with 'the power to do all things necessary or convenient to be done in connection with the achievement of its objectives and the performance of its functions'.
The Act also specifies powers that councils may use including:
entrepreneurial powers
the power to make local laws
the power to invest and to declare special rates and charges
the power to grant a rebate and concession.
The current review of the Act is considering the scope of these powers.
The case study in Figure 3G is an example of a council using its investment powers to facilitate economic development.
Figure 3G
Case study: Facilitating business by providing financial support
To drive economic activity and business growth, and to address its council plan's strategic objective to support business attraction and expansion, Corangamite established a $300 000 support fund in 2014–15. The fund provided five-year unsecured loans with interest set at the consumer price index.
The council invited expressions of interest and, in its first year, received 17 project submissions requesting a total of $2.7 million. The council estimated that these submissions had an economic value of $19.8 million if fully funded. The council assessed the submissions based on 12 unweighted criteria, including increased employment, adding value to the local industry, and matched funding.
Three project submissions were successful in the first round and received shared funding of $250 000. The second round provided $250 000, and the third $100 000. In total, $600 000 has been allocated to nine projects, with around half of the loan amount repaid. The funding supported start-up businesses, refurbishments and business expansions. The council advised that the program supported around 26 full‑time-equivalent jobs and contributed $9.2 million in direct and indirect benefits to the local economy.
The funding also assisted preliminary ideas to progress—for example, seed funding for concept development activities led to additional funding from the state government.
Source: VAGO, based on information provided by Corangamite.
Reluctance to use incentive-based powers in certain circumstances
The audited councils advised that they are generally reluctant to use incentive‑based powers—to defer, waive or apply special rates and charges—particularly when using those powers may be perceived as promoting private, as opposed to public, interests.
Councils were also mindful of how existing businesses may perceive this incentive‑based support for new prospective investors. Councils prefer that investors choose to invest in their area because of recognised opportunities. Bass Coast advised that smaller councils have less capacity to use their incentive powers.
However, these problems should not deter councils from exploring how they can use their powers innovatively to facilitate economic development, while also mitigating potential risks.
3.4 Reviewing the economic development strategy
Under section 3D of the Act, a council is responsible for establishing strategic objectives and monitoring their achievement.
Outcomes of economic development activities
Economic development strategies are long-term in nature, but the council plan—which an incoming council uses to identify its vision for the municipality—only covers four years. This creates an inherent inconsistency as councils' economic development priorities change over time.
For example, the incoming Corangamite council has discontinued the support fund discussed in Figure 3G, 'due to the risks involved'. Similarly, Southern Grampians developed a 10-year economic development strategy with more than half of its actions dedicated to industries that have growth potential or the capacity to stimulate growth in the region. One such industry targeted as part of this strategy was the equine industry. The council initiated many of the actions and undertook an industry study that indicated the sector had modest growth opportunities and 'promising compounding benefits'. However, since then, the council changed its priorities and the focus has moved away from the industry.
Economic development performance measures
General indicators of local economic development include population growth, increasing GRP, increasing jobs and businesses and, where local economies depend on tourism, increasing visitors. We expected councils to monitor economic development measures that confirm the achievement of these objectives.
All the audited councils included economic development outcomes and measures in either their council plans or their economic development strategies, but the number and quality of these measures varies. Figure 3H shows the number of performance measures for each of the five audited councils.
Figure 3H
Council performance measures for economic development
| Council | Number of measures |
| --- | --- |
| Bass Coast | 9 |
| Corangamite | 6 |
| Loddon | 7 |
| Melton | 101 |
| Southern Grampians | 87 |
Source: VAGO, based on information provided by the audited councils.
Both Melton and Southern Grampians link their performance measures to specific actions rather than strategic objectives. For example, Melton's performance measures include holding an annual information session for local businesses and completing specific research tasks. Similarly, Southern Grampians included feasibility assessments and rebranding as performance indicators in its action plan. While these measures help the councils to achieve specific actions, they do not measure what these activities achieved and how the council is performing against overall strategic objectives.
In contrast, the performance measures for Loddon, Bass Coast and Corangamite reflect broader strategic objectives. Loddon and Corangamite both have a performance measure for population growth. Bass Coast identified a reduction in the unemployment rate as one of its nine performance measures.
Setting targets for economic development
While the information on economic development measures—like economic growth and number of jobs—is readily available to councils through various sources, the audited councils do not include any benchmarks, targets or trend data for these measures. Although all councils included performance measures in their council plan, only two councils had targets. Where there are no targets, reporting cannot identify if the council's performance is in line with expectations. This means councils cannot know if they are on track to achieve their intended outcomes, particularly by the end of the four-year council term.
In an example of better practice, Loddon adopted strategic performance measures and targets that provide high-level indicators of achievement, alongside the output measures in the action plan. These indicators are measurable and linked to accessible data, as shown in Figure 3I.
Figure 3I
Loddon strategic performance targets, 2015–2019
| Performance measure | Target |
| --- | --- |
| Residents and counting (a stabilised population) | 7 500 |
| Increase in the proportion of residents who are 0–14 years old (the rural average) | 1 per cent |
| Increase in the proportion of working-age residents | 2 per cent |
| GRP (5 per cent increase in real terms on the 2014 value) | $408 million |
| Residents in the workforce (a ratio that matches that of rural Victoria) | 43 per cent |
| Employment diversity index (a distribution of jobs across industry sectors that is moving towards the rural average of 0.85) | 0.80 |
| Connectivity score—level of access to features that are attractive to prospective new residents (moving towards the rural average of 7.4) | 7.0 |
Source: VAGO based on Loddon's Economic Development Strategy 2015–2019.
Having such clear expectations of economic development helps focus the economic development activities of councils. As discussed earlier, a range of internal and external factors influence these measures, and councils may not always achieve the targets they set for themselves. However, setting clear targets means councils can effectively analyse their performance and identify the factors affecting council performance—whether internal or external.
Monitoring and reporting on economic development measures
Although councils have developed performance measures as part of their council plan or their economic development strategies, there was a lack of meaningful reporting on economic development outcomes. Councils monitored and reported on economic development actions, but these actions do not provide any sense of achievement of the strategic economic development outcomes. For example, the actions could include holding a business seminar or any other event. However, councils did not clearly document how these actions linked to and supported economic development.
Two of the five councils use a monitoring system to track and report on their progress against actions in the council plan. This system monitors progress to date, which area is responsible, and produces 'traffic light' reporting on progress. However, the system mostly focuses on action items rather than the actual achievement of economic development indicators.
While all council teams met regularly and reported qualitatively on progress against their economic development actions, there was a lack of outcome-based monitoring. For example, one council only reported against two measures for economic development:
number of visitors to the visitor information centre
number of new Australian Business Numbers within the city.
Limited monitoring of outcomes means councils do not have an evidence-based view of the effectiveness of their economic development strategies. It also means they do not understand which of their actions are helping to achieve the desired results.
Local Government Performance Reporting Framework—economic development measures
In 2015, LGV implemented the LGPRF in response to the recommendations of the 2012 VAGO audit Performance Reporting by Local Government.
The economic development indicators in the LGPRF are:
participation in business development activities
delivery of planned business development activities
cost of economic development service
change in number of businesses.
The economic development indicators in the framework are optional, and none of the audited councils report on these to LGV. Three of the four indicators rely on data from the ABR, which councils consider problematic for reporting purposes, as discussed in Section 2.5. The indicators are limited to business support activities, are not outcome-oriented and lack the strategic insight to benchmark council performance across the state.
Even though councils differ in their nature—especially with respect to economic development—access to benchmarked data would enable councils to assess how well placed they are. The councils would then be able to filter information relating to councils of similar size or circumstances to help achieve better outcomes and shared learning.