Managing Registered Sex Offenders
1.1 The sex offenders registration scheme
The Act came into operation on 1 October 2004. Together with the Sex Offenders Registration Regulations 2014, the Act creates a scheme to impose reporting obligations on people convicted of sexual offences and who pose a risk to the safety of others.
The scheme aims to:
reduce the likelihood that the RSO will reoffend
assist the investigation and prosecution of any offences an RSO may commit
prevent RSOs from working in child-related employment.
The Sex Offenders Register lists all RSOs.
Legislative framework
Registrable offences
Class 1 sexual offences: includes rape, incest, sexual penetration, facilitating sexual offences.
Class 2 sexual offences: includes sexual assault, sexual assault of a child under the age of 16, possessing child abuse material.
—Schedules 1 and 2 of the Act.
The Act automatically applies to all adults sentenced for committing Class 1 or Class 2 sexual offences against a child.
The courts also have discretion to include on the Sex Offenders Register:
an offender who is under the age of 18 years
an adult sentenced for certain sexual offences against an adult
any person who commits any offence where the court finds that the offender poses a risk to the safety of one or more persons or to the community.
Reporting periods
When an offender becomes an RSO, they must report key personal details to Victoria Police for a specified period. The length of the reporting period depends on the number and nature of the offences for which the RSO was sentenced, and whether the offender was an adult or a child at the time of the offences.
Figure 1A shows that adult offenders must report for eight years, 15 years or life. Youth offenders report for half the period of adult offenders. Where an adult offender would report for life, a child's maximum is 7.5 years.
Figure 1A
Reporting periods under the Act for RSOs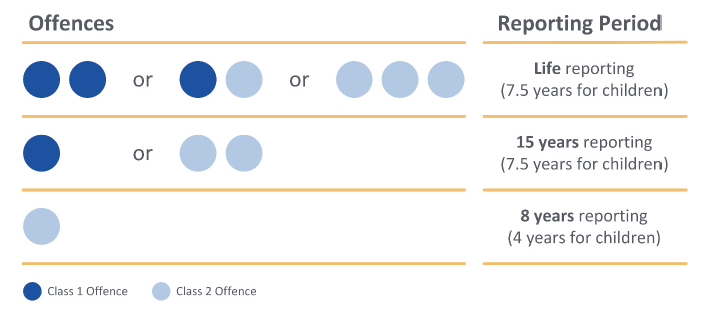 Source: VAGO, adapted from Victoria Police CM training material.
Reporting obligations of personal details
All RSOs have the same reporting obligations regardless of the length of the reporting period. Figure 1B outlines the reporting obligations of RSOs, including the timeframe and whether the details must be reported in person or can be reported over the telephone or email.
Figure 1B
RSO reporting obligations under the Act
| What to report | Details | Time frame (and method) |
| --- | --- | --- |
| Change of address | All addresses where the RSO spends seven or more days in a year, whether consecutive or not | Within 24 hours (must be in person) |
| Contact with children | The name of each child with whom the RSO has contact as defined by the Act | Within 24 hours |
| Scars, tattoos and marks | Any tattoos or permanent distinguishing marks that the RSO has (including details of any tattoo or mark that has been removed) | Within 7 days (must be in person) |
| Clubs/ associations | Association with any clubs or organisations that have child membership or participation in their activities | Within 7 days |
| Contact details | All of the RSO's phone numbers, email addresses and internet service providers | Within 7 days |
| Internet usage | Usernames the RSO uses on the internet or other electronic communication services, including instant messaging, chat rooms or forums | Within 7 days |
| Employment | Any employment (including voluntary, unpaid and self-employment) and its location(s) where the RSO is employed at those premises for 14 days—whether consecutive or not—within a 12-month period | Within 7 days |
| Motor vehicles | Any motor vehicle or caravan owned or generally driven by the RSO (driven 14 times—whether consecutive or not—within a 12-month period) | Within 7 days |
| Travel | Overseas—for any length of time; interstate—for two or more consecutive days or permanently | 7 days prior to departure (if travelling overseas, in person) |
Source: VAGO, adapted from Victoria Police CM training material.
Breaches of reporting requirements
Indictable offences are serious offences that cannot be heard without the accused person being present at court.
It is an indictable offence for an RSO not to comply with the reporting obligations without a reasonable excuse. Maximum penalties for these offences are two or five years of imprisonment, depending on the reporting breach.
Relevant schemes in other states and jurisdictions
Victoria Police's SOR unit communicates with other police forces when an RSO moves into or out of its jurisdiction. Once an RSO moves outside Victoria, the relevant police agency will manage the RSO in accordance with its own legislation.
Crimes committed outside Victoria can also result in an offenders' registration under the Act. For example, crimes under federal legislation are specifically listed as registrable offences under the Act. These crimes are often online offences, such as access or production of illegal digital content.
Under section 11 of the Act, sex offenders who commit other crimes under federal, interstate or international legislation and who reside in Victoria can also be registered and made to comply with reporting obligations in certain circumstances.
The fact that RSOs may have periods when they are outside Victoria, as well as the existence of registrable sex offences under federal legislation, affects the completeness of RSO data in some of the systems—shown in Figure 1F—used to record their information. It has also impacted our ability to analyse this data, as discussed later in this report.
1.2 Key figures
In May 2019, there were 8 286 RSOs on the Sex Offenders Register in Victoria:
4 436, or 54 per cent, are in the community and have active reporting requirements.
3 850, or 46 per cent, do not have active reporting requirements because they are either:

in custody (960)
interstate or overseas (1 200)
de-registered (those who have completed their reporting obligations—1 215)
deceased (463), or
suspended from reporting (12), which the Act allows in circumstances such as when the RSO poses no threat to community safety.
Some RSOs, such as those currently in custody, will have active reporting requirements when released into the community. RSOs may also become inactive in Victoria by moving interstate and may return and become active in Victoria again.
More than half of all RSOs have reporting periods of 15 years or life.
According to the Sentencing Advisory Council, a secondary offence is 'an offence that meets the following criteria: (1) the offence applies to a person who has been suspected or convicted of an offence, (2) because of that involvement with the criminal justice system, the person is subject to special conditions and (3) non-compliance with those special conditions constitutes a punishable offence'.
Breaches of reporting obligations
The Sentencing Advisory Council—a body that produces research, statistics and education about sentencing in Victorian courts—reports that courts issued 5 353 sentences for sex offender secondary offences between July 2011 and June 2016. Secondary offences or breaches include failing to comply with reporting obligations, furnishing false or misleading information, applying for or engaging in child-related employment, and applying for a change of name without permission.
The most common secondary offence was failing to comply with reporting obligations (4 900, or 92 per cent). According to the Sentencing Advisory Council, information as to which specific obligations had been breached only exists for 546, or 11 per cent, of these offences sentenced in the Magistrates' Court. The three most common reasons of offences for which information exists were failing to report:
telephone contact details (111 offences)
electronic or online identity details (107)
address details (99).
1.3 Roles and responsibilities
Victoria Police
Roles and responsibilities across the organisation
The Act requires Victoria Police to:
apply for Sex Offender Registration orders
maintain the Sex Offenders Register
coordinate RSO reporting and registration processes
monitor and manage RSOs
disclose information to other agencies regarding RSOs
investigate and prosecute relevant breaches/offences by RSOs
assist the Independent Broad-based Anti-corruption Commission (IBAC) and report to the Minister for Police.
The Chief Commissioner of Police delegates these tasks to various business units and staff in Victoria Police, as shown in Figure 1C.
Figure 1C
RSO management and governance responsibilities across Victoria Police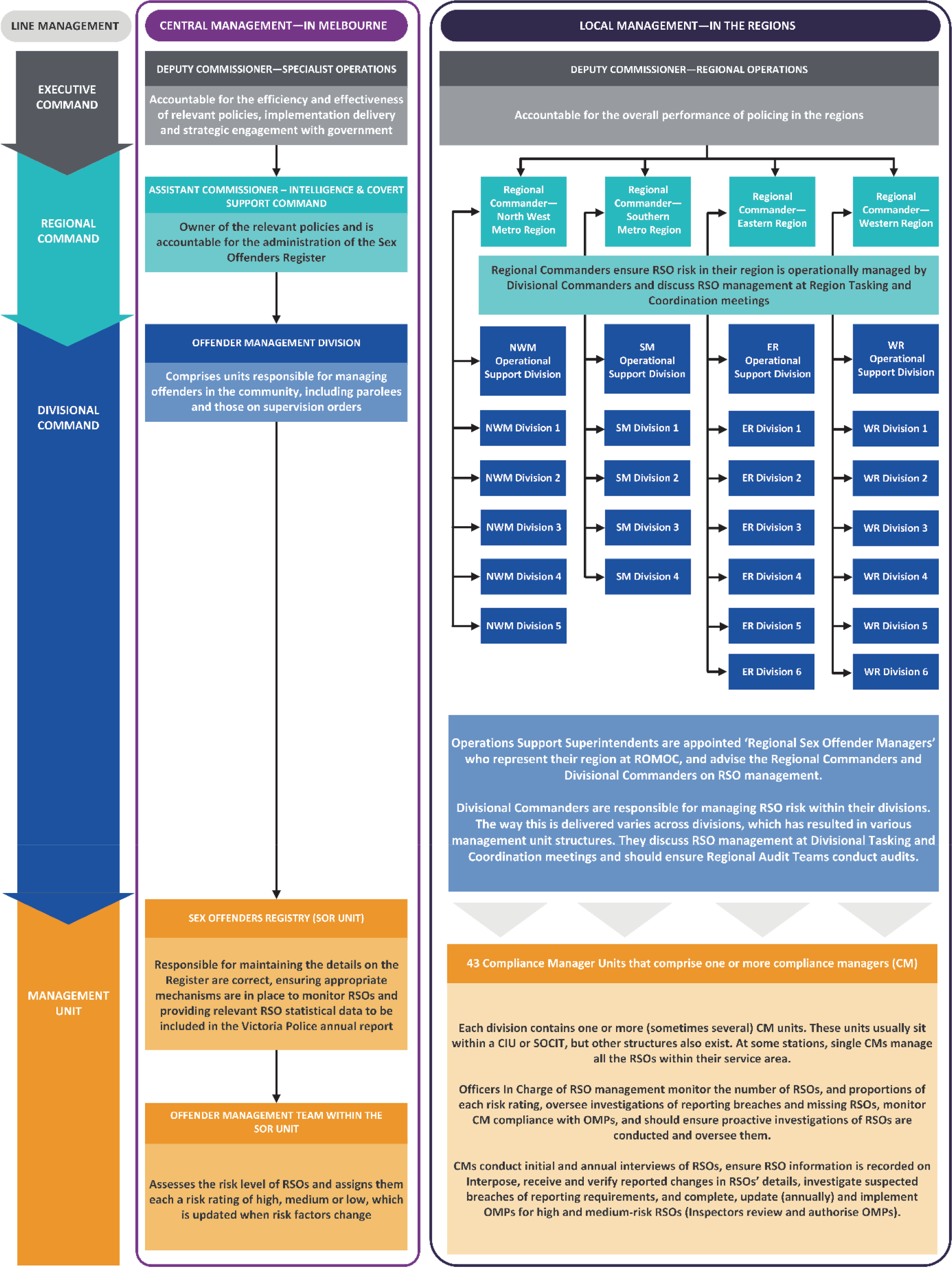 Registering an offender
When a court first imposes reporting obligations on a person who has committed one or more registrable offences—making the person an RSO—it issues a Notice of Reporting Obligations (NORO).
This notification is forwarded to the SOR unit, which conducts the initial registration process and enters the reporting obligations into the relevant databases and systems. The SOR unit also sends notifications of new RSOs to:
the Working with Children Check unit of DJCS
Registry of Births, Deaths and Marriages Victoria (BDM)
Corrections Victoria's (CV) Post Sentence Branch
the Australian Department of Home Affairs
Victoria Police's Offender Management Team.
The Offender Management Team sits within the SOR unit and conducts risk assessments of RSOs, assigning a high, medium or low-risk level to each RSO.
The risk level of RSOs is primarily determined by applying all available information to the:
static risk assessment, which relates to factors such as offence histories that predict recidivism but are not amenable to deliberate intervention
dynamic risk assessment, which relates to potentially changeable factors, such as substance abuse and negative peer associations, and are considered conducive to offending if left unchecked.
Based on where the RSO lives, they are assigned to a CM in one of the 43 CM units across four Regional Commands—Eastern, North West Metro, Southern Metro and Western. These regions cover Victoria and are divided into 21 divisions, with four to six divisions per region. Some divisions have multiple CM units, while others have a single CM unit that manages all RSOs in that division.
The CM conducts the initial interview with the RSO and ensures that the RSO has read and understands the NORO. The CM also records or confirms all relevant personal details of the RSO.
After completing the initial interview, the CM must also complete an OMP for each RSO who is classified as high or medium-risk or who has concerning dynamic risk factors as identified by the Offender Management Team or the CM. The OMP is tailored to the specific risks that the offender poses to the community and details proposed strategies to mitigate these risks by listing practical and effective strategies to be executed by the CM.
Figure 1D outlines the process for registering RSOs.
Figure 1D
Process for registering an RSO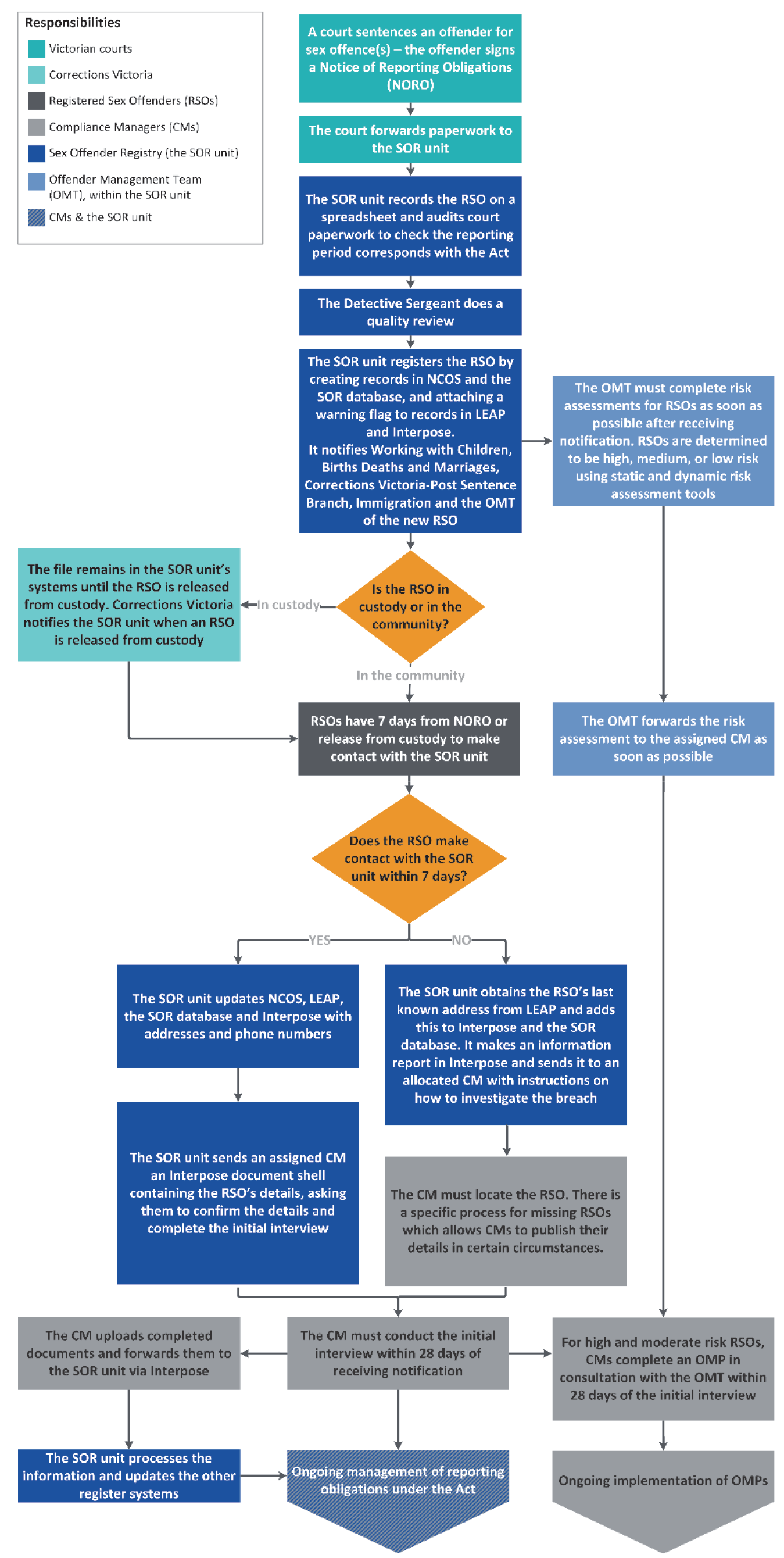 Once registration has occurred, the RSO moves into ongoing management for the period of their reporting obligations. All RSOs have the same reporting obligations under the Act, but certain RSOs have additional offender management as prescribed by their OMPs. Figure 1E outlines the two tranches of ongoing management.
Figure 1E
Ongoing management of RSOs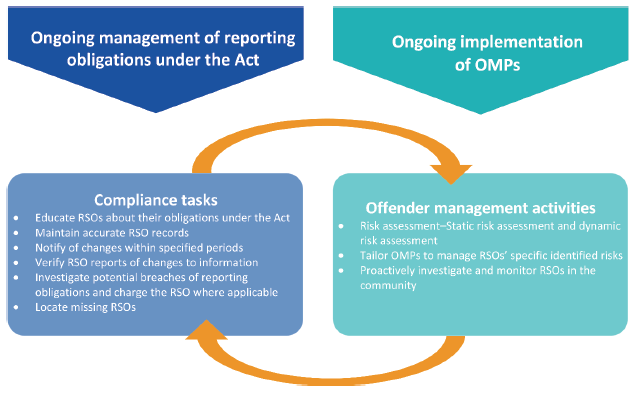 Source: VAGO, adapted from material provided by Victoria Police.
Compliance management under the Act
The CM is responsible for monitoring and overseeing an RSO's reporting requirements under the Act for the period of their listing on the Sex Offenders Register. The CM is also responsible for investigating any breaches of reporting requirements or sexual reoffending.
Conducting annual interviews
The CM conducts an annual interview with assigned RSOs in the calendar month that the initial interview occurred. If an RSO does not report for the annual interview before the end of the calendar month, the CM, after making reasonable attempts to contact or locate the RSO, is to notify the SOR unit of the RSO's failure to comply.
Processing changes in reportable details
Where there is a change in the RSO's reportable information, RSOs must notify either the CM or the SOR unit. Where an RSO reports a change of details, CMs:
verify and corroborate all information provided by RSOs by obtaining documents or other supporting evidence—this can include copies of rental agreements, vehicle registration documents and telephone contracts
issue an acknowledgment of the receipt of this information, referred to as a 'section 25' in reference to the relevant section of the Act, to the RSO within seven days of the report
forward the details to the SOR unit.
Investigating breaches in reporting obligations
When a police member identifies a potential breach of reporting obligations by an RSO—for example, through any planned or chance interaction they have with the RSO—the CM investigates the matter. Where there is enough evidence, the matter proceeds to court. Breaches of reporting requirements are heard in the Magistrates' Court.
Investigating sexual reoffending
Similarly, when a police member identifies a potential case of sexual reoffending, the CM investigates the matter. Where there is enough evidence, the matter proceeds to court. These offences are usually heard in a committal hearing at the Magistrates' Court and may be committed for trial before a judge in the County Court or Supreme Court.
Offender management through OMPs for certain offenders
As noted, the CM must also complete an OMP for all RSOs who are classified as either high or medium-risk, or who have concerning dynamic risk factors as identified by the Offender Management Team or the CM. For example, this can include low-risk RSOs who have temporary living conditions that may increase their risk of reoffending.
OMPs are intended to be unique for each RSO and outline the actions that CMs commit to do to meaningfully mitigate the RSO's dynamic risk factors. OMPs should be specific and measurable, and include the regularity with which the CM will undertake each action.
Review of risk assessments
CMs must review the risk assessments on which OMPs are based annually at a minimum and ascertain if a new risk assessment is needed based on new information or intelligence.
Review of OMPs
OMPs are also reviewed:
on an annual basis
at any time of the year if an RSO is charged with a reporting breach or a sexual reoffence
if a change in the dynamic risk factors as part of the risk assessment review indicates a need to increase monitoring of the RSO.
Maintaining the Sex Offenders Register
The Sex Offenders Register should contain all relevant RSO details and reportable information and be updated as needed. The Sex Offenders Register is not contained in one list or source, but instead comprises information held across multiple systems and locations. Figure 1F outlines these systems.
Figure 1F
The information that makes up the Sex Offenders Register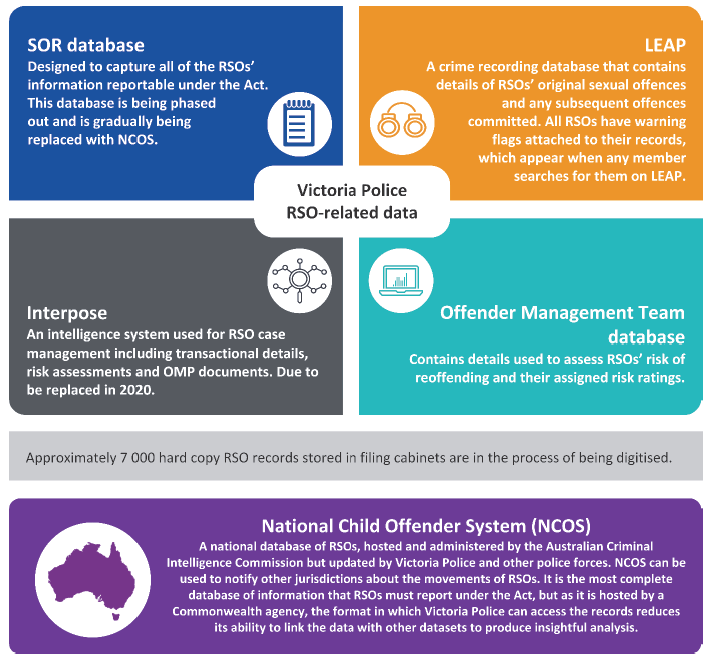 Source: VAGO, based on information provided by Victoria Police.
Department of Justice and Community Safety
Corrections Victoria
A sex offender sentenced with reporting obligations under the Act may also receive other sentences, including community corrections orders or a term in custody. Section 53 of the Act includes mandatory reporting requirements for CV. If an RSO is sentenced to a prison term, CV becomes responsible for keeping records of the offender's details and reporting requirements and for notifying Victoria Police of these once the offender is released from custody and their reporting period under the Act begins. CV must also tell Victoria Police when an RSO's community corrections order expires. CV and Victoria Police have a memorandum of understanding for information sharing to support these requirements.
Where an RSO is on parole, the parole officer is expected to collaborate with the CM. CV expects CMs and parole officers to share information regarding RSOs who are also parolees or who are on supervision or community corrections orders. Parole officers can consult CMs regarding relevant parole conditions such as assessing residence suitability. CV and Victoria Police also have a joint unit called the Supervision Order Specialist Response Unit (SOSRU) to assist in the management and sharing of information about post-sentence offenders, including RSOs.
Registry of Births, Deaths and Marriages Victoria
BDM processes requests to change the names of Victorian residents. Under the Act, an RSO who wishes to change their name must apply to the Chief Commissioner of Police for written permission—it is an offence not to do so. To fulfil its obligations under the Act, BDM has information-sharing arrangements with Victoria Police.
BDM must ensure that any name change application from an RSO has the required permission. If Victoria Police confirms that permission for a change of name has not been granted, BDM cancels the application. Victoria Police has the option to then press charges.
Department of Health and Human Services
Victorian Child Protection Service
The Victorian Child Protection Service (Child Protection) is responsible for meeting the needs of children and ensuring their safety when adults caring for them do not fulfil their responsibilities, are abusive, or exploitative. Victoria Police has legislated reporting obligations to Child Protection regarding suspected child abuse and is required to report contact between an RSO and a child to DHHS. To facilitate this, the agencies have a framework of policies, protocols and disclosure provisions regarding the methods by which they share information.
1.4 Previous reviews
Victorian Law Reform Commission review
In April 2012, the Victorian Law Reform Commission tabled a report that included 79 recommendations to improve the Sex Offenders Register system. Victoria Police implemented a range of amendments between 2014 and 2017 in response to this report. These included reforms to the Act, which resulted in changes to reporting obligations and disclosure of information.
The Independent Broad-based Anti-corruption Commission
IBAC monitors Victoria Police's compliance with its obligations under Parts 3 and 4 of the Act to maintain the required information in the Sex Offenders Register. It reviews Victoria Police's authorisations, policies and procedures pertaining to the Act, and conducts on-site inspections of the Register at the SOR unit.
IBAC tabled its most recent review in Parliament on 5 September 2018. The report covers the period from 1 January 2015 to 31 December 2016. IBAC found Victoria Police compliant or substantially compliant in all compliance categories it examined. IBAC highlighted the risk of operating the Sex Offenders Register across multiple databases and noted that it has raised this risk with Victoria Police before. It also noted that Victoria Police is working to consolidate RSO records. The report includes six recommendations that focus on ensuring Victoria Police uses its powers under the Act to manage RSOs according to the relevant procedures and guidelines, and in the most efficient way possible.
The Evidence Led Sex Offender Management Project
The 2015 Evidence Led Sex Offender Management Project was a research report commissioned by Victoria Police and conducted by a senior forensic psychologist. It outlined key management strategies for RSOs across several international jurisdictions and other Australian states. It considered these approaches alongside a discussion of Victoria Police's RSO management framework. The report was released internally in September 2015.
1.5 Recent legislative changes
The government amended the Act in 2014 to redefine when an RSO has contact with a child for the purposes of the Act. The definition is now broader, and the number of notifications that Child Protection receives from Victoria Police has significantly increased. Child Protection estimates an approximate 75 per cent increase in the number of police notifications between 2014–15 and 2016–17.
In 2017, amendments to the Act and the Crimes Act 1958 gave police the ability to obtain fingerprints and to direct an RSO to undergo a forensic procedure. In 2018, Victoria Police began collecting forensic samples and fingerprints from RSOs. Victoria Police identified almost 2 700 RSOs eligible to provide samples, and in March 2018 commenced a state-wide targeted operation to collect them. It advised that it has completed collecting all DNA and fingerprint samples from current RSOs in Victoria. Victoria Police has begun to cross-reference these samples against all unsolved crimes in Victoria and the National Criminal Intelligence DNA Database and has matched 35 RSOs so far to 58 separate incidents.
The Act was also amended in 2017 to allow courts to grant exemptions to registration and reporting requirements. With this amendment, an offender can apply for exemption if at the time of the offence they were 18 or 19 and committed only a single registrable offence. For example, the court can order that the applicant is not an RSO if the victim was at least 14 and it determines that the offender poses no risk or a very low risk to the safety of the community.
1.6 Why this audit is important
Ineffective management of RSOs may result in higher rates of recidivism, which in turn decreases community safety and public confidence in the justice system. This audit provides valuable information about the current approach to RSO management in the community to inform future improvements.
1.7 What this audit examined and how
The objective of the audit was to determine whether RSOs are safely integrated into the community.
To address this objective, we assessed whether Victoria Police's governance structure supports a strong capability and capacity to manage RSOs. We focused on whether:
Victoria Police's policies, guidelines and training are comprehensive and adequately support RSO management
Victoria Police ensures that the SOR and CM units have the resources and capacity they need to fulfil legislative requirements
there is a whole-of-organisation management and reporting framework that gives Victoria Police insight into whether RSOs are being actively managed in accordance with the Act.
We also examined how effectively CMs are operating in the field and whether practices at individual CM units across the organisation:
best support the objectives of the legislation and minimise associated risks
effectively use available intelligence and data to plan for and manage CM work.
In conducting the audit, we:
reviewed Victoria Police documentation
examined whole-of-organisation systems and processes
completed fieldwork at five Victoria Police CM units across the four Victoria Police regions
conducted a survey of all 43 CM units
obtained data relevant to managing RSOs to determine its integrity, to understand breach and reoffending rates, and to investigate if there are common factors among RSOs who reoffend.
Survey and interview data
We visited three metropolitan CM units, two regional CM units and the central SOR unit office in Melbourne. At each location, we interviewed the head of the unit as well as staff of differing levels, to understand their role and the nature of their job. We chose to visit not only a mix of metropolitan and regional units, but also SOCIT and CIU-based units, as well as dedicated and non-dedicated units.
As we could not visit all units, we distributed a survey to all 43 CM units across Victoria Police, asking the head of the CM unit to answer a consistent set of questions. We received 35 responses to the survey from 31 individual units. This means that 72 per cent of units responded. The survey sought CMs' experiences and views on:
CM resource levels and the amount of time they spend in the role
the different operational models that CMs work within
how they conduct proactive monitoring of RSOs
the types of reporting that they do
the training they receive.
We have sought to present CMs' perspectives by including representative responses to survey questions and comments made during interviews, especially where these have been corroborated by Victoria Police's own research as outlined in the Evidence Led Sex Offender Management Project.
Agencies included in the audit
The audit includes Victoria Police, DJCS and DHHS. Victoria Police is the main focus of the audit. DJCS and DHHS are included insofar as information is required to be shared among the agencies.
Conducting our audit
We conducted our audit in accordance with the Audit Act 1994 and ASAE 3500 Performance Engagements. We complied with the independence and other relevant ethical requirements related to assurance engagements. The cost of this audit was $510 000.
1.8 Structure of this report
The remainder of this report is structured as follows:
Part 2 examines resource allocation, training and practices in RSO management.
Part 3 examines organisational monitoring and reporting.