Managing Registered Sex Offenders
2 Resource allocation, training and practices in RSO management
For Victoria Police to assure its executive and the public that it is fulfilling its RSO management responsibilities, an effectively implemented, organisation-wide control framework is essential. This should include:
sufficient and consistent resource allocation and clear policies
staff who understand their roles and comply with relevant legislation and internal policy requirements.
In this Part, we consider whether these elements are in place. We also examine the way CMs manage RSOs on a day-to-day basis across the organisation, based on the factors that optimise their capability and capacity.
2.1 Conclusion
Victoria Police's operational model, coupled with a lack of organisational policy and guidance on baseline resources, means there is no consistent guidance for resourcing RSO management across the organisation. Varying governance and resourcing arrangements impact greatly on the skill sets developed within CM units. They also affect CMs' overall workload—as shown by the great variance in CM to RSO ratios—and whether they can dedicate their time to RSO management tasks or must also fulfil other roles. This significantly influences the ability of CMs to undertake meaningful action beyond the bare minimum of compliance control.
There are examples of CM units with good governance and resourcing. RSO management work is better aligned with the interests and expertise of SOCITs rather than CIUs. Therefore, resourcing CMs through the SOCIT model is likely to lead to better compliance management. This, combined with working in dedicated teams for significant periods of time, allows CMs the opportunity to build rapport with RSOs, understand offender dynamics, and be in the best position to identify and address risk.
CMs in some other units complete only the two-day CM training course, spend as little as six weeks in the role and have competing investigative tasks. In these situations, they may not have the interest, specialised ability and time to effectively fulfil the role.
In particular, it is concerning that high CM to RSO ratios and limited time and resources sometimes prevent CMs from drafting and implementing effective OMP strategies targeted at minimising the specific risks posed by RSOs. Instead, some CMs report that they will draft OMPs with standard strategies that make the work more easily achievable. This increases the chances that risks posed by RSOs in the community are not recorded or addressed.
Victoria Police has recognised the need to examine the current model and is working to investigate options, as part of its broader approach to continuous improvement. For example, a project is investigating the feasibility of managing CMs primarily through SOCIT units. However, Victoria Police is still deciding on the appropriate next steps for this work. Unless Victoria Police management ensures that this work has continuity and the resources it needs, it is unlikely that it will be able to effectively assess the feasibility of such a transition.
2.2 Policy and resourcing
Good corporate policies and procedures are key to ensuring staff understand their responsibilities and comply with relevant requirements. Adequate resources across the organisation help ensure that staff have the capacity to fulfil the requirements of policies and legislation.
Policy and guidance
The Victoria Police Manual (VPM) contains the RSO management policy and guidance for Victoria Police. It provides direction on the legislative provisions imposed on RSOs and provides the minimum standards that Victoria Police employees must apply to manage them.
The VPM is useful for providing general policy and guidelines, but it does not provide a comprehensive practice guide to resolve the many practical issues faced in the day‐to‐day management of RSOs. The VPM is supplemented with specific training and other material for CMs, which is discussed in Section 2.3.
Lack of policy position on consistent structures
Responsibility for RSO management belongs to multiple areas across the organisation. The VPM outlines this spread of roles, which is shown in Figure 1C.
There is no direct line management between the position accountable for the overall management of RSOs—the Assistant Commissioner Intelligence and Covert Support Commander—and the CM units that undertake the bulk of the day-to-day RSO management, which are the responsibility of Regional Commanders. Additionally, no organisational policy exists to guide Regional Commanders on how to set up and resource CM units. This is intentional. Under its operational model, Victoria Police allows the regions to determine the model which best suits their priorities and operational needs. However, the consequence of this is that there is no mechanism to ensure a baseline level of resourcing for sex offender management across the state.
Various resourcing arrangements for CM units
In this environment, Regional Commanders have established different structures and resource models for the 43 CM units across the state.
CMs are resourced by different units
Volume crime is any crime which, through its sheer volume, has a significant impact on the community and the ability of the local police to tackle it. Volume crime often includes priority crimes such as robbery, burglary and vehicle‑related criminality, but can also apply to criminal damage or assaults.
CM units are usually resourced by, and located in, a specialist group such as SOCITs or CIUs. There is also a CM unit in the Central Victorian Response Unit (CVRU), which was established to manage volume crime and is resourced by staff on rotation. The CVRU sits separately from either CIU or SOCIT.
SOSRU is a joint unit between Victoria Police and CV staff that strengthens the oversight of RSOs who are also on supervision orders. Its role varies from other CM units because of the different level of monitoring that supervision orders require. It also provides advice, general support and member resourcing when required to other CM units.
Figure 2A breaks down CM units by resourcing model and RSOs managed by resourcing model.
Figure 2A
Breakdown of resourcing models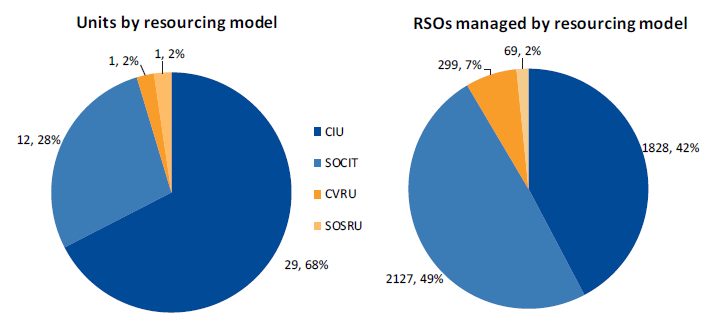 Source: VAGO, using data in the Victoria Police February 2019 ROMOC report.
Figure 2A shows that most CM units are resourced by a CIU. However, SOCIT‑based units manage almost half of the RSOs, even though they make up only 28 per cent, or 12, of the units.
While Figure 2A shows the varying resourcing models and the numbers of RSOs they manage, it does not depict the true resource allocation or workload of these units.
This is because the lack of organisational direction and direct line management has resulted in further differences, including that CM units:
have vast differences in CM to RSO ratios
may either be dedicated CM teams, or have other duties to perform alongside RSO management
may be made up of staff who spend varying periods of time in the CM role—ranging from six-week rotations to permanent roles.
High variation in CM to RSO ratios
As part of our survey on CM experiences of different governance structures and work demands, we asked CM units to provide the number of full-time equivalent staff currently in the CM role. Using these responses and the number of RSOs currently managed by CM units, we calculated the ratios of RSOs per CM for each unit that responded to the question. Figures 2B and 2C show the results of this analysis.
Figure 2B shows CM to RSO ratios according to whether RSOs are managed by CIUs, SOCITs or other—for example, each CM working in the Latrobe CIU-based unit is responsible for 94 RSOs. As shown in green, the average ratio for SOCIT-based units—55 RSOs per CM—is significantly higher than the average at CIU-based units—26 RSOs per CM.
The significant difference in average ratios is explained in part by the fact that most CIU-based CM units do not operate on a dedicated basis, whereas the majority of CM units based in SOCITs conduct the role as their primary duty—only Latrobe and Wyndham CIUs operate on a dedicated basis, as shown in Figure 2C.
Dedicated and non-dedicated teams
Of the 30 units that provided information about the number of staff conducting the CM role, nine are dedicated to RSO management. Figure 2C shows the breakdown of CM to RSO ratios for the 30 units that provided their staff levels, divided by this workload type.
The average ratios of CMs to RSOs for these unit types show a significant difference—1:27 for non-dedicated units and 1:60 for dedicated units. It is reasonable to expect that CMs in non-dedicated units will manage fewer RSOs than those in dedicated units, because they have other competing demands and less time to conduct the CM role. However, some non-dedicated units, such as CVRU, must juggle other duties, but also have an extremely high ratio—CVRU has a ratio of one CM to 100 RSOs.
Figure 2B
Ratio of RSOs per CM by unit type—CIUs compared with SOCITs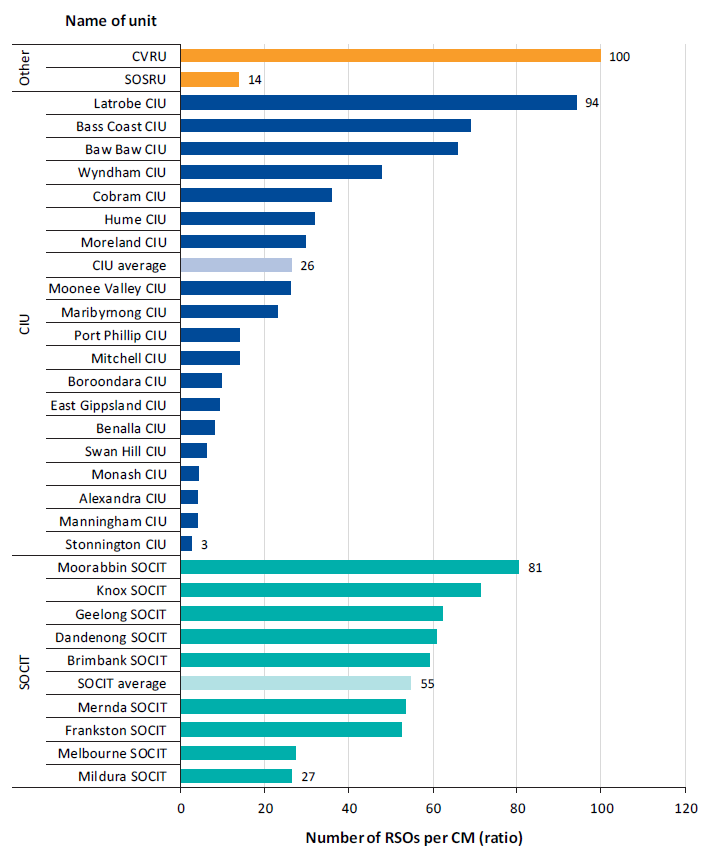 Source: VAGO, based on data provided by Victoria Police and our survey. This figure includes information for the 30 units that provided their staff information in their responses to our survey.
Figure 2C
Ratio of RSOs per CM by workload type—dedicated units compared with non-dedicated units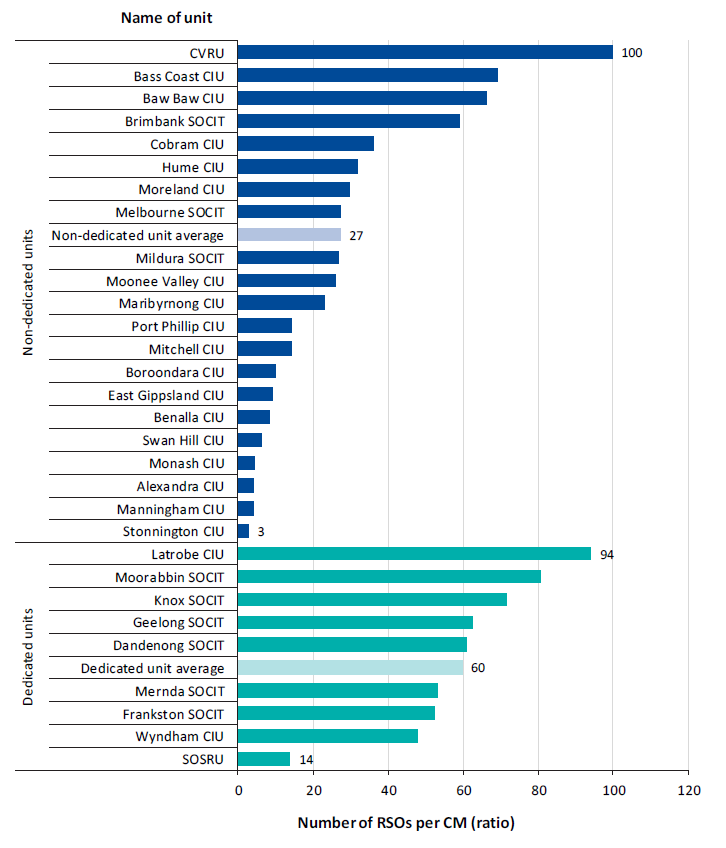 Source: VAGO, based on data provided by Victoria Police and our survey. This figure includes information for the 30 units that responded to our survey with information on staff numbers.
Difficulty in measuring CM resources
Since some CMs do not dedicate all their time to RSO management and some CMs spend only a short amount of time in the role, there are difficulties in measuring the full-time equivalent resources dedicated to RSO management.
In 2017, Victoria Police attempted to calculate a snapshot of resources dedicated to RSO management, which showed drastic variation in ratios across the units, ranging from 41.33 RSOs per CM hour to 0.33 RSOs per CM hour. However, Victoria Police acknowledges that this analysis was limited as it related only to 17 RSOs in total. Our analysis is more comprehensive, as 30 of the 43 CM units provided us full-time equivalent data in response to our survey.
While both analyses have limitations, it is clear from them both, our interviews with CM staff and the Evidence Led Sex Offender Management Project—described in Section 1.4—that there is a significant variance in CM to RSO ratios across units. CMs also indicated that they lack resources to complete their work to a standard that they are comfortable with and that is proportionate to the risk RSOs present.
Inability to ensure sufficient CM resources
Although Victoria Police monitors the numbers of RSOs, it does not know the true allocation of resources currently assigned to the CM role because it does not track CM hours spent on the task. As such, Victoria Police cannot be sure it is currently resourcing the CM role sufficiently.
Also, given the growing number of RSOs, it cannot be sure that resourcing can keep up with the demand for compliance checks and active offender management in the future. We discuss the impact of resourcing on producing and monitoring quality OMPs and CMs' ability to conduct proactive investigations in Sections 2.6 and 2.7.
Victoria Police advises that it is trying to measure how much time is spent on managing RSOs so that it can develop standards and guidance for the regions on expected resourcing for the task.
2.3 Learning and development
Training and support help to ensure staff understand their roles and responsibilities and comply with relevant legislation and internal policies and procedures. Good training can help reduce the risk of incorrect or inconsistent practice that may hinder Victoria Police's effective management of RSOs.
Mandatory training for CMs
Victoria Police has developed an RSO Management training course that staff must complete before they can be a CM.
The RSO Management training course is a comprehensive two-day seminar, and covers topics including:
the purpose, powers and obligations under the Act for Victoria Police
the functions of the SOR unit, including the steps involved in the initial RSO registration process
guidance on using Interpose
the importance of the role of managing RSOs and their reporting obligations
how to interpret risk ratings assigned to RSOs, including static and dynamic risk assessments
when and how RSO information can be shared
what to do when RSOs breach reporting obligations or go missing
how to create and implement OMPs
other practical information to assist members to conduct the role.
The training also includes information about sex offender behaviour, psychology and offending types. It provides real case studies and activities demonstrating practically how risk is assessed. This includes a section on female sex offenders, who do not fit within the same considerations for risk assessment as male sex offenders.
Survey respondents and CMs who we spoke to had mixed reviews of the training. Most respondents indicated that the training is sufficient to allow CMs to conduct the role. However, some believe the course could be improved, either in its content or presentation. Suggestions include:
ensuring that the time between taking the course and commencing the role is not too long, so CMs can recall what they have learned
emphasising the importance of building rapport with RSOs as a means to effectively manage them.
Other skills that CMs are interested in developing include:
interviewing, mental health awareness and community engagement
surveillance and investigating online crimes.
The need for on-the-job training
In addition to the two-day training course, the importance of subsequent on‑the-job learning was consistently emphasised, both in the survey and on our visits to police stations.
Most CMs note that despite learning the fundamentals in the training course, it takes at least three to six months of on-the-job experience to fully understand the complexities of the Act and the requirements of the CM role. Attaining this level of on-the-job training is challenging for staff undertaking the CM role on a short rotational placement.
Additional training courses and ongoing support
Other training courses
The Discreet Online Investigation Course gives CMs the ability and the authority to monitor RSOs' online activity. Providing CMs with additional skills such as these can make them more effective at proactively monitoring RSOs, beyond the basic compliance checking.
CMs also repeatedly stated that detective training, either for crime work in the CIU or for investigating sex offences in SOCIT, provides skills that assist in the CM role. The effect this training has on the way that RSOs are managed is discussed further in Section 2.5.
The need for ongoing training and information updates
Legislation changes regularly, impacting the roles and responsibilities of CMs. We note that the SOR unit has issued newsletters to CMs highlighting changes to legislation, as well as other matters, such as updated guidance for completing other CM-related work.
The SOR unit has also conducted several workshops across the regions to explain recent legislative changes to RSO reporting obligations and time frames. It also provides advice on best-practice OMPs and their importance in providing effective and accountable management of high-risk RSOs.
Informal guidance material
In addition to the RSO Management training course, some CM units develop their own training material or Standard Operating Procedures (SOP) to detail their expectations of members in the CM role.
SOPs are not required by the VPM—each division or region determines their necessity. The SOR unit advises that this has resulted in great variance in the existence and degree of detail included in SOPs and guidance material, and it does not monitor this material for consistency across divisions and regions or with the training course that it provides.
One of the CM units that we visited had developed thorough SOPs that outline the specific requirements for CMs at various stages of RSO management and how they are to comply with legislative requirements in practice. The SOPs included guidance on:
what RSO information must be reported in person, and what can be reported by email or over the phone
the appropriate evidence that RSOs should provide to establish changes in their information
how the CM should process a change in an RSO's information and update the SOR unit
interactions with other agencies, such as DHHS and CV
how to manage RSO breaches of reporting requirements
how to create and comply with OMPs.
This is an example of good practice that Victoria Police could share to encourage a consistent approach across CM units.
2.4 Key elements that support success in CM units
A CM unit's success in managing RSOs can be measured by its capacity to mitigate risk through monitoring of compliance and meaningful proactive actions and investigations.
The RSO Management training course provides the basis from which CMs undertake their role, but other key elements optimise the capability and capacity for CMs to manage RSOs effectively.
The following elements are derived from our findings and are further supported in the Evidence Led Sex Offender Management Project, described in Section 1.4. CMs should:
be part of a dedicated unit, meaning that they can undertake the RSO management function exclusively and do not have to also fulfil other duties, such as CIU or SOCIT investigations
be in the role for a sufficient period of time (at least nine months)
have an interest in this area and recognise the seriousness of managing RSOs
have a sound understanding of their supervised offenders for the purposes of early identification of escalating risk
be able to build rapport with RSOs
work in units with adequate CM to RSO ratios and sufficient equipment
write high-quality OMPs tailored to an RSO's up-to-date risk assessment
implement the OMPs
have the time and resources to conduct sufficient proactive investigations, as without this, CMs focus on compliance issues or limit proactive investigations only to high or medium-risk RSOs, which means that low-risk RSOs can 'fly under the radar'.
2.5 Impact of various models on RSO management
Using our survey results and responses from interviews, as well as other documentary evidence such as the Evidence Led Sex Offender Management Project, we assessed how the different governance models influence the ability of CMs to effectively implement the practices outlined above.
Benefits of SOCIT or CIU training
Some CMs have different skill sets dependent on the unit type they are in. Whether CMs have had access to SOCIT or CIU training depends on the unit that the CM is based in. For example, CMs based in a SOCIT-resourced unit will also have undertaken the SOCIT training.
CIU police members are detectives and have completed training in investigating non-sexual crimes, such as burglaries and assaults. These skills may benefit members if they also become CMs because they use investigative skills when examining potential RSO reporting obligation breaches.
SOCIT police members are trained to investigate the complex crimes of sexual offences and child abuse and have specialist skills and interest in this field. As such, CM work is most aligned with the interests and expertise of SOCITs rather than CIUs. The Evidence Led Sex Offender Management Project noted that this is likely to lead to CMs completing better quality work.
Different approaches to offenders
Victimology is the study of the victims of crime and the psychological effects of their experience.
SOCIT members learn how to develop rapport with sex offenders and with victims to investigate alleged sex crimes. This is due to the nature of sex offender behaviour, psychology, and victimology. To investigate a sexual crime, the investigator must often rely on personal accounts of the incident from the victim and the alleged offender. This differs from the way CIU detectives generally investigate non-sexual crimes, where there is less need to rely on personal accounts. In most non-sexual criminal investigations, a great portion of the evidence used to charge and convict an offender is physical—stolen items, footage of the crime, DNA or fingerprints, weapons—whereas this is often not the case for sex crimes. In these cases, physical evidence may not exist or, if it does, it may be nullified by the offender alleging consensual sexual activity. For these reasons, the ability to talk to and obtain information from perpetrators of sex crimes is of significant importance in proving a crime.
The importance of establishing rapport with RSOs
CMs and the SOR unit agree that SOCIT members' skills in developing rapport are valuable when dealing with RSOs. This is because compliance with the Act is heavily reliant on RSOs actively reporting their information, and therefore it helps for CMs to have a civil and productive relationship with them. Interaction with CMs should also ideally shift from monitoring and surveillance for the sake of catching the offender out, towards promoting compliance with register obligations. It should also be an opportunity for police intervention in aid of the ultimate goal of reducing reoffending.
As such, CMs can exert the greatest level of interpersonal influence on the offender within an appropriate relationship, characterised by respect, understanding, care and positive expectations.
Further, CMs do not have the right to enter RSOs' premises or search their devices without the RSO's permission, unless they have a warrant. Therefore, rapport with the RSOs may provide CMs with opportunities to look for potential breaches or offences.
Interest in the role and recognising its importance
A CM's motivation and interest in the role is closely related to the ability to establish rapport. While motivation is not an easily defined criterion, desire to perform the role seems likely to increase CMs' efforts to manage RSO risk. As such, survey results and interview responses consistently found that RSO management best fits within the remit of SOCITs rather than CIUs. SOCIT members are more likely to understand the importance of compliance management and the impact it can have in preventing further offending.
For example, one CM we interviewed who had conducted the role within a CIU and SOCIT team had experienced very different approaches to work—at the CIU, RSO management work was often de-prioritised. However, the CM found that CMs working in a SOCIT have chosen the sex crime specialisation and are therefore likely to have a greater appreciation for its importance. The CM said that RSO management is not always a desirable area to work in, as the CMs deal with the 'bad guys' rather than the 'good guys' daily. The CM felt that a member who is interested in the role will try harder to establish a productive relationship with RSOs.
The Evidence Led Sex Offender Management Project cited further evidence from CIU members. Some stated that they have no interest in RSO management, and thus only do the 'bare minimum', reacting to incidents without any proactive management strategies. This lack of interest and the subsequent reduction in offender management increases the risk of reoffending.
Dedicated role versus conflicting duties
Based on feedback we received, dedicated units give a higher priority to compliance management work than non-dedicated units. This is because in non‑dedicated units CMs must also complete other SOCIT or CIU investigator duties.
Two of the units we visited believed that it is more important that CMs work in a dedicated capacity, rather than whether they are resourced by SOCITs or CIUs. Three of the five units we visited stated that dedicated CMs can perform the role to a higher standard because they have time to understand their RSO cohort and to more proactively monitor them.
Similarly, some units see competing duties as a risk to good CM work. Non‑dedicated CM units juggle their RSO management work with other responsibilities, such as criminal investigations. Importantly, Victoria Police advised that active investigations almost always take precedence over managing RSOs. To these CMs, criminal investigations are more pressing than the largely compliance-based tasks of managing RSO information.
This was echoed in the survey responses, where seven out of 23 units that are not in a dedicated CM role acknowledged that their competing duties sometimes result in a reduced ability to proactively manage RSOs. Nineteen respondents indicated that staffing levels were the main barrier to more proactive work, such as targeted mitigation strategies as defined in OMPs or separate, proactive operations. This may mean that CMs do not complete RSO management work beyond basic compliance. In these cases, breaches of the Act or reoffending may go undetected.
Permanent role versus short-term role
The length of time police members spend in the CM role impacts their understanding of the Act's requirements, as well as their understanding of the RSO cohort. These two factors are crucial for effectively managing RSOs.
CMs report that it takes between three and six months of on-the-job training to properly understand the complexities of the Act and the requirements of the role. Further, it is important that CMs are given the opportunity to understand the risk factors of particular RSOs and to establish rapport with them.
The less time that CMs spend in the role, the less they are able to benefit from establishing a rapport with RSOs. Some CM units have time-limited secondments for as little as six weeks, which does not allow enough time to learn the role and apply their knowledge or to properly know and interact with RSOs.
One CM we spoke to had been in the role for two months and was due to rotate out of the role in another month's time. The CM struggled to learn all aspects of the role in this time and advised that the rotation does not emphasise the significance of RSO management. Two CMs we spoke to felt that it takes at least six to 12 months to get to know the RSOs they are managing.
Conversely, CMs working permanently in the role advised us that having the opportunity to get to know their RSOs allowed them to anticipate their behaviour and their potential to breach their obligations or to reoffend.
Impact of high CM to RSO ratios
A high ratio increases an individual CM's workload and reduces the amount of time they can dedicate to each RSO. It also reduces the CM's capability to conduct proactive monitoring activities, which are effective in detecting RSO breaches of reporting obligations.
All five of the CM units we visited advised that they have requested more staff, but any increases made have not kept pace with the growth in RSOs.
CMs working in units that have a high CM to RSO ratio are likely to focus mainly on the minimum requirements of the role, such as the legislative requirements to conduct annual interviews and process RSOs' updates to information. In three of the CM units we visited, the unit heads conduct aspects of compliance management that more junior staff should usually conduct, because the unit lacks the resources to do otherwise.
All the CMs we visited, and eight respondents to our survey, argued for the establishment of appropriate CM to RSO ratios. Their views varied on appropriate levels, but they suggested factors that should be considered when determining appropriate ratios. These included:
staff hours (full-time equivalent)
the risk rating of the assigned RSOs, which impacts the time required to effectively manage them
the distance CMs are required to travel to visit RSOs, which impacts their efficiency.
2.6 Developing and implementing high-quality OMPs
The RSO Management training course emphasises that the OMP is the most important document for managing RSOs.
OMPs help CMs direct their resources towards RSOs who pose the greatest risk. OMPs are usually three pages long, and contain a brief description of the original offending, victimology and RSO characteristics.
Drafting clear and accountable OMPs
CMs generate OMPs after an offender is assessed as either high or medium-risk or has specific risk factors—such as temporary accommodation—that require an OMP. The Offender Management Team recommends strategies to target each risk factor. CMs can elect to include these additional mitigation strategies, to simply use the prompts included in the OMP template, or to tailor their own strategies. When compiling an OMP, the CM ideally considers the offender's risk level and the suggested strategies, and consults with the Offender Management Team to discuss how frequently to deploy strategies.
For a high-quality OMP, CMs should include practical and effective strategies tailored to the RSO's specific risks. All proposed mitigation actions should also be specific, measurable and subject to review. For example, CMs need to clearly specify the number of visits to the RSO they will make each year.
As part of the standard reviews of OMP quality for RSOs who have reoffended, the SOR unit found that CMs were drafting OMPs ambiguously, with the frequency of mitigation actions listed as 'as required'. This makes it hard to measure completion of actions. In response, the SOR unit issued a newsletter in April 2018 to all CM units requesting they appropriately describe and quantify actions in OMPs. The SOR unit also presented updated training on OMPs through a series of regional workshops in June 2018.
While the benefits of the training will take some time to filter through to new or reviewed OMPs, ROMOC minutes from September 2018 still noted the 'apparent tokenism of OMPs, which are generic and written to the lowest common denominator'.
Resourcing
Apart from training, resourcing also influences the quality of OMPs. CMs at units we visited said that a lack of resources—such as vehicles with which to conduct visits—and time can lead a CM to set actions based on the likelihood they can be achieved, rather than what is considered necessary to mitigate the risk of reoffending. CMs believe that because OMP strategies need to be carried out, it is better or easier to make the OMPs achievable rather than effective.
During our interviews, two units noted that CMs do not complete all visits required under the RSOs' OMPs because they do not have the resources to do so. However, this is not identified as an issue unless something goes wrong.
The risk that CMs are not putting clear and accountable information in OMPs because they cannot meet the requirements is known to Victoria Police. It was highlighted in the Evidence Led Sex Offender Management Project and also discussed at ROMOC in late 2018.
It is encouraging that Victoria Police has established a target to improve the overall quality of OMPs through education, but it must also address any resourcing barriers so CMs have the means to implement the improved OMPs.
CMs to review OMPs
It is good practice for a CM to review an RSO's OMP at various points throughout the reporting period. At a minimum, OMPs should be reviewed every 12 months unless there is an indication of risk escalation—for example, through breaches, further offences or reports of changes to the dynamic risk factors.
Other reasons for reviewing an OMP include major changes to the RSO's life, such as the breakdown of a relationship, a change in the RSO's address or other information gleaned through the annual interviews. However, as identified in the Evidence Led Sex Offender Management Project, there are no thresholds specified or formal mechanisms to compel the review of an OMP within a specified period and no independent check to ensure reviews occur. This can lead to ineffective RSO management.
SOR unit monitoring OMP quality and implementation
The SOR unit can monitor whether new OMPs have been completed on time and has made a concerted effort to work with regions to reduce the number of outstanding OMPs. However, it cannot easily monitor the quality of existing OMPs or whether they are being implemented as planned. This is because they are uploaded to Interpose as Portable Document Format (PDF) documents and cannot be easily and systematically reviewed.
OMP implementation is also difficult to monitor given that CMs may not always record information in Interpose and there are challenges in finding information on Interpose (see Section 3.2).
As such, quality control is generally reactive. Where there is serious reoffending by an RSO, the SOR unit and ROMOC review whether the OMP was appropriate or if it was implemented.
The SOR unit should assess whether the training on drafting more appropriate OMPs is having the desired effect. However, the organisation must find a way to effectively track the quality of drafted OMPs, and whether CMs implement them as planned. It can then hold CM units appropriately to account. Without this, Victoria Police cannot be sure that RSOs are being effectively managed and the risk of reoffending minimised.
General improvement opportunities
ROMOC noted the difficulties with actively monitoring OMPs, and members suggested several improvements, including:
encouraging regular consultation between CMs and the Offender Management Team on mitigating risk, which leads to improved OMPs
using high-quality OMPs to develop a template that can serve as a starting point for CMs
improving training.
Intention to improve OMPs for high-risk RSOs
The SOR unit identified that most RSOs who reoffend are in the high-risk category at the time of reoffending, and so were already being managed through an OMP. This highlights that although high-risk offenders are being correctly identified, the ensuing risks are not being mitigated.
The SOR unit looked at the dynamic risk assessments conducted on many of the high-risk RSOs and compared them with the content of the OMPs. This exercise found that more contemporary information should be gathered from high-risk RSOs to identify and update the most significant dynamic risk factors.
With this updated information, Victoria Police could better manage high-risk RSOs through fit-for-purpose OMPs. This information is intended to be collected through the updated approach to proactive investigations, discussed in the next section.
2.7 Proactive investigations
CMs may also detect breaches and thereby reduce reoffending by conducting proactive investigations.
Benefits of proactive investigations
CMs at all five units we visited agreed that proactive investigations and unscheduled visits to RSOs are a good way to detect breaches of reporting obligations.
They are beneficial because RSOs who are not prepared for a visit from a CM cannot hide things that could reveal a breach, such as unreported vehicles, phones or items that indicate contact with children. Another benefit of these visits is that while some annual interviews are conducted at police stations, unscheduled visits allow CMs to see the RSO's living environment and any factors that may increase their risk of reoffending.
Ensuring enough resources
Proactive approaches for the detection, assessment and management of offenders rely on adequate financial and human resourcing.
Proactive investigations usually require CMs to set aside other tasks and/or work beyond their standard roster, as they need to travel to and between multiple RSOs and investigate suspicious circumstances. CM units we visited noted that they will usually do these operations as overtime and over a weekend. Running proactive investigations can be particularly difficult in divisions with large geographical areas, such as in the Eastern and Western regions, due to the distances covered.
Units we spoke to want the time and resources to do more proactive investigations. This is particularly difficult for units that have high ratios and work in non-dedicated teams. The Evidence Led Sex Offender Management Project echoed these findings. It noted that CMs in a dedicated team identified that this model allows more time for proactive work because CMs are more engaged in their work and are more organised and 'on top of' the compliance management work.
Improving proactive investigations
Funding for proactive investigations is currently divided equally among the regions. The SOR unit advises that this does not necessarily deliver the most effective use of time and resources, and that it intends to assign funding proportionally across the regions according to the number of high-risk RSOs. In doing so, the SOR unit hopes to allocate this money to areas of highest risk and therefore better contribute to community safety by reducing reoffending rates.
This will influence CMs' knowledge of their high-risk RSOs' most significant dynamic risk factors, and in turn can be used to better customise their OMPs. Also, a questionnaire developed in the SOR unit by a specialist forensic psychologist will guide CMs in their information gathering.
Another element of this work is educating CMs about best practice on how to manage high-risk RSOs. The guidance developed by the SOR unit to assist the upcoming operations will be distributed to all CMs and used as standard procedure for proactive investigations.
The SOR unit also acknowledges the need to improve the key performance indicators around proactive investigations. It recognises that key performance indicators have been based on outputs, such as the number of RSOs visited, the number of referrals made to DHHS for potential investigations into child safety, and the number of information reports submitted about RSO activity. It acknowledges that this does not show the success of proactive investigations in actually improving the sexual safety of Victorians, which is a key purpose of the Act.
Low-risk RSOs—a blind spot?
Low-risk RSOs generally do not have an OMP or any management strategies beyond the compliance requirements of the Act. Therefore, CMs usually only see them once a year at the annual interview, which may occur at police stations, meaning that CMs will not see the RSO's home. This limited engagement may mean that CMs miss emerging risks among low-risk RSOs. For this reason, several of the CMs we visited expressed more concern about their low-risk RSOs than their higher-risk ones, who are more actively managed.
The SOR unit has identified that the high-risk cohort of RSOs has a higher likelihood of reoffending. Therefore, it is appropriate that a large proportion of available resourcing for intensive monitoring is designated to them. However, low-risk RSOs also reoffend and therefore present some risk of harm to the community, as shown in Figure 2E. For this reason, low-risk RSOs should not be overlooked for some form of proactive investigation.
Figure 2D shows the correlation between the percentage of high-risk RSOs that a CM unit manages and its percentage of reoffending RSOs.
Figure 2D
CM units' high-risk RSOs compared to reoffenders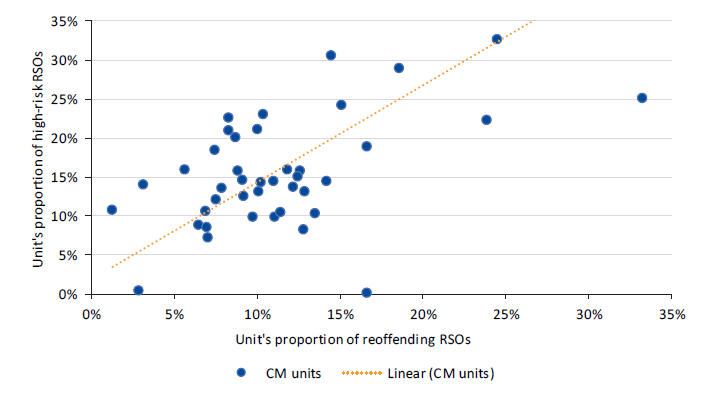 Note: This analysis includes the 88 per cent of RSOs who have sexual crimes recorded in LEAP. It does not show some crimes not recorded in LEAP because they were committed under federal jurisdiction or in another state or country. Data for the CM unit managing an RSO is current as at the time of the RSO's reoffence; data for the risk rating of RSOs managed by CM units is current as at the date of our data extract on 14 November 2018. SOSRU is not shown in this figure—it is a specialised unit that is deliberately assigned high-risk RSOs.
Source: VAGO, based on data from LEAP, the SOR database, the OMT database and ROMOC reports.
Figure 2D suggests some correlation between the proportion of high-risk RSOs a CM unit manages and their proportion of reoffending RSOs. However, the correlation is not particularly strong. This suggests that it is not the only factor that will impact the proportion of reoffenders that a CM unit manages.
Figure 2E displays the proportions of RSO reoffenders by risk rating, showing that those in all types of risk levels reoffend.
Figure 2E
RSO reoffenders by risk rating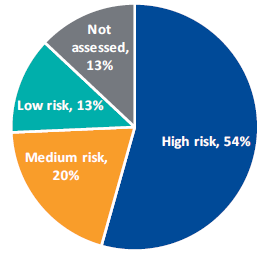 Note: This analysis includes the 88 per cent of RSOs who have sexual crimes recorded in LEAP. It does not show some crimes not recorded in LEAP because they were committed under federal jurisdiction or in another state or country. Data for the risk rating of RSOs is current as at the date of our data extract on 14 November 2018, not the time of the reoffence. 'Not assessed' refers to RSOs who are not yet risk assessed because they are either overseas, in custody, interstate, or are in the community and part of a small backlog of RSOs that the SOR is yet to process.
Source: VAGO, based on data from LEAP, the SOR database, the OMT database and ROMOC reports.
While low-risk RSOs are the least likely to reoffend, they represent 13 per cent of reoffenders, and therefore do pose a risk. Any proactive monitoring activity that CM units conduct should be planned with this in mind.
2.8 Investigation of improvement opportunities
In May 2018, an internal brief was circulated between the SOR unit and Family Violence Command that found that Victoria Police's management of RSOs is under-resourced compared to a benchmark ratio identified in the Evidence Led Sex Offender Management Project.
The CM to RSO ratio suggested in the Evidence Led Sex Offender Management Project was 1:40 or no more than 1:50, based on the model used in the United Kingdom. The brief recognises that under-resourcing is most pronounced in SOCIT-based units, which Figure 2B shows have a higher average CM to RSO ratio than CIU-based units. The brief concludes that SOCITs are the best fit for RSO management and Victoria Police should aim to accommodate both the predicted growth of RSOs and the recommended ratios.
The briefing does not purport to be the views of Victoria Police in terms of a holistic examination of the current operating model nor an acceptance that management of RSOs is currently under-resourced. However, there is a current project led by Victoria Police's Intelligence and Covert Support Command and Family Violence Command to investigate the feasibility of transitioning RSO management to SOCIT, and a project team has been established.
The project team reports that it is working on calculating the resources currently assigned to RSO management and the resources that would be required, if a decision is made to transfer all CMs to SOCIT. Victoria Police is also questioning the validity of the 1:40 ratio and whether it is suitable for Victoria. The project team is continuing work in this regard and will consider factors including dedicated versus non-dedicated roles, metropolitan versus regional needs, and the impact or risk ratings on resourcing.
Victoria Police is still deciding on the appropriate next steps for the project, and the project team's membership and management has changed frequently. This presents a risk to project quality and timeliness. Victoria Police management must ensure that the project has the resources it needs, and consistent staffing, to complete its mandate of investigating options for improvement. The project team must also find potential solutions to the various concerns that exist for SOCIT units to manage RSOs, and there is an opportunity to task this group with monitoring improvements to proactive targeting of resources and funding.
Concerns with SOCIT managing RSOs
Potential conflicts of interest
Two units we visited expressed concerns about CMs working in SOCITs because this removes the separation between the members who prosecute the original crimes and the members who go on to manage those offenders. Members who investigated the original crime may have a bias against the RSO or, at the very least, an adversarial relationship may exist between the two that will not lead to a productive relationship.
It is therefore important to maintain a separation in SOCITs between the police member who investigated the initial crime and the police member managing the RSO. Dedicating the CM role to RSO management will go some way towards ensuring this.
Greater geographical area
The four police regions are made up of four to six divisions—there are 21 divisions overall. The divisions are further divided into police service areas—there are 54 police service areas overall, with two to four per division.
In each division there is usually only one or two SOCITs compared with up to six CIUs—this equates to one CIU per police service area. Figure 2F provides an example of this, using Eastern Divisions 1 and 2.
Figure 2F
RSOs by risk category—Eastern Divisions 1 & 2
Source: Victoria Police.
The geographical size of police service areas and divisions varies across Victoria, but there are typically five to six police service areas per division. Therefore, where CIUs have the RSO management role, there are often multiple units that each cover a smaller geographical area. However, where SOCITs have the RSO management role, they tend to manage more RSOs per unit and cover a greater geographical area.
One CM we visited who worked in a CIU explained that the benefit of managing RSOs at the smaller police service area level is that it allows CMs to develop a more in-depth knowledge and familiarity with the RSOs, as they do not have as many as some other CM units.
Working in Multidisciplinary Centres
Multidisciplinary Centres provide specialist and holistic services to victims of sexual offences and child abuse from a single location.
The centres co-locate child protection practitioners with SOCIT investigators and sexual assault counsellors or advocates
An important factor to consider when determining how effectively a unit can operate under the SOCIT model is whether the division's SOCIT is located in a Multidisciplinary Centre (MDC). There are seven MDCs across the state, and four SOCIT-resourced CM units currently operate from an MDC.
RSOs cannot attend MDCs, as victims of sexual crimes attend these centres. Because CMs then have to travel to the RSOs, these CMs travel more often, making the RSO management more difficult.