Protecting Critically Endangered Grasslands
The trees, shrubs, herbs and grasses indigenous to Victoria are key to our natural heritage. They provide habitat for many plant and animal species and form ecosystems that support land productivity and contribute to human wellbeing.
An offset compensates for biodiversity losses arising from native vegetation removal.
The native grasslands of the Victorian Volcanic Plain have a rich biodiversity and provide environmental, economic and social benefits, including green spaces for Victorians to enjoy. However, the quality and extent of these grasslands has drastically diminished since European settlement.
To help address this, the Victorian and Australian governments have made a long-term plan to protect endangered species in Melbourne's growth areas. The MSA program includes establishing two grassland reserves to offset the impact of development.
1.1 Why this audit is important
Two of Victoria's most important and biodiverse ecological communities are under serious threat—the Natural Temperate Grasslands and the Grassy Eucalypt Woodlands of the Victorian Volcanic Plain.
An ecological community is a naturally occurring group of plants, animals and other organisms that are living together and interacting in a unique habitat.
Protection of these critically endangered ecological communities is vital for the survival of many species, as well as for soil health, land productivity and human wellbeing. The MSA program aims to drive conservation-focused planning outcomes on a larger scale than has previously been achieved.
This audit assesses the Victorian Government's progress in implementing the ecological commitments of the MSA program. This includes ensuring DELWP has access to the necessary funds and the governance structure, risk management, and monitoring, evaluation and reporting processes to meet the agreed commitments.
1.2 Victoria's endangered grasslands
Many native grassy vegetation communities, once widespread in temperate regions of Australia, have diminished in area and in quality.
Land clearances have mostly caused this depletion, principally for agriculture but also for urban development. Inappropriate land management and invasion by non-indigenous plant species have also contributed.
The Victorian Volcanic Plain
A biodiversity hotspot is a biogeographic area that has significant levels of biological diversity and which is threatened by destructive activities. Timely intervention in hotspot areas may prevent long-term or irreversible loss of their values and provide high return on the conservation dollar.
The Victorian Volcanic Plain bioregion covers some 2.3 million hectares. It is one of only 15 biodiversity hotspots in Australia and supports and provides habitat for 65 species that are nationally threatened and 173 that are threatened in Victoria.
Prior to European settlement, Natural Temperate Grasslands and Grassy Eucalypt Woodlands covered over a third of Victoria, primarily in this plain (see Figure 1A). Now these vegetation communities are small and fragmented, with less than 5 per cent of their former extent remaining.
Figure 1A
Victorian Volcanic Plain prior to European settlement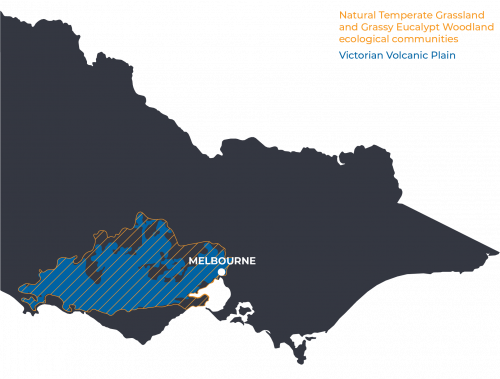 Source: VAGO.
Natural Temperate Grasslands
Natural Temperate Grasslands tend to be treeless and are characterised by tussock grass species (see Figure 1B).
The Royal Society of Victoria estimates that prior to European settlement these grasslands covered between 800 000 and one million hectares. That area has declined by more than 98 per cent. Of the 2 per cent that remains, it is estimated that less than half is in good condition.
Grassy Eucalypt Woodlands
These open woodlands are characterised by a grassy understorey (see Figure 1B), and intact examples are now rare in Victoria. Since European settlement, around 95 per cent (697 300 hectares) of Grassy Eucalypt Woodlands has been lost and the remaining pieces are in poor condition.
Figure 1B
Ecological communities of the Victorian Volcanic Plain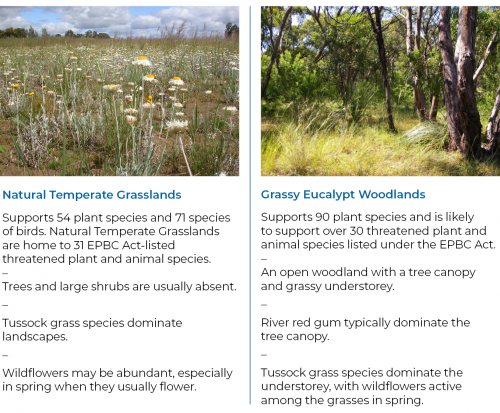 Source: VAGO.
1.3 Threats to native grasslands
The introduction of foreign animal and plant species, changing land use and population growth have severely impacted Victoria's native grasslands.
Weed invasion
Invasive plants have significant impact on Victoria's biodiversity, agricultural production and other human use of land.
Across the Victorian Volcanic Plain, land disturbance and agricultural land use have made native grasslands vulnerable to weed invasion.
Some of the most aggressive weed species in these areas are:
serrated tussock (Nassella trichotoma)
cane needle grass (Nassella hyalina)
African boxthorn (Lycium ferocissimum)
artichoke thistle (Cynara cardunculus).
As shown in Figure 1C, these weeds pose serious threats to the quality and extent of native grasslands and are difficult to control. Despite this, they have largely been unmanaged.
Figure 1C
Invasive plant example
Serrated tussock
This prolific seeder can dominate a native grassland in just seven years, threatening native plants species and resulting in a loss of flora biodiversity.
It spreads rapidly, cannot be grazed by livestock, and can remain dormant in the soil for up to 15 years.
Source: VAGO, from http://agriculture.vic.gov.au/agriculture/pests-diseases-and-weeds/weeds/a-z-of-weeds/serrated-tussock.
Land clearance and changes in use
Progressive land clearance in Victoria has significantly reduced the quality and extent of native grasslands. Historically, land clearance was for agricultural development. More recently, urban development has threatened the critically endangered ecological communities on Melbourne's fringe.
A 2005 study of native grasslands reported that a 7 230-hectare sample from 1985 had diminished to 4 071 hectares (56 per cent) by 2000:
Of the 3 159 lost hectares:
1 670 (23 per cent) were destroyed by urban development
1 469 (20 per cent) had degraded to non-native grassland.
Urban development
In 2008, the government announced a review of Melbourne's UGB. This review was in response to its estimation that an additional 600 000 dwellings would be needed by 2030 to accommodate population growth. This included 284 000 in urban growth areas.
Three areas were identified for expansion:
Area of Melbourne

Places identified for growth

West

Melton–Caroline Springs
Wyndham

North

Whittlesea
Hume
Mitchell

South-east

Casey
Cardinia
The government also identified that expansion and development in these areas may impact on the critically endangered Natural Temperate Grasslands and Grassy Eucalypt Woodlands.
1.4 Protecting native grasslands in Victoria
The government can protect critically endangered grassland by:
avoiding any losses
minimising losses
offsetting any loss that occurs.
Avoiding and minimising native vegetation loss
Until the late 1980s, native vegetation clearance was a conventional and legally condoned practice. Such clearance prepared land for agriculture or modified it for personal use.
The removal of native vegetation on public and private land in Victoria is now regulated through a range of Acts, state and local planning provisions, regulations, guidelines and agreements. However, Victoria remains the most cleared Australian state, with an estimated 66 per cent of Victoria's native vegetation cleared since European settlement.
Under the current regulatory frameworks, landowners must avoid, minimise, and offset any native vegetation loss.
Offsetting native vegetation loss
Where native vegetation removal cannot be avoided, landowners must offset the loss with vegetation and/or biodiversity gain of similar value. The Victorian 2017 Guidelines for the removal, destruction or lopping of native vegetation outlines the type of offset that may be required:
| | |
| --- | --- |
| A … | Is required when … |
| Species offset | the removal of native vegetation has a significant impact on habitat for a rare or threatened species. These offsets must compensate for the removal of that species' habitat.  |
| General offset | the removal of native vegetation does not have a significant impact on any habitat for rare or threatened species. |
The offset must balance the habitat destruction by restoring, enhancing or protecting a similar but separate habitat.
1.5 Commonwealth protections
In Australia, threatened ecological communities and species listed under the federal EPBC Act are subject to protection as Matters of National Environmental Significance.
This listing recognises that the long-term survival of these communities is under threat and aims to prevent further decline and promote recovery.
In June 2008, the Australian Government listed Natural Temperate Grasslands as critically endangered under the EPBC Act and did so for Grassy Eucalypt Woodlands in June 2009.
Strategic assessment process
As shown in Figure 1D, the EPBC Act offers two pathways for assessing and potentially approving an action that is likely to have significant impact on nationally significant native vegetation:
Environmental assessment process—a project-by-project referral, assessment and approval process.
Strategic assessment process—considers a series of new proposals or developments over a much larger scale and timeframe. This process examines the potential impacts of actions that might stem from one or more policies, programs or plans.
Figure 1D
Environmental assessments and strategic assessments under the EPBC Act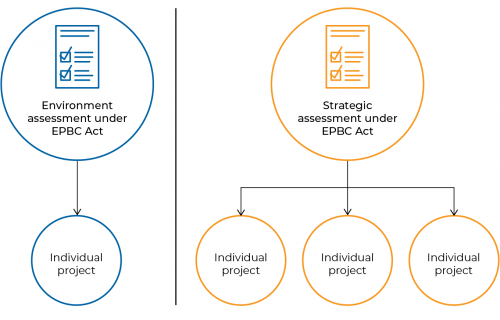 Source: VAGO.
Project-by-project assessments result in individual conservation actions.
Strategic assessments are a landscape scale assessment. They can deal with cumulative impacts on Matters of National Environmental Significance and look for conservation and planning outcomes on a much larger scale. They have the potential to not only reduce red tape but also provide better conservation outcomes by strategically responding to impacts on the environment.
The MSA program was the first strategic assessment endorsed in Australia.
1.6 The Melbourne Strategic Assessment
The MSA examined Matters of National Environmental Significance, including native grasslands, impacted by the expansion of Melbourne's UGB. It identified 41 000 hectares of developable land that did not require further referrals under the EPBC Act and initiated a long-term plan to protect endangered species in Melbourne's growth areas.
The MSA program
On 2 February 2010, the Australian Government endorsed the MSA program.
Under the MSA program, the Australian and Victorian governments committed to these outcomes and measures:
MSA program outcomes are to …

By establishing and preserving …

improve the composition, structure and functioning of Natural Temperate Grasslands and Grassy Eucalypt Woodlands

two grassland reserves outside the UGB to offset the impact of development occurring in the expanded growth areas
36 conservation areas in the expanded UGB to protect areas with the highest identified biodiversity values.

 

improve conservation outcomes for several other EPBC Act-listed flora and fauna species.
This audit focused on the grassland reserves because:
conservation measures in these areas also help protect other inhabiting species listed under the MSA program
these are the most important measures to offset losses from urban development
the government committed to establishing both reserves by 2020.
MSA program implementation
The MSA program business plan states that the program will be implemented by 2062. As shown in Figure 1E, there are four key implementation stages. Given the breadth of the program, there are overlaps between stages.
Figure 1E
Program implementation stages
Source: Source: VAGO, from information provided by DELWP.
Planning provisions, controls and frameworks
In Stage 1, the Australian Government endorsed the MSA program and the state government changed the Victorian Planning Provisions to give effect to the planning requirements. This included expanding the UGB around Melbourne's growth areas and the designation of non-urban land and land suitable for urban development.
DELWP prepared the planning controls and frameworks for implementing the various parts of the program. This work occurred during Stage 2, and included developing:
growth area framework plans
precinct structure plans
biodiversity conservation strategies
interim management plans.
Biodiversity Conservation Strategy
The 2013 Biodiversity Conservation Strategy is the overarching strategy for the protection of biodiversity in the growth corridors. It sets out the conservation measures required for Matters of National Environmental Significance and state significance to satisfy the commitments to the Australian Government and to meet state requirements. These conservation measures include:
the protection and management of land of high biodiversity value within defined conservation areas and areas outside the UGB
requirements to provide offsets for removal of native vegetation and threatened species habitat on land not required for
requirements to salvage and translocate certain threatened species prior to removal of habitat on land not required for conservation and suitable for urban development.
The Biodiversity Conservation Strategy identifies 36 conservation areas within the growth corridors that will be protected and managed in perpetuity.
Grassland reserves
Under the MSA program, the Australian and Victorian governments agreed to establish two grassland reserves by 2020, the:
15 000-hectare WGR
1 200-hectare GEWR.
Acquiring land for the grassland reserves
The MSA program reserves are designed to offset grasslands lost due to development. This means acquiring suitable land outside Melbourne's expanded UGB.
In August 2010, the state government made planning scheme amendments to expand the UGB and place a PAO on private land in the proposed WGR.
DELWP is progressively transferring land acquired for the reserve to Parks Victoria to manage. Once complete, the WGR will increase the area Parks Victoria manages in and around Melbourne by more than a third.
Acquisition of land for the GEWR has not yet begun.
1.7 Regulatory environment
Commonwealth legislation
Environmental Protection and Biodiversity Conservation Act 1999
The federal EPBC Act aims to protect and regulate the removal of nationally significant native vegetation. The EPBC Act identifies seven Matters of National Environmental Significance, including listed threatened species and ecological communities, migratory species and World Heritage properties.
Under the EPBC Act, an action that has, will have, or is likely to have a significant impact on Matters of National Environmental Significance requires approval from the federal Environment Minister.
Actions associated with urban development in the MSA program area have approval under the EPBC Act and are not required to be referred separately to the Australian Government.
State legislation
Melbourne Strategic Assessment (Environment Mitigation Levy) Act 2020
The MSA Act imposes a levy for funding measures to mitigate impacts on the environment caused by the development of land in Melbourne's growth corridors.
The MSA Act and associated regulations begin on 1 July 2020 and replace existing habitat compensation fees and increase the levy amount over the next five years. The MSA Act also:
establishes the MSA fund into which all levy payments must be paid
provides for review of levy amounts to identify if the existing rates help achieve conservation outcomes
delegates reporting on the MSA conservation outcomes every two years to the Commissioner for Environmental Sustainability.
Planning and Environment Act 1987
The Planning and Environment Act 1987 is the primary legislation for regulating the MSA program. It sets out procedures for preparing and amending the Victoria Planning Provisions and planning schemes. It also sets out the process for obtaining permits under schemes, settling disputes, enforcing compliance with planning schemes and permits, and other administrative procedures.
Catchment and Land Protection Act 1994
The CaLP Act is the main legislation covering noxious weed and pest animal management in Victoria. One of the main aims of the CaLP Act is to protect primary production, Crown land, the environment and community health from the effects of noxious weeds and pest animals.
Under the CaLP Act, all landowners have legal obligations regarding the management of declared noxious weeds and pest animals on their land. Landowners must take all reasonable steps to eradicate regionally prohibited weeds, prevent the growth and spread of regionally controlled weeds, and prevent the spread of—and as far as possible eradicate—established pest animals on their land.
1.8 Government agencies
Commonwealth agencies
Department of Agriculture, Water and the Environment
The Department of Agriculture, Water and the Environment administers the EPBC Act, including assessing any proposals to undertake and completes a strategic assessment prior to submission to the federal Environment Minister. Its responsibilities are to:
identify key issues with regards to Matters of National Environmental Significance
identify desired outcomes in entering into the strategic assessment
provide clear advice on actions to mitigate environmental impacts.
The department and the federal Environment Minister have an approval role at various stages of the MSA program.
The department has overall responsibility for ensuring only approved actions are taken under the MSA program and that all actions by the Victorian Government are consistent with the program's outcomes.
State agencies
Department of Environment, Land, Water and Planning
DELWP is responsible for developing and administering government legislation and policy for the management and protection of native vegetation. This includes overall responsibility for administering and implementing the MSA program. DELWP's responsibilities include:
delivery of the conservation commitments
monitoring and reporting grassland quality and progress against the MSA program
communications with landowners in the PAO area
developing and administering tools, models, and maps to assess native vegetation condition, extent and value.
Changes to responsibility for the MSA program
Since the MSA program began, machinery of government changes have affected DELWP. Changes in title and structure include:
Department of Sustainability and Environment and Department of Primary Industries (2002–13)
Department of Environment and Primary Industries (2013–15)
DELWP (2015–).
In this report, 'DELWP' also refers to DELWP's predecessors or agencies that no longer exist that had responsibility for the MSA program.
Parks Victoria
Parks Victoria manages a diverse and representative network of parks that are home to more than 4 300 native plant species and 948 native animal species.
The park network includes some of Victoria's largest and most undisturbed ecosystems, such as the Alps, the Mallee, grasslands, and inland waters and wetlands. It also includes smaller urban parks.
DELWP transfers acquired land for the WGR to Parks Victoria, which is responsible for its long-term management.
Councils
Councils manage the local implementation of statewide planning priorities for native vegetation, primarily through the planning system.
1.9 What this audit examined and how
This audit examined DELWP's implementation of the MSA program to meet the two key state conservation commitments to the Australian Government, and specifically:
program governance
risk management practices
monitoring, evaluation and reporting to support the delivery of these commitments.
The audit did not examine:
planning or decision-making that informed the MSA program commitments
conservation areas within growth corridors
the implementation of conservation commitments the state made under the MSA program to protect and offset the loss of other critically endangered federally listed threatened animal and plant species.
The principal audited agency is DELWP. We also examined Parks Victoria's role before and after DELWP acquires reserve land. The audit did not examine the activities of local government and other key stakeholders in managing private land within the proposed conservation reserves but did look at how DELWP has engaged with these key stakeholders.
Our methods included:
consultation with subject matter experts
interviews with the audited agencies' staff and other relevant stakeholders
observation, including a site visit to the grasslands in the Victorian Volcanic Plain
document review, including key agency documentation relating to administration, management, implementation, monitoring and review, and reporting of the MSA program
identification and analysis of relevant datasets used to inform decision making, monitoring and reporting.
Unless otherwise indicated, any persons named in this report are not the subject of adverse comment or opinion.
We conducted our audit in accordance with the Audit Act 1994 and ASAE 3500 Performance Engagements. We complied with the independence and other relevant ethical requirements related to assurance engagements. The cost of this audit was $715 000.
1.10 Report structure
The remainder of this report is structured as follows:
Part 2 examines how the reserves are being established.
Part 3 examines how land is being managed before and after acquisition.
Part 4 examines MSA program oversight.