Protecting Critically Endangered Grasslands
3 Protecting land before and after acquisition
The extended timeframe for land acquisition makes controlling threats to grassland ecological values increasingly critical. Managing privately held land is important to ensure that grasslands do not further degrade before formal acquisition.
As noted in Part 2, DELWP has not progressed the GEWR. Therefore, this Part focuses on the WGR.
3.1 Conclusion
DELWP has not targeted action to areas of greatest ecological value or those under greatest threat. DELWP has not worked effectively with landowners and other government agencies to control noxious weeds and protect important biodiversity values. As a result, it has not effectively mitigated the risk of degradation to the ecological assets the reserves are designed to protect.
3.2 Managing land before acquisition
In 2011, DELWP developed an interim management strategy to guide pre acquisition land management in the WGR. The strategy assumed it would achieve full land acquisition by 2020 and was based on land condition at the time.
DELWP's strategies for managing WGR land
The key objectives of DELWP's 2011 strategy included:
reducing the risk of landowners allowing their land to degrade
establishing relationships with landowners to influence private land management and gain access to large areas of the reserve to improve datasets
ensuring landowners comply with legal obligations regarding land management.
The strategy prioritised weed control across the WGR due to the prevalence of weeds on private land parcels and their impact on native vegetation if not controlled. However, DELWP could not access many WGR areas, as landowners did not give consent.
DELWP advised us that it will develop a plan to complement the interim management strategy by December 2020. It intends to include an analysis comparing:
works it contributes funds to under its land management grants
what landowners should be doing to fulfil their land management obligations under the CaLP Act.
Pre-acquisition management activities and challenges
Private ownership of land
In August 2010, the government placed a PAO on land in the WGR. At the time, DELWP intended to acquire all land by 2020. This has not occurred and, as at January 2020, around 90 per cent of land is still in private ownership.
Managing WGR land before it is acquired has been challenging. DELWP advise that many landowners have refused property access to contractors. As a result, DELWP's weed control has focused on properties where landowners were willing to participate.
Weed management activities
There have been a range of weed control programs since the beginning of the MSA program, as shown in Figure 3A.
Figure 3A
DELWP's weed control programs in the WGR
Program

Year

Purpose/Actions

Hectares treated

Serrated Tussock Working Party

2011

DELWP funded $260 000 to map serrated tussock infestations, produce an implementation plan and undertake on-ground weed treatment.

Landowners of 13 sites expressed interest in weed treatment. However, limited funding allowed for only six properties to be treated.

652

Weed control services 

2012

DELWP established a panel of seven weed control service providers for works. 

Documents provided by DELWP do not identify the number of hectares treated. 

Not identified

Bush Tender

2012–17

Landowners submitted a tender to improve the quality or extent of native vegetation on their land. Successful tenders were assessed based on the best environmental value for money.

Landowners received funding over five years for weed management activities under agreement with DELWP.

88

DELWP weed control grants program

2016–19

DELWP fully or partially funded weed control actions carried out directly by landowners, or by licensed/accredited contractors. 

177

Wyndham City Council land protection grant program

2016–18

Wyndham provided land management support services to landowners under its land protection grant program. Around 10 000 hectares of the WGR falls within Wyndham City Council's jurisdiction.

1 144

Land Protection Grant Scheme (collaboration with Wyndham City Council)

2018

DELWP and Wyndham City Council signed a one-year joint funding agreement for $80 000 to support eligible landowners to control noxious weeds.

331
Note: Hectares treated may overlap across the various activities listed in this table.
Source: VAGO, from information provided by DELWP.
Three-year Wyndham funding agreement
DELWP and Wyndham City Council are in the process of finalising a three-year funding agreement. This includes funding for a WGR weed control program and a fixed-term Environmental Officer at the council.
The Environmental Officer will handle engagement and education activities and provide administrative project support associated with the grant program. This partnership is intended to help address stakeholder concerns that native grasslands are being affected by weeds on private land in the WGR.
Aerial serrated tussock control trial
In 2016 and 2017, DELWP conducted an aerial trial to control serrated tussock. It selected three adjacent private properties in the Natural Temperate Grasslands ecological community for aerial spraying due to their extensive serrated tussock invasion.
For the trial, DELWP randomly chose 22 plots to be either treated or a control (not treated). It used weak, medium and strong concentrations of the treatment.
| | |
| --- | --- |
| Of the plots, those receiving | The trial showed … |
| no treatment | serrated tussock coverage would likely increase without treatment. |
| weak treatment | no living individual weeds. However, application errors reduced the number of sample plots to three. This is not enough for reliable results. |
| medium treatment | near total removal of serrated tussock, with only one weed remaining in three of the six sample plots.  |
| strong treatment | serrated tussock cover was reduced to zero, with no surviving weeds in the sample plots. |
DELWP advised us that the land management activities described above have been applied to 4 500 hectares of private land and this information is available in various agreements and associated council documents. However, based on the information provided by DELWP, we were unable to verify this figure.
Landowner compliance with land management obligations
DELWP's interim management strategy outlines several options for ensuring private landowners meet legal obligations to control noxious weeds and protect important biodiversity assets:
Under the CaLP Act, landowners must manage declared noxious weeds and pest animals on their land. They must take all reasonable steps to eradicate regionally prohibited weeds, prevent the growth and spread of regionally controlled weeds, and prevent the spread of established pest animals on their land. Agriculture Victoria may issue a Directions Notice or Land Management Notice specifying a control action and timeframe.
Some local governments have laws that allow Directions Notices to be issued, directing landowners to control weeds.
In extreme cases, DELWP may initiate compulsory acquisition.
It is important to control weeds because they can change the natural diversity and balance of ecological communities. Land in the WGR is of varying quality. Figure 3B shows a property with significant levels of noxious weeds.
Figure 3B
VAGO WGR site visit: November 2019
On a site visit to the WGR, we observed several properties yet to be acquired by DELWP that contained significant levels of noxious weeds. Despite landowners having an obligation to manage noxious weeds, these properties contained African boxthorn, cane needle grass, artichoke thistle and serrated tussock.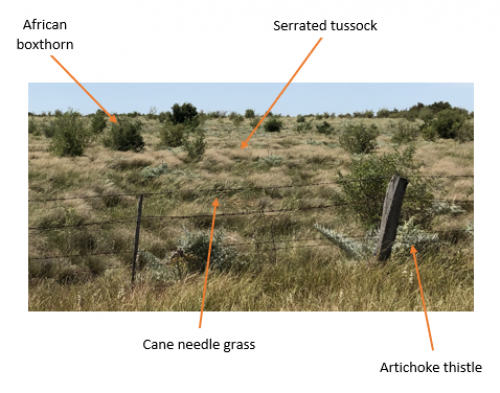 Note: Photograph is not representative of all properties in the WGR.
Source: VAGO—taken during a site visit on 11 November 2019
DELWP advise that its position is to educate and inform landowners of their obligations. The DELWP Secretary delegates responsibility for enforcing compliance to the Secretary of the Department of Jobs, Precincts and Regions, specifically Agriculture Victoria. This means that DELWP does not carry out enforcement under the CaLP Act.
Managing non-compliance
DELWP's interim management strategy states that in extreme cases of non compliance, it may initiate compulsory acquisition of land under the PAO. This would bring the property into the reserve and under immediate departmental management.
DELWP has yet to exercise this option, as it is contrary to its policy of voluntary acquisition.
Expenditure on pre-acquisition land management
Since 2012–13, DELWP has spent $695 695 on pre-acquisition land management, as shown in Figure 3C. This represents:
less than 1 per cent of total MSA program expenditure
around 2 per cent of operating expenditure
9 per cent of total on-ground management expenditure.
Figure 3C
Interim management expenditure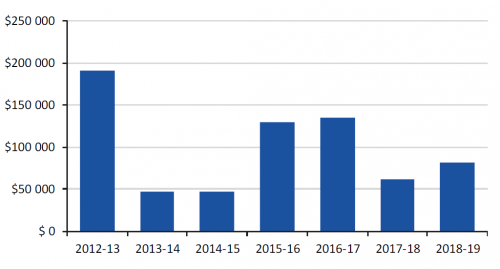 Source: VAGO, from information provided by DELWP.
DELWP advise that there is no specified budget for pre-acquisition land management activities, as there is a constant trade-off between funding land management and land acquisition. Further, take-up of interim management programs by private landowners has been low.
DELWP hopes that its agreement with Wyndham City Council will be more successful in engaging landowners in the management of their land.
3.3 Ongoing management
DELWP transfers land it acquires to Parks Victoria to manage. As at February 2020, DELWP has transferred 10 parcels totalling 1 198.6 hectares. Figure 3D shows these.
Figure 3D
Parcels managed by Parks Victoria
| Parcel no. | Size (hectares) | Year assigned to Parks Victoria |
| --- | --- | --- |
| 1 | 339.3 | 2014 |
| 2 | 94.3 | 2014 |
| 3 | 306.1 | 2014 |
| 4 | 260.2  | 2014 |
| 5 | 41.1 | 2016 |
| 6 | 20.2 | 2017 |
| 7 | 20.0 | 2017 |
| 8 | 93.0 | 2016 |
| 9 | 18.4 | 2016 |
| 10 | 6.0 | 2016 |
|   | 1 198.6 |   |
Note: Figures as at February 2020.
Source: VAGO, from information provided by Parks Victoria.
In addition to the parcels in Figure 3D, Parks Victoria manages 51.75 hectares of existing Crown land within the WGR. At the time of this audit, DELWP was in the process of transferring a further 286.1 hectares (11 parcels) to Parks Victoria.
Parks Victoria management of WGR
Parks Victoria developed a draft land management proposal in May 2012. It contains estimated management costs and resourcing requirements based on acquisition by 2019–20. This proposal needs revising to reflect:
the slow land acquisition rate
Parks Victoria's management model for isolated and fragmented parcels with varying historic land uses
challenges in managing the WGR in perpetuity.
Management of WGR parcels
DELWP management guidelines document the location of biodiversity values as well as land management risks and opportunities for each land parcel.
Parks Victoria provides input into the development of DELWP's management guidelines for each parcel of acquired land. Parks Victoria uses these guidelines to manage land transferred to it.
Management challenges for Parks Victoria
Slow transfer of land in small parcels
Under the MSA program, Parks Victoria was expected to receive all or most parcels of land in the WGR by 2019. DELWP's delayed land acquisition and subsequent handovers will continue to present management difficulties for Parks Victoria.
Parks Victoria advises that it needs a critical land mass to make management actions cost-effective. The piecemeal nature of its assigned parcels means management is restricted to small, isolated blocks.
This has a flow-on effect for capacity and budget planning. Fire planning and cultural heritage planning is difficult, as these generally require a strategic approach across the entire reserve.
Funding arrangements
DELWP's funding of Parks Victoria for managing WGR land extends for 10 years after transfer. Following this, Parks Victoria's management costs come out of its recurrent funding.
DELWP has transferred funding responsibility for at least one land parcel to Parks Victoria. The remaining parcels will progressively fall under Parks Victoria funding from 2024.
When the full 15 000 hectares is transferred, the WGR will increase Parks Victoria's managed estate within the western Melbourne district by 451 per cent—from 3 329 to 18 329 hectares.
Parks Victoria advises that management activities for grasslands cost more than other ecosystems. They require active annual management, including weed control and burning regimes. Parks Victoria also advises that it is more difficult to develop a recurrent funding bid for the management of small disparate parcels, as opposed to large contiguous areas.
Future park planning
The World Commission on Protected Areas' 2013 Guidelines for Applying Protected Area Management Categories provides recognised best practice guidelines that classify protected areas according to their management objectives.
The two relevant categories for the WGR are:
The protected area management category for …

Which are …

Strict nature reserves

Strictly protected for biodiversity.

Human visitation, use and impacts are controlled and limited to protect conservation values.

National parks

Large natural or near-natural areas set aside to protect large-scale ecological processes, with characteristic species and ecosystems. These areas also have environmentally and culturally compatible recreational and visitor opportunities.
Currently, the WGR is being managed as a nature reserve. DELWP and Parks Victoria agree that it will eventually be managed as a national park. However, Parks Victoria does not have clarity on when this will happen.
Certainty about the timeframe is important, as it guides Parks Victoria's management actions and requires planning. For example, as a nature reserve, Parks Victoria cannot leave areas (often those areas most degraded) earmarked for recreational facilities, such as car parks or visitor centres. Instead, it must actively manage these for conservation protection.
3.4 Communicating with landowners
Communications with landowners in the PAO is critical, and DELWP's 2011 interim management strategy outlines the importance of this. Keeping landowners informed:
provides them with accurate information to help them make informed land management decisions
ensures they are aware of their legislative obligations
builds DELWP and landowner relationships to help access private land for condition surveys and land management
enables DELWP to receive information about landowners' intentions relating to their properties.
DELWP's approach to communicating with landowners has become reactive because it cannot provide landowners with any certainty around acquisition. It is limited to responding to landowner's correspondence and individual enquiries, rather than guided by a communications strategy.
DELWP communication with landowners
Notice of PAO
In August 2010, DELWP wrote to landowners in the WGR informing them that their properties would be subject to a PAO. It accompanied the letter with an information pack that included:
fact sheets about the MSA, the WGR and the acquisition process
a map of the area covered by the PAO
a landowner survey to collect information to assist with WGR design and interim management.
Landowner interviews
In November 2011, DELWP engaged consultants to interview landowners in the WGR on future negotiation processes and engagement. The consultants interviewed around 50 of the 106 affected landowners. The consultants prepared a draft report with key findings, conclusions and recommendations. These are summarised in Figure 3E.
Figure 3E
Key findings, conclusion and recommendations from consultant interviews with landowners
Key findings

Conclusion

Recommendations

Landowners considered that DELWP communication was sporadic.
Information was difficult to access and confusing.
Landowners reported that the letter DELWP sent in August 2010 on the rezoning and the PAO was the first information they had received.
Some landowners indicated they had not received any information at all and had to rely on neighbours for updates.

The report concluded DELWP lacked the confidence of landowners and this was impeding access to the WGR land for habitat maintenance. It needed clear and transparent communication and negotiation to rebuild trust.

DELWP should:

undertake a fresh round of communication
provide a series of opportunities for landowners to interact with DELWP including follow-up group meetings with landowners, drawing on feedback
conduct meetings in the two geographic reserve areas
provide transparent communication between meeting groups
coordinate content of relevant information with other agencies.
Source: VAGO, from information provided by DELWP.
DELWP has not yet acted on these recommendations.
Liaison officer
From October 2010 to January 2014, DELWP employed an officer to liaise with landowners affected by the PAO. The officer had a background in biodiversity and was familiar with the area. However, they had no training in communication and faced some engagement challenges.
Progress update
In March 2014, DELWP provided landowners with a progress update including information about where they could access support such as personal and financial counselling services.
Landowner engagement challenges
Figure 3F summarises challenges DELWP staff have faced in engaging private landowners.
Figure 3F
Engagement issues
| Issue | Challenges faced by DELWP staff |
| --- | --- |
| Lack of strategic plan | Landowner engagement was not guided by a stakeholder and engagement strategy or a communications strategy. |
| Lack of consultation on the PAO | The liaison officer started after the PAO was publicly announced. This was not ideal, especially as there was little or no initial consultation with landowners about the PAO. |
| Lack of engagement support | Although DELWP created the landowner engagement position, it provided no support for this role. For example, there was a large cohort of non-English speaking landowners. Engagement took considerable time as it meant dealing with landowner's children and grandchildren. |
| Varying levels of understanding of the MSA program | Landowners varied, and included primary producers, individuals with hobby farms and development companies with large holdings. Landowners had various levels of understanding of biodiversity, landowner obligations and PAO implications. |
| Acquisition timeframe | DELWP advised landowners that it would acquire their land within 10 years. However, this depended on funds from development fees. As development was slower than forecast, land acquisition has occurred more slowly than anticipated. This has caused considerable uncertainty for landowners. |
Source: VAGO, from information provided by DELWP.
Developing a stakeholder strategy
In March 2014, DELWP briefed the Minister, noting that it would develop a joint communications approach with the Australian Government to address the likelihood that acquisition of land would extend beyond 2020. DELWP advised us that this did not go ahead as it could not be certain about when it would acquire land.
In 2016, DELWP drafted an MSA stakeholder strategy. However, it never finalised this document. The draft names a range of MSA program stakeholders, including their level of interest and influence in the MSA program, but does not document an engagement approach.
The draft stakeholder strategy indicates that landowners in the WGR and GEWR have high interest and low influence on MSA program outcomes. Figure 3G outlines how DELWP defined level of influence.
Figure 3G
Level of influence definitions
| Level of landowner influence | Definition |
| --- | --- |
| Low | Stakeholder has limited influence on the success of projects outcomes. |
| Medium | Stakeholder can influence implementation and affect the success of the project outcomes without adequate engagement. |
| High | Stakeholder can critically impact on the success of the project outcomes without adequate engagement. |
Source: VAGO, from DELWP's draft MSA stakeholder strategy, 2016.
The draft strategy also identifies specific stakeholder issues and approaches for managing them. Figure 3H outlines those relating to landowners.
Figure 3H
Landowner issues and management approach
| Landowner issues | Management approach |
| --- | --- |
| Concern and uncertainty about landholder rights, responsibilities, process and timing of MSA. | Plain English fact sheets. |
| Lack of central source of easily understandable information. | Website redesign, plain English fact sheets. |
Source: VAGO, from DELWP's draft MSA stakeholder strategy, 2016.
Keeping landowners informed and addressing concerns is important. Disengagement risks the MSA program's implementation and outcomes. For example, there may be negative outcomes if a landowner:
sells their property to a third party after offering it to DELWP first, potentially resulting in a loss on sale claim compensation
does not fulfil their land management obligations
does not take up weed management grant programs.
DELWP advised us that the introduction of the MSA Act on 1 July 2020 will provide more certainty about the MSA program. This provides DELWP with an opportunity to reassess and reset its engagement with affected landowners.