Results of 2018 Audits: Technical and Further Education Institutes
In this Part of the report, we summarise the results of our financial and performance statement audits and observations for the TAFE sector for the year ended 31 December 2018.
2.1 Conclusion
The financial and performance reports of the TAFE sector are reliable. Parliament and the community can use them with confidence.
2.2 Findings
Audit opinions
Financial reports
A clear audit opinion confirms that the financial report fairly presents the transactions and balances for the reporting period, in keeping with the requirements of relevant accounting standards and applicable legislation. Appendix B lists each TAFE sector entity, types of audit opinions issued and the sign-off dates.
For the year ended 31 December 2018, we issued clear audit opinions for all 12 TAFEs and their 15 controlled entities.
Performance reports
TAFEs are required under a ministerial instruction to report against four mandatory key performance indicators (KPI) in their annual performance reports:
training revenue diversity
employment costs as a proportion of training revenue
training revenue per teaching full-time equivalent
operating margins percentage.
They must establish targets and report on the actual results for each KPI, and also disclose the prior year's results. All TAFEs certified their 2018 performance reports on the same day as their 2018 financial reports.
We issued clear audit opinions on the performance reports of all 12 TAFEs, consistent with the prior year. A clear audit opinion confirms that the actual results for each performance indicator are presented fairly. We do not form an opinion on the relevance or adequacy of the performance indicators.
Prior to 2018, TAFEs were required to include these four mandatory indicators in their performance report, and any additional ones they wished to include. This led to significant variations in the reported number and types of indicators among TAFEs, making it difficult to compare results and benchmark sector performance. Starting with the 2018 reports, DET required TAFEs to report only on the four mandatory indicators.
Descriptions of the four indicators and the formulas used to calculate them are provided in Appendix D. The appendix also includes a summary of the targets and actual results for each TAFE.
Timeliness of reporting
Timely financial reporting enables TAFE governing boards and other stakeholders to have informed views about management's accountability for financial and operational performance. The later financial reports are produced after the end of the financial year, the less useful they become.
The FMA requires public sector entities to finalise their audited financial reports within 12 weeks of the end of the financial year. This year, all TAFEs achieved this for the first time since 2012. We commend the sector for this outcome.
The median time taken for TAFEs to certify their financial reports also improved from the prior year. In 2018, TAFEs took a median of 8.7 weeks to finalise their financial reports, compared to 9.0 weeks in 2017.
Figure 2A shows the time taken after year end for each TAFE to certify its financial report.
Figure 2A
Weeks taken after 31 December 2018 for TAFEs to certify their financial reports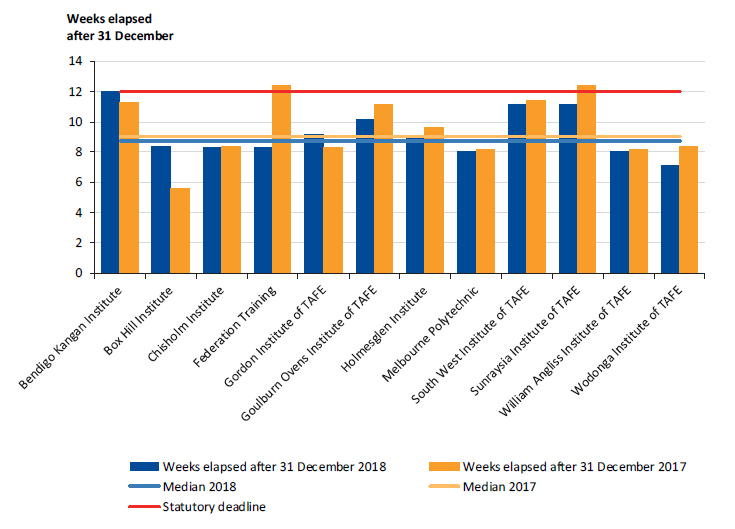 Source: VAGO.
Quality of financial reporting
During our 2018 audits, we identified 15 material errors across the sector that required correction before we could issue a clear opinion. This is an improvement on past years. Ten of the 15 material adjustments were related to either how an item was classified or disclosed, which did not affect the entities' net results. The remaining five adjustments related to correcting financial errors totalling $1.2 million.
Figure 2B summarises the common audit adjustments made as a result of our audit work across the 2018 reporting period.
Figure 2B
Common adjustments identified across the 2018 reporting period
Dollar adjustments

We identified five financial adjustments across the 12 TAFEs, totalling $1.2 million. Common financial adjustments related to:

incorrect fair value assessments and errors in depreciation
non-recognition of expenditure.

Classification and disclosure adjustments

Common classification and disclosure adjustments related to:

classification of term deposits with a maturity date of three months or less as investments and other financial assets instead of cash and cash equivalents
additional disclosures required due to the adoption of the Accounting Standard, AASB9 Financial Instruments, which resulted in new approaches to classifying and measuring financial instruments.
Source: VAGO.
Internal controls over financial reporting
Internal controls include an entity's:
control environment
risk-assessment process
information systems
control activities
control monitoring.
In our financial audit process, we consider the internal controls relevant to financial reporting and assess whether TAFEs have relevant internal controls to manage the risk of material errors.
Overall, the TAFEs' internal controls remain adequate for reliable financial reporting. However, we found instances where important control activities could be improved. This year, we identified one high- and 12 medium-rated control activity issues, compared to 16 in the prior year. The number of control activity issues identified is small relative to the number of entities, and has decreased compared to the prior year. The remediation of identified issues demonstrates managements' commitment to good internal controls.
Figure 2C provides a breakdown of the internal control issues by area and risk rating. Appendix C provides additional information on our risk ratings and our expected timelines for TAFEs to resolve issues we find during our audit work.
Figure 2C
Internal control issues identified at TAFEs during 2018 audits, by area and risk rating
Area of issue

Risk rating

High

Medium

Total

IT general controls

–

5

5

Revenue/receivable

1

2

3

Expenditure/accounts payable

–

3

3

Financial reporting

–

1

1

Governance

–

1

1

Total

1

12

13
Note: We reported 15 low-rated internal control issues in 2018. As these issues are minor and/or may present opportunities to improve existing processes, they have been excluded from this figure.
Source: VAGO.
High-rated issue
We identified one high-rated issue at William Angliss Institute of TAFE relating to non-compliance with the Victorian Training Guarantee (VTG) contract. The TAFE was not able to provide sufficient documentation to support student participation and eligibility. This lack of evidence to support compliance with the VTG contract increases the risk of a funding recall from DET.
In 2018, DET recalled $0.8 million from William Angliss Institute of TAFE due to non-compliance with the VTG contract for the 2016 financial year. The management of William Angliss Institute of TAFE is currently undertaking a business improvement project focused on addressing these compliance issues.
Medium-rated issues
Five of the 12 medium-rated control activity issues identified at four TAFEs related to control activities over IT systems. This makes up 42 per cent of total findings (it was 18 per cent in 2017). The issues can be summarised as:
inadequate governance over the IT control environment, including a lack of formally established IT strategies and directions
ineffective control activities to manage user accounts and the appropriateness of their levels of access
implementing password controls that were not in line with good practice recommendations
untested business continuity and disaster recovery plans over important business processes and systems.
Since all TAFEs are reliant on IT systems for some or all of their financial reporting, it is important to design and implement IT general controls that ensure accurate processing and availability of information, and to safeguard the integrity of systems and information from unauthorised access or changes.
We also identified several control breakdowns in expenditure that increase the risk of error or fraud, including:
inadequate master-file review
purchases being made without purchase orders having been completed and reviewed.
All TAFEs affected by these issues have committed to working towards rectifying them during 2019.
Status of internal control matters raised in prior-year audits
Internal control issues raised in our prior-year management letters are monitored to ensure that they are resolved in a timely manner. Where issues remain outstanding, we factor this awareness into our risk assessments for the current year's audit.
At the start of the 2018 financial year, there were 24 unresolved high and medium-rated audit issues from prior years. During 2018, the sector resolved 75 per cent of these, including the five high-risk rated issues outlined in our 2017 report, Results of 2017 Audits: Technical and Further Education Institutes, as shown in Figure 2D.
Figure 2D
Status of prior-period internal control issues as at May 2019 by risk rating
Issue status

Risk rating

High

Medium

Total

Resolved

5

13

18

Unresolved

–

6

6

Total

5

19

24
Note: Issues rated as low risk are excluded from this analysis.
Source: VAGO.
The total number of unresolved issues is low. Three TAFEs were responsible for the six unresolved medium-rated issues—Melbourne Polytechnic, Gordon Institute of TAFE and Sunraysia Institute of TAFE. These TAFEs need to respond to the issues reported in our management letters promptly in order to strengthen the effectiveness of their internal control environment and financial reporting.