Results of 2019 Audits: Technical and Further Education Institutes
In this Part of the report, we summarise the results of our financial and performance report audits and observations for the TAFE sector for the year ended 31 December 2019.
2.1 Conclusion
The financial and performance reports of the TAFE sector are reliable. Parliament and the community can use them with confidence.
2.2 Findings
Audit opinions
Financial reports
A clear audit opinion confirms that the financial report fairly presents the transactions and balances for the reporting period, in keeping with the requirements of relevant accounting standards and applicable legislation.
For the year ended 31 December 2019, we issued clear audit opinions for all 12 TAFEs and their 14 controlled entities.
An emphasis of matter paragraph included in the auditor's report refers to a matter appropriately presented or disclosed in the financial report that, in the auditor's judgment, is of such importance that it is fundamental to users' understanding of the financial report.
While we made no modifications to our audit opinions, we included an emphasis of matter paragraph in our auditor's reports for seven TAFEs and two controlled entities, being:
Bendigo Kangan Institute
Box Hill Institute
Gordon Institute of TAFE
Goulburn Ovens Institute of TAFE
Holmesglen Institute
South West Institute of TAFE
Sunraysia Institute of TAFE
TAFE Kids Inc (subsidiary of Sunraysia Institute of TAFE)
William Angliss Pte Ltd (subsidiary of William Angliss Institute of TAFE)
The emphasis of matter paragraph draws the reader's attention to the disclosures made in notes in the financial report regarding the effects of the COVID-19 pandemic—a material subsequent event.
As at the time their financial reports were signed, each of the above TAFEs disclosed:
that local and international students were impacted by the public health measures associated with COVID-19
that they introduced measures to assist affected students as the situation evolved and that they would continue to monitor the non-financial and financial impacts of COVID-19
that given the significant amount of uncertainty associated with COVID-19, they were not able to quantify the full economic impact at present. However, to mitigate this risk, DET had provided assurances that financial assistance will be made available to enable them to continue as a going concern for the next 12 months.
We did not include an emphasis of matter paragraph in the audit opinions for the other five TAFEs, because they had finalised their financial reports before COVID-19 was declared an emergency. These five TAFEs are:
Chisholm Institute
Melbourne Polytechnic
TAFE Gippsland
William Angliss Institute of TAFE
Wodonga Institute of TAFE
We discuss the impact of COVID-19 on the preparation of the financial report further in Section 2.4 of this report.
Performance reports
TAFEs are required under a ministerial instruction to report against four mandatory key performance indicators (KPI) in their performance reports:
training revenue diversity
employment costs as a proportion of training revenue
training revenue per full-time teaching equivalent
operating margin percentage.
They must establish targets and report on the actual results for each KPI, and also disclose the prior year's results.
We issued clear audit opinions on the performance reports of all 12 TAFEs, consistent with the prior year. A clear audit opinion confirms that the actual results for each performance indicator are presented fairly. We do not express an opinion on the relevance or adequacy of the performance indicators.
Descriptions of the four indicators and the formulas used to calculate them are provided in Appendix D. The appendix also includes a summary of the targets and actual results for each TAFE.
Timeliness of reporting
Timely financial reporting enables TAFE governing boards and other stakeholders to have informed views about management's accountability for financial and operational performance. The later financial reports are produced after the end of the financial year, the less useful they become.
The FMA requires public sector entities to finalise their audited financial reports within 12 weeks of the end of the financial year.
This year, TAFEs took longer to certify their financial reports than the prior year.
In 2019, TAFEs took a median of 14.2 weeks to finalise their financial reports, compared to 8.7 weeks in 2018.
Seven TAFEs—Bendigo Kangan Institute, Box Hill Institute, Gordon Institute of TAFE, Goulburn Ovens Institute of TAFE, Holmesglen Institute, South West Institute of TAFE and Sunraysia Institute of TAFE—certified their financial reports after the 12-week FMA deadline. This was due to the evolving COVID-19 pandemic, which resulted in a number of government restrictions being announced throughout March 2020.
This fluid situation meant that these entities were required to review and assess the impact of the pandemic as a material subsequent event and to revise the level of disclosure in their draft financial reports. We then needed more time to review and assess these disclosures prior to providing our clearance for signing.
Figure 2A shows the time taken after year end for each TAFE to certify its financial report.
Figure 2A
Weeks taken after balance date (31 December) for TAFEs to certify their financial reports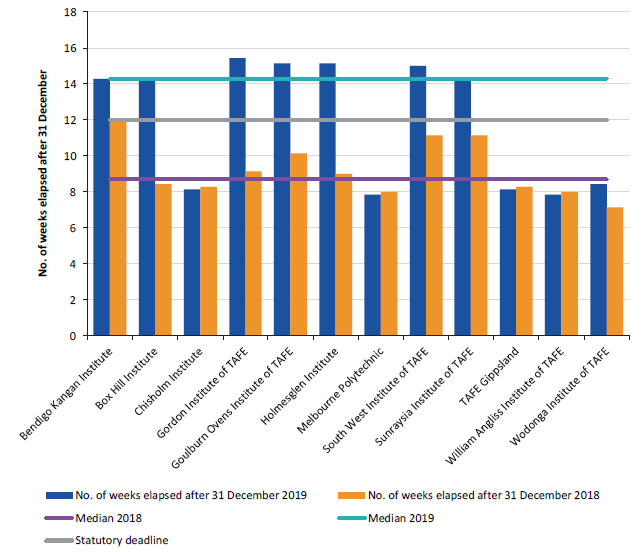 Note: Federation Training changed its name to TAFE Gippsland during the year.
Source: VAGO
Quality of financial reporting
During our 2019 audits, we identified 31 material errors in draft financial reports across the sector that required correction before we could issue a clear opinion. This is more than prior years. Of the 31 material adjustments, 22 related to how an item was classified or disclosed, which did not affect the entities' net results. The remaining nine adjustments corrected financial errors totalling $2.4 million.
Figure 2B summarises the common audit adjustments made as a result of our audit work across the 2019 reporting period.
Figure 2B
Common adjustments identified across the 2019 reporting period
Dollar adjustments

We identified nine financial adjustments across the 12 TAFEs, totalling $2.4 million. Common financial adjustments related to:

errors in long service leave calculations
errors in capitalisation and revaluations of non-current physical assets
errors in lease calculations arising from first time implementation of AASB16 Leases.

Classification
and disclosure
adjustments

Common classification and disclosure adjustments related to:

incomplete disclosures as required by Australian Accounting Standards
disclosure errors and additional disclosures required due to the adoption of AASB15 Revenue from Contracts with Customers, AASB1058 Income of Not-For-Profit Entities and AASB16 Leases. Errors are more likely to occur upon first-time implementation of the standards.
Source: VAGO
Internal controls over financial reporting
In our financial audits, we consider the internal controls relevant to financial reporting and assess whether TAFEs have relevant internal controls to manage the risks of material errors.
Internal controls include an entity's:
control environment
risk-assessment process
information systems
control activities
control monitoring
Overall, TAFEs' internal controls remain adequate for reliable financial reporting. However, we found instances where important control activities could be improved. This year we identified six high and 42 medium-rated control issues, compared to one high and 12 medium-rated issues identified in the prior year. The number of findings has increased from the prior year with more IT system control weaknesses being identified, commensurate with our increased audit focus in this area.
Figure 2C provides a breakdown of internal control issues by area and risk rating. Appendix C provides additional information on our risk ratings and our expected timelines for TAFEs to resolve issues we find during our audit work.
Figure 2C
Internal control issues identified at TAFEs during 2019 audits
Area of issue

Risk rating

High

Medium

Total

IT controls

5

24

29

Revenue/receivables

-

2

2

Expenditures/payables

–

2

2

Financial reporting

–

2

2

Governance

1

2

3

Payroll

-

8

8

Property, plant and equipment

-

1

1

Risk management

-

1

1

Total

6

42

48
Note: We reported 15 low-rated internal control issues in 2018. As these issues are minor and/or may present opportunities to improve existing processes, they have been excluded from this figure.
Source: VAGO.
High-rated issues
Since all TAFEs depend on IT systems for some or all of their financial reporting, it is important to design and implement IT controls that ensure accurate processing and availability of information, and to safeguard the integrity of systems and information from unauthorised access or changes.
We identified six high-rated issues – three at Sunraysia Institute of TAFE, one at Goulburn Ovens Institute of TAFE, one at Melbourne Polytechnic, and one at South West Institute of TAFE.
These issues are summarised below:
Logical Security—Access Management. Deficiencies were noted in managing user access to systems.
Weaknesses in Change Management Process. Although there was a change management policy and procedures document in place, the change management process was either implemented part-way through the year with weaknesses noted, or not enforced—which resulted in inconsistencies in change management.
Managing critical incidents. Policy and procedures for managing critical incidents, prioritising service problems, and standard handling of service problems were formally documented. However, the documented requirements and procedures were not adhered to.
Medium-rated issues
Twenty four of the 42 medium-rated control issues we identified at six TAFEs also related to control over IT systems. This makes up 57 per cent of total medium-rated findings (42 per cent in 2018).
The issues can be summarised as:
inadequate governance over the IT control environment, including a lack of formally established IT strategies and directions
inadequate control activities to manage user accounts and the appropriateness of their levels of access
implementing password controls that were not in line with good practice recommendations
untested business continuity and disaster recovery plans over important business processes and systems.
We also identified several control breakdowns in payroll and expenditure that increase the risk of error, fraud, and the risk of erroneous transactions being recorded including:
expenditure delegation limits in systems not aligned to the approved Financial Delegations Policy
instances where supporting contracts and agreements were missing for contract staff and employees.
All TAFEs with these issues have committed to rectifying them during 2020.
Status of internal control matters raised in prior-year audits
We monitor internal control issues we raised in prior-year management letters to see if they are resolved. Where issues remain outstanding, we factor this into our risk assessments for the current year's audit.
During 2019 the sector resolved 15 (83 per cent) of the 18 high and medium rated audit issues from prior years. Figure 2D shows the status of prior period internal control issues as at May 2020 by risk rating.
Figure 2D
Status of prior-period internal control issues as at May 2019 by risk rating
Issue status

Risk rating

High

Medium

Total

Resolved

1

14

15

Unresolved

–

3

3

Total

1

17

18
Note: Five of the 18 issues were identified in 2017 and 2016.
Source: VAGO.
Two TAFEs were responsible for the three unresolved medium-rated issues—Goulburn Ovens Institute of TAFE and Gordon Institute of TAFE. These TAFEs need to respond to the issues reported in our management letters more promptly to strengthen the effectiveness of their internal control environment and financial reporting.
2.3 New accounting standards
For the 2019 reporting period, three new accounting standards issued by the Australian Accounting Standards Board applied to the TAFE sector for the first time:
AASB 15 Revenue from Contracts with Customers
AASB 1058 Income of Not-for-Profit Entities
AASB 16 Leases
These new standards had the potential to change how and when entities account for student fee and related grant revenues and any leased assets. They required changes to underlying systems, processes and business practices to enable entities to capture the necessary information and documentation for appropriate accounting and disclosure.
Revenue-related standards
AASB 15 establishes a five-step model for an entity to account for revenue from a contract that contains a performance obligation to transfer goods or services:
1. Identifying the contract with a customer
2. Identifying the performance obligations
3. Determining the transaction price
4. Allocating the transaction price to the performance obligations
5. Recognising revenue when/as performance obligation(s) are satisfied.
All TAFEs adopted a modified retrospective approach, as recommended by the Department of Treasury and Finance, with no changes in comparative information. Overall, there was no significant impact for the sector as to how they accounted for their revenue or income under the new standards, except for accounting for capital grants.
A modified retrospective approach includes a few practical expedients that make adoption easier. Under this approach, an entity applies the accounting standard from the beginning of the current accounting period.
A right-of-use asset is an asset that the lessee has the right to use for the term of the lease.
Under the previous standards, TAFEs would record all capital grants as income upon receipt, as the TAFE was not giving equal value back to the grantor. TAFEs now recognise this income progressively (that is, as the asset is constructed).
As at 31 December 2019, TAFEs had a liability of $32.9 million representing cash received but for which the assets have not been fully constructed. Under the previous accounting standards, this would have been recorded as 2019 income.
AASB 16 Leases
This standard fundamentally changes lease accounting for lessees—with the distinction between finance and operating leases removed.
Lessees now recognise all their leases on the balance sheet as 'right-of-use' assets with an associated lease liability. They now depreciate these right-of-use assets and record an interest expense for the balance of the lease liability. These expenses will be higher at the start of the lease period and reduce as entities repay the lease liability.
At 1 January 2019, TAFEs recognised right-of-use assets and a corresponding lease liability of $97.1 million. All TAFEs adopted a modified retrospective approach, with no changes in comparative information. Figure 2E shows the breakdown of this recognition by asset category.
Figure 2E
Recognition of right-of-use asset and liability by category
| Category | Total ($m) |
| --- | --- |
| Property | 91.4 |
| Plant and equipment | 3.5 |
| Motor vehicles | 1.3 |
| Other | 0.9 |
| Total | 97.1 |
Source: VAGO
All TAFEs elected not to recognise right-of-use assets and lease liabilities for short-term leases, which have a lease term of 12 months or less, or for low-value leases where the asset valuation is less than $10 000.
The impact of adopting AASB 16 increased depreciation and amortisation expense in the sector to $92.6 million, compared to $69.3 million in 2018. At 31 December 2019, TAFEs held right-of-use assets of $91.2 million with a corresponding lease liability of $91.0 million.
2.4 COVID-19
The outbreak of novel coronavirus (COVID-19) was declared as a global pandemic on 11 March 2020—as such it is clearly an 'after balance date' event. This led to the Australian and state governments placing restrictions on domestic and international travel, closing non-essential services and enacting social distancing in an effort to contain the virus. The pandemic also resulted in volatility in economic markets.
Figure 2F shows the timeline of the COVID-19 outbreak.
Financial reporting impact—non-adjusting subsequent event
While COVID-19 was detected overseas in December 2019, it did not impact Australia until 2020. For financial reporting purposes, TAFEs were required to continually review and assess the impact of the pandemic as a material but non adjusting subsequent event. This meant that the nature and future impacts of the COVID-19 pandemic was disclosed in the notes to their financial reports. As a non-adjusting subsequent event, the amounts reported as at December 2019 in their financial reports did not need to change.
Due to the evolving nature of the pandemic, TAFEs continually revised and often increased the level of disclosure in their financial reports, up to the date they signed their financial statements.
Figure 2F
Timeline of COVID-19 and impact on TAFEs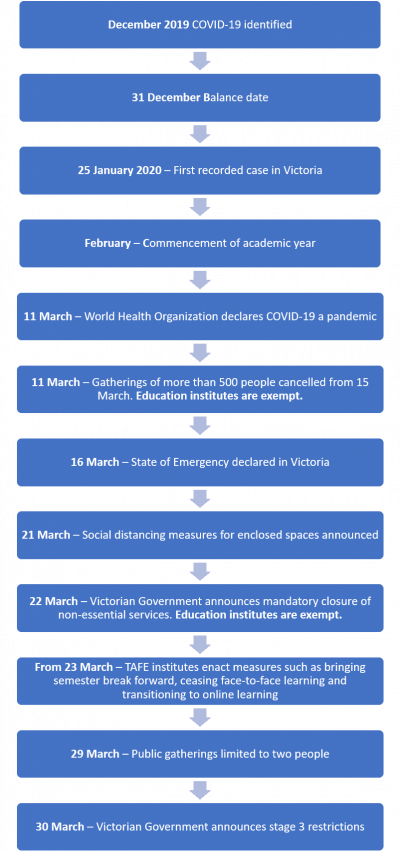 Source: VAGO
Going concern
Financial reports are prepared on a going concern basis. To ensure this remained appropriate, TAFEs prepared financial forecasts using a number of various scenarios given the level of uncertainty in the current climate.
In anticipation of the likely financial impacts that will continue to confront TAFEs, and as result of the ongoing uncertainty due to the pandemic, DET issued letters of financial support to all 12 TAFEs. Letters of financial support are an undertaking that DET will provide adequate cashflow to TAFEs, should the need arise, until April 2021. These letters have enabled TAFE financial statements to be prepared on a going concern basis. This then enabled us to conclude that the going concern basis of preparation was appropriate.
Additional government funding
Uncertainty surrounding future government restrictions to mass gatherings is likely to adversely impact TAFEs, with decreases in training revenue expected. Decreasing training revenue has the potential to impact the sustainability of TAFEs. In response to this, on 17 April 2020, the Victorian Government announced $260.8 million in funding to support TAFEs (and other training organisations) to ensure business continuity until 30 June 2020. The funding will assist in meeting employee costs, enhancing online training capacity and maintaining the safety of face-to-face training where this needs to occur.
Future financial reporting considerations
Developments throughout 2020 will continue to impact the preparation of future financial reports. All TAFEs will need to monitor, assess and regularly update how they have been affected by COVID-19 and the impact on their financial position and the reporting thereon.
Items that may be affected in the future include:
timing of revenue recognition as it is driven by delivery of performance obligations
items which are subject to assumptions, significant estimation uncertainty and sensitivity analysis, such as the recoverability of accounts receivable, leases and provisions
going concern assessments.
Factors that are likely to impact the above items include:
economic and industry factors
financial impacts on students and suppliers
duration of containment measures
ongoing government initiatives, assistance and support
modifications to lease contracts
management plans and responses
The consequences of COVID-19 may mean that historical information is no longer relevant or reliable as a basis for determining items that are subject to estimation in the future.
Operational impact
Delivery of services
While education has continued to be deemed an essential service, and as such the operation of TAFEs has continued, from March to May 2020 many TAFEs suspended face-to-face learning and transitioned many courses online. While many courses have transitioned, some apprentice and trade courses are still conducted using face-to-face learning.
Internal controls and risk assessment
The pandemic also has the potential to impact the control environment of TAFEs. Any change in working arrangements may result in an increased risk of internal controls failing, especially in an environment where manual controls have operated with a high level of management oversight within an office environment. There is also an increased risk of fraud in that the opportunities to circumvent existing controls may be greater. As employees access systems in different ways, delegations may change to cover absent staff and workload changes may be experienced.
A business continuity plan sets out arrangements for managing disruptions. It helps anticipate, prevent or prepare for disruptions such as fire, flood, storms and illness, and to respond and recover from them.
The pandemic has also changed risk assessments, business continuity plans and crisis management plans. While such plans are usually developed to respond to a one-off or short-term event, this may be inadequate in an event such as COVID-19, which has played out over many months.
The pandemic has affected organisations in the following ways:
changes to operating models
IT security and cybersecurity considerations
personnel health and safety
flexible working arrangements
funding mix and revenue diversity, including ongoing continuity of revenue streams in the future
evaluation of short and long-term liquidity.
Risk registers and business continuity plans should be reviewed and updated to reflect learnings from the COVID-19 pandemic, and they should be updated and tested on a regular basis.