Results of 2019 Audits: Universities
This Part summarises the results of our financial audits and includes observations about internal controls for the university sector for the year ended 31 December 2019. 
2.1 Conclusion
The financial reports of the universities and their controlled entities are reliable. Parliament and the community can use them with confidence.
2.2 Financial report audit opinions
We carried out our financial audits of the university sector entities in accordance with Australian Auditing Standards. Figure 2A details the opinions we issued at the conclusion of our audits. 
At the date of this report, the financial reports of 11 controlled entities have not been finalised because of delays experienced from the impacts of the COVID-19 pandemic. We therefore have yet to issue our audit opinions for these controlled entities.
Figure 2A
University sector financial report audit opinions issued for 2019
Unqualified audit opinions

Emphasis of matter

Material uncertainty related to going concern

24

In our opinion, these financial reports present fairly the transactions and balances for the reporting period in keeping with the requirements of relevant accounting standards and applicable legislation, and meet the needs of common users. 

19

We concluded that these financial reports also present fairly. However, they contain specific matters that, in our judgement, are critical to understanding them. We emphasise those matters in our opinion.

2

We concluded that these financial reports also present fairly. However, there are events that might cast significant doubt on these entities' ability to continue as a going concern. We draw attention to these events in our opinion.
Source: VAGO.
Overall, the sector's financial reports are accurate and reliable. See Appendix B for details on the date and nature of audit opinions issued.
While we issued no modified audit opinions, we included an emphasis of matter paragraph in our auditor's reports of all eight universities and 11 of their controlled entities. The emphasis of matter paragraph draws the reader's attention to the disclosures made in notes in the financial reports regarding the effects of the COVID-19 pandemic—a material subsequent event.
The audit opinions of Datascreen Pty Ltd and Inskill Pty Ltd, two controlled entities of Federation University Australia, highlighted material uncertainties relating to going concern, due to the directors' intention to wind up these companies. This uncertainty was adequately disclosed in their financial reports. 
Financial reporting quality
Two important and interrelated quality attributes of financial reporting are the timeliness of the published financial reports and the accuracy of financial reports presented for audit.
Timeliness
Timely financial reports enable users to make better informed and prompt decisions. The later financial reports are produced after year end, the less useful they become. We measure timeliness by the time taken post-year end for each university to finalise their financial reports.
The FMA requires universities to finalise their financial reports and have them audited within 12 weeks of the end of each calendar year.
Figure 2B outlines universities' financial reporting timeliness for the years ended 31 December 2018 and 2019. As shown in this figure, the statutory deadline for finalising their financial reports was not met in 2019 partly due to the universities and audit teams working together to assess and finalise the subsequent event disclosure for the impact of the COVID-19 pandemic.
The evolving COVID-19 pandemic led to a number of government restrictions being announced throughout March 2020. This fluid situation meant that the universities were required to review and assess the impact of the pandemic as a material subsequent event and to revise the level of disclosure in their draft financial reports. We then needed more time to review and assess these disclosures before providing our clearance for signing.
The finalisation of our audit assessment of the varied approaches to research grant accounting adopted by the sector also delayed their financial reporting timelines. 
Figure 2B 
Weeks after 31 December balance date to finalise reports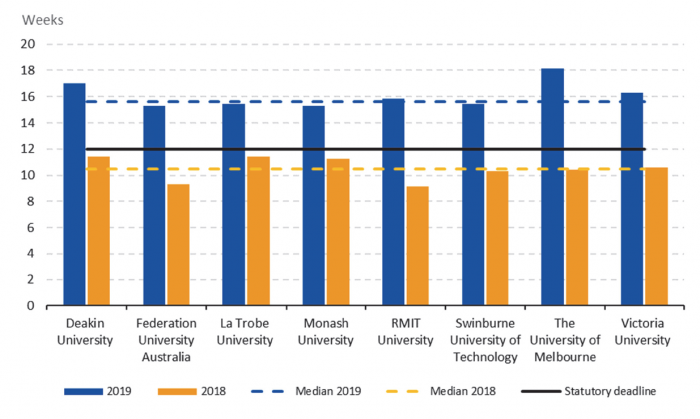 Source: VAGO.
Accuracy
Accurate financial reports do not contain material errors, and reliably represent an entity's financial performance and position. Material errors found during the audit must be corrected by management before we can issue a clear audit opinion.
During our 2019 audits we identified 25 financial report errors, of which eight related to disclosure errors. This is a significant improvement from the 62 errors identified in 2018 and indicates that the sector is improving its quality assurance procedures over its financial reporting processes. 
We required a material adjustment to be made before we could issue a clear opinion at one university.
The values of the errors we found in the remaining seven universities were well below their respective materiality thresholds. Figure 2C summarises the common types of errors we found during the audits.
Figure 2C
Significant dollar and disclosure errors identified across the 2019 university audits
Dollar errors

We identified 17 financial report errors across the eight universities and their controlled entities totalling $248 million. Common themes include:

errors in calculating the value of lease liabilities and related right of use assets on initial application of AASB 16 Leases (AASB 16)
errors caused by incorrect treatment of revenue on initial application of AASB 15 Revenue from Contracts with Customers (AASB 15) and AASB 1058 Income of Not-for-Profit Entities (AASB 1058)
errors in the calculation of accruals and employee leave provisions.

Disclosure errors

Common financial report disclosure errors we identified related to:

disclosure errors and additional disclosures required for the initial application of AASB 15, AASB 1058 and AASB 16. Errors are more likely to occur upon first-time implementation of the standards.
errors in the classification of balances between different line items in the financial statements.
calculation errors relating to key management personnel disclosures.
Source: VAGO.
2.3 Internal control observations
To the extent that we needed to test them, we found that overall, universities' internal controls for financial reporting were generally adequate for ensuring reliable financial reporting. We identified 35 new internal control issues during our 2019 audits. Of these new issues, six were resolved by year end. 
Figure 2D shows the number of new and open management letter issues in the university sector for the years ended 31 December 2016–19. As shown in this figure, the number of new issues we identify each year, as well as the number of open issues remaining at the end of each year is trending upwards in 2019. This indicates that the universities need to turn their attention to actively addressing their control deficiencies. 
Figure 2D
Number of new and open management letter issues in the university sector for the years ended 31 December 2016–19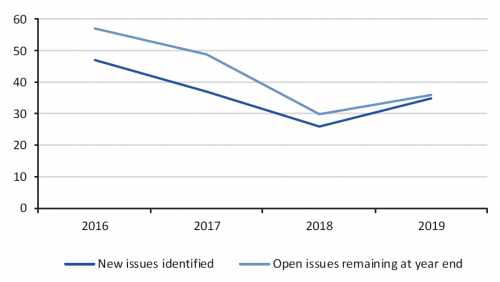 Source: VAGO.
The sector resolved 77 per cent of prior years' issues in 2019. Figure 2E summarises the university sector's new, prior year, and resolved internal control issues as at 31 December 2019, by risk ratings. Appendix C provides additional information on our risk ratings and our expected timelines for universities to resolve issues we find during our audit work.
Figure 2E
Summary of university sector's new, prior year, and resolved internal control issues as at 31 December 2019, by risk ratings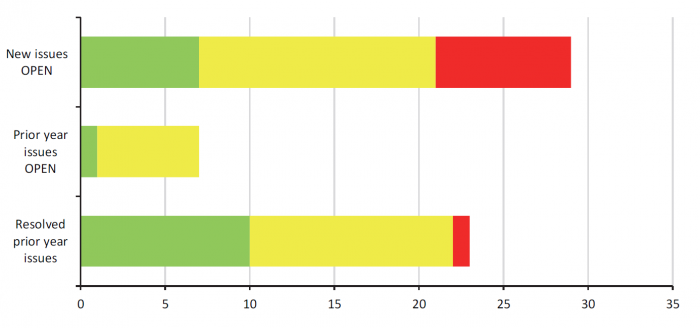 Source: VAGO. 
Figure 2F outlines the themes of the 36 open issues at the end of our 31 December 2019 university audits.
Figure 2F  
Themes of open internal control issues at 31 December 2019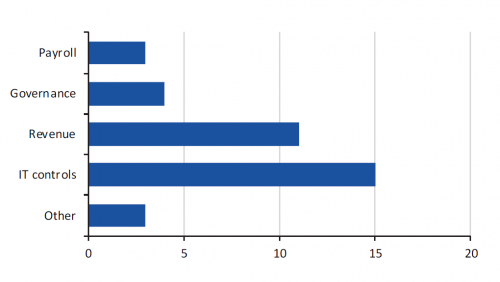 Source: VAGO.
IT controls
The sector needs to improve user access to their systems. We identified IT control issues at six of the eight universities. While we rated none as high-risk, we continue to find weak password and user authentication settings, and a lack of monitoring and updating of user access lists. Allowing unauthorised users to access key systems increases the sector's exposure to risks, including:
fraudulent financial reporting
misappropriation of assets
theft or loss of confidential and/or personal information.
Other issues
Revenue issues relate to the initial application of the new revenue standards. All eight universities received a sector-wide high-rated issue on the accounting treatment of their research grants. Refer to Part 3 for further discussion on this issue. The remaining three revenue issues relate to improvements needed in the contract assessment process.
There were no high-risk payroll issues this year. Payroll issues which were raised this year largely relate to control weaknesses around the processing of annual and long-service leave.
Governance issues covered a variety of topics including fraud monitoring, contract management, oversight of controlled entities and monitoring of outsourced services. None of the governance-related issues were rated high. 
2.4 New accounting standards
For the 2019 reporting period, three new accounting standards issued by the Australian Accounting Standards Board applied to the university sector for the first time:
AASB 15 Revenue from Contracts with Customers
AASB 1058 Income of Not-for-Profit Entities
AASB 16 Leases.
These new standards had the potential to change how and when entities account for student fee and related grant revenues, research and other grant revenue and leased assets.
They required changes to underlying systems, processes and business practices to enable entities to capture the necessary information and documentation for appropriate accounting and disclosure.
Revenue standards AASB 15 and AASB 1058
The new revenue and income standards AASB 15 and AASB 1058 introduced significant changes in the way universities recognise revenue.
A modified retrospective approach includes a few practical expedients that make adoption easier. Under this approach, an entity applies the accounting standard from the beginning of the current accounting period.
A right-of-use asset is an asset that the lessee has the right to use for the term of the lease.
All universities adopted a modified retrospective approach, with no changes in comparative information. Overall, there was no significant impact for the sector as to how they accounted for their revenue or income under the new standards, except for accounting for capital and research grants. 
Under the previous standards, universities would record all capital grants as income when received. Universities now recognise this income progressively—that is, as the asset is constructed—as required by AASB 1058.
There was, however, inconsistent application of these new revenue standards to research grants across the sector. We discuss this further in Part 3.
AASB 16 Leases 
This standard fundamentally changed lease accounting for lessees—with the distinction between finance and operating leases removed. 
Lessees now recognise all their leases on the balance sheet as 'right-of-use' assets with a corresponding liability for the remaining lease payments. They now depreciate these right-of-use assets and record an interest expense for the balance of the lease liability. These expenses will be higher at the start of the lease period and reduce as entities repay the lease liability.
At 1 January 2019, universities recognised $533.8 million in right-of-use assets and a corresponding lease liability of $521.8 million. All universities adopted a modified retrospective approach, with no changes in comparative information. Figure 2G shows the breakdown of this recognition by asset category.
Figure 2G
Recognition of right-of-use asset and liability by category
| Category | Total ($ millions) |
| --- | --- |
| Leased land | 17.6 |
| Leased buildings | 493.1 |
| Leased plant and equipment | 23.1 |
| Total | 533.8 |
Source: VAGO.
All universities elected not to recognise right-of-use assets and lease liabilities for short-term leases, which have a lease term of 12 months or less, or for 
low-value leases where the new asset cost is less than $10 000. 
The impact of adopting AASB 16 increased depreciation expense in the sector by $86.7 million. At 31 December 2019, the sector held $599 million in right of use assets and $578 million in lease liabilities.