Results of 2019 Audits: Universities
3 Significant audit matters
3.1 Conclusion
The new revenue and income standards AASB 15 Revenue from Contracts with Customers and AASB 1058 Income of Not-for-Profit Entities led to differences in accounting treatment across the sector for research grants. While not considered to be material for this year, the inconsistent application across the sector and the impact on our audit report will need to be revisited during 2020.
Because the COVID-19 emergency was a post balance date event, it did not cause any amounts reported at 31 December 2019 to be adjusted. However, universities had to assess the impacts of the government's response to the COVID-19 pandemic on their operations and ability to continue to operate as a going concern for the following 12 months. Universities also had to determine appropriate disclosure of these impacts in post balance date event notes of their financial reports.
3.2 Accounting for research grants
AASB 15 and AASB 1058 were effective for not-for-profit entities for annual periods beginning on or after 1 January 2019. 
For a transaction to fall within AASB 15:
there must be an enforceable contract with a customer
the contract must include sufficiently specific performance obligations that promise the transfer of a good or service to a customer. 
Under AASB 15, revenue is recognised when (or as) the performance obligations are satisfied over the research arrangement. Typically, this means when a grant is received it is recognised as a liability in the balance sheet and then progressively recognised in the income statement.
In contrast, under AASB 1058 grant revenue is recognised in full in the income statement when received.
The university sector, and more broadly the accounting industry, faced challenges interpreting and applying the new standards. Research arrangements—where a university must share research findings with the grantor and/or a third party, but keeps the intellectual property created during the research—are the key area of contention. Most of these arrangements relate to competitive research grants from the National Health and Medical Research Council (NHMRC) and the Australian Research Council (ARC). 
The Australian Accounting Standards Board (AASB) developed guidance and ran information sessions across the 2019 reporting period to help the sector account for research grants. 
Evidence to support sufficiently specific performance obligations
For universities to recognise grant revenue under AASB 15, the focus is on whether a university has:
promised to transfer goods or services that are 'outputs from the research' (e.g. published research information or other research findings and underlying data) to the grantor (or third parties on behalf of the grantor) 
promises in the arrangement that are sufficiently specific so a university can determine: 

when they have satisfied their obligation to transfer those goods or services
a revenue amount that can be allocated to each of those obligations. 
Initially, there were varying interpretations as to what goods or services were transferred. The AASB clarified through its guidance that undertaking a research activity in and of itself does not represent a transfer of benefit to the grantor and is therefore not a basis for revenue recognition. The benefit to the grantor is the outputs from the research.
Whether sufficiently specific performance obligations (SSPO) existed in the arrangements, and the timing of when the performance obligations were satisfied, require careful consideration of all facts and circumstances in an arrangement, whether explicit or implicit, including the:
nature or type of the goods or services 
cost or value of the goods or services
quantity of the goods or services 
period over which the goods or services must be transferred.  
In assessing the promises in the NHMRC and ARC arrangements, we reviewed agreements, supporting policies, associated legislation and position papers, and held discussions with researchers, other universities, regulators and audit offices. Our analysis is that NHMRC and ARC arrangements do not contain SSPOs, and therefore AASB 1058 applies. 
Proposed SSPO

Our observations

Sharing research findings (including open access policies

Both ARC and NHMRC agreements contain clauses that either required or encouraged researchers to share their findings with the research community through: 

having an open-access policy to make any publications resulting from the project work available to the research community within 12 months of publication
adhering to various research codes, principles and guidelines that encourage the sharing of knowledge and findings with the research community.

We observed the following in most cases:

The open-access policy applies only to findings published in peer-reviewed works, and only if the project resulted in a publication. The number and timing of publications are not specified. 
The obligation to share findings in practice appears to be on a 'best efforts' basis, rather than a contractual promise to share specified knowledge.
Researchers have significant discretion around what, when and how findings are to be shared and, in practice, only share knowledge that in their own view is worth publishing or discussing, after they have protected their commercial interests. It is common for researchers not to share the findings of projects that do not have meaningful results.
The expectation is often that findings will be shared over the life of the research project, which can extend beyond the life of the funding agreement.
There was insufficient evidence of implied promises that could create a valid expectation between the grantor and the university of what findings would be shared, and when. 
Given these factors, it is not clear, at the beginning of the research arrangement, when the university will have made available all the findings it is required to, or even what findings are required to be shared. This makes it impossible to recognise revenue according to when findings are shared.

Access to premises, documents and information clauses

ARC and NHMRC agreements both contained clauses that allowed the grantor access to information related to the research project. There is no evidence these clauses were intended to facilitate the transfer of research findings or data to the grantor for their benefit. Rather, evidence indicates that these clauses were for regulation, accountability and monitoring for compliance with the agreement terms, ethical standards and other requirements. We note:

access clauses intended for such purposes are not performance obligations
a statement that a grantor can access information associated with research activity at any time cannot alone be a sufficiently specific performance obligation
these access clauses were broad by nature, and lacked specificity about what information would be made available and when. Further, there is no evidence of implied promises that could create a valid expectation between the grantor and the university that sufficiently specified the nature of such performance obligations or associated timing of their fulfilment. This lack of specificity means the university cannot recognise revenue based on when the research findings are made available.

Project reporting

Most ARC and NHMRC agreements required the university to report regularly on the status of the project to the grantor through interim and final reports, as well as reports prepared on the grantor's request. While we noted that there were some limited descriptions of findings in some of these reports:

these reports do not contain peer-reviewed material
the detail included was less than that found in peer-reviewed publications 
research data is not routinely included in the reports. 

As a result, the information in the reports is generally not suitable to be directly cited by other researchers in their work. Given this, there was no evidence that the content of those reports transferred a benefit to the grantor or third party, apart from the university discharging its accountability for the grant funding received. On this basis the project reporting under these agreements is not a performance obligation for the purposes of AASB 15.

Other

There were also other possible performance obligations brought to our attention, such as mentoring researchers and teaching postgraduate students. No evidence was identified to support sufficiently specific performance obligations.
Inconsistent interpretation across the sector
Our interpretation of the standards differed to those of four universities. These universities were of the view that such promises outlined above were sufficiently specific to allow for revenue recognition under AASB 15.
This situation is not dissimilar to the differences that existed under the former accounting standards AASB 1004 Contributions (AASB 1004) and AASB 118 Revenue (AASB 118). 
However, we observe that the changes in position were not uniform or consistent as between those that previously applied AASB 1004 or those that previously applied AASB 118. Figure 3A illustrates this.
These inconsistencies show that Victorian universities were themselves unable to reach a consensus. There is also no consensus nationally either between preparers or their auditors. This is not ideal. Inconsistent interpretation inhibits comparability, a cornerstone principle of financial reporting.
Figure 3A  
Universities' accounting treatment for competitive publicly funded research grants in 2018 and 2019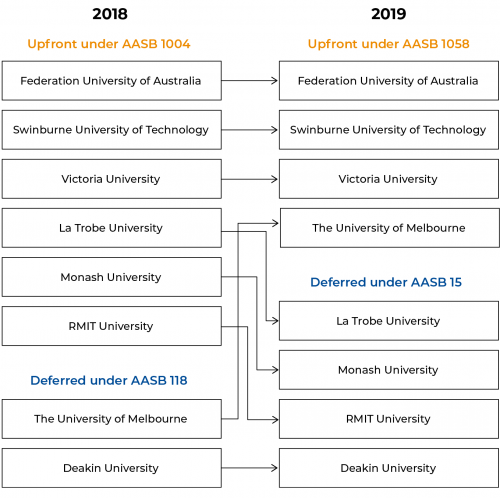 Source: VAGO. 
Emerging issue: Termination for convenience clause
As reports were being finalised an issue emerged related to accounting for a 'termination for convenience clause' that is common in government contracts. Such a clause is present in both the ARC and NHMRC agreements. 
There are conflicting views in the sector and the wider accounting industry on the issue. Some are of the view that a 'termination for convenience clause' gives rise to a financial liability at the start of an arrangement. Others believe that it gives rise to a financial liability only once there is a request for repayment by a grantor.
We are corresponding with the AASB and the Australian Council of Auditors General on this matter and urge each university to work with the sector and the AASB. If the interpretation of the clause was to change and support recognition of a financial liability at the inception of an agreement, universities will need to consider the impact of existing and past agreements and how this may be accounted for under AASB 108 Accounting Policies, Changes in Accounting Estimates and Errors. 
3.3 COVID-19
The outbreak of novel coronavirus (COVID-19) was declared as a global pandemic on 11 March 2020. This led to the Australian and state governments placing restrictions on domestic and international travel, closing non-essential services and enacting social distancing measures in an effort to contain the virus. The pandemic also resulted in volatility in economic markets. 
Figure 3B shows the timeline of the COVID-19 outbreak and the impact on the sector.
Financial reporting impact—non-adjusting subsequent event
A non-adjusting subsequent event is an event where the circumstances occurred after the balance date and the amounts reported at the balance date are not affected and do not need to be changed.
While COVID-19 was detected overseas in December 2019, it did not affect Australia until 2020. Universities assessed this subsequent event as material to their operations and were required to disclose its impact in the notes within their financial reports. Due to the significant uncertainty surrounding the pandemic, the universities were not able to reliably estimate its financial effect at the time they reported.
The evolving nature of the pandemic meant that universities continually revised and often expanded the level of disclosure in their financial reports, up to the date of signing them. We concluded that their disclosures were adequate before issuing our audit opinions.
Figure 3B  
Timeline of COVID-19 and the impact on Victorian universities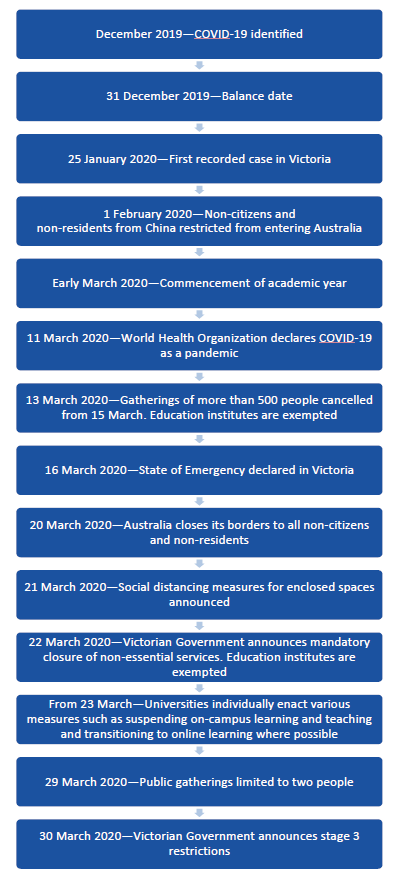 Source: VAGO. 
Going concern
The financial reports of the eight universities were prepared on a going concern basis, and we agreed with this basis of preparation. To ensure this remained appropriate and the basis of preparation had not changed as a result of COVID 19, universities prepared financial forecasts using a number of scenarios given the level of uncertainty. 
Universities' scenario modelling at the end of March 2020 considered the financial impact over the next 12 months from:
loss of international students—for all of 2020 (worst case scenario), the first semester of 2020 and no loss of international students due to learning and teaching continuing through online means (best case scenario)
loss of domestic students—for students who did not want to transition to online learning
decline in investment values due to the global market downturn
potential campus closures of all activities including teaching
higher costs incurred transitioning to online learning
mitigation strategies to reduce operating expenditure and discretionary spending such as travel, training and conferences, freezing recruitment and deferring pay increases
delaying non-essential capital projects.
Their modelling showed financial impacts ranging from $14 million to $900 million in best and worst-case scenarios.
At the time of finalising our audit opinions, the forecasts of each university showed there were enough cash and investment reserves for operations to continue and for universities to meet financial obligations over the next 12 months. 
Additional government funding
A university degree typically runs over three years. The loss of domestic and international students from the COVID-19 pandemic will continue to impact the sector in future years. 
In response, on 12 April 2020, the Australian Government announced the Higher Education Relief Package to provide universities with a level of certainty in funding. Universities are guaranteed to receive the agreed level of Commonwealth Grant Scheme funding for domestic students over the next calendar year, even if enrolment numbers fall because of COVID-19.
On 19 May 2020, the Victorian Government announced a $350 million Victorian Higher Education State Investment Fund to support universities through the COVID-19 pandemic. The funding will assist with works for new technology and infrastructure to enable the universities to conduct new research and form new research partnerships. Payroll tax deferrals of approximately $110 million were also announced to provide immediate cash relief to universities that have been heavily impacted by the loss of international students and the downturn in investment market performance. These funds are expected to be used to retain as many staff as possible.
Future financial reporting considerations
The COVID-19 pandemic will continue to affect universities' operations and their financial condition. As a consequence, all universities will need to continually assess the impact to their financial reports.
Items that may be affected include:
accounting and revenue recognition for government relief funding
timing of when research services will be delivered and the impact on current and non-current classification of deferred contract revenue
potential refunds of liability if research services cannot be delivered as promised
recoverability of student receivables from course fees and rental income
valuation of land and investment properties
financial instruments 
going concern assessments. 
The consequences of COVID-19 may mean that historical information is no longer relevant or reliable as a basis for determining items that are subject to estimation in the future.
Internal controls and risk assessment
The pandemic has the potential to impact the control environment of universities. Changes in working arrangements may result in an increased risk of internal controls failing, especially in an environment where manual controls have operated with a high level of management oversight within an office environment. There is also an increased risk of fraud in that the opportunities to circumvent existing controls may be greater. As employees access systems in different ways, delegations may change to cover absent staff, and workload changes may be experienced. 
A business continuity plan sets out arrangements for managing disruptions. It helps anticipate, prevent or prepare for disruptions such as fire, flood, storms and illness, and to respond and recover from them.
The pandemic has also changed risk assessments, business continuity plans and crisis management plans. While such plans are usually developed to respond to a one-off or short-term event, this may be inadequate in an event such as COVID-19, which has played out over multiple months. 
The pandemic may affect universities in the following ways:
changes to operating models
IT security and cybersecurity considerations
personnel health and safety
flexible working arrangements
funding mix and revenue diversity, including continuity of revenue streams in the future
evaluation of short- and long-term liquidity.
As discussed in Part 2, IT-related control issues have been one of the larger groups of control issues we have identified across the sector in the last few years. IT security and cybersecurity considerations are increasingly important in the current environment.
Risk registers and business continuity plans should be reviewed and updated to reflect learnings from the COVID-19 pandemic, and they should be updated and tested on a regular basis.