Safety on Victoria's Roads—Regional Road Barriers
1.1 Why this audit is important
Unlike previous road safety initiatives in Victoria, the Towards Zero Strategy and the Top 20 Program use continuous lengths of flexible barrier to prevent run off road and head-on serious casualty crashes. This new approach is the largest financial investment and rollout of continuous flexible barriers in the state's history.
It is important to ensure that TAC and VicRoads have appropriately invested public resources to deliver this major project. It is also important to assess if the newly installed flexible barriers are performing as expected and improving the safety of Victoria's roads.
1.2 Trauma rates on our roads
Frequency
Since 1970, more than 114 000 people have died on Australia's roads. In the last five decades, the number of road deaths per year has significantly decreased, despite significant population growth and increasing numbers of motor vehicle registrations.
Figure 1A shows the changes in Australia's population, number of road deaths and vehicle registrations between 1970 and 2018. The reduction in road deaths over this period is due to safer roads and vehicles, the introduction of road safety legislation, improved public education and enhanced police enforcement and enforcement technology.
In 2015, the Australian Automobile Association estimated that the annual economic cost of road crashes in Australia was $22.2 billion. Loss of life, health and wellbeing accounted for around 41.7 per cent ($9.28 billion) of the total amount.
Figure 1A
Changes in the number of road deaths, vehicle registrations and Australia's population between 1970 and 2018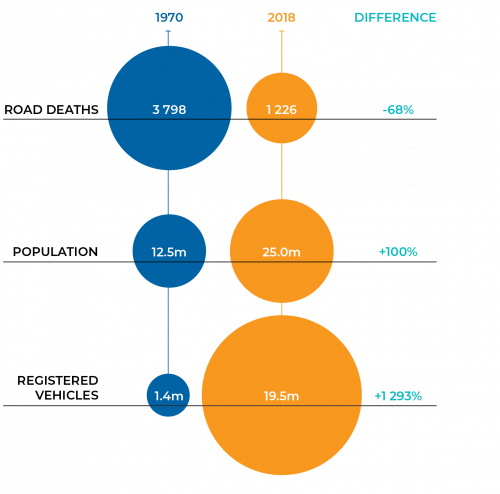 Source: VAGO.
Road deaths by state
Between 2014 and 2019, Victoria had the second highest number of road deaths in Australia, but the second lowest in proportion to its population. Figure 1B compares the number of road deaths in Australian states in proportion to their populations.
Since 1989, the number of deaths on Victoria's roads has been decreasing. However, in 2016 there was a spike where the road toll increased to 293. In 2019, there were 266 deaths on Victoria's roads.
Figure 1B
Annual road deaths by state per 100 000 people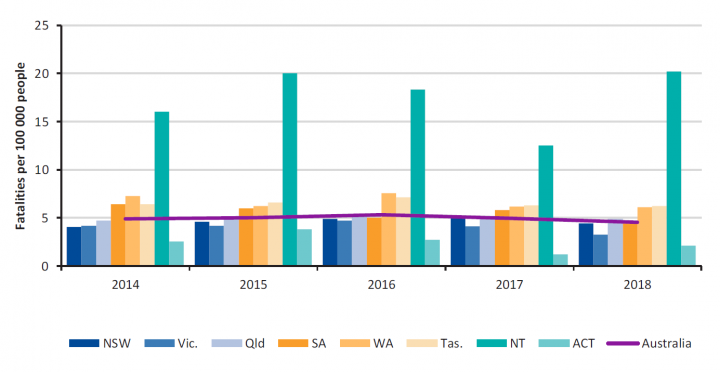 Source: VAGO, based on Bureau of Infrastructure, Transport and Regional Economics data.
Risk factors
Some roads are riskier than others. Factors such as speed limit and location (rural or metropolitan) can make roads more dangerous for users than others. Different types of vehicles also have different risk factors.
Speed limit
As Figure 1C shows, there is a relationship between speed limits and the number of deaths on Victoria's roads. From 2006 to 2019, more fatal crashes occurred on roads with speed limits of 100 kilometres per hour and more.
Figure 1C
Fatal crashes in different speed limit zones from 2006 to 2019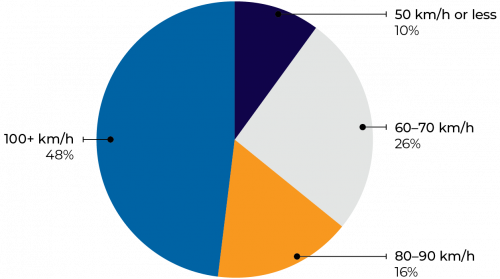 Note: This figure does not account for the number of kilometres driven for each speed category because VicRoads did not have this information.
Source: VAGO, based on VicRoads crash statistics.
Location
Since 2010, road deaths in rural Victoria have consistently exceeded road deaths in metropolitan Melbourne. This is despite the fact that only 24 per cent of Victoria's population live outside of metropolitan Melbourne.
Figure 1D compares road deaths in Victoria's metropolitan and rural areas between 2000 and 2019.
Figure 1D
Number of road deaths in metropolitan Melbourne and rural Victoria between 2000 and 2019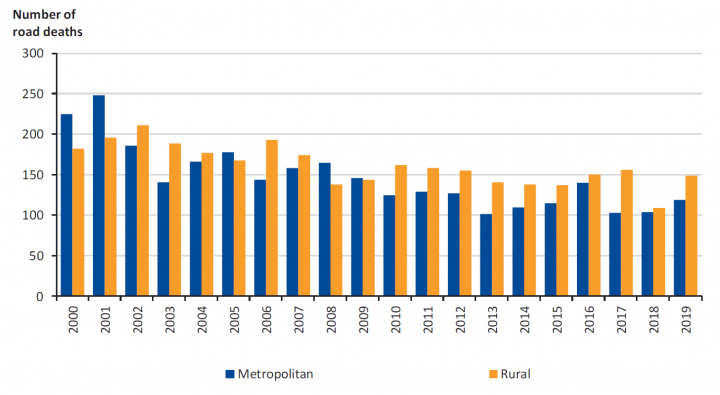 Source: TAC.
Vehicle type
Different vehicle types have different risk factors. While passenger vehicles have the lowest rate of road deaths in proportion to registrations, this rate is disproportionately high for motorcycles. Figure 1E compares the proportion of registrations and deaths involving different vehicle types in Victoria.
Figure 1E
Proportion of registrations and road deaths by vehicle type in Victoria in 2019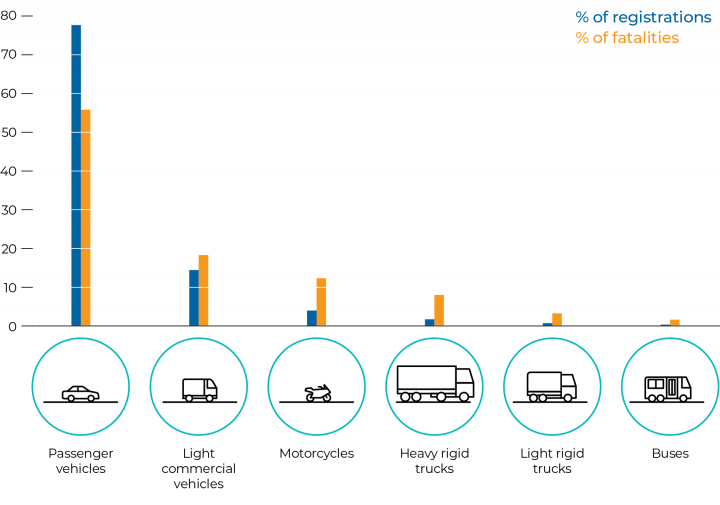 Note: Light commercial vehicles include utility vehicles and panel vans. Heavy rigid trucks include prime movers and trucks weighing more than 4.5 tonnes. Light rigid trucks include trucks weighing less than 4.5 tonnes. This figure does not include campervans, articulated trucks and non-freight carrying vehicles.
Source: VAGO, based on VicRoads' data.
1.3 Victoria's roads
State and local governments manage approximately 150 000 kilometres of public roads in Victoria. Private operators manage selected toll roads.
In Victoria, roads are classified by their quality and function (see Appendix B for further information on road classification) or by their type.
Type
Our audit focused on sealed roads that are either divided or undivided. Figure 1F shows an example of a divided and an undivided road.
Figure 1F
Examples of a divided and undivided road
Source: VicRoads.
1.4 Agency roles
DoT and TAC are responsible for planning and delivering regional road barrier installation projects under the Top 20 Program.
Department of Transport
DoT is responsible for Victoria's transport network and all transport related policy and planning. It is also responsible for developing the next road safety strategy.
VicRoads
VicRoads, which became part of DoT on 1 July 2019, is responsible for installing and maintaining flexible barriers on Victoria's roads. VicRoads and TAC make up the joint committee that endorses funding and monitors the Top 20 Program projects.
There are seven VicRoads regions, which are responsible for managing repairs and maintaining roads and barriers in their region. The seven regions are:
Eastern
Metro North West
Metro South East
North Eastern
Northern
South Western
Western.
Transport Accident Commission
TAC funds the cost of medical treatment for people who are injured in road crashes that involve a Victorian-registered vehicle. It also runs campaigns to promote road safety and funds infrastructure projects that aim to reduce road trauma.
TAC is the sole funder of the Top 20 Program and makes up part of the joint committee.
1.5 Road safety strategies and funding
In November 2001, the government launched the Arrive Alive Road Safety Strategy 2002–2007. Under this strategy, VicRoads treated blackspots with safety upgrades, which TAC funded under the SRIP that it announced in May 2003.
In March 2013, the government launched the Road Safety Strategy 2013–2022, which outlines key focus areas such as speed, drink driving and drug driving. As part of this strategy, the government also announced a new funding program—the $1 billion SSRIP.
The Towards Zero Strategy
Launched by the government in May 2016, the Towards Zero Strategy aims to reduce trauma on Victoria's roads by the end of 2020. Its targets include:
less than 200 deaths per year
15 per cent less serious injuries than in 2016.
Towards Zero Strategy actions include:
improving road safety and roadside infrastructure
conducting community engagement activities
improving road user behaviour
increasing and encouraging the uptake of safer vehicles.
Focus areas
Unlike the previous blackspot approach, the Towards Zero Strategy targets longer lengths of high-risk roads. It also focuses on regional and rural drivers because they are over-represented in crashes and road deaths. The Towards Zero Strategy states that death rates on rural roads are four times higher than on metropolitan roads.
Funding
When the government introduced the Towards Zero Strategy, it allocated $480 million of SSRIP funds to it and committed an extra $1 billion to install more road safety barriers. This brought the Towards Zero Strategy's total funding to $1.48 billion.
The Safe System Approach
The Towards Zero Strategy is based on the Safe System Approach to road safety. The Safe System Approach accepts that there is always a risk that road users can make mistakes and crash. For this reason, the road system should be forgiving so crashes do not result in deaths or serious injuries.
The Safe System Approach is based on three principles:
People make mistakes.
People have limited tolerance to injuries.
Safety is a shared responsibility.
As shown in Figure 1G, the approach has four implementation pillars—safer roads, safer speeds, safer vehicles and safer road users. Installing flexible barriers falls under the 'safer roads' pillar.
Figure 1G
Safe System Approach principles and its four pillars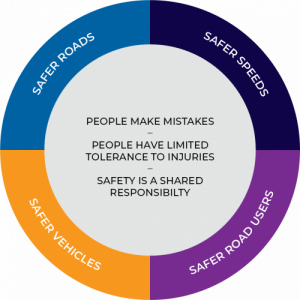 Source: VAGO, based on the Towards Zero Strategy.
1.6 The Top 20 Program
Under the Towards Zero Strategy, VicRoads is installing safety infrastructure to stretches of Victoria's highest-risk roads. Figure 1H shows the location of the 20 road stretches that VicRoads identified as having the highest risk.
Figure 1H
Highest-risk road sections identified in the Towards Zero Strategy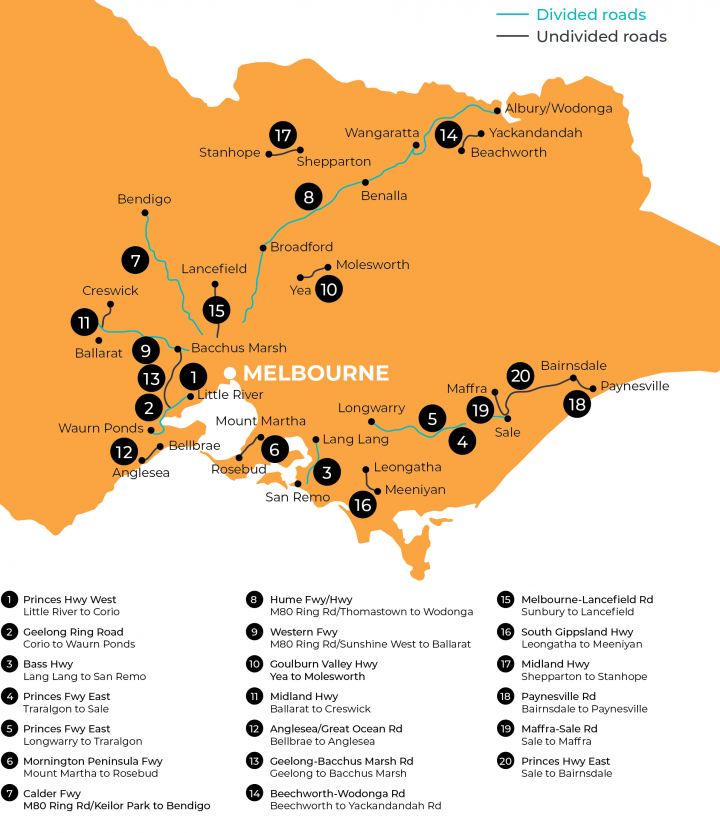 Source: VAGO, based on the Towards Zero Strategy.
Road safety infrastructure
Figure 1I outlines the three types of road safety infrastructure that VicRoads is installing to make rural roads safer.
Figure 1I
Types of road safety infrastructure installed under the Top 20 Program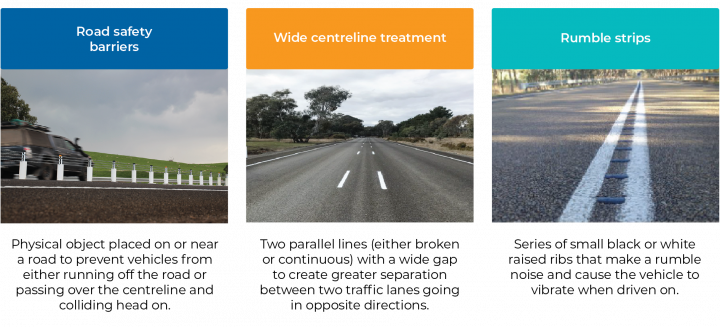 Source: VAGO.
Road safety barriers
VicRoads installs different types of road safety barriers depending on road and ground conditions. It installs them on the sides or middle sections of roads to prevent different types of crashes. Road safety barriers vary in how much they flex when struck by a vehicle. Victoria classifies road safety barriers as either:
flexible safety barriers
semi-rigid or rigid road safety barriers.
Appendix C provides more details about the different types of road safety barriers and how flexible barriers work.
Approval processes
The Top 20 Program is made up of five investment plans and 27 project proposals.
As shown in Figure 1J, the program has been through three different funding approval stages. In September 2014, TAC and VicRoads signed the SSRIP Funding Deed, which sets out their responsibilities and the approval process for the program's investment plans and project proposals. The SSRIP Funding Deed also established the joint committee.
Figure 1J
Funding approval stages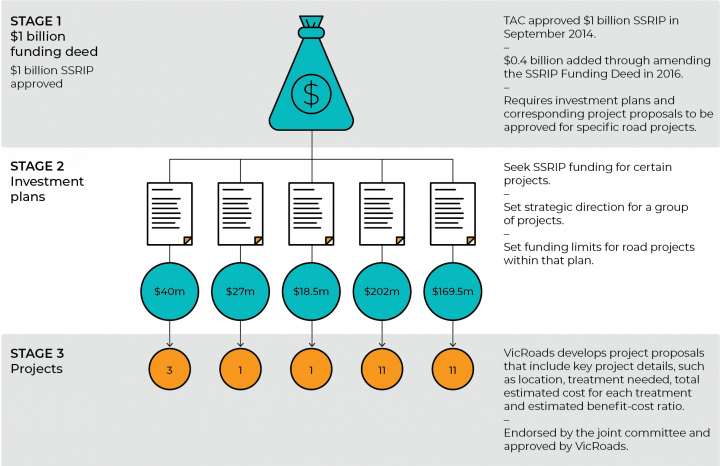 Source: VAGO.
Funding
TAC approved the five investment plans that make up the Top 20 Program's funding, which initially totalled $457 million. In November and December 2018, TAC approved three variations to these plans to provide an additional $100 million in funding.
As of October 2019, TAC and VicRoads have approved a total of $557 million in funding for the Top 20 Program. $527 million of this funding has been formally allocated to road projects.
Figure 1K outlines key events related to the Top 20 Program.
Figure 1K
Timeline for the Top 20 Program
Source: VAGO.
1.7 Relevant legislation and safety standards
Road Management Act 2004
The Road Management Act 2004 establishes a coordinated management system for Victoria's public roads. This system promotes safe and efficient state and local road networks and responsible driving.
The Road Management Act 2004 outlines the rights and duties of road users and establishes the role, functions and powers of VicRoads as the relevant authority. It also describes how public roads should be constructed, inspected, maintained and repaired.
Road safety standards
As shown in Figure 1L, there are three documented standards for road design and safety barriers. Road Design Notes (RDN) have precedence over the other two standards. However, when there is no relevant RDN to guide road and infrastructure design, the VicRoads Supplements to the Austroads Guide to Road Design details the specific requirements that must be met.
Figure 1L
Documented standards for road design and barriers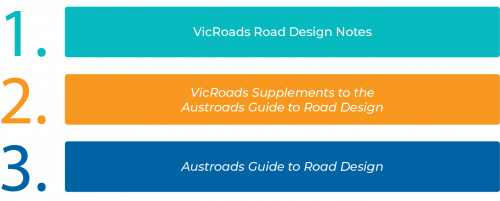 Source: VAGO.
1.8 What this audit examined and how
Our audit objective was to determine if Victoria's regional road barriers program is delivering its intended safety outcomes.
Specifically, we examined TAC and VicRoads' roles in planning, installing, maintaining and monitoring flexible barriers under the Top 20 Program.
We conducted our audit in accordance with the Audit Act 1994 and ASAE 3500 Performance Engagements. We complied with the independence and other relevant ethical requirements related to assurance engagements. The cost of this audit was $632 000.
Unless otherwise indicated, any persons named in this report are not the subject of adverse comment or opinion.
1.9 Report structure
The remainder of this report is structured as follows:
Part 2 examines the strategic planning and approval, road selection process and stakeholder engagement for the Top 20 Program.
Part 3 examines the Top 20 Program's progress to date. In this part we focus on the program's scope, cost and timeliness as well as the quality of the installed infrastructure and how VicRoads conducts ongoing repairs and maintenance.
Part 4 examines VicRoads' plans for evaluating the program's outcomes and includes details of our evaluation.