Universities: 2016 Audit Snapshot
4 Financial sustainability
To be financially sustainable, entities need to be able to fund their current and future spending. They also need to be able to absorb the financial effects of changes and financial risks, without significantly changing their revenue and expenditure policies. This includes the ability to fund asset replacement and renewal in a timely manner. A university's ability to do this can be impacted by funding and regulatory environments. Changes to funding policies in the university sector are pending, which present a challenge for universities in their planning for future financial sustainability.
The detailed data and calculations that underpin our commentary in this Part of the report are provided in Appendix D, which lists our financial sustainability indicators, risk assessment criteria, benchmarks and the results of each indicator for each of the universities over the five financial years 2012 to 2016.
4.1 Financial position and performance
Universities all have strong financial positions, with significant holdings of cash and investments and relatively low debt. They are using their strong position and their ability to source debt in private markets to try to maximise returns on their investments while increasing their capital development.
The sector's net asset position is strong, with total assets over four times the total liabilities, as shown in Figure 4A.
Figure 4A

Financial position of the university sector, 2012 to 2016
|   | 2012 $ million | 2013 $ million | 2014 $ million | 2015 $ million | 2016 $ million |
| --- | --- | --- | --- | --- | --- |
| Total assets | 16 821.4 | 17 008.4 | 18 057.6 | 19 378.2 | 20 770.3 |
| Total liabilities | 4 189.4 | 3 785.3 | 4 078.6 | 4 327.2 | 4 828.2 |
| Net assets | 12 632.0 | 13 223.1 | 13 979.0 | 15 051.0 | 15 942.1 |
Source: VAGO.
While the sector's financial position has remained relatively stable, the composition of its balance sheet has shifted over the past five years. This shift is due to increased investment in longer-term assets, and greater use of debt to fund capital development.
The liquidity ratio demonstrates some of this shift and is shown in Figure 4B. The sector's short-term liquidity has declined since 2015, and is at its lowest level in the past five years. However, the ratio remains above 1.00, which means there are no immediate concerns about the sector meeting its short-term financial obligations as they become due.
Figure 4B

The university sector's liquidity, 2012 to 2016
Indicator

Average across all entities in the sector per year

2012

2013

2014

2015

2016

Liquidity

1.50

1.47

1.16

1.27

1.04
Source: VAGO.
The trend in the liquidity ratio indicates that universities are:
using their excess cash to purchase longer-term investments
increasing borrowings, including short-term borrowings.
Investing cash in longer-term investments is done with the objective of generating higher returns. Although technically these investments do not meet the definition of current assets, most can still be converted relatively quickly to cash as required.
Borrowings are increasing as universities use this source of money to fund capital investments. These borrowings are largely long-term debt, but a portion will always be due for repayment within the next 12 months.
We observed active monitoring and management of cash flow occurring at most universities. This mitigates the risk that universities will not have money ready to pay their bills as and when they fall due.
Operating results
The sector continues to report net profits, with revenue growth due largely to increased enrolments. The revenue and expenditure for the sector over the past five years is shown in Figure 4C.
Figure 4C

Financial overview of university sector from 2012 and 2016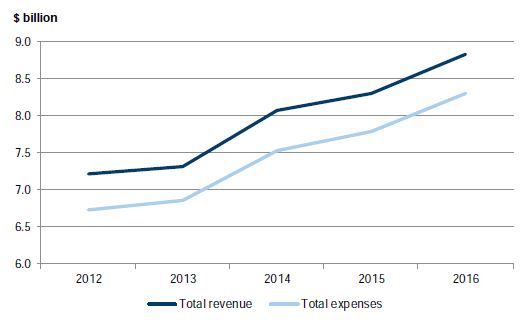 Source: VAGO.
The net result margin has shown an overall decline over the past five years. The results are shown in Figure 4D.
Figure 4D

The university sector's net result margin from 2012 to 2016
Indicator

Average across all entities in the sector per year

2012

2013

2014

2015

2016

Net result margin

7.65%

5.45%

4.32%

4.83%

4.24%
Source: VAGO.
The declining net result margin indicates that the sector may have room to improve its management of costs. This will be particularly important in the future, as the proposed funding changes, if introduced, could affect revenue growth in the sector.
4.2 Capital investment
In response to the growth in student numbers, and to take advantage of student accommodation grants in recent years, many of the universities have increased the rate of investment in their physical assets. There are significant ongoing and planned capital development projects in the sector. This can be seen in the increase in payments for capital expenditure since 2014, shown in Figure 4E.
Figure 4E

Payments for capital expenditure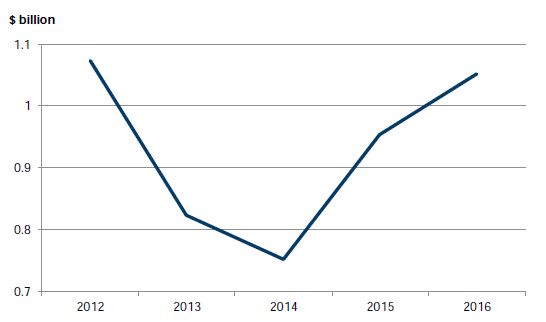 Source: VAGO.
Although these activities have been historically funded from the universities' own cash reserves, some universities have begun taking advantage of recent low interest rates, and are taking on more debt to fund their projects.
To date, the strong net asset position has enabled the sector to take on more debt without any significant impact on its longer-term sustainability.
The increasing investment in assets is evident in our capital replacement indicator. Through this indicator we consider how much the sector is spending on renewing assets compared to the level of assets consumed, as measured by depreciation. The results since 2012 are shown in Figure 4F.
Figure 4F

University sector's capital replacement indicator, 2012 to 2016
Indicator

Average across all entities in the sector per year

2012

2013

2014

2015

2016

Capital replacement

2.71

2.10

1.52

1.67

1.74
Source: VAGO.
The capital replacement indicator has increased since 2014 and shows a trend of increasing investment. Each year the indicator has exceeded 1.5, which is a strong result. This indicates that the majority of universities' assets are being renewed and maintained so that they retain their intended function.
Although the total sector has achieved good results, the individual capital replacement ratios of three universities have been below 1.0 for the past two years. This is shown in the detailed results in Appendix D.
We consider the capital replacement ratio to be a long-term indicator of sustainability, given that capital replacement can be deferred in the short term. Inadequate expenditure on asset renewal and maintenance may lead to assets, including equipment and infrastructure, deteriorating to a point where they are unsuitable for use.