Access to Mental Health Services
One objective of the Health Services Act 1988 is to 'ensure that an adequate range of essential health services is available to all persons resident in Victoria, irrespective of where they live or whatever their social or economic status'. Mental health care is one such service.
Mental illness affects not only an individual's wellbeing and quality of life, but also their physical health and engagement in employment, education and community; with flow-on effects to the human services, general health and justice systems.
With 45 per cent of the Victorian population experiencing mental illness in their lifetime, ensuring access to mental health care is vital to supporting a healthy and productive Victorian population. The demand for mental health care is growing, driven by multiple factors—including population growth, a reduction in stigma around seeking help, changes in legal and illegal drug use patterns, and increasing levels of social isolation in our community.
In 2009 the imminent gap in meeting demand for mental health services was forecast in the previous decade-long mental health plan titled Because mental health matters: Victorian Mental Health Reform Strategy 2009–2019, which stated that:
Action is needed not only to address the current needs of the Victorian population but to plan for the projected numbers of people likely to be seeking help for mental health problems in ten years' time.
In 2015, the Department of Health and Human Services (DHHS), the agency responsible for managing Victoria's public mental health system, acknowledged in Victoria's 10-year mental health plan (10-year plan), that:
...increasing and sustained demand pressure on services has not been matched with increasing resources. Shifting population and growth has left some services under even greater pressure. The result is longer waiting times to access services and higher thresholds for entry. The increased pressure on services creates a risk that people may receive treatment that is less timely, less intensive and shorter in duration than they want or need.
Given this acknowledgement, in this audit we assessed whether DHHS's current 10-year plan and supporting activities have started to address known access problems. Our audit objective was 'to determine if people with mental illness have timely access to appropriate treatment and support services'.
Conclusion
DHHS has done too little to address the imbalance between demand for, and supply of, mental health services in Victoria.
The lack of sufficient and appropriate system-level planning, investment, and monitoring over many years means the mental health system in Victoria lags significantly behind other jurisdictions in the available funding and infrastructure, and the percentage of the population supported.
While DHHS understands the extent of the problem well and has been informed by multiple external reviews, the 10-year plan outlines few actions that demonstrate how DHHS will address the demand challenge that the 10-year plan articulates:
there are no clear targets or measures to monitor progress in improving access
there are no forward plans for the capital infrastructure needed
the workforce strategy does not address the particular issues in regional and rural areas and fails to articulate specific targets
there is no work to address barriers to access created by geographic catchment areas.
DHHS has made little progress closing the significant gap between area mental health services' (AMHS) costs and the price they are paid by DHHS to deliver mental health services; and in addressing historical inequities in funding allocations that do not align to current populations and demographics. This means many people wait too long or miss out altogether on services, and for those that do receive services, their clinical care can be compromised by the need to move them quickly through the system.
Real progress is unlikely within the life of the plan unless DHHS accelerates and directs effort towards the fundamentals: funding, workforce and capital infrastructure. Until the system has the capacity to operate in more than just crisis mode, DHHS cannot expect to be able to make meaningful improvements to clinical care models or the mental health of the Victorian population.
The Royal Commission into Mental Health will undoubtedly highlight many areas for improvement across the system. However, the need for planning and investment to meet demand is already known and as such work to address this should not await the Commission's recommendations. Further delay will only amplify the problems the Commission seeks to address.
Findings
Victoria's 10-year mental health plan
Developing and implementing the 10-year plan
DHHS developed the 10-year plan through thorough sector and consumer consultation. The Mental Health Expert Taskforce (MHET) oversaw implementation. The group consisted of expert representatives from service providers, peak bodies, consumer groups, and academia.
Health services consistently raised that difficulty accessing services and coping with demand was a challenge. The 10-year plan reflects this and stresses the issue of 'higher demand and unmet need'. One of the 10-year plan's four focus areas is 'the service system is accessible, flexible and responsive to people of all ages, their families and carers and the workforce is supported to deliver this'.
However, little within the 10-year plan directly addresses improving access. It talks largely about the way services should be designed and delivered, such as through co-production with consumers, focusing on early intervention, integrating services, and implementing evidence-based practice. The AMHSs we audited expressed their disappointment in the plan because it is generic and lacks clear actions to address the demand and supply imbalance.
A role of the MHET was to inform 'waves of reform'—areas for DHHS to prioritise. The priority reform areas do not adequately reflect the underlying issue of lack of system capacity. Of the nine priority areas for the first two waves of reform, only two clearly relate to improving access; the development of a workforce strategy, and an action around 'managing clinical demand'. As such, while focusing action on useful activities—such as the development of frameworks for suicide prevention and supporting Aboriginal mental health, forensic service planning, and setting outcome measures—DHHS has made almost no progress in addressing the supply and demand imbalance.
DHHS has completed and released its workforce strategy, and through the 2018–19 budget secured funding for some new mental health workers. However, the workforce strategy does not include targets for the types or numbers of workers it aims to attract or retain and does not set action to address the significantly greater staffing challenges that regional and rural areas face. Further, the strategy is not integrated with service or infrastructure planning.
DHHS also completed a draft Clinical mental health services action plan 2018–2023, which better addresses the need of AMHSs and stakeholders to understand DHHS's direction in improving supply and access. The action plan informed DHHS's 2018–19 budget bid for mental health services, which secured growth funding for the sector. However, despite the investment of three-years' work in the plan, DHHS does not intend to release it publicly, which misses an opportunity to communicate DHHS's work in this area to the sector and stakeholders, and for stakeholders to hold DHHS to account for completing the work the action plan outlines.
Monitoring and reporting on progress
Other functions of the MHET were to develop a work program and advise the Minister for Mental Health on performance measures and targets. The MHET, though it considered and advised on progress indicators, did not develop a clear work program of actions, timeframes, or targets and subsequently neither the MHET nor DHHS have monitored plan progress against any agreed deliverables.
The MHET was disbanded in February 2018 as intended. The 10-year plan progress oversight now sits with the DHHS mental health branch. The mental health branch has reported only once to the DHHS Executive Board via the Health Reform Sub Committee—on the draft Clinical mental health services action plan 2018–2023. The lack of timely internal progress reporting significantly reduces accountability for achievement against the 10-year plan.
There are few measures in the outcomes framework for the 10-year plan that directly capture performance against providing access to services or increasing service reach—this is despite the acknowledged performance problems in this area—which shows a lack of focus on the most pressing issue the system faces.
Understanding and meeting demand
As system manager, DHHS has a responsibility to ensure service access by supporting the foundations of the system: funding, capital infrastructure and service distribution, and understanding demand and system performance to guide proper investment. In each of these areas, DHHS has done too little and now requires significant, prompt action if it is to make real progress against the 10-year plan.
Funding
Australian Institute of Health and Welfare (AIHW) data shows that between 2011–12 and 2015–16 national recurrent expenditure per capita on specialised mental health services grew an average of 0.7 per cent annually, while over that time in Victoria it declined by 0.3 per cent annually. In 2015–16, Victoria's per capita recurrent expenditure was $197.30, the lowest in Australia, with a national average of $226.52.
AMHSs advise that the allocation of growth funding over the last three state budgets has been partially directed to closing the existing gap between their service costs and the price DHHS pays, therefore AMHSs are not fully providing additional services. DHHS is aware of the price gap. A DHHS-commissioned review showed that DHHS pays 65 per cent of AMHS bed costs compared with more than 80 per cent of costs for general health beds.
DHHS has commenced funding reform, funding 'packages of care' to incentivise AMHSs to provide more community-based treatment services. However, without an adequate quantum of funding, the intended outcome is at risk.
DHHS's advice to government states that the new funding reform and four-year growth funding from 2018–19:
provides each new community-based client with a maximum of six hours treatment per annum—the nationally recommended level is 72 hours
enables DHHS to provide mental health services to 1.2 per cent of the population—a marginal improvement on the current 1.16 per cent—compared to the estimated 3.1 per cent of the Victorian population with a severe mental illness
increases the price paid to only 67 per cent of AMHSs' costs.
DHHS also advises that the budget provides additional services for the most unwell patients, to be achieved within five years, but has not quantified this additional service provision.
DHHS has also moved bed funding to a slightly higher single price for all beds regardless of location or severity of illness, with the aim to begin addressing historical funding inequities. However, this does not account for the inherently higher operating costs that rural AMHSs face.
Planning to meet demand
Increasing demand combined with current service shortfalls are placing the whole mental health service under substantial stress. In 2017, DHHS commissioned an external review of the mental health system and the resultant report, Design, Service and Infrastructure Planning Framework for Victoria's Clinical Mental Health System: Developing excellence in clinical mental health care for Victoria (Design, Service and Infrastructure Planning Framework for Victoria's Clinical Mental Health System), highlights that:
emergency department (ED) presentations have increased 9 per cent from 2015–16
acute hospital admissions have grown at an annual rate of 2.4 per cent
length of stay (LOS) in hospital trends down from 14.7 days to 11.2 days from 2009 to 2017 (with LOS stay in 2017–18 at 9.6 days)
unplanned readmission rates for adult mental health patients at 14.4 per cent in 2017–18
community mental health contacts per 1 000 people declining at a rate of 2.5 per cent per annum over the last 10 years.
These demand pressures have lifted the thresholds for access to services so that AMHSs only see the most unwell, which creates a flow on effect. AIHW reports the number of Victorian mental health patients that accessed acute services through police, ambulance and self-presentations to hospital EDs increased from 28 757 in 2004–05 to 54 114 in 2016–17.
To understand and respond to demand and access issues, DHHS needs data to reflect current service capacity and to calculate unmet demand. While it has developed a model to forecast service demand, it relies largely on historical activity data, which creates significant limitations to its use. DHHS is missing available information to understand unmet demand. It does not collate, assess and input to its forecasting model:
data from mental health triage services to identify the number of people who contact triage but are not provided access to services
people accessing services that are not registered with an AMHS.
Given DHHS acknowledges there is significant unmet demand, estimating this demand is critical to inform any future planning for the mental health system.
Capital infrastructure
Victoria has one of the lowest mental health bed bases nationally. As a result, all major acute psychiatric units continually operate at or above 95 per cent capacity—well above desirable levels of 80 to 85 per cent that would permit AMHSs to admit acutely ill patients as needed. A review commissioned by DHHS advised that Victoria's bed base needs to grow by 80 per cent over the next decade to reach levels of service provision of other Australian jurisdictions.
There are 53 new acute adult beds funded in 2018–19, with 21 now open and 34 in planning. There are also 24 sub-acute beds in the planning phase, and 10 mother and baby unit beds will operate seven rather than five days a week. While helpful, the additional beds will not meet the unmet demand nor shift Victoria towards the recommended bed numbers.
There are no further new beds in the capital pipeline, and while DHHS aims to complete a 'Detailed services and infrastructure plan for Victoria's clinical mental health system over the next 20 years' it will likely take DHHS some time to complete the plan; secure and allocate funding; and then plan and build infrastructure. DHHS should anticipate that Victorians with mental health issues will continue to face barriers accessing mental health beds across the remaining life of the 10-year plan, and that this will impact the effectiveness of any changes to funding or the service delivery model.
Catchment areas
Clinical mental health services are provided in geographic catchment areas that were established in the 1990s. The consumer's place of residence determines which service or services they can access, which causes practical problems that hinder service access:
the catchment areas are not aligned with other health and human service areas, or local government area boundaries, which makes service coordination difficult
the geographic catchments do not align with age-based service groupings
there is a lack of coordination between catchment areas when patients need to access services across catchment borders
there is misalignment between service levels and types within a catchment and population growth and demographic changes in that area.
Despite understanding these issues for many years, and commissioning work to examine them and make recommendations, DHHS has taken no action to address them.
Figure A
Key numbers about the Victorian mental health system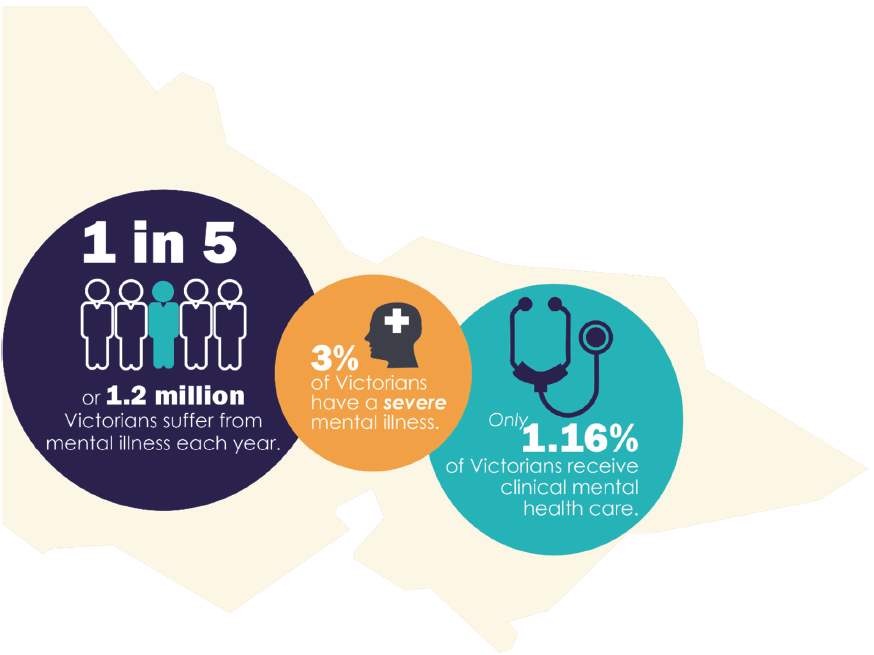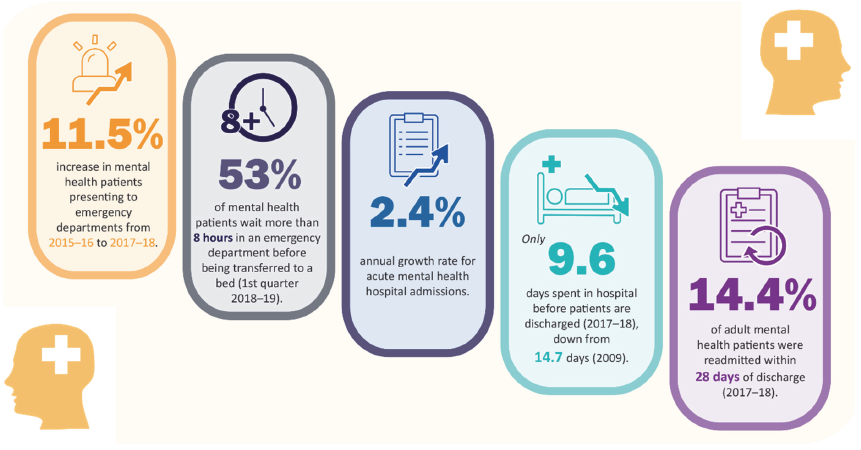 Source: VAGO.
Recommendations
We recommend that the Department of Health and Human Services:
1. complete a thorough system map that documents its capacity, including capital and workforce infrastructure, geographical spread of services, and estimated current and future demand, including current unmet demand
2. use this map to inform a detailed, public, statewide investment plan that integrates service, capital and workforce planning; setting out deliverables and time frames
3. set relevant access measures with targets, which reflect the intended outcomes of the investment plan, and routinely report on these internally and to the public
4. undertake a price and funding review for mental health services, which includes assessing funding equity across area mental health services, and provide detailed advice to the Minister for Mental Health on the results and use this information to inform funding reforms
5. resolve the known catchment area issues of misaligned boundaries that prevent people from accessing services
6. re-establish routine internal governance and reporting against mental health system priorities, activities and performance that ensures senior executive level oversight and accountability.
Responses to recommendations
We have consulted with the DHHS, Bendigo Health, Melbourne Health, Monash Health, Latrobe Regional Hospital, Peninsula Health, and South West Healthcare and we considered their views when reaching our audit conclusions. As required by section 16(3) of the Audit Act 1994, we gave a draft copy of this report to those agencies and asked for their submissions or comments. We also provided a copy of the report to the Department of Premier and Cabinet.
DHHS provided a response. The following is a summary of its response. The full response is included in Appendix A.
DHHS accepted each of the six recommendations, with two accepted in‑principle pending the outcomes of the Royal Commission into Mental Health. The department will undertake statewide mapping and assessment of current and future demand, develop a performance and accountability framework for mental health services, undertake a price review of clinical mental health services, and re-establish the MHET.