Access to Mental Health Services
2 Victoria's 10-year mental health plan
DHHS published the 10-year plan in November 2015 in response to government election commitments. Service accessibility is one of the primary considerations within the 10-year plan. Accessible mental health services mean they are available in the right place, at the right time and delivered by the right people with the right skills.
Demand for mental health services in Victoria is rising. The number of Victorians who require services, and the severity of illness, has increased. Population growth, different legal and illegal drug use patterns, and better mental health awareness are all driving this increased demand.
Without high quality and accessible services, many Victorians with mental illness are unlikely to receive timely help and support. Alongside the significant human cost, the lack of timely access to services has a substantial economic impact, and negative flow-on effects to other government services such as housing and justice services.
This part examines the extent to which the 10-year plan focuses on addressing demand.
2.1 Conclusion
While the 10-year plan clearly outlines the significant service demand and access issues facing the system, little within it directly addresses these issues. While effort has been directed to worthy activities such as new frameworks for suicide prevention and Aboriginal mental health and planning for forensic mental health services neither these initiatives, nor core services, can succeed while the system is overwhelmed. The priorities established in the 10-year plan do not reflect the most pressing challenges facing mental health services and their users.
DHHS's draft Clinical mental health services action plan 2018–2023, building on the 10-year plan, goes some way to addressing the challenges. The action plan details system changes to improve access to mental health services. However, while DHHS is using elements of the draft action plan to inform new initiatives, many of which government funded as four-year initiatives from 2018–19 onwards, it advises it is unlikely to finalise and release it. This misses the opportunity to communicate to stakeholders, who are in need of support, DHHS's goals for improving access, and also limits the ability of AMHSs, service users, and the public to hold DHHS to account in achieving its aims.
A completed 10-year plan priority action relevant to access is DHHS's workforce strategy. It includes new approaches to recruitment advertising and professional development, and helped inform a successful bid to government for funding for new mental health workers in 2019. However, the strategy has no concrete actions to address regional and rural workforce gaps, is isolated from service and capital planning, and has no measures or targets to show what DHHS hopes to achieve.
DHHS has not articulated any targets to measure progress against the 10-year plan's key challenge—providing timely access to the right services in the face of growing demand. Current measures that DHHS has aligned to the outcome of 'right services at the right time' either indirectly measure access, or do not measure access at all. While the measures focus on providing the 'right service', there are no measures addressing the 'right time' part of the outcome. If the focus of effort is truly to be on improving access, then DHHS must set relevant access measures and targets to drive performance and against which to publicly report progress. Compounding the lack of targets and measures is a lack of routine, senior level oversight of, and reporting against, the 10-year plan within DHHS, limiting senior executive attention to this high priority service.
2.2 Developing and implementing the 10-year plan
10-year plan aims
Victoria's 10-year plan is a high-level, outcome-focused framework for mental health service reform. DHHS's vision for mental health as outlined in the 10-year plan is that 'all Victorians experiencing mental illness get the best possible treatment and support, so they can live meaningful and fulfilling lives of their choosing'. The vision reflects one of the main objectives of the Health Services Act 1988, that 'an adequate range of essential health services is available to all persons, resident in Victoria irrespective of where they live or whatever their social or economic status'.
The 10-year plan aims to achieve its vision through four focus areas that contribute to sixteen outcomes as per Figure 2A.
Figure 2A
10-year plan focus areas and outcomes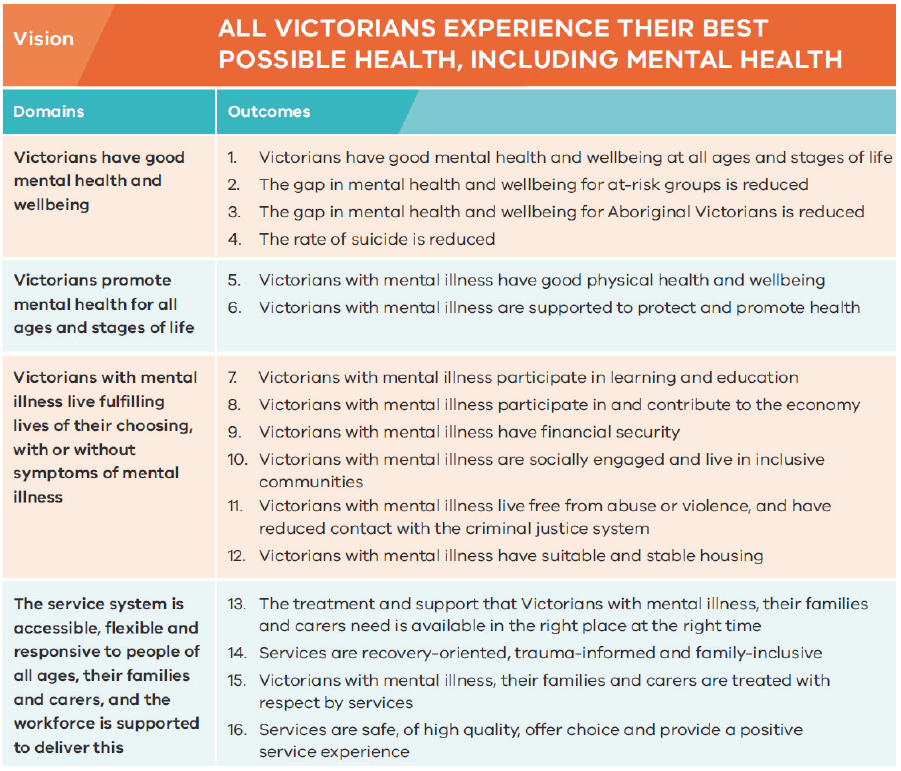 Source: Victoria's Mental Health Services Annual Report 2016–17, DHHS, 2017.
The fourth focus area, describing an accessible system, is particularly relevant to meeting demand. The 10-year plan links these outcomes to the statements:
Universal access to public services—people with mental illness and their families and carers have access to high-quality, integrated services according to their needs and preferences.
Access to specialist mental health services—people with mental illness, their carers and families have access to the public treatment and support services they need and choose, appropriate to their age and other circumstances, where and when they need them most.
While the 10-year plan articulates these overarching goals, the outlined approaches focus on the way services are provided and developed and do not highlight actions to address the unmet demand that the plan acknowledges exists.
Stakeholder engagement
DHHS consulted with a wide range of stakeholders in developing the 10-year plan, including six rural and regional public workshops and gathering input from more than 1 000 consumers, carers, workers and other sector stakeholders. Our review of the records of public consultations notes diverse issues and opinions. Access to mental health services was a key issue highlighted in all public consultation records reviewed, including the gap between the number of people needing public mental health services and the capacity of specialist clinical services and community mental health support services to meet those needs.
DHHS prepared discussion papers to assist with developing the 10-year plan that included diverse groups, including Aboriginal communities, refugees and asylum seekers, and lesbian, gay, bisexual, transgender and intersex persons. Consultation questions included 'How do we configure the way specialist mental health treatment services are delivered to improve access and responsiveness to the needs of...'. However, though access was a key issue put forward during these consultations, improving access, including for diverse groups, has not been adequately reflected in the 10-year plan.
Each of the audited mental health services were critical of the 10-year plan. These stakeholders all said that while the 10-year plan includes many relevant issues, there are too many generic statements in response to these issues. Each service would like practical guidance and a plan that clearly outlines the key deliverables. They indicated they would like DHHS to engage more with them and develop a plan that is achievable and aligned with contemporary practice. Access and demand issues were discussed strongly by each of the audited AMHSs, with issues such as workforce capacity and geographic reach identified as barriers to addressing access.
Governance arrangements
The MHET was established to monitor the 10‑year plan's progress, as outlined in Figure 2B, and to provide guidance and advice on its implementation in the first two years.
Figure 2B
Initial governance structure for the 10-year plan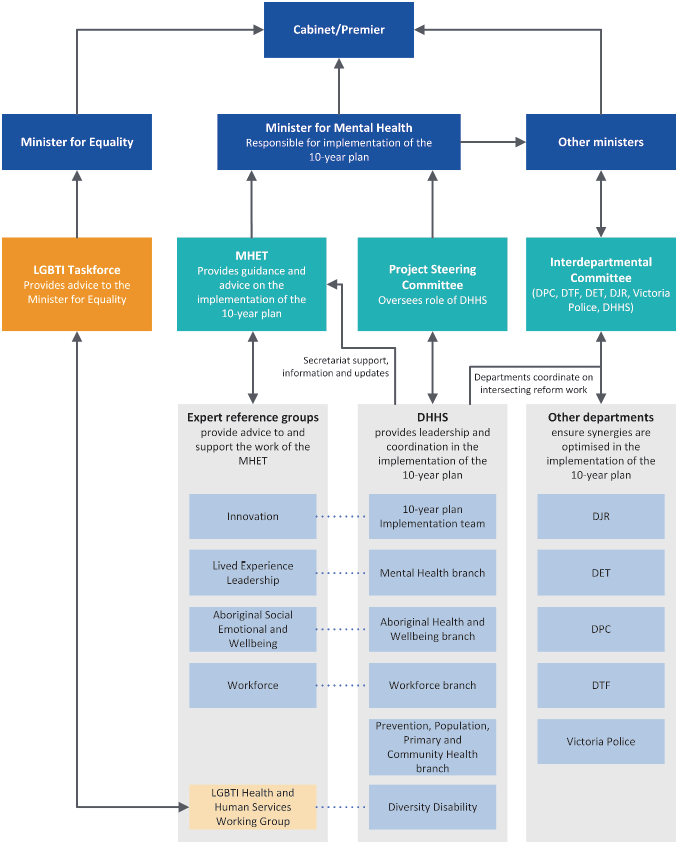 Note: LGBTI = lesbian, gay, bisexual, transgender and intersex; DJR = Department of Justice and Regulation; DET = Department of Education; DPC = Department of Premier and Cabinet; DTF = Department of Treasury and Finance.
Note: On 1 January 2019, a number of machinery of government changes came into effect, and consequently the Department of Justice and Regulation (DJR) became the Department of Justice and Community Safety.
Source: VAGO, based on information from DHHS.
The MHET included members representing service providers, peak bodies and other stakeholder organisations. The MHET's terms of reference included to:
advise the minister on actions to achieve intended outcomes
identify priorities and develop a work program of actions
advise the minister on measures and targets to demonstrate achievement towards intended outcomes
plan implementation activities.
Minutes from the MHET's meetings show discussion of a range of mental health issues, including taskforce priorities and updates on government activity. However, these documents do not show substantive discussion about access and demand. The taskforce also did not develop a clear work program of actions, with timeframes, and subsequently did not monitor progress against any agreed deliverables. The MHET, while considering and advising on progress indicators, did not set targets for them.
The MHET was disbanded in February 2018, at the completion of its fixed two‑year term. Oversight for progress against the plan now sits with the mental health branch within DHHS, which reports only to higher levels within DHHS—the Executive Board via the Health Reform Sub Committee—on an ad hoc basis. Since the MHET disbanded, the mental health branch has reported to the executive once about just one of the four priority areas within the 10-year plan. This lack of internal progress reporting significantly reduces accountability for achieving against the plan.
Implementing the 10-year plan
DHHS and other stakeholders have directed significant resources to implementing the activities underpinning the 10-year plan; however, there is no evidence of activity milestones, nor these being met.
A key DHHS focus was to create short and long-term implementation activities to achieve the plan's outcomes by identifying waves of reform that operate alongside other reform activities, shown in Figure 2C. The waves describe the order of priority actions over the first three years of the 10-year plan, as set out by the MHET. Key focus areas that are particularly relevant to access include the Workforce Strategy (Wave 1), Managing Clinical Demand (Wave 2), and in Wave 3, 'Diversity—ensuring that mental health services respond to diversity, particularly through identifying the specific needs of high-risk groups and tailoring mental health services to meet the needs of diverse communities'. Victoria's Mental Health Services Annual Report 2017–18 (2017–18 Annual Report), published by DHHS, outlines several actions commenced to support access for diverse consumers including:
the development of guidelines for interpreters working in mental health settings
work to engage and support young people from refugee and asylum seeker backgrounds
a grants programs to fund initiatives that support lesbian, gay, bisexual, transgender and intersex young people.
Figure 2C shows the priorities by wave, when DHHS identifies that it started to act on them, and priorities they report as completed (shown with a tick).
Figure 2C
Waves of reform
Priority reform actions

2016–17

2017–18

2018–19

Wave 1 priorities

Workforce strategy

✓

 
 

Child and youth mental health services

 
 
 

Suicide prevention framework

✓

 
 

Aboriginal social and emotional wellbeing—engagement phase

✓

✓

 

Outcome measures development

✓

 
 

Wave 2 priorities

Forensic mental health services

 
 
 

Managing clinical demand

 
 
 

Primary prevention

 
 
 

Aboriginal social and emotional wellbeing—strategy development

 

✓

✓

Wave 3 priorities

Co-production—engaging Victorians with mental illness and their families and carers in the co-production and co-design of services

 
 

Until June 2023

Service innovation—improving mental health services through a commitment to innovation and the adaptation of new technologies and service models

 
 

Until June 2023

Choice—increasing choice in mental health services for Victorians with mental illness, their families and carers

 
 

Until June 2023

Economic and social participation—improving opportunities for Victorians with mental illness for both economic and social participation, including the reduction of stigma and discrimination that acts as a barrier to participation

 
 

Until June 2023

Service integration—ensuring mental health services are integrated with each other and relevant health, human, education and other services to meet the specific needs of clients

 
 

Until June 2023

Diversity—ensuring that mental health services respond to diversity, particularly through identifying the specific needs of high-risk groups and tailoring mental health services to meet the needs of diverse communities

 
 

Until June 2023
Source: VAGO, based on information from MHET planning material and interviews with DHHS staff.
We developed this progress report as DHHS does not track and report progress against the wave priorities.
2.3 Monitoring progress of the planin improving access
DHHS's outcomes framework for the 10-year plan sets indicators against the planned outcomes. Figure 2D shows the indicators DHHS has aligned to the outcome related to access: 'the treatment and support that Victorians with mental illness, their families and carers need is available in the right place at the right time', and results against these indicators, as reported publicly by DHHS.
Figure 2D
Results against mental health 'access' indicators 2014–15 to 2016–17
| Indicator | 2014–15 | 2015–16 | 2016–17 | 2017–18 |
| --- | --- | --- | --- | --- |
| Rate of pre-admission contact—reflecting whether the person is appearing for the first time to an acute facility | 59.4% | 57.2% | 51.8% | 59.4% |
| Rate of readmission within 28 days—indicating that the discharge from inpatient services may have been too soon, or the treatment or discharge planning may not have fully addressed the issue | 13.8% | 13.9% | 13.4% | 13.8% |
| Rate of post-discharge follow-up—an important service to support transition back into the community | 85.7% | 84.2% | 77.7% | 87% |
| New registered clients accessing public mental health services (no access in the last five years) | 36.3% | 35.7% | 36.6% | 36.8% |
| Proportion of consumers reporting the effect the service had on their ability to manage their day-to-day life was very good or excellent—indicating general consumer satisfaction with the outcomes of the care provided | N/A | N/A | 53.5% | 55.2% |
Note: No data is available for the 'consumer' indicators for 2014–15 and 2015–16.
Note: The result for post-discharge follow up for 2016–17 was impacted by industrial issues.
Source: Victoria's Mental Health Services Annual Report 2016–17 and the 2017–18 Annual Report, DHHS.
Except for the measure regarding new registered clients, these indicators only provide an indication of whether consumers received the 'right service'. The lack of improvement in the readmission rate suggests ongoing challenges in providing the 'right service', though there are improvements in the most recent year data for consumer experience, pre-admission contact and discharge follow up, which likely reflects recent increases in funded service hours. However, none of the measures are truly relevant to access, which considers the 'right time' part of the intended outcome. There are no measures of wait times for services, the numbers of consumers declined or delayed service due to capacity constraints, or consumer-reported experience of service accessibility. The measure of new registered clients could provide an indication of the system's capacity to support access; however, measured as a percentage of total clients, it gives no information on whether actual numbers of new clients are growing.
Further, DHHS has not articulated any targets for the measures that it has set. Without targets, it is unclear what level of improvement DHHS is aiming for.
As shown in Figure 2E, available service usage and capacity data for 2014–15 to 2017–18 shows recent improvements in the numbers of people accessing public mental health services; however, this reflects only a marginal increase in the proportion of people receiving care. The large gap against the target for timely access to a mental health inpatient bed from an ED persists. DHHS could use the information it already collects to set targets for improvements to access.
Figure 2E
Alternate indicators of mental health service accessibility
Indicator

2014–15

2015–16

2016–17

2017–18

Community service contacts (number)

2 058 909

1 935 262

1 675 772

2 407 730

Community service contacts (hours)

1 011 396

971 965

881 950

1 288 028

Total numbers of people accessing clinical mental health services(a)

67 030

67 559

66 487

72 859

Proportion of population receiving clinical care(b)

1.13%

1.12%

1.08%

1.16%

 

Jul–Sep 2017

Oct–Dec 2017

Jan–Mar 2018

Apr–Jun 2018

Jul–Sep 2018

Audit mental health ED presentations transferred to a mental health bed within eight hours—target is 80%

55%

56%

56%

59%

53%
(a) 2015–16 and 2016–17 data collection was affected by industrial activity. The collection of non-clinical and administrative data was affected, with impacts on the recording of community mental health service activity and client outcome measures.
(b) Population estimate is based on Victorian in Future 2014 projections.
Source: VAGO, based on information from Victoria's Mental Health Services Annual Report 2016–17, the 2017–18 Annual Report, and the Victorian Health Services Performance website www.performance.health.vic.gov.au, DHHS.
Suicide rates, while determined by multiple environmental factors, in part reflect the quality and availability of clinical supports. The only stated outcome of the 10-year plan with a clear target relates to the aim to halve the Victorian suicide rate by 2025.
The 2017–18 Annual Report states there has been a reduction in the number of suicides from 654 in 2015 to 621 in 2017. However, 10-year data available from the Australia Bureau of Statistics shows that there is no significant reduction. As shown in Figure 2F, the suicide rate has been relatively stable, varying slightly around 10 per 100 000 with an increase between 2013 and 2014 due to a change to incorporate cause-of-death post coroners' enquiries2. To halve the 2015 rate of suicides these numbers will need to decline to around 418 in 2025 based on current Victorian population projections.
Figure 2F
Victorian suicide rate per 100 000 population, by year, 2008 to 2017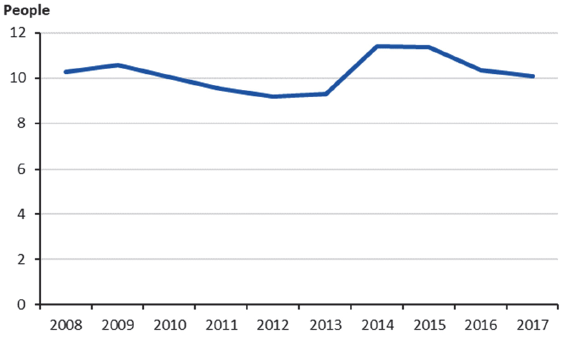 Source: VAGO, based on Australian Bureau of Statistics data.
DHHS has not completed an evaluation framework to support the 10-year plan; however, DHHS's Centre for Evaluation and Research is planning a formal evaluation of the 10-year plan by 2020, five years into the plan. To properly complete this task, performance indicators relevant to improving access to services and more importantly, targets are necessary, particularly to ensure DHHS and AMHSs collect the right data for the evaluation.
2.4 The draft Clinical mental health services plan 2018–2023
The draft Clinical mental health services action plan 2018–2023 is a blueprint for transforming clinical mental health services in Victoria to address demand for, and access to, mental health services. The action plan supports the 10-year plan implementation. The action plan's focus areas are:
transforming adult community-based services by:

increasing their capacity to treat more people and respond at earlier stages of illness
supporting clinicians to deliver evidence-based and best practice interventions
streamlining and improving service entry processes so that people can get timely assessment of their needs and referral to mental health or other services

introducing new responses to help people experiencing a mental health crisis
providing a balanced system of high-quality bed-based services, included enhanced sub-acute services to relieve pressure on acute inpatient units
building links with and support for other services, with alcohol and other drug services prioritised for immediate action
responding effectively to people with complex needs who present risks to community safety
strengthening services for children and young people.
The key enablers are:
a new funding model that incentivises health services to accept more patients and direct resources to the highest need patient groups
a new Mental Health Performance and Accountability Framework that reflects the intended funding reform and creates greater transparency about service performance and consumer outcomes
support for the mental health workforce, including in the delivery of evidence based and best practice treatment
service and infrastructure planning to identify the optimum mix of community-based, sub-acute and acute inpatient services, taking account of the need for infrastructure to reflect demographic changes
high-quality government policies, legislative frameworks and guidance for the sector
strategic investment in research and evaluation to create a system that is continually learning.
Currently, this document is in draft form. It takes a step towards supporting AMHSs and their stakeholders by outlining more direct actions to reform the system and address capacity issues. While it took three years to develop, DHHS advises that it is unlikely to be finalised and released. DHHS is using elements of the draft action plan to inform new initiatives, many of which were funded as four-year initiatives from 2018–19; however, it is a missed opportunity for DHHS to not release the plan, particularly given the clear need of AMHSs for more communication about DHHS's intentions in this area.
2.5 Workforce strategy
Currently, there are over 5 000 people working in mental health, predominantly in roles such as psychiatry, mental health nursing, social work, psychology and occupational therapy, and increasingly, lived-experience workers (both consumers and carers) and other allied health professionals (such as speech pathologists). We found through our consultations with AMHSs that recruiting, retaining and managing their workforce is one of their most significant obstacles to providing access to services. They cited low morale and an ageing, stretched workforce as key challenges, in addition to stigma and negative community perceptions. The mental health workforce is impacted by:
insufficient workers, particularly in rural and remote areas
a change in service delivery needs from community mental health services to acute mental health services and the different skills needed
risks to safety and wellbeing
a lack of development opportunities
inadequate undergraduate and other training opportunities.
DHHS is aware of these workforce challenges and has been actively trying to address them through a range of initiatives. The workforce strategy is a key focus area under wave 1 of the 10-year plan. DHHS published the new workforce strategy in June 2016, which builds on Victoria's specialist mental health workforce framework: strategic directions 2014–24 and the previous 10‑year plan Because mental health matters: Victorian Mental Health Reform Strategy 2009–2019. The workforce strategy outlines five key objectives, with the first being most relevant to access:
workforce availability and skill—right person, right place, right skill
worker safety and satisfaction—places people want to work
workforce integration—learning together, working together
co-design and co-delivery with consumers and carers—shaping the future together
workforce innovation—exploring and sharing new ways of working.
The Centre for Mental Health Learning will act as an umbrella organisation, coordinating and leveraging current mental health investments by partnering with statewide trainers, Mental Health Workforce Learning and Development Clusters, health services, clinical academics and other stakeholders.
Initiatives within the workforce strategy that aim to support workforce availability and skill include:
the provision of learning and development in priority areas through DHHS's new Centre for Mental Health Learning (see sidebar)
a targeted mental health recruitment campaign, Hello Open Minds, to attract and retain a skilled and sustainable workforce (launched in July 2017)
workforce planning, informed by routine workforce data collection, to highlight where development and growth need to be focused
a range of actions to attract and retain Aboriginal people to the mental health workforce
expansion of the paid 'lived-experience' workforce to provide consumers with more choice in the types of services they receive, including peer support and advocacy
a commitment for further work to address issues of occupational violence that affect attraction and retention.
A number of activities relate to addressing access by increasing the mental health workforce with initiatives such as Hello Open Minds—a strategy to support recruitment—and the Centre for Mental Health Learning—aimed at improving the retention of the workforce through professional development and enhancing their ability to care for clients with complex needs. DHHS also requested and received funding to support workforce initiatives aimed at increasing the number of mental health staff. In 2019, additional clinical nurse consultants and mental health engagement workers will be recruited.
Despite this range of workforce activities, it is not clear what DHHS aims to achieve through its workforce strategy and initiatives, as it has not set quantifiable performance indicators or targets, and there are no plans for a formal evaluation. DHHS advice to government through its 2018–19 business case to 'Reform clinical mental health services', does articulate the need for growth funding, additional and different services and additional staff, but does not explain their interdependencies. DHHS requires a clear understanding of the numbers and types of staff needed, and where and when they are needed, to enable its broader service reforms to occur. This in turn, would inform specific targets. Without such ways to measure progress, DHHS cannot track whether its investment in the workforce strategy and initiatives is growing and supporting the mental health workforce. The strategy also does not directly address the identified issue of higher workforce gaps in regional and rural areas.
2 Australian Bureau of Statistics technical note 2 CAUSES OF DEATH REVISIONS, 2013, http://www.abs.gov.au/ausstats/abs@.nsf/Previousproducts/3303.0Technical%20Note22015?opendocument&tabname=Notes&prodno=3303.0&issue=2015&num=&view=, 2018.