Access to Mental Health Services
3 Understanding and meeting demand
Demand for mental health services in Victoria is increasing, not just in relation to the number of people who need services, but also in the severity of illness. The drivers of the increased demand include population growth, legal and illegal drug use, and heightened community awareness of mental health issues. The number of people experiencing mental illness in Australia has increased significantly in the last 10 years, as Figure 3A shows, and Victoria is consistent with this trend.
Figure 3A
Growth in number of Australians experiencing mental illness by area of residence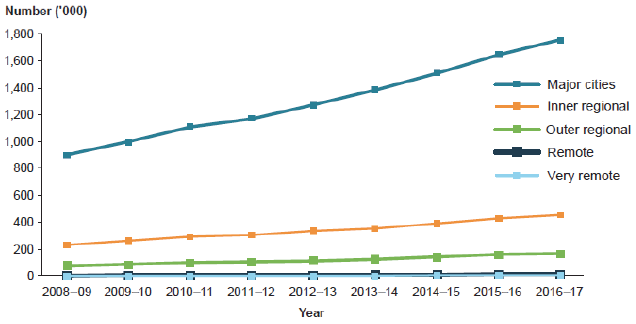 Source: Mental health services: In brief 2018, AIHW.
DHHS's intention for the mental health system is that, where possible, people are supported to remain in the community—which is often the best environment for the individual, and also reduces demand on bed-based services. However, achieving this aim relies on a system with the capacity to provide timely access to services.
This part examines the aspects of the mental health service system that underpin the provision of access to services; funding, demand, infrastructure and service distribution.
3.1 Conclusion
DHHS's 10-year plan includes 'enabling greater access to high quality, integrated services'—Outcome 13. Victorians have a right to expect this level of service from their public mental health services and to achieve this outcome, the system needs funding and infrastructure that matches demand and a service model that promotes, rather than impedes, access. Recent advice from DHHS to government, supported by multiple DHHS-commissioned reviews, clearly articulates the existing funding and infrastructure gaps. However, DHHS progress has been slow and the most important elements of change, such as funding reform, infrastructure planning, catchment area review, and improved data collection have only just, or not yet commenced. There is real risk that achievements intended within the 10-year plan's lifespan will not occur. Considerable acceleration of effort is required.
3.2 Funding
Victoria's public mental health services are subject to an input-based funding model. In this model, DHHS allocates a block of funding to AMHSs based on their number of inpatient beds or previous year's client numbers, which is indexed at 1.6 per cent per annum. The allocation is not sensitive to unmet demand, the needs and complexity of the mental health services' client cohort, contemporary population data, nor demographic changes.
AIHW data shows that between 2011–12 and 2015–16 national recurrent expenditure per capita on specialised mental health services grew an average of 0.7 per cent annually. Over that time in Victoria it declined by 0.3 per cent annually. In 2015–16, Victoria's per capita recurrent expenditure was $197.30, the lowest in Australia, against a national average of $226.52.
Funding for the mental health system since the 10-year plan was issued increased by $100.0 million in 2017–18 and $106.8 million in 2018–19. The Victorian State Budget 2018–19 provides $1 605.7 million in mental health funding, which will assist Victoria to address the funding disparity with other states and territories.
DHHS will spend $83.7 million during the 2018–19 financial year to begin clinical mental health services reform with a number of initiatives to help address access including:
redesigning community-based mental health services
strengthening the mental health workforce
six new mental health and alcohol and drug service hubs
growth in community mental health service hours
increasing clinical capacity in sub-acute services.
Impact of funding shortfalls
Despite mental health system growth funding allocation over the last three state budgets, the lack of funding for more than 10 years has forced AMHSs to focus on acute and crisis treatment at the expense of earlier intervention services in the community. While community mental health received a share of growth funding, 2.3 per cent in 2016–17 and 7 per cent in 2017–18, AMHSs advise that this growth funding was largely directed to filling the existing gap between their service costs and the price DHHS pays, rather than providing additional services.
Because AMHSs often redirect resources from community to hospital settings to support consumers who need a higher level of care, AHMSs have limited capacity to intervene in the earlier stages of mental illness or deliver high quality interventions in the community to promote recovery. This limitation contributes to an increase in the number of people admitted to acute care without prior community contact. Between 2009 to 2016 acute admissions grew by 19 per cent, while community mental health contacts decreased by 17 per cent, which contributes to a cycle of increasing demand for costly emergency and inpatient services and further impacts AMHSs' ability to provide effective interventions during earlier stages of illness. Recent increases in funding for community services, however, have seen more people have preadmission contact, which begins to address this problem.
The audited AMHSs also advised that their bed day costs are higher than the price DHHS pays, and that they do not receive the necessary funding to meet demand. DHHS costings of acute mental health inpatient funding found that the price paid by DHHS meets only around 62 per cent of full costs to AMHSs, compared to 82 per cent of the price paid for general acute hospital beds. A DHHS commissioned review advised that the price paid should be 80 to 85 per cent of the full cost. All the audited AMHSs advised that, because of the current gap, AMHSs cross-subsidise their inpatient mental health services from other areas within the health service, which risks a negative impact on those services.
The case for funding reform
The introduction of activity-based funding in mental health services has been on the agenda in Victoria for over five years—DHHS's 2016–17 Acute Funding Review identified the need for mental health funding reform. DHHS's commissioned review 'Reform of Victoria's specialist clinical mental health services December 2017' (2017 review) also recommends that a future funding model should include output, input, block and outcome funding. Alongside this model is national health funding reform and the need for Victoria to align with the new Australian Mental Health Care Classification (AMHCC). The AMHCC is designed to provide consistency across health services, support integrated service delivery across services, and enable mental health services to be priced and funded on an activity basis.
Packages of Care—patients are classified into one of 13 levels by the complexity of their issues, phase of care and social connectedness, with funding matched to the needs of each classification level.
DHHS intends to provide AMHSs with a single annual payment based on their patient mix. Over time, DHHS will bundle funding for community care and acute care to provide the strongest incentive to substitute community mental health services for acute care where clinically possible.
In the interim, DHHS has started funding packages of care for high needs patients.
DHHS is now implementing funding reform for clinical mental health services that will move away from an input-based model towards bundling bed and community hours funding through 'packages of care' that are informed by the complexity levels of the client mix at an AMHS. The aim is to improve the support for clients most in need of mental health services and to incentivise AMHSs to assist people to remain well within the community setting. This is consistent with the findings and recommendations in DHHS's 2017 review which emphasises the need to increase community-based mental health treatment to reduce the demand on acute services. The four-year funding reform began in 2018–19 with a 'shadow' year to allow AMHSs to adjust to the changes. If this funding distribution method is successful, it will enable greater early access for consumers in need of mental health services and eventually alleviate demand for acute mental health services.
While the new funding model is well aligned to the intent to incentivise more community-based treatment, without an adequate quantum of funding (and the staff and infrastructure to deliver the services) there is risk that the intended outcomes will not be achieved. DHHS advice to government states that the new funding reform model aims to provide each new community-based client with a maximum of six hours treatment per annum and that the nationally recommended level is 72 hours per annum. DHHS also notes that the four-year growth funding will enable DHHS to provide mental health services to 1.2 per cent of the population in 2018–19 and thereon, only a marginal improvement on the current 1.16 per cent coverage compared to the estimated 3.1 per cent of the Victorian population with a severe mental illness. This growth funding also only increases the price paid to 67 per cent of AMHSs' costs.
Another change is that DHHS has moved bed funding to a single price for all beds regardless of location or severity of illness. It is unclear how DHHS is addressing the risk of disadvantaging some service providers such as rural AMHSs that have inherently higher operating costs.
3.3 Understanding and planning to meet demand
Demand for mental health services in Victoria has increased over the last 10 years, and this trend is likely to continue, as indicated by Figure 3B. This demand is exceeding population growth, as shown in Figure 3C.
Figure 3B
Number of people receiving mental health services in Victoria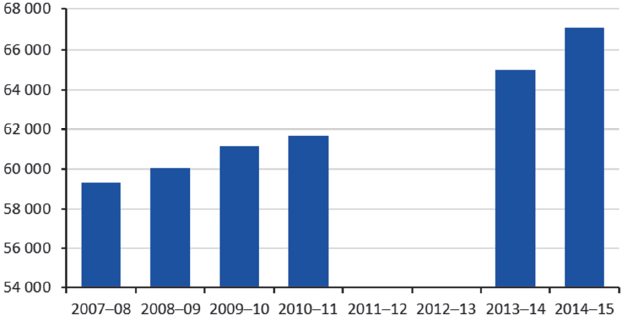 Note: Data was not available for 2011–12 and 2012–13.
Source: VAGO, based on Report on Government Services, Productivity Commission, 2017.
Mental health separations—when a patient formally admitted to hospital, receives at least one episode of care (and is in hospital for more than one day). Same-day services are counted separately.
Figure 3C
Indexed growth in Victorian health service-related events versus population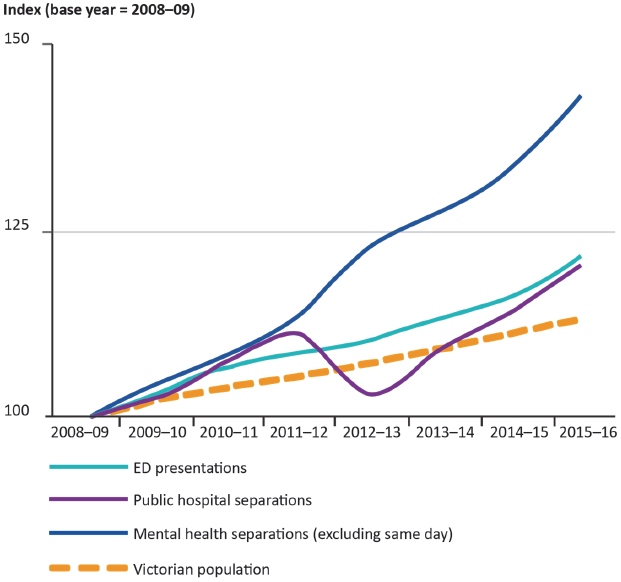 Note: Between 2011–12 and 2012–13 the negative growth in public hospital separations was due to a change in admissions policies (patients accommodated in the ED only were no longer counted as admitted). Once hospitals reconfigured their ED/inpatient interface, growth in separations has consistently increased.
Source: VAGO, based on information from DHHS using internal and Australian Bureau of Statistics data.
DHHS's 2017 review estimates that close to one million Victorians have a mental illness, with around 184 000 having a severe mental illness, as Figure 3D shows.
Figure 3D
Estimated number of Victorians with a mental illness
| Severity of illness | Percentage of Victorians with a mental illness (%) | Number (thousands) | Percentage requiring treatment | Number needing treatment (thousands) | Primary government responsibility |
| --- | --- | --- | --- | --- | --- |
| Mild | 9.0 | 537 | 50 | 268.5 | Commonwealth |
| Moderate | 4.6 | 272 | 80 | 217.6 | State/Commonwealth |
| Severe | 3.1 | 184 | 100 | 184 | State |
| Total with mental illness | 16.7 | 993 |   | 670.1 |   |
Source: 2017 review, DHHS.
The table highlights the unmet demand for services in Victoria. In 2017–18 there were 72 859 registered users of mental health services, compared to the estimated 184 000 with severe mental illness that DHHS's 2017 review states need treatment.
Victoria falls significantly behind other jurisdictions and the national average in the proportion of the population receiving clinical mental health services, as Figure 3E demonstrates.
Figure 3E
Percentage of the Victorian population receiving clinical mental health services compared to other jurisdictions and the national average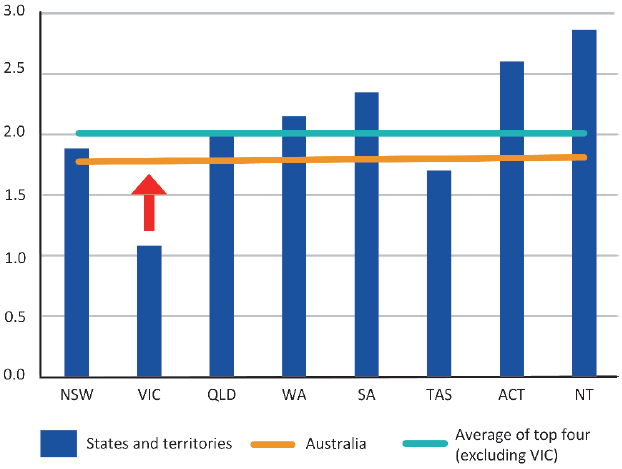 Source: VAGO, based on information from AIHW's Mental health services in Australia 2013–14 cited in Design, Service and Infrastructure Planning Framework for Victoria's Clinical Mental Health System, DHHS, 2017.
Increasing demand combined with current service shortfalls are placing the whole mental health service under considerable stress. The DHHS-commissioned Design, Service and Infrastructure Planning Framework for Victoria's Clinical Mental Health System report states that increased demand has placed pressure across the mental health system over the last 10 years, which includes:
ED presentations increasing 9 per cent from 2015–16
acute hospital admissions growing at an annual rate of 2.4 per cent
LOS in hospital trending down from 14.7 days to 11.2 days from 2009 to 2017—potentially not providing enough time for patients to become well
unplanned readmission rates for adult mental health patients at 14.4 per cent in 2017–18
community mental health contacts per 1 000 people declining at a rate of 2.5 per cent per annum over the last 10 years.
Figure 3F shows the increase in adult mental health admissions from 2009 to 2017. The increased number of presentations coupled with a shortage of mental health beds affects patients' LOS, meaning some patients likely do not receive the length of treatment they need. The 2017–18 Annual Report states LOS for adult acute mental health patients is just 9.6 days, a further decrease from that reported in the 2017 DHHS-commissioned review.
Figure 3F
Acute adult mental health admissions and average length of stay, 2009 to 2017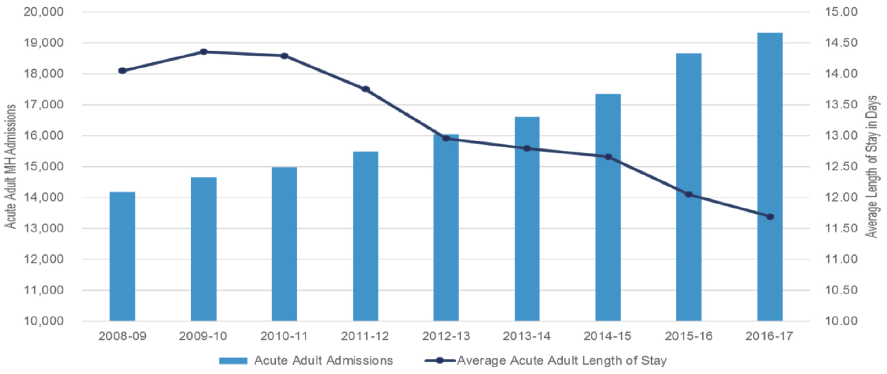 Source: Reform of Victoria's specialist clinical mental health services: Advice to the Secretary, Department of Health and Human Services, by A.Cockram, S.Solomon, H.Whiteford, 2017.
DHHS's 2017 review found demand pressures have also increased the threshold for access to community-based services so that AMHSs only see the most unwell, which creates a flow on effect with AIHW reporting the number of mental health patients accessing acute services through police, ambulance and self-presentations to hospital EDs increasing from 28 757 in 2004–05 to 54 114 in 2016–17.
Mental health patients are also staying in EDs longer. Between 2015 to 2017 their average wait time in EDs has gone from 7.6 hours to 9.5 hours, well over the national target of 4 hours. Mental health patients are the most represented when wait times for movement from the ED to a bed exceed 24 hours—79 per cent of patients compared to 30 per cent five years ago. For patients experiencing acute mental illness, the ED environment is often clinically inappropriate, and at times the presence of acutely unwell patients in the ED presents risks to the patient and others around them.
Collecting data to understand the system
To understand and respond to demand and access issues, DHHS needs systems that capture necessary data to reflect current service capacity and use statistical techniques to calculate unmet demand.
DHHS's key data tool is its Client Management Interface/Operational Data Store (CMI/ODS). AMHSs use it to record the core data elements of their service provision as mandated under the Act.
Mental health triage is the first point of system entry for potential consumers, or people seeking assistance on behalf of another.
A triage clinician assesses whether a person is likely to have a mental illness and the nature and urgency of the response required. Where an AMHS is not the most appropriate option for the person, they are referred to another organisation or given other advice. When specialist mental health services are likely to be suitable, the triage clinician comprehensive intake assessment is done.
The intake assessment may result in referral to another organisation and/or in the person being treated within the specialist mental health service. Only clients that receive treatment are recorded in CMI/ODS.
All the audited AMHSs use CMI/ODS as part of their data collection. They input data up to three times a day and this data links to quarterly reporting against KPIs that measure, for example, the rate a patient is readmitted, use of seclusion, and rates of post-discharge follow-ups.
However, while DHHS and AMHSs consider the data recorded to be accurate, five of the six audited AMHSs reported shortcomings in the CMI/ODS system including lack of functionality and low useability. Due to this shortcoming, the audited AMHSs use their own bespoke systems in addition to CMI/ODS for collecting and analysing data, duplicating effort in what is an already stretched workforce.
DHHS's 2017 review highlights the lack of comprehensive mental health triage data at a statewide level. The review notes the limitations the lack of data places on understanding the people who AMHSs do not accept into the mental health system and the reasons. The report states there has been a 63 per cent increase over the last four years in the number of people seeking access to, but not accepted by, AMHSs. This is also supported by DHHS's data analytics work undertaken in 2017, which used some triage information to demonstrate service demand increased by 43 per cent between 2010–11 and 2016–17.
DHHS is aware of the gaps in its triage data collection and the need to review triage services. While DHHS has decided to delay triage reform until after funding reforms, there is still an opportunity to improve data collection and analysis now to better inform future change.
In 2017, data analytics work by the Victorian Data Linkage Centre within DHHS in conjunction with external consultants noted limitations in the current data set and made several recommendations, including:
incorporating data on unregistered clients into CMI/ODS to give a more complete picture of service activity and demand
integrating mental health triage (see sidebar) data into CMI/ODS to give a better picture of service demand and analysis of how quickly services are provided as is done in other jurisdictions
including information about mental health clients that present to EDs for treatment to allow for analysis of preventable ED presentations
including information about people that contact mental health triage and do not go on to receive services but later present at an ED.
Forecasting demand
Having an estimate of future mental health system demand is crucial to ensuring adequate future service access and to advise government of funding needs. DHHS lacks a comprehensive view of current mental health service demand, and until recently DHHS utilised only basic forecasting.
Capture-recapture is a statistical method to estimate the population of a subset of a population.
Typical applications include estimating the number of people needing particular services, or with particular conditions.
DHHS's current forecasting tool is available on its intranet and DHHS has committed to using this tool for its mental health work. It provides forecasting for system indicators including registered client numbers, acute admissions, community contacts and case length by taking historical data and aligning this with forecast population growth.
DHHS applies a statistical method of approximating demand known as 'capture‑recapture', which informs its forecasting model that helps to estimate unmet demand by utilising DHHS data sources including ED presentations and information from its drug and alcohol, disability and child protection datasets. However, without the inclusion of data from the triage system and unregistered clients there remains a significant risk that using this statistical method, DHHS does not adequately capture the extent of mental health illness in the population and the true unmet demand for services.
Figure 3G is an example of forecasts using this tool, it projects the number of registered mental health clients will increase from 62 000 in 2017 to 80 000 in 2031—a 29 per cent increase—with the proportion of clients with moderate illness increasing from 38 per cent in 2017 to 42 per cent in 2032 and clients with severe illness being relatively stable at 33 per cent. Given the model limitations, the projection should be considered conservative, particularly as the number of registered clients for 2017–18, 72 859, already exceeds the projection for that year.
Figure 3G
Past and forecast registered active clients by illness severity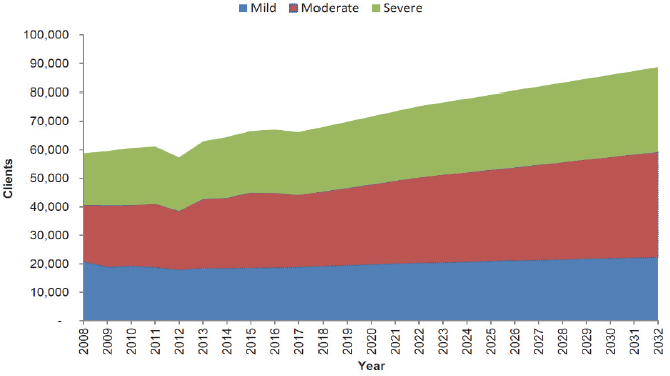 Source: DHHS, 2017.
3.4 Capital infrastructure
The other foundational factor needed to meet demand for mental health services is capital infrastructure: namely inpatient beds, including separate facilities for female inpatients. Responding to this need requires significant forward planning as new facilities take around five years to plan and build and, without accurate demand forecasting, can be already at or over capacity when they open.
Victoria's acute mental health beds are under significant pressure. There is sufficient evidence from the recent reviews that there are not enough mental health beds in Victoria to meet current, or future, demand. A DHHS review found that all major acute psychiatric units are continually operating at or above 95 per cent capacity, well above desirable levels of 80 to 85 per cent that allow AMHSs to admit acutely ill patients as needed.
The audited AMHS confirmed the capacity issue during our site visits. The impact on patients of high bed capacity is that AMHSs must make difficult decisions to manage bed availability. Audited AMHSs informed us that strategies used to manage bed availability include increasing the LOS in EDs, discharging the least unwell, and utilising other wards such as aged care, potentially placing a patient's care at risk.
In most facilities, males with acute mental health issues mix with female inpatients, which places women at significant risk of sexual abuse. Victoria's Mental Health Complaints Commissioner's The Right to be Safe: Ensuring sexual safety in acute mental health inpatient units: sexual safety project report (The Right to be Safe: Sexual Safety Project Report) found that 74.4 per cent of sexual safety complaints from 2014 to 2017 related to mixing males with acute mental health issues with female inpatients as shown in Figure 3H. AMHSs cite challenges to separating males and females because of ageing infrastructure.
Figure 3H
The Right to be Safe: Sexual Safety Project Report
Victoria's Mental Health Complaints Commissioner's The Right to be Safe: Sexual Safety Project Report assessed 90 complaints from 1 July 2014 to 30 June 2017 that related to the sexual safety of acute mental health inpatients. The Commissioner found that most complaints related to breaches that occurred in the high dependency units or intensive care areas of the ward (40.4 per cent) or in bedrooms (34 per cent). The commissioner found that while most health services have some type of separate gender area, six cases occurred in women's only areas and for a further 22 cases, the health services reported that the service infrastructure (including gender separate areas) was not being adhered to. During our audit, all audited health services reported that they struggled to separate males and females due to a lack of appropriate infrastructure.
Source: VAGO, based on The Right to be Safe: Sexual Safety Project Report, Victoria's Mental Health Complaints Commissioner, 2018.
The availability of acute mental health beds is different across geographic areas, with outer suburban areas not keeping pace with population increases in growth corridors. Demographic changes in regional areas also impact bed requirements, for example at least two of the four regional AMHSs audited cited the ageing population in their catchment area and the need for more aged mental health beds.
To service current unmet need as well as future demand and to adequately support community-based treatment and care, the mental health bed base across Victoria must be increased. Victoria currently has the lowest bed base nationally as well as a comparatively low bed base globally. A review commissioned by DHHS advised that Victoria's bed base should increase in line with the bed base provided by other comparable states. The review estimates that the bed base would need to grow by 80 per cent over the next decade, which highlights the existing low bed base per head of population in Victoria shown in Figure 3I.
Figure 3I
Comparison of states and territories on per capita utilisation of mental health beds and community contacts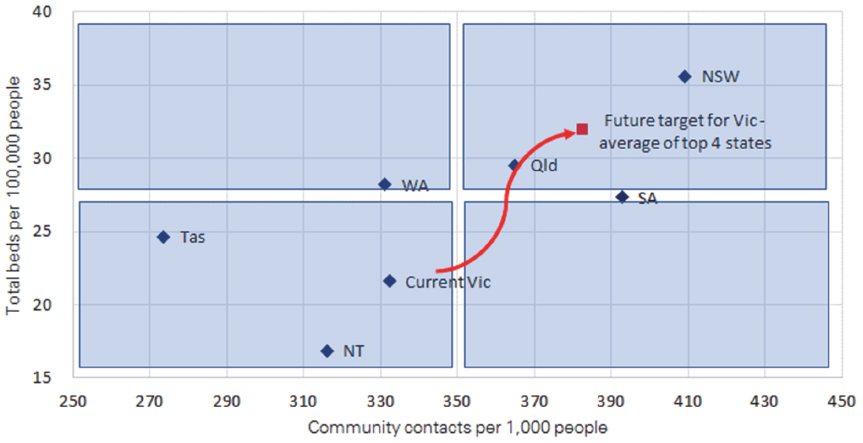 Note: Excludes forensic mental health beds.
Source: AIHW's Mental health services in Australia 2013–14, cited in DHHS-commissioned consultant report, Design, Service and Infrastructure Planning Framework for Victoria's Clinical Mental Health System, 2017.
There are 53 new acute adult beds funded in 2018–19; with 21 now open and 34 in planning. There are also 24 sub-acute beds in the planning phase, and 10 mother and baby unit beds will now operate seven rather than five days a week. No further new beds are in the capital pipeline and given population growth, current and planned beds will not meet the unmet demand nor move Victoria towards the recommended bed base. Delivering mental health facilities requires significant planning and construction time—around five years—in part due to the need for reinforced walls, egress and seclusion areas, outside space, and anti-ligature features.
DHHS intends to complete a 'Detailed services and infrastructure plan for Victoria's clinical mental health system over the next 20 years' and update it every five years to support the 'Statewide design, service and infrastructure plan for Victoria's health system 2017–2037'. However, given it will likely take DHHS some time to complete this plan, secure and allocate funding, and then plan and build infrastructure, DHHS should anticipate and plan for Victorians with mental health issues to continue to experience problems accessing mental health beds at least across the remaining life of the 10-year plan, and that this will impact the effectiveness of any changes to funding or the service delivery model.
3.5 Catchment areas
Clinical mental health services are provided in geographic catchment areas that were established in the 1990s. The consumer's place of residence determines which service or services they can access. DHHS's internally commissioned reviews highlight practical problems with the current area-based clinical mental health system that impact Victorians' ability to access services, which include:
the catchment areas are not aligned with other health and human service areas, or local government area boundaries, which makes service coordination difficult for consumers and carers, many of whom need support from multiple services
lack of alignment between geographic catchments and age-based service groupings
lack of coordination between catchment areas when patients need to access services across catchment borders
misalignment between service levels and types within a catchment and population growth and demographic changes in that area.
In August 2013, DHHS reviewed the mental health catchments. The review states that 'reconfiguring the catchment areas under which clinical mental health services are organised is a key step in delivering the kind of seamless, easy-to-navigate system that consumers and carers expect. It is also important for achieving optimal efficiency and effectiveness across the state'. Commitment to changing the catchment areas was included in the then Department of Health's strategy document, Victoria's priorities for mental health reform 2013–15. Despite this, DHHS has not implemented the changes to catchment areas.
In 2017, DHHS commissioned external consultants to develop the Design, Service and Infrastructure Planning Framework for Victoria's clinical mental health system. The framework recommended the following principles in reconfiguring service regions:
Design service regions for populations between 500 000 to 1 000 000 people forecast by 2036, where appropriate and practical taking into consideration geographic placement of services and other factors.
Improve access, outcome and demand management in growth corridors, including that sensible access to services overrides artificial geographical boundaries where appropriate.
Align catchment areas with contemporary local government areas.
DHHS has not yet implemented these recommendations. While issues relating to catchments are complex and challenging, it is a critical piece of work that will contribute to improved access for consumers and we recommend that DHHS direct resources to this issue.