Access to Mental Health Services
1.1 Overview of Victoria's mental health services system
Nearly half (45 per cent) of Victorians will experience mental illness in their lifetime. Annually, one in five Victorians, or 1.2 million, suffer from a mental illness1. Of these 1.2 million people, based on 2017 population figures:
11 per cent will experience mild mental illness (670 000)
6 per cent will experience moderate mental illness (346 000)
3 per cent will experience severe mental illness (184 000).
The Victorian Government funds public mental health services covering clinical assessment, treatment, and case management in community and inpatient settings as Figure 1A shows.
A number of publicly funded specialist clinical mental health services are also delivered on a statewide basis, such as mother and baby services, eating disorder services, and forensic mental health services.
1.2 Agency roles and responsibilities
The Department of Health and Human Services
In relation to mental health services, DHHS is responsible for:
funding
developing policies and plans
encouraging safety and quality of care
monitoring and reviewing service provision
developing performance measures to enable service comparison
collecting and analysing data to support these functions.
These functions are undertaken by the mental health branch and other business units within DHHS.
Figure 1A
Organisation of mental health services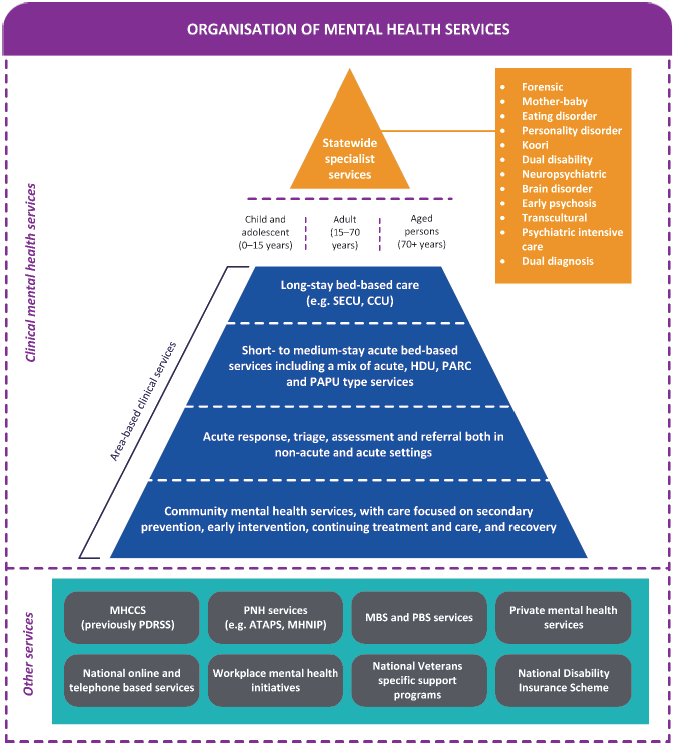 Note: CCU = community care unit, SECU = secure extended care unit, HDU = high dependency unit, PARC = prevention and recovery care, PAPU = psychiatric assessment and planning unit, MHCSS = Mental Health Community Support Services, PHN = primary health network, ATAPS = Access to Allied Psychological Services, MHNIP = Mental Health Nurse Incentive Program, MBS =  Medicare Benefits Schedule, PBS = Pharmaceutical Benefits Scheme.
Note: Services such as CCU, SECU and PAPU are described further in the next section.
Source: VAGO, based on Design, Service and Infrastructure Planning Framework for Victoria's Clinical Mental Health System, DHHS, 2017.
DHHS's 2018–19 mental health services budget was $1 605.7 million, or 6.4 per cent of its total budget. DHHS distributes the funding as set out in its annual policy and funding guidelines and annual statements of priorities (SoP)—the key accountability agreements between the government and health service providers. SoPs outline expected services and activity levels, performance measures and targets, and policy directions and requirements. DHHS monitors health services' performance against their SoP.
DHHS groups Victoria's clinical mental health services into age and regional cohorts. Aged-based service groupings are: child and adolescent mental health services (0–18 years), adult mental health services (16–64 years), and mental health services for older people (65+ years). Geographically, DHHS arranges services within catchments. The consumer's place of residence determines which service(s) they can access. The current range of services provided throughout Victoria includes:
13 child and adolescent mental health services, provided in five metropolitan and eight rural catchments
21 adult mental health services, provided in 13 metropolitan and eight rural catchments
17 aged persons mental health services provided in nine metropolitan and eight rural catchments.
Area mental health services
AMHSs provide a range of clinical mental health assessment and treatment services, and are managed by general health facilities such as hospitals. This audit focuses on the mental health services provided through these general health facilities—including:
acute community intervention services (ACIS)—urgent response service providing telephone triage, community outreach, and support to EDs
acute inpatient services—bed-based care for people acutely unwell, often provided within general hospitals
community care units (CCU)—clinical care and rehabilitation in a home-like environment
secure extended care units (SECU)—inpatient treatment and rehabilitation for people with unremitting and severe mental illness
prevention and recovery care (PARC) services—short-term residential treatment services with a recovery focus
psychiatric assessment and planning units (PAPU)—short-term (up to 72 hours) specialist psychiatric assessment and treatment for people experiencing an acute episode of mental illness
clinical mental health services delivered in the community.
Figure 1B shows where the AMHSs are located across Victoria.
Figure 1B
Spread of AMHSs across Victoria against local government area boundaries
Regional and rural services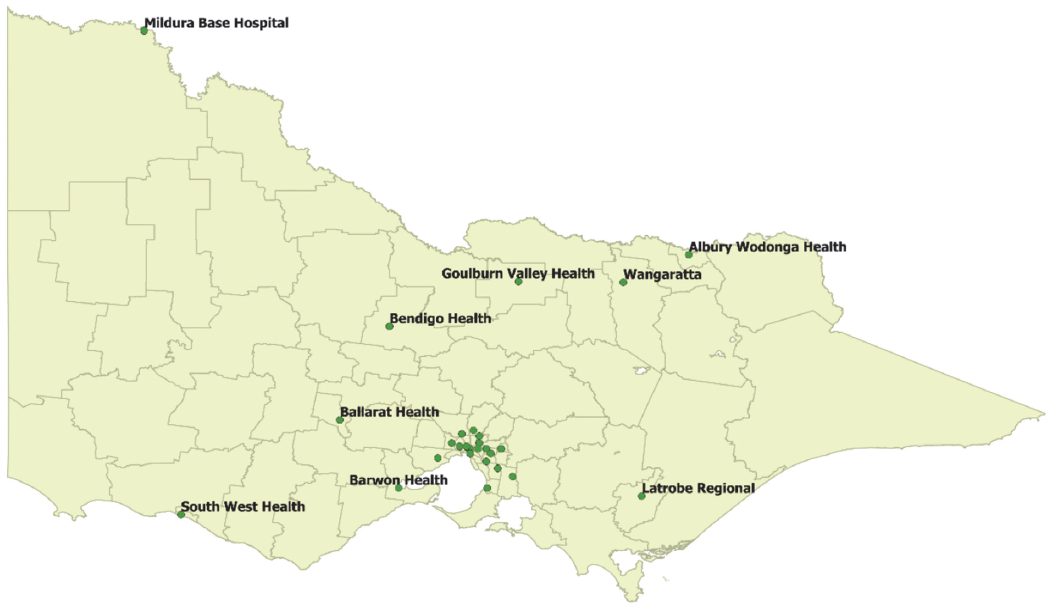 Metropolitan services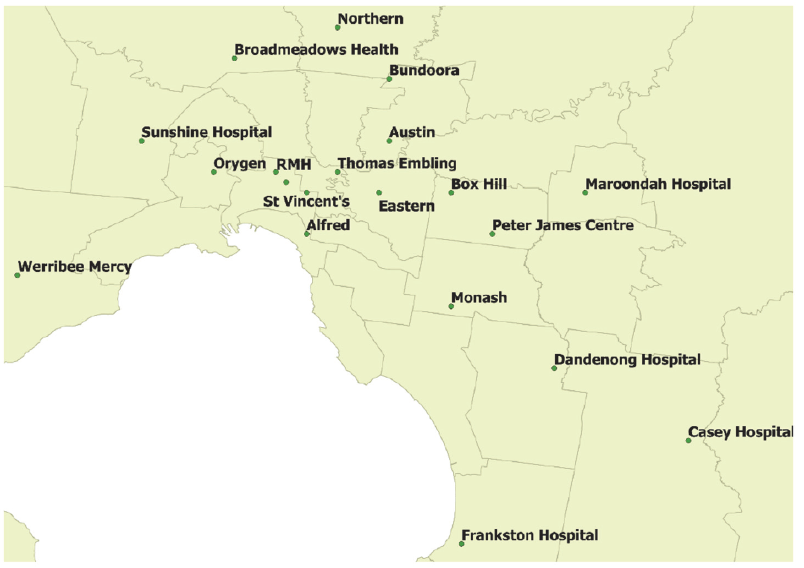 Source: Victoria's Clinical Mental Health System Plan, DHHS, 2016.
1.3 Relevant legislation and policies
Mental Health Act 2014
The Mental Health Act 2014 (the Act) provides a legislative framework for the assessment of Victorians who appear to have a mental illness, and for the treatment of people with mental illness. The Act requires that people receive assessment and treatment with as few restrictions on human rights and dignity as possible. The Act has core principles and objectives, including:
assessment and treatment is provided in the least intrusive and restrictive way
people are supported to make and participate in decisions about their assessment, treatment and recovery
individuals' rights, dignity and autonomy are protected and promoted at all times
priority is given to holistic care and support options that are responsive to individual needs
the wellbeing and safety of children and young people is protected and prioritised
carers are recognised and supported in decisions about treatment and care.
Policies
Several policies enable the provision of services to respond to the intent of the Act.
Victoria's 10-year mental health plan
DHHS published the 10-year plan in November 2015 in response to government election commitments. It is a long-term plan that sets the mental health agenda for the next decade that is intentionally ambitious, and outcome focused. The 10-year plan's goal is that all Victorians experience their best possible health, including mental health. The 10-year plan is not designed to document all the activities and initiatives needed to address the issues in the mental health system, but it aims to give strategic direction in mental health policy, funding and program development.
Victorian Government Suicide Prevention Framework 2016–25
The Victorian Government Suicide Prevention Framework 2016–25 aims to halve Victoria's suicide rate by 2025 and supports the Commonwealth's Fifth National Mental Health and Suicide Prevention Plan (the Fifth Plan).
Balit Murrup: Aboriginal social emotional wellbeing framework 2017–2027
Balit murrup, meaning 'strong spirit' in the Woi-wurrung language, aims to reduce the health gap attributed to suicide, mental illness and psychological distress between Aboriginal Victorians and the general population. The framework sets out principles, strategic priorities and new investments to achieve this. In relation to access, one of four 'domains' included in the framework is 'improving access to culturally responsive services', with priorities for more Aboriginal people to engage in appropriate treatment and care, and for those services to be culturally safe and free from racism.
1.4 Why this audit is important
Mental health is an integral part of a person's capacity to lead a fulfilling life, including the ability to form and maintain relationships, to study, work, pursue recreational interests, and to be able to make a positive contribution to society by making day-to-day decisions about education, employment, housing or other choices.
Disturbances to a person's mental wellbeing can negatively impact their capacity and the choices they make, leading not only to diminished functioning at the individual level but also to broader societal and welfare losses. There is significant flow on effect to other services if the mental health system is not functioning well, such as housing, justice and other health and community services.
Victoria's mental health system faces significant challenges and the 10-year plan is intended to set a pathway to address them. As DHHS is currently three years into this plan, it is timely to assess its progress in meeting one of the key challenges to the system: providing timely access to services in the face of increasing demand.
1.5 What this audit examined and how
Our audit objective was to determine if people with mental illness have timely access to appropriate treatment and support services.
DHHS and the broader mental health sector notes that Victorians with a mental illness do not have timely access to appropriate treatment and support services as expressed in the 10-year plan. For this reason, our audit focused on analysing whether the 10-year plan and supporting activities will start to address the existing access problem.
We examined how DHHS oversees the mental health system and whether it promotes increased accessibility. We examined DHHS's mental health policies, strategies and plans, the data it collects, and how this informs planning.
Alongside DHHS, we gathered evidence from six health services:
Bendigo Health
Melbourne Health
Monash Health
Latrobe Regional Hospital
Peninsula Health
South West Healthcare.
Pursuant to section 20(3) of the Audit Act 1994, unless otherwise indicated, any persons named in this report are not the subject of adverse comment or opinion.
We conducted our audit in accordance with Section 15 of the Audit Act 1994 and the Australian Auditing and Assurance Standards. The cost of this audit was $760 000.
1.6 Report structure
The rest of this report is structured as follows:
Part 2—Victoria's 10-year mental health plan
Part 3—Meeting demand for mental health services.
1 Reform of Victoria's specialist clinical mental health services: Advice to the Secretary, Department of Health and Human Services, by A.Cockram, S.Solomon, H.Whiteford, 2017, page 20.