Auditor-General's Report on the Annual Financial Report of the State of Victoria: 2017–18
6 Financial sustainability of public financial corporations
6.1 Conclusion
PFCs continue to operate sustainably and are positioned well financially.
6.2 The sector
PFCs are public sector entities that deal with the financial aspects of the state, including insurance, lending and investment management. PFCs can accept deposits from other state entities and undertake borrowings on behalf of the state. There are six PFCs in Victoria.
In 2017–18, PFCs generated $7.9 billion in revenue and incurred $10.0 billion of expenses. At 30 June 2018, PFCs reported assets valued at $80.8 billion and liabilities of $80.1 billion. The majority of the assets and liabilities held by PFCs are financial in nature.
Figure 6A
Financial information about PFCs
Sale of goods and services
$4.7 billion

Net result from transactions
$2.0 billion loss

Net result
$633 million

Net assets
$751 million

Financial assets
$79.8 billion

Borrowings
$39.5 billion
Source: Note 9, Annual Financial Report of the State of Victoria: 2017–18.
Figure 6B provides details on the six PFCs.
Figure 6B
PFCs in Victoria
Name of entity

Purpose

Value at 30 June 2018

Total assets

Total liabilities

Transport Accident Commission (TAC)

TAC manages Victoria's transport accident personal injury scheme, including funding treatment and services for people injured in transport accidents and promoting road safety. TAC aims to improve Victoria's trauma system.

$16.0 billion

$16.5 billion

Victorian Managed Insurance Authority (VMIA)

VMIA provides insurance and risk advice to government, working with government departments and agencies to identify and mitigate harm and manage state-significant risks.

$2.9 billion

$2.3 billion

Victorian WorkCover Authority (WorkSafe Victoria)

WorkSafe Victoria aims to keep all workplaces healthy and safe, and to deliver high-quality care and treatment when workers are injured. WorkSafe Victoria is the state's health and safety regulator and manages Victoria's workers compensation scheme.

$17.8 billion

$14.6 billion

State Trustees Limited (STL)

STL provides estate planning and executor services, trustee services, and other financial planning and investment services. It plays a role in building awareness and educating the community, to protect the financial affairs of Victorians.

$0.08 billion(a)

$0.02 billion(a)

Treasury Corporation of Victoria (TCV)

TCV is the state's central financing authority and financial advisor. It assists the government to manage the state's financial risks by centralising financing and providing financial advisory services.

$47.8 billion

$47.6 billion

Victorian Funds Management Corporation (VFMC)

VFMC provides effective, competitive investment and fund management services to the state and public authorities.

$0.11 billion

$0.07 billion
(a) 30 June 2017 figures. The 2017–18 financial statements of STL were not complete at the time of preparing this report.
Note: Amounts include transactions between PFCs. These are eliminated on consolidation into the AFR.
Source: VAGO.
Additional assets managed by PFCs
Two PFCs manage assets on behalf of other parties and do not report the value of those assets in their balance sheets. Instead, the assets are recorded in the balance sheet of the entity or individual that owns and receives benefits from them.
At 30 June 2018:
VFMC managed $61.3 billion of investments ($56.1 billion in 2016–17) on behalf of public sector agencies and other voluntary participating bodies—this amount is consolidated into the AFR through the controlling entities' financial statements
STL managed $2.3 billion of assets ($2.1 billion in 2016–17) on behalf of vulnerable Victorians—these amounts are not reflected in the balance sheet of STL and are not consolidated into the AFR because they are held in trust on behalf of clients.
In this part of the report, we focus our financial sustainability assessment on the four entities significant to the sector:
the three insurance entities—TAC, VMIA and VWA
the central financing entity—TCV.
6.3 Financial measures and outcomes
PFCs need to be managed prudently, to ensure their own long-term solvency and viability and to reduce the risk of adverse impacts on the state's finances. To achieve this, the government has established a framework of legislation, policy, prudential standards and guidelines to support the prudent supervision of the PFC insurance entities and TCV.
Insurance entities
Outstanding insurance claim is a claim the insuring entity is responsible for paying in the future, where the claim arises from an event that occurred on or before the valuation date. The liability includes an allowance for claims that have occurred but have not yet been reported to the insuring entity.
At 30 June 2018, the three public sector insurance agencies held $36.7 billion of total assets and $33.4 billion of total liabilities. Approximately 92 per cent of their total liabilities relate to outstanding insurance claims. Figure 6C shows the value of the total outstanding insurance claims liability for the state, as reported in the AFR, over the last five financial years.
Figure 6C
Outstanding insurance claims liability, 30 June 2014 to 30 June 2018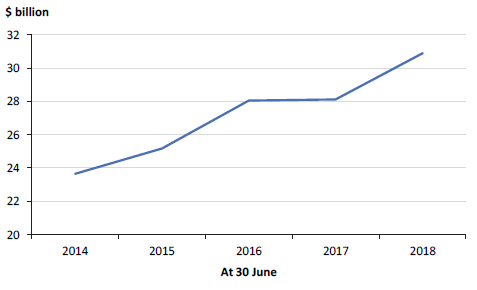 Source: VAGO.
The outstanding insurance claims liability has been growing at a steady rate over the past five financial years and, at 30 June 2018, was valued at $30.9 billion ($28.1 billion at 30 June 2017). TAC accounted for $1.9 billion of the increase in 2017–18, a result of unfavourable claims experience and a decrease in the discount rate used to value the liability for financial reporting purposes.
Capital adequacy
The fundamental objective of the prudential standard is to ensure the capital adequacy of public sector insurers. The prudential standard requires the Minister for Finance to determine a target funding ratio range for each insurer. Funding ratios measure a scheme's adequacy to meet future claims payments.
The target funding ratio range over the last five financial years, based on government's preferred funding level, has been:
between 82.5 per cent and 117.5 per cent for VWA and VMIA
between 80.0 per cent and 120.0 per cent for TAC.
Figure 6D shows that for the past five years agency funding ratios have been within or above the preferred funding ratio range.
Figure 6D
Funding ratios, 30 June 2014 to 30 June 2018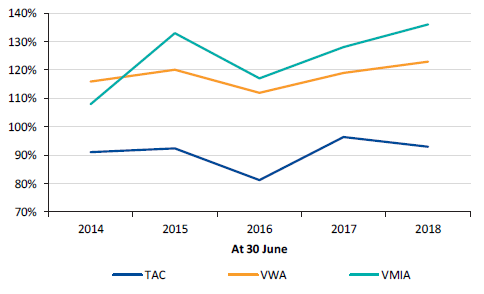 Source: VAGO.
Risks to sustainability
The risk to the sustainability of the state's insurance agencies is small. The outstanding claims liability is measured based on actuarially estimated costs of future claims payments. The estimate assumes that past developments are an appropriate predictor of the future. Unforeseen events may impact this assumption, posing a risk to the sustainability of the insurers.
Treasury Corporation of Victoria
The Treasury Corporation of Victoria Act 1992 outlines TCV's overall objectives:
to act as a financial institution for the benefit of the state and participating authorities
to enhance the financial positions of TCV, participating authorities and the state
to provide its services in an effective, efficient and competitive manner.
TCV's activities include the provision of financial services to state entities. This includes securing loans, managing short-term investments and providing financial products. TCV holds most of the short-term investments and borrowings of the 265 state-controlled entities.
Liquidity
TCV assists the Treasurer of Victoria to monitor and manage the liquidity of the state. It operates as the state's interface with wholesale financial markets and the primary provider of liquidity. In our report on the 2016–17 AFR, we assessed the maturity of TCV's liquidity management framework as largely advanced.
The prudential standard requires TCV to adhere to a minimum ratio of free cash, liquid assets and committed bank lines to the government's debt servicing obligations over the next 12 months—the liquidity ratio. The current liquidity ratio requirement is 80 per cent, which TCV monitors daily.
Figure 6E shows that for the past five years, TCV's average daily liquidity ratio has been above the 80 per cent prudential requirement. This indicates that TCV has ready access to adequate funding from the market and appropriate levels of surplus liquid assets to meet the expected and contingent funding needs of its clients.
Figure 6E
Average daily liquidity ratio, 2013–14 to 2017–18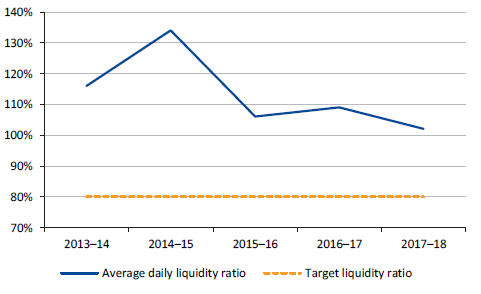 Source: VAGO.
Capital adequacy
TCV is required to maintain sufficient capital to act as a buffer against the credit, market and operational risks associated with its activities. TCV is not required to set aside capital to cover liquidity risks.
The prudential standard requires TCV to maintain a capital adequacy ratio of 8.5 per cent—that is, to hold at least 8.5 per cent of its risk-weighted assets in capital. TCV, however, aims to maintain a capital adequacy ratio of at least 10.5 per cent.
Risk-weighted assets are calculated by adjusting the value of each asset class for risk, to determine TCV's exposure to potential losses. The capital of TCV consists of the capital contributed by the state and any retained earnings.
Figure 6F shows that for the past five years, TCV has maintained a capital adequacy ratio well above the prudential requirement of 8.5 per cent, indicating that TCV has an adequate capital buffer to protect against potential losses.
Figure 6F
Capital adequacy ratio, 30 June 2014 to 30 June 2018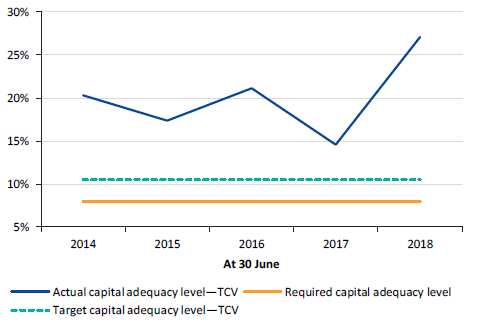 Source: VAGO.
Risks to sustainability
Risks to sustainability of TCV remain small. Developments in global financial market regulations pose some risks to TCV.