1.1 The importance of successful transitions for children
The importance of children making successful transitions into and between schools is widely acknowledged and the success of a transition is influenced by a broad range of factors, including prior learning and achievement, socio-economic and cultural background, disability and learning difficulties, and gender.
There are a number of educational transitions that shape a young person's learning, development, wellbeing and engagement with school. The two key transitions occur when children move into the Prep year of primary school, and when children move from primary to Year 7 of secondary school. Other transitions that can affect a child's school experience include when they transition from grade to grade within a school and when they move between schools.
The two key transitions occur at times of significant developmental change. The transition into Prep marks the start of a child's formal full-time education and the move away from play-based learning into a more structured learning environment. Meanwhile, the move from primary to secondary school often occurs around the onset of puberty.
1.2 Understanding transition
While a transition is generally considered to be a single event—where a child moves between sectors (early childhood education and care to school) or schools (primary to secondary)—the process of transitioning covers a longer period of time, and can be both challenging and transformative. For example, the skills a child learns in kindergarten can influence how quickly and effectively they transition into school.
The actions of the school to support a child in the months and years following their transition can also have a significant impact. It is therefore important not to consider a transition simply as a process of transferring a child from one setting to another, but as a series of interconnected processes taking place over an extended period of time.
Broadly speaking, the same principles apply to making any transition successful:
Preparation—preparing the child to move. Making sure they have the relevant social, emotional and developmental skills needed to progress to the next stage of their education. Providing guidance and advice on the transition experience and making effective introductions to their new educational environment.
Transfer—transferring the child from one setting to another. Making sure that the child, their families and the receiving school have all of the information they need to ensure an effective transfer.
Induction—settling the child into their new learning environment, and identifying and providing any additional support needed.
Consolidation—continuing to monitor the child's learning and developmental outcomes and engagement, and providing any additional support needed.
1.3 Early-years transition
One of the key initiatives implemented across all Australian jurisdictions to drive improved transition outcomes for Prep students has been to increase the levels of participation in kindergarten programs. In 2014, around 96 per cent of four-year-old children in Victoria were enrolled in a kindergarten program.
Kindergarten programs play a critical role in a child's learning and development including their social and emotional skills, self-awareness, language, literacy and numeracy skills—all of which are critical to helping children settle quickly and effectively into a school environment. Attending high quality kindergarten programs has been shown to have a positive impact on a child's later school-based outcomes.
In 2014, 74 826 Victorian children moved from early childhood education and care or home-based settings into primary school, with 51 222 of those (68 per cent) starting Prep in a government school.
1.4 Middle-years transition
There has been growing awareness of the importance of 'the middle years'—defined as spanning Year 5 to Year 8—on a child's learning experiences.
The transition from primary school to secondary school occurs during these middle years and involves significant change for a child and their family. While the majority of children make this transition without disruption to their wellbeing or learning, many experience a drop in achievement and engagement with school in the years following this transition.
International research suggests that this negative impact may be cumulative—existing gaps are likely to be widened—and may signal the beginning of later disengagement from secondary school. Australian research also shows that as a child progresses through the middle years of school they report a decrease in psychological health. A quarter of Western Australian children surveyed by Edith Cowan University in a study published in 2014 found the transition from primary to secondary school difficult.
Our examination of middle-years transitions focuses on the activities of primary schools preparing children for transitioning to secondary school and the activities of the secondary schools receiving those children.
In 2014, 65 924 Victorian children started Year 7 at a secondary school. Of those, 35 675, or 54 per cent, did so at a government school.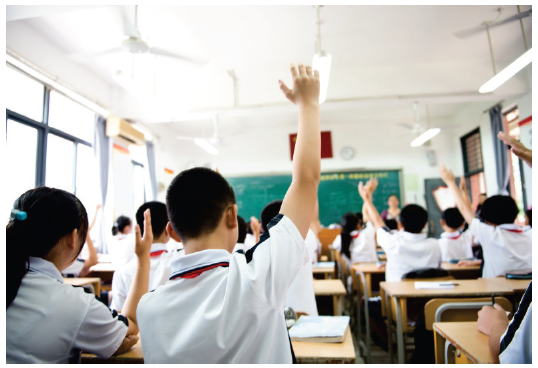 Photograph courtesy of hxdbzxy/Shutterstock.com.
1.4.1 Providers involved in transitions
The non-government sector is responsible for providing the vast majority of kindergarten programs for children. Local government services cover 18 per cent of enrolments, while government schools providing a kindergarten program represent only 2 per cent of total enrolments.
Government schools are the main providers of primary schooling for children in Victoria. However there is a far more even distribution of children across government and non-government schools in the secondary sector. Figure 1A shows the involvement of government and non-government providers at each stage of a child's education.
Figure 1A

Enrolments by provider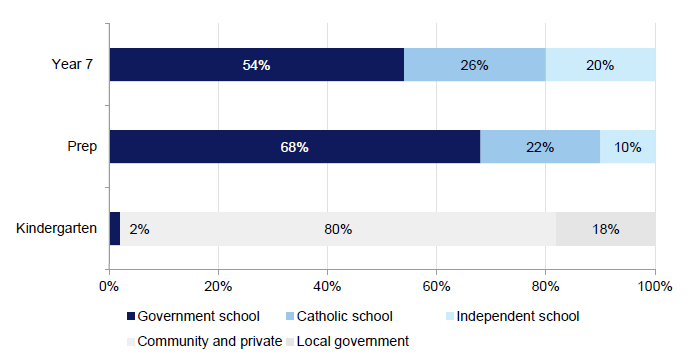 Note: 'Community and private' providers of kindergarten services include both Catholic and independent schools.

Source: Victorian Auditor-General's Office's analysis of 2013 kindergarten and 2014 school enrolment data.
1.4.2 Other significant transitions
In addition to these two key transitions, a large number of school-aged children also experience transitions when they move:
from one school to another—approximately 10 per cent of children from each year level move each year—55 468 children in 2013
into and out of specialist schools—2 269 children started, and 1 795 exited a specialist school in 2013
into and out of English language schools—3 263 children started, and 2 831 exited an English language school in 2013—children usually attend for two terms before transitioning to a mainstream school.
1.5 Legislation
The Education and Training Reform Act 2006 sets the overarching legislative framework for education and training in Victoria. A key principle of the Education and Training Reform Act 2006 is that all Victorians should have access to a high-quality education. The legislation does not prescribe a process for transitions.
All Victorian preschools are bound by the conditions set out in the Education and Care Services National Law Act 2010 or the Children's Services Act 1996 as well as the Education and Care Services National Regulations 2011 orChildren's Services Regulations 2009. The Department of Education and Training (DET) licences early childhood education and care services including preschool, long day care, family day care, occasional care and outside school hours care services. Services must meet the National Quality Standard (Schedule 1 of the Regulations), as well as all regulations and conditions of applications for licences covered under the Education and Care Services National Regulations or theChildren's Services Regulations.
In order to receive Victorian State Government funding, preschools must be licensed to operate a preschool program that meets the criteria for funding eligibility.
1.6 Roles and responsibilities
1.6.1 Department of Education and Training
DET is the key agency responsible for the delivery of educational outcomes in Victoria, including for early childhood and school education. It provides funding to government schools to cover the cost of providing free instruction in the core curriculum—including infrastructure, staffing and school resources—and separately funds specific programs designed to meet the individual learning needs of children, both prior to and within the school system.
In addition DET's role is to:
license and regulate education and care services as required by relevant acts and regulations
develop and deliver policy, guidance and support that enables schools and early childhood education and care providers to support children
monitor and oversee the performance of schools and early childhood education and care providers and determine whether the educational outcomes of children are being maximised.
The Compact: Roles and responsibilities in Victorian government school education, (the Compact) sets out the key responsibilities of both DET and schools. It requires schools to:
establish networks and partnerships with families as well as early childhood education and care providers and other schools to strengthen student engagement and support transitions
demonstrate sustained improvement in student engagement and wellbeing
collect and report on engagement and other data that support monitoring, reporting and student transitions.
1.6.2 Government schools
Under the Compact, government schools have broad responsibilities related to transitions—including demonstrating sustained improvement in student engagement and wellbeing, and tracking children's data, including any movement to a different setting. In Victoria there are:
1 127 government primary schools
239 government secondary schools
77 government primary-secondary schools
79 government specialist schools
eight government English language schools or centres.
1.7 Funding and support
1.7.1 Early years
Australian and international research suggests that learning experiences in the years prior to starting school—and in the early years of school—are critical to a child's long-term success at school. As a consequence, Australian governments have increased the investment in early childhood education and care significantly over the past decade. Across all state and territory governments, $1.4 billion is spent annually on early childhood education and care. DET reported that its expenditure for the 2013–14 financial year for early childhood education was $367.5 million. This figure includes per capita grants, kindergarten fee subsidies and specialist program funding.
1.7.2 Middle years and students with disabilities
DET provides the delivery of education to children in Victoria by giving funding directly to schools. DET funds government schools through the Student Resource Package. In 2014, the Student Resource Package allocated over $5 billion to schools, comprising student-based funding, school-based funding, and targeted initiatives. The standard funding component for each child in a school is weighted to recognise the different costs associated with different year levels. The level of funding provided for students in Years 7 and 8 who have just transitioned to secondary school was increased to the same level as students in Years 9 to 12, to encourage schools to invest in early intervention.
DET also administers $640 million in funding under the Program for Students with Disabilities for children from Prep through to Year 12. This cohort of children is considered to be at a higher risk of making a poor transition.
Further information about DET's school funding arrangements are available in VAGO's Victorian school funding explained information piece, published in February 2015 as an appendix to the performance audit report Additional School Costs for Families.
1.8 Audit objective and scope
This audit examined how transitions into and between early childhood education and care and school, and between schools are managed. It examined DET, as the agency responsible for policy and initiatives that guide student's transitions, along with a sample of early childhood education and care providers and schools.
The audit focused on the most significant transitions that all children make—into primary school for the first time and into secondary school. It also examined activities undertaken by English language schools and specialist schools. The transitions that children make annually as they progress to the next year level were not considered as part of this audit.
The objective of the audit was to examine how effectively early childhood education and care providers, primary and secondary schools and DET are supporting the transitions of children in the education system. To evaluate this objective, the audit assessed whether:
DET has developed and implemented effective and well-researched policies, strategies and approaches to support schools and early childhood education and care providers to manage transitions efficiently and effectively
education providers efficiently and effectively support students and their families to transition into and between schools.
1.9 Audit method and cost
The audit involved research, document and file review, and interviews with DET staff and stakeholders. The audit also selected a range of schools, taking into account factors such as their region, proximity to other government and non-government schools, socio-economic status, receipt of transition-related funding and performance against transition-related indicators. In total, the audit examined the practices of 30 schools and early childhood education and care providers, as shown in Figure 1B.
Figure 1B

Providers or schools visited during the audit
| Type of provider | Number |
| --- | --- |
| Government secondary school | 6 |
| Government primary school | 10 |
| Government Prep to Year 12 or Kindergarten to Year 9 school | 2 |
| Government English language school | 2 |
| Government specialist school | 2 |
| Kindergarten program provider(a) | 6 |
| Independent Prep to Year 12 or Kindergarten to Year 12 school(a) | 2 |
| Total | 30 |
(a) Providers not associated with DET.

Source: Victorian Auditor-General's Office.
The total cost of this audit was $495 000.
1.10 Structure of the report
This report is structured as follows: